Diary 1
Date:
Monday, May 20, 2019
Field Trip Name:
Our Primary Industries
Field Trip Place:
Hawke's Bay
Kia ora koutou,
As winter approaches it's a good time to remember to eat enough fruit and vegetables to ward off coughs and colds. Luckily, there are plenty of types of fruit, including apples that are now in season. In New Zealand we can buy lots of quality produce. On this field trip you will find out how New Zealand is able to grow some of the best apples in the world.
World-famous apples
To begin your journey, you headed south of Dunedin to the airport. You had to complete two flights to get to Napier in Hawke's Bay. This region is known for its orchards and vineyards and is the perfect place to learn more about our world-famous apples. According to the World Apple Review our apple industry is the most competitive in the world. This is especially impressive when you think of the size of some of the countries we're up against. With achievements like this it's surprising that Air New Zealand doesn't serve kiwi grown apples as in-flight snacks!
A small but mighty snack sized apple
The ambassadors did notice an article in the Air New Zealand Kia Ora magazine that told the story of Rockit™ Apples. Rockit™ apples are the world's first snack-sized apple. These apples are grown in Hawke's Bay. Rockit™ apples might be small but compared with ordinary big apples, they have more potassium, energy and fibre. You will find out more about the development of this tasty little snack on Thursday.
Apple country
It was a stunning day to be flying and you enjoyed views along the East Coast and out across Kā Tiritiri o te Moana/the Southern Alps. These mountains are starting to look their best with a fresh coating of snow. After a smooth landing you had time for a leisurely lunch at Wellington Airport. You then had to board another flight to Napier. On this flight you were sitting on the opposite side of the plane. You could see lots of vineyards and orchards as you descended into Napier. This region is often called the fruit bowl of New Zealand and it has ideal conditions for growing apples. High sunshine hours and fertile soils make this area one of the best places in the country to grow apples. Hawke's Bay's winters are mild, and spring brings enough rain to prepare orchards for long, hot and dry summers. During the next few days you will find out more about which apple varieties grow best here.
Exploring Hawke's Bay
After landing in Napier, you hired a car and headed toward Havelock North, where you will be based for the week. You took time to visit the Port of Napier. This port handles over five million tonnes of cargo every year, including apples on their way to customers all over the world. You then drove out to Havelock North near Hastings. One of the best places to look out over this region is Te Mata Peak, so you went for a wander just before the sun set. It is said that Māori chief Te Mata fell in love with the daughter of his rival, the Heretaunga chief. To prove his worthiness and win the beautiful Māori maiden's love, Te Mata accepted a series of difficult challenges. The handsome chief choked and died attempting his final task, which was to eat his way through this rocky range. Te Mata Peak is the outline of his body and is called the Sleeping Giant by locals. This was a spectacular place to end a long day's travel.
Tomorrow you will head to an apple orchard to see how to grow the best apples possible.
See you then,
Shelley the LEARNZ field trip teacher.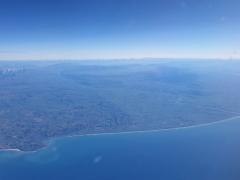 It was a stunning day to be flying. You could watch the surf roll in along the east coast. Image: Shelley Hersey, LEARNZ.
Kā Tiritiri o te Moana, the Southern Alps glistened with a layer of fresh snow. Image: Shelley Hersey, LEARNZ.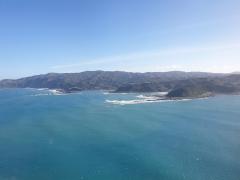 It was a smooth descent into Wellington where you enjoyed a break before heading north to Napier. Image: Shelley Hersey, LEARNZ.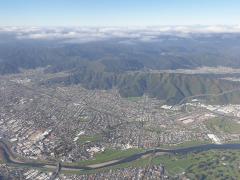 You flew out over the Hutt Valley on your way to Napier. Image: Shelley Hersey, LEARNZ.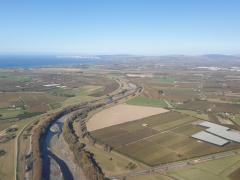 You could see plenty of vineyards and orchards on your approach into Napier. Image: Shelley Hersey, LEARNZ.
This is the Port of Napier where some apples begin their export journey across the world. Image: Shelley Hersey, LEARNZ.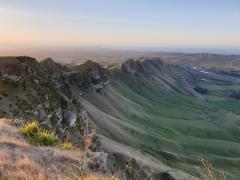 You ended the day with a walk up Te Mata Peak where you could look out over fertile plains where apples are grown. Image: Shelley Hersey, LEARNZ.
On the way back to your accommodation you headed to the supermarket. There were lots of different apple varieties to choose from. Image: Shelley Hersey, LEARNZ.