Diary 2
Date:
Tuesday, March 20, 2018
Field Trip Name:
No more tips or dumps
Field Trip Place:
Auckland
Weather:
Showers with fine breaks
Where You Are:
Redvale Landfill and Rosedale Transfer Station
<-- Homepage No more tips or dumps.
---
Kia ora koutou
Today we got our first look around Redvale Landfill and Energy Park. We also went out to Rosedale Transfer Station for a closer look at waste and recyclables.
Tour of the Landfill
The ambassadors and I arrived at Redvale Landfill this morning and met up with Tim Brake. Tim is our main expert for the field trip this week. We signed in and went through a safety induction. Tim then suggested we go for a drive to have a look around the landfill. This was a good idea because it is, after all, New Zealand's largest landfill so there must be a lot to see – and there is!
It's a busy place with over 300 waste trucks coming and going each day. There are parts of the landfill getting ready for future filling. Then there are parts of the landfill that are complete. You could tell the parts that are complete as there is now grass growing and sheep grazing in this area. Then there is the part currently being filled. This is where all the large bulldozers are working, and where you can see the offload of waste. The bulldozers push this waste into position, and then it is compacted.
Tim also pointed out the area where landfill gas is used to generate electricity. Leachate is also managed here. You could even see the large greenhouses which grow eggplants. These greenhouses use heat generated at this part of the landfill to help grow eggplants. You will find out more about landfill gas, leachate, and eggplants over the next couple of days. In the meantime, check out the video of Tim's landfill tour.
Web conference
After morning tea, it was time to have our first field trip web conference. Te One School in the Chatham Islands and Spring Creek School near Blenheim were our speaking schools. Some other keen listening classes also joined us. We had some interesting conversation sparked by great questions. You can listen to the web conferences via the linked recording on the web conferences if you missed the live version this morning. 
Rosedale Transfer Station
After the web conference we spent some more time eating (very important parts of my day!), then Tim took us out to Rosedale Transfer Station. The transfer station is open to the public. It offers a free service to take recyclables of cardboard/aluminium, tin and steel cans, glass bottles and jars, and plastic bottles and containers marked with the 1-7 inside the triangle. It is also where waste collected from households and businesses comes before going to Redvale Landfill.
Here we talked about the importance of sorting waste out at home before it is either taken to the landfill or sent to a recycling centre for re-use. We all have a responsibility to make sure we follow the recycling guidelines. I wonder what system you have at school or at home that separates waste and recyclables. Tim showed us the two-bin system they have here in Auckland – red for waste and yellow for recycling. I was amazed when we had a look at a random sample of waste destined for the landfill. It was littered with items that should have been put in the recycling bin. Watch the video and you will see what I mean.
Consumer responsibility
Back at Redvale Landfill, I was keen to talk more with Tim about recycling and consumer responsibility. These ideas were raised in this morning's web conference. One example Tim gives is choosing to buy products that are made only of natural fibres. Products like cotton or woollen clothing will eventually break down when discarded in a landfill. Clothing made from artificial fabric such as polyester will not. 
The idea of buying products without plastic packaging is a difficult one because we are all so used to doing so. It also takes more effort to find similar products that don't have this type of packaging. But even if we are recycling plastic packaging, Tim says we are just delaying the end result. You might feel good that your empty shampoo bottles and so on are being turned into t-shirts and socks, but what happens when these items come to the end of their life? Then what? Well, they'll probably be thrown away and taken to the landfill. As you can see, even recycling ends up in the landfill eventually. 
So, when it comes to waste and recycling, our responsibility comes even before we sort it into recyclables and non-recyclables. It starts when we choose what we do and don't buy in the first place – certainly some big ideas for you all to discuss.
Mā te wā,
Andrew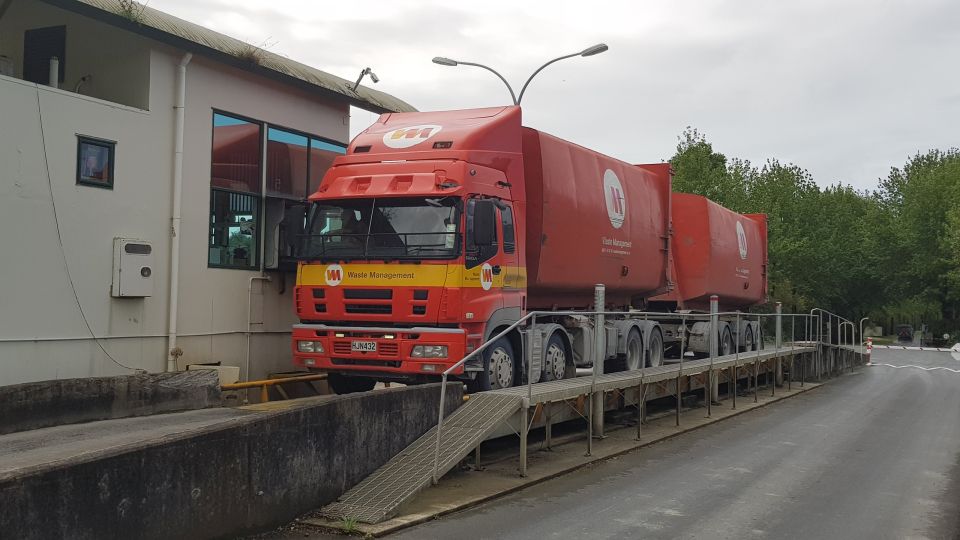 A Waste Management truck being weighed on the weigh bridge before entering the landfill. It will also be weighed when leaving. Why is it weighed twice? Image: LEARNZ.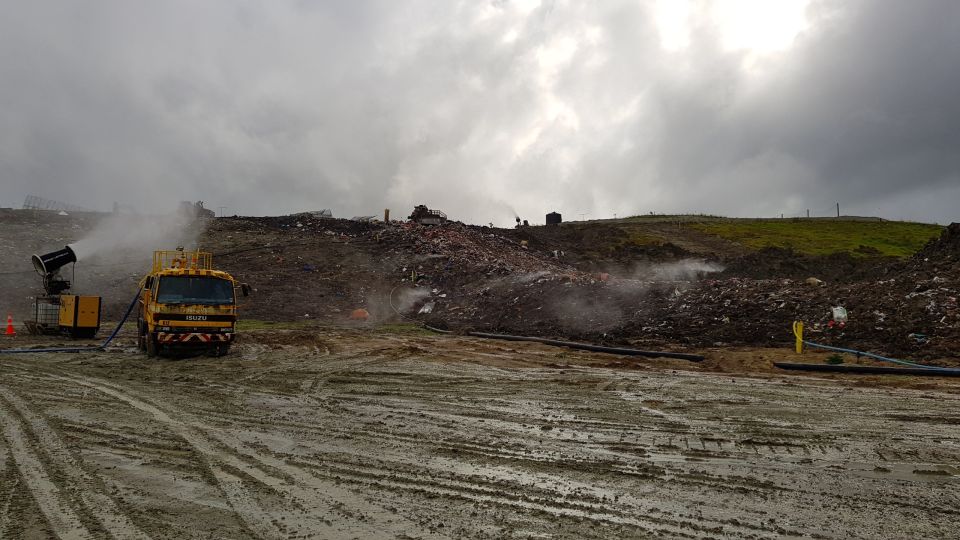 The current tips site where waste is offloaded before being compacted. What do you think the blower on the left is releasing into the air? Image: LEARNZ.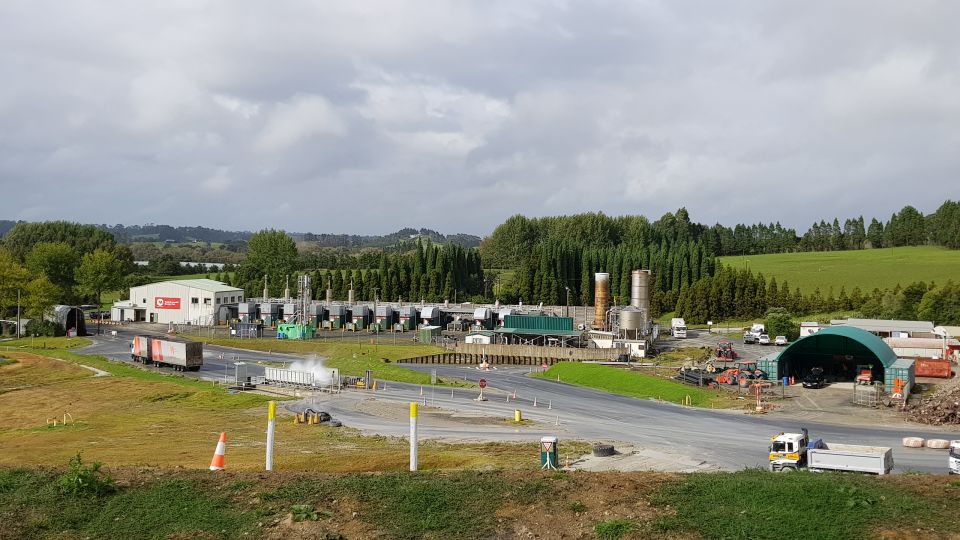 Looking out over the energy facility at Redvale Landfill. What is being produced there? Image: LEARNZ.
Sheep happily graze over rehabilitated landfill land. What else might an old landfill site be used for? Image: LEARNZ.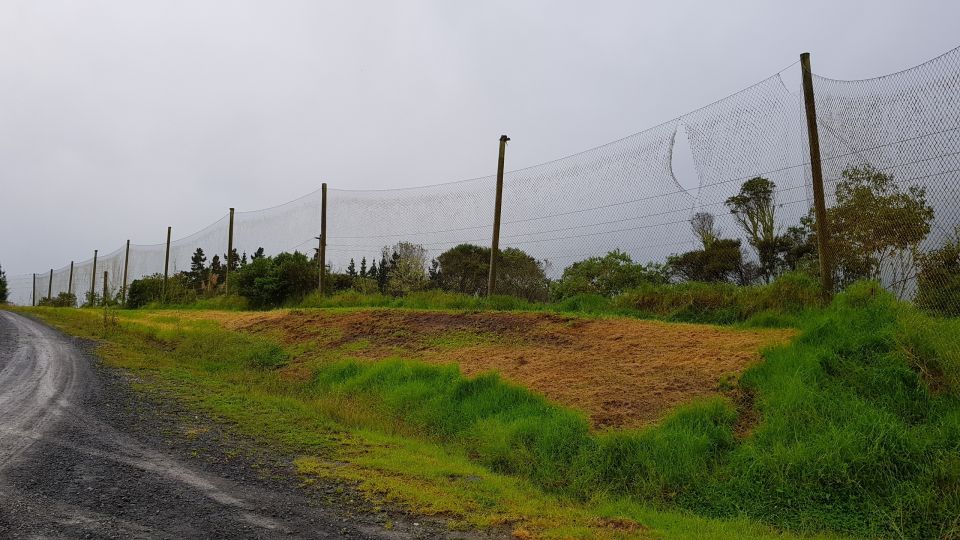 How might these tall fences help during windy conditions at the landfill? Image: LEARNZ.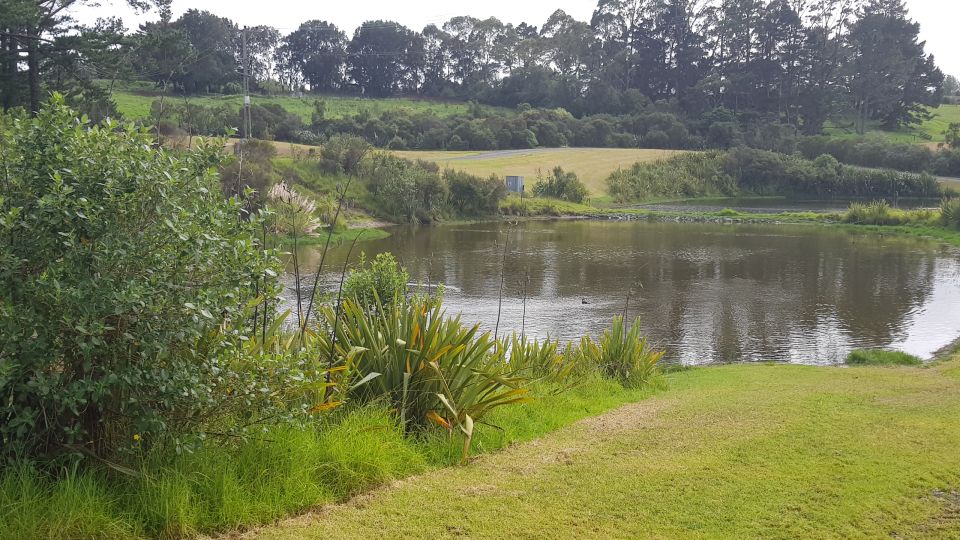 Rainwater running down off the top of the landfill is collected in ponds. It is monitored and treated if necessary. The water is then released into the local stream. Image: LEARNZ.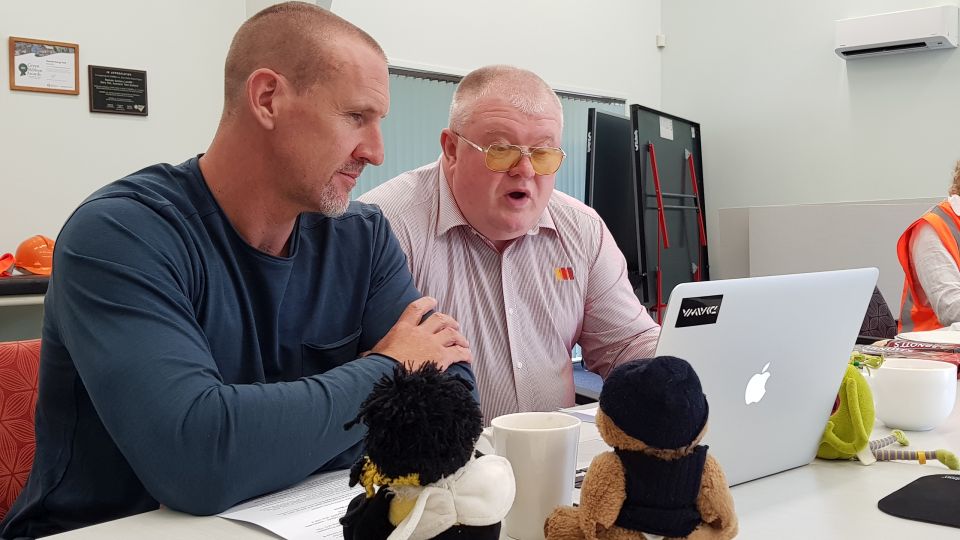 Tim Brake with Andrew and the ambassadors during this morning's web conference. Image: LEARNZ.
A view from the gate of Rosedale Transfer Station. Image: LEARNZ.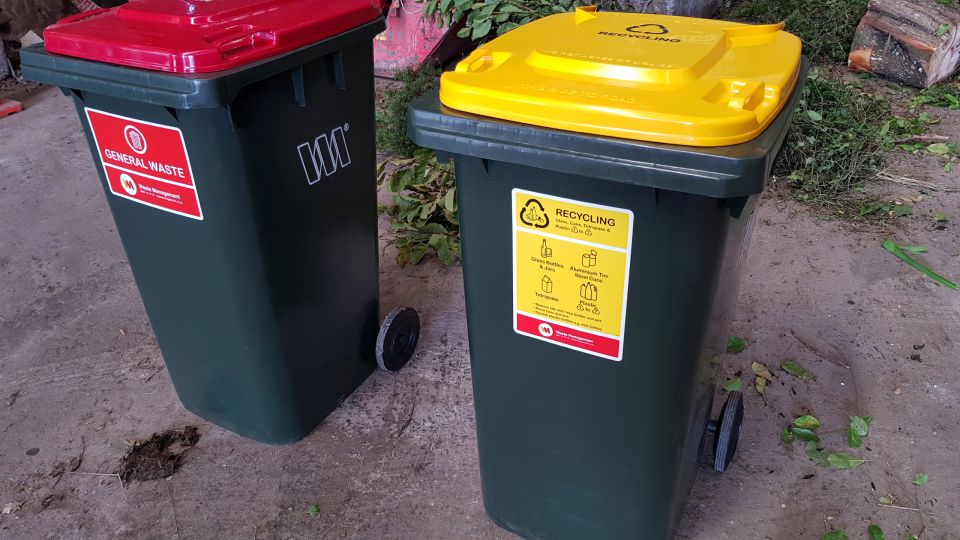 Household wheelie bins - one for general waste and the other for recyclables. What system for recycling do you have in your town? Image: LEARNZ.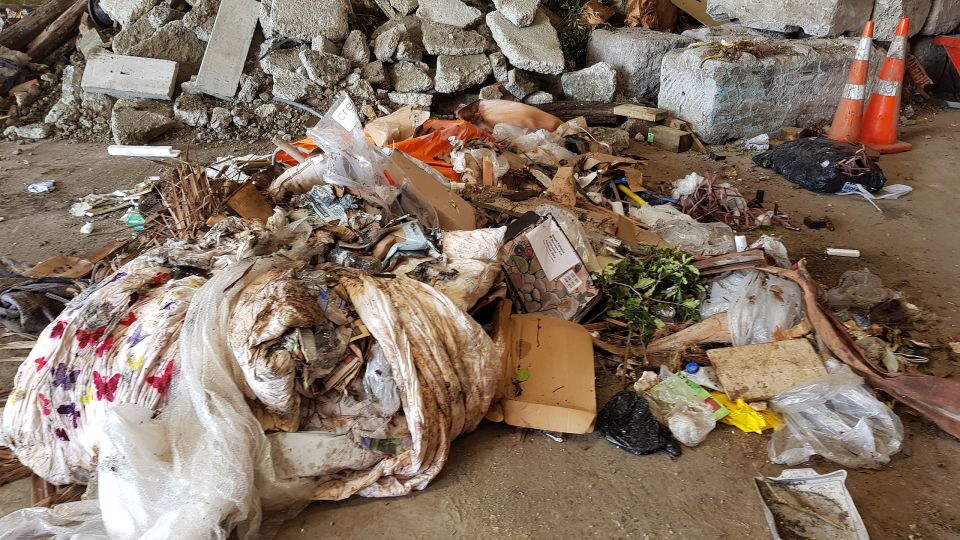 A random selection of waste that is about to be taken to the landfill. How many items can you find that could be recycled? Image: LEARNZ.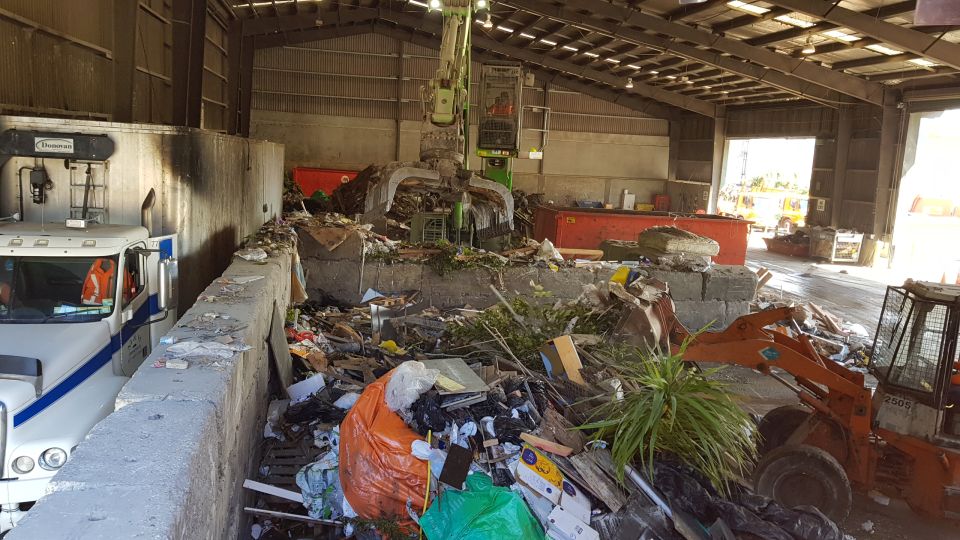 A truck being loaded up with waste at the transfer station. Where will the truck go when it is full? Image: LEARNZ.