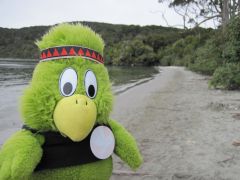 Your class can add to the field trip experience by sending an Ambassador with the LEARNZ Field Trip Teacher. Sending an Ambassador costs $35 (incl GST) per ambassador per field trip.
Your class Ambassador is a class mascot (a soft toy - see specifications below) that you post to the LEARNZ Field Trip Teacher before the field trip
Ambassadors 'experience' the field trip first hand and relay their 'thoughts' and 'learning experiences' on the website. Everything the LEARNZ Field Trip Teacher does, the Ambassadors do too!
Visit your Ambassador's web page

The LEARNZ Field Trip Teacher will help your Ambassador write updates about their field trip experiences.
The Ambassadors' pages are set up before the field trip
They are updated with text and images each day during the field trip
Benefits
connects your class to the trip by seeing images of their Ambassador on location
creates a relationship with your Ambassador as the class reads the updates each day
creates joy and wonderment when the class holds and talks with their Ambassador on return from the field trip
celebration of the trip with your class and school when the participation certificate for your Ambassador arrives
Conditions
no taller or wider than 20cm
weigh less than 300g
only one Ambassador per school per field trip
a limited number of class Ambassadors (generally 5) on each trip
Sign Up
Teachers, you can sign up your class ambassador for a field trip and generate an invoice through MyLEARNZ.