Irrigation defined
Irrigation is the artificial watering of land that does not get enough water through rainfall. Gardeners use hoses and sprinklers to water flowerbeds, vegetable gardens and lawns. This is irrigation at its most basic. Large scale irrigation is where market gardeners, farmers, orchardists and grape growers apply water at important times. This helps plants grow and produce quality crops.
Irrigation water can come from nearby rivers or groundwater. It can also come from storage ponds made to collect high river flows or rainfall during winter. Pipes, channels and wells take water from its source to farms, vineyards and orchards. How much water is used depends on the type of crop, the soil in which the crop is being grown, and the amount of rainfall in that area.
Why is irrigation important?
Feeding the world requires a lot of water. In most countries, irrigating land uses more water than any other purpose. Globally 70% of all water taken from river, lake and groundwater systems is for crop irrigation, as well as feed and water for animals. In New Zealand it is 80%, which shows just how important agriculture is for our economy.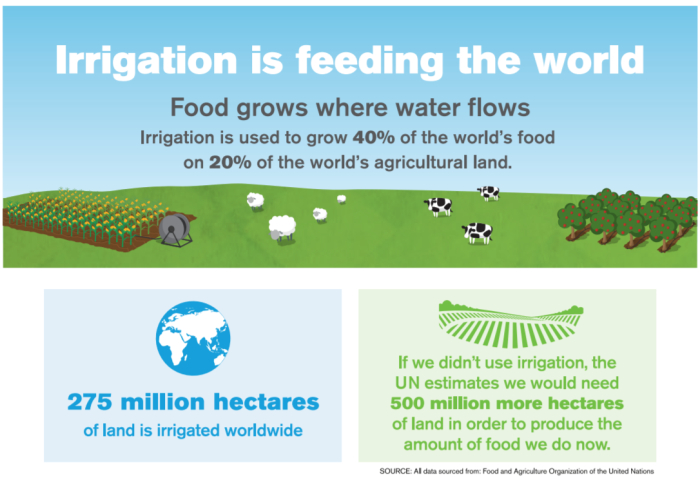 Water is essential for farmers to produce many of our daily food items. The availability, price and range of our food, particularly our fruit and vegetables, are all linked to irrigation. In some areas of New Zealand, the irrigated land doesn't receive enough summer rainfall to guarantee crop survival. These places need irrigation to produce high-quality food.
In other regions the reason for irrigation may be to combat a particularly dry season (a drought). It could also be to ensure high value food crops (kiwifruit for example) always have the right amount of water during an important growth phase.
The diagram below shows how crops receive and use water.