Welcome to What's the Plan, Stan?  This field trip took place on 13-15 October 2020. The content in this trip is available for ongoing use.
This trip is supported by the Ministry of Education | Te Tāhuhu o te Mātauranga and the National Emergency Management Agency | Te Rākau Whakamarumaru. 
Introduction 
Emergencies can happen anytime, anywhere. We all need to know what to do when an emergency happens, and how we can take steps to prepare. First, we need to learn about New Zealand's natural hazards that cause emergencies: floods, storms, earthquakes, tsunami, volcanic activity, and landslides. Then we need to understand the impacts of an emergency caused by these hazards: no water, no power, no phone or internet, stuck at home, can't get home, have to evacuate.
On this field trip you will find out the correct action to take in an earthquake and tsunami, and how to prepare for the impacts of these natural hazard emergencies. The field trip takes place during ShakeOut | Whakahaumaru Aotearoa, our national earthquake drill and tsunami hīkoi. Sign up for ShakeOut at GetReady.govt.nz.
What's the Plan, Stan? is a free resource to support schools, teachers and students to develop the knowledge and skills to prepare for emergency events.
Location
On this trip you will be in the Bay of Plenty/Waiariki, which is a very geologically active part of Aotearoa, with active fault lines that cause earthquakes, tsunami risk and volcanic activity. Our island nation sits across the boundary of two of the world's great tectonic plates, so everywhere in Aotearoa New Zealand can be affected by earthquakes.
Experience this field trip on Google Earth >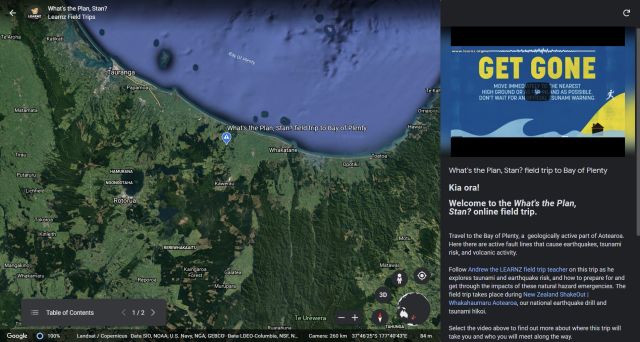 Field Trip Plan
Tuesday 13 October



Day 1: Tsunami science. Getting ready for the impacts of a tsunami.


Wednesday 14 October



Day 2: Earthquake science. Getting ready for the impacts of an earthquake.


 

Thursday 15 October



Day 3: ShakeOut 2020. Fix and fasten. Grab bag and emergency supplies.

 
What's New
| | |
| --- | --- |
| 12 October 2020 | Newsletter 3 has been sent to enrolled teachers. |
| 28 September 2020 | Newsletter 2 has been sent to enrolled teachers. |
The LEARNZ Team think that joining the NZASE and staying connected through its email newslettter will help you become a better teacher of science.