Welcome to Antarctica - cool science in action. This field trip is supported by the Ministry of Education and Antarctica New Zealand. The field trip is from 23-29 November 2017. Enrol now.

Introduction 
Antarctica captures people's imaginations and is the perfect place for scientists to study climate change. On this exciting expedition you will join science teams to investigate the effect of Antarctic sea ice and glacial ice on the world's climate.
You will join scientists trying to understand why Antarctic sea ice seems to be growing while Artic sea ice is shrinking.
Also on this trip, you will travel, eat, sleep, work, play, and keep safe in Antarctica - just like the scientists you will meet.
Meet Shelley the LEARNZ field trip teacher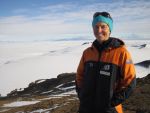 Watch the introductory video on Vimeo
Location
You will take the 5 hour flight from Christchurch to Antarctica aboard a C17 Globemaster aircraft. After 2 days of Antarctic Field Skills Training you will be experienced and ready to join the research team at Cape Evans in the Ross Sea region of Antarctica. This field trip is not for the faint hearted as temperatures in Antarctica in November can be as low as -30°C, so make sure you're prepared for a trip of a lifetime!
Field Trip Plan - November 2017
| | |
| --- | --- |
| Thursday 23 November | Bad weather at Scott Base has delayed your departure. Use your extra day in Christchurch to prepare for your trip to the ice. Get your ECW 'Extreme Cold Weather' clothing packed and complete your safety induction in preparation for your flight south tomorrow. |
| Friday 24 November | Jump aboard the US Airforce C17 Globemaster aircraft in Christchurch and land on the ice in Antarctica. Complete your field training and learn how to survive in this harsh environment.  |
| Saturday 25-Sunday 26 November | Travel across the sea ice to Cape Evans to meet scientists working on sea ice ecosystems and see how these ecosystems may respond to climate change. |
| Monday 25 November | Look at how Scott Base operates and supports scientists so they can complete their research. |
| Tuesday 26 November | Meet scientists working on the Ross Ice Shelf and find out more about the importance of this huge area of floating glacial ice. Discover what has happened this season in Antarctica and how changes in sea ice affect animals and people. |
| Wednesday 27 November | Look to the future and how changes in the climate could affect sea ice and the plants and animals that rely on it. |
What's New
The LEARNZ Team think that joining the NZASE and staying connected through the NZ Science Teacher will help you become a better teacher of science.