Testimonials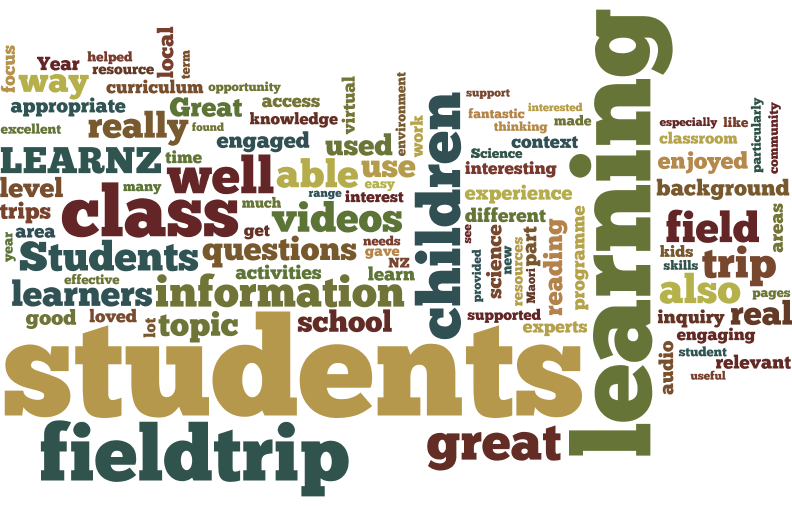 Sustainable Seas
Fitted in perfectly with our school's vision, the key competencies and values. It was an excellent resource to supplement what we were doing in the classroom.
Christine Bilderbeck from Lepperton School
Highly effective. Year 5&6 totally engaged. The videos are gold, prompting much discussion and the kids loved being part of the webinars.
Anthony Webb from Paraparaumu Beach School
Spirit of Adventure
Very useful videos, students enjoyed them. I have got a few dyslexic children so videos and live interviews were really helpful to get them involved in learning.
Evgenia Kern from Tauraroa Area School
Encouraged students to use and manipulate technology devices to complement their learning. Especially great for the boys. Enhanced our whole school thematic topic. I look forward to the next field trip. Thank you Learnz.
Ina Whanarere from Te Kura Kokohuia School
The field trip certainly connected my students with the NZC. It was an authentic context for children to be involved in, covering all the key competencies, learning areas etc.
Patricia Molloy from Turitea School
It showed the children working as a team in real life situations. I have also used it as part of my group reading material.
Kim-Sherree Dalton from Kaharoa School
Stimulated lots of conversations about participating and contributing, managing self and taking risks. Also how people had to work together and support each other to achieve their goals.
Hilary Lintott from Brooklyn School (Wellington)
This field trip enabled my students to explore diversity, excellence - aiming high and giving things a go and themes of working together to achieve goals. Really helped in developing a great classroom culture.
Andrew de Wit from Papakowhai School
We used this field trip to support our learning on hauora/wellbeing and as part of our work looking at respect, responsibility, and community participation. It also linked in with our work on Growth Mindset and goal setting.
Te Ireland from Karoro School
The children were really engaged and being able to ask an expert made them feel like they were really on board the Spirit of New Zealand. I particularly found the easy readings great for my Year 4-5 class and used them as the reading programme. Totally satisfied with all that was offered!
Elizabeth Ives from Picton School
The differentiated text pages and supporting photographs and videos ensured all the students had success in their learning. Students absolutely loved participating in the live webinar - the writing they produced after it was inspiring and many students reflected it was the best writing they had ever done.
Jane Rickman from Hamilton West School
People and Water
The LEARNZ delivery method made it easier to work alongside students with their learning rather than in front of them. Students have been engaged and motivated to ask questions and wonder about things.
Amanda O'Brien from St Joseph's School Timaru
Marine Mammals
It engaged the children in a different way; more authentic learning. Got students thinking about their role in our future world and how they could participate and contribute.
Rachel Ammundsen from Moturoa School
Great to connect with others in a real world context.
Katrina Curtis from Clearview Primary
The children were particularly engaged with the videos, which were easily accessible and generated a lot of group discussion. The videos were a great addition to other images, written texts and resources that we used.
Nicola Johnson from Henderson Valley School
I like the LEARNZ Inquiry approach, how the students read (or listen to) all the background information first and then formulate their own questions.
Diane Henderson from Ohaeawai School
Met our objectives for inquiry in the social sciences and science but also gave lots of opportunities for literacy. This experience also allowed the students to feel connected, to learn new things and to take responsibility for their own learning.
Denise Barrington from Kerikeri Primary School
The field trip was a great way to hook the class into our Te Moana inquiry and the children loved it! LEARNZ is a super learning tool that links well in obvious and explicit ways to many aspects of the NZ Curriculum. 
Zoe Smith from Moturoa School
Game 3, "Where have all the dolphins gone?", was so successful that we've played it with a younger class and with the new entrants, and also with the pre-school over the road! The children got a really thorough understanding of this topic through the Virtual Field trip, which tied in perfectly with our whole school topic of "The Ocean".
Amanda Barrett from St Patrick's School (Bryndwr)
I use this extensively in my reading programme - high interest content. The children love the interactives which also shows me how carefully the children have read the text.
Louise Parker from Twyford School
Pages