Welcome to Natural Hazards - lessons from Iceland. This field trip is supported by EQC (the Earthquake Commission). The field trip is from 29 August to 4 Spetember 2018. Enrol now.

Introduction 
Travel to Iceland, a land of fire and ice. See how experts are going to drill into magma to reveal how volcanoes work and harness geothermal energy. 
Like New Zealand, Iceland sits astride a tectonic plate boundary and experiences lots of earthquakes. However, Iceland is also over a volcanic hot spot so it has many more volcanoes and volcanic eruptions than New Zealand. Because of its vulcanism, Iceland has huge potential for generating electricity from its geothermal energy reserves. The Krafla Magma Drilling Project will be an opportunity to develop technology to utilise the Earth's heat to help meet global energy needs. This project will also help scientists to better understand how volanoes work so more accurate predictions of future eruptions can be made.
During this field trip you will get up close to Iceland's biggest volcanoes and the many weird and wonderful volcanic features on its landscape. You will visit the Krafla magma drilling project and discover how this work could help reduce volcanic hazards in the surrounding area.
Meet Shelley the LEARNZ field trip teacher.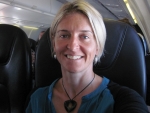 Watch the introductory video on Vimeo.
Location
Travel to Iceland, an island of volcanoes near the North Pole. Iceland, like New Zealand, is on a tectonic plate boundary so is geologically very active. Indeed, Iceland is being torn in half by the separation of the Eurasian Plate and the North American Plate. Over the past 500 years scientists say that Iceland's volcanoes have erupted one-third of the world's lava. There are 30 active volcanic systems and 13 have erupted since humans arrived there.
As in New Zealand, Iceland's organisations and people continue to learn how best to prepare themselves for the next natural hazard event.
Field Trip Plan - Term 3 2018
Monday 27 August to Wednesday 29 August

 




Join Shelley and the ambassadors as they travel all the way from New Zealand to Iceland for the Natural Hazards field trip.

Thursday 30 August

 

Visit Reykjanes Peninsula a Unesco Global Geopark and look at the geological processes that have shaped this country.

Friday 31 August

 

Take the ferry across to Heimaey, expore an active volcano and learn how local residents coped with a volcanic eruption that threatened their village and fishing industry.

Monday 3 August

 

Explore the famous and hard to pronounce Eyjafjallajökull volcano and look at how volcanoes are monitored.

Tuesday 4 September

Drive to Krafla and see how geothermal energy can be used to generate electricity.

Wednesday 5 September

Meet experts involved in the Krafla magma drilling project and find out how they will drill into an active volcano.
What's New
| | |
| --- | --- |
| Friday 27 July | Newsletter 1 will be sent to all enrolled classes |
| Friday 27 July | The Natural Hazards background pages and their easy reading versions and student activities are now online. |
| Friday 27 July | The Natural Hazards field trip website is now online. |
The LEARNZ Team think that joining the NZASE and staying connected through the NZ Science Teacher will help you become a better teacher of science.