Ambassador Māia


Kia ora, I'm Māia the kea.
My name means bold in Māori. Like most kea I love to give things a go and am often curious and a little mischievous.
I am the ambassador that travels all over the place with Shelley the LEARNZ field trip teacher. I love getting out and about on adventures. Even though I'm more at home in the South Island mountains, I am looking forward to heading to the North Island.
Sign up your ambassador now so I have some company on the field trip.
Mā te wā,
Māia.
Monday 13 August
Kia ora,
We travelled over 1300 kilometres today as we drove, flew and then drove some more to get from Dunedin to Hamilton. The weather across the country wasn't fantastic but we did at least get a few glimpses of Aotearoa's spectacular scenery as we flew to Auckland. There was still plenty of snow on the mountains and Mount Ruapehu, Tongariro and Ngauruhoe stood out despite the cloud.
I was surprised at how quickly we were able to drive from Auckland to Hamilton today and I'm looking forward to finding out more about how this road has been designed. I'm also looking forward to driving for the first time… even if it is in a simulator.
Catch you later,
Māia.
Tuesday 14 August
Kia ora koutou,
It was a cold, bleak day in the Waikato today, but it didn't stop us from travelling to Pūtāruru College. We met with some clever students who have been investigating ways to make our future transport system safer.
I thought that if everyone could fly like me then travel would be much easier. In the future we might have flying cars, or at least cars that can drive themselves. Self-driving cars would only be able to travel a certain speed and would have to follow the road rules. We measured the speed of vehicles travelling near Pūtāruru College and unfortunately not everyone was driving below the speed limit.
Tomorrow we are going to meet some experts who have helped design the Waikato Expressway.
See you then,
Māia.
Wednesday 15 August
Kia ora,
It was another cold, rainy day in Hamilton today. Between rain showers we headed out on to the Waikato Expressway construction site. There was so much going on it was hard to take it all in. Large machines were working to dig out areas for the road, cranes towered overhead, and huge bridges were being built. It was good to see that amongst all this construction native trees were being protected. I learned that roads can't just be built anywhere. The environment needs to be cared for and people consulted. I even got to test-drive a bulldozer – it was so much fun!
See you tomorrow.
Māia.
Thursday 16 August
Kia ora,
We headed to the University of Waikato today to meet some experts who have been studying transport and driver behaviour. It was interesting to think about electric cars and how they might be used in the future. Personally, I'd prefer to fly. I think people should walk or bike more often rather than always using the car.
I was lucky enough to try out the driver simulator. I wanted to car surf, but Shelley wouldn't let me. Kea love car surfing but it's really dangerous! Instead I helped Shelley drive the simulator, which was fun but it did feel weird.
It has been a busy and exciting week, but I'm exhausted now and ready to head home. See you on another field trip soon.
Māia.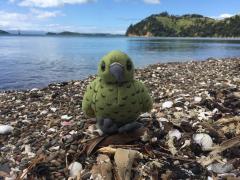 Māia the LEARNZ ambassador is looking forward to the Share the Road field trip. Image: LEARNZ.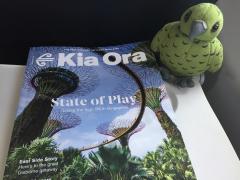 Māia settles in to read the Kia Ora magazine during her flight to Auckland. Image: LEARNZ.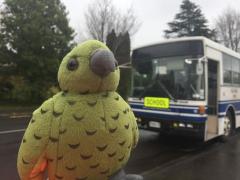 Māia looks at how to stay safe on the road at Pūtāruru College. Image: LEARNZ.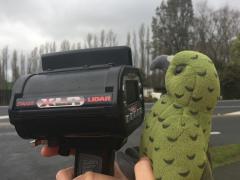 Māia helps measure the speed of drivers near Pūtāruru College. Image: LEARNZ.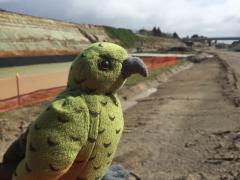 Māia visits the Waikato Expressway construction site. Image: LEARNZ.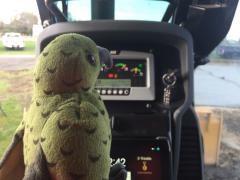 Māia tests drives a bulldozer used on the Waikato Expressway site. Image: LEARNZ.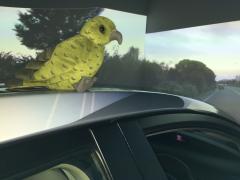 Māia sits on the driver simulator at the University of Waikato. Image: LEARNZ.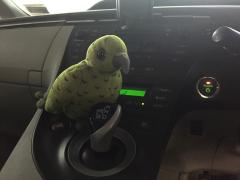 Māia inside the driver simulator. Image: LEARNZ.