Diary 1


Date:
Monday, March 5, 2018
Field Trip Name:
Sustainable Seas
Weather:
Cloudy at first then hot and sunny
Kia ora koutou,
This week is Seaweek where New Zealanders can celebrate their connection with the sea and take time to learn more about our amazing marine environments. The Sustainable Seas field trip to Nelson is perfectly timed, and I can't think of a better way to be spending the week. 
The journey begins
Nelson isn't the easiest of places to get to. Steep hills and Cook Strait make Nelson feel a long way from anywhere. You had to fly from Dunedin to Wellington before you could fly back to Nelson. At least there wasn't much turbulence despite the thick layer of cloud and you could sit back and enjoy the ride. Before leaving home, you checked the long-range forecast and it promised fine weather. Even though it's now officially autumn, the temperature is still predicted to be in the mid-twenties for the whole week. Nelson is often called the sunshine capital of New Zealand and it looks like this week will be no different. I hope you packed your sunscreen!
Sea as far as the eye can see
Flying is a fantastic way to appreciate just how important the sea is to New Zealand. When the cloud parted the view from the plane was dominated by the sea. It's not surprising that the ocean around New Zealand is home to so many different plants and animals. More than 15,000 species have been discovered off New Zealand's coast, and on average 7 new marine species are identified every fortnight. Because New Zealand is such a long way from other countries many of these species are endemic, which means they are not found anywhere else in the world. What is surprising is how little we know about our ocean. Less than 1 percent has been surveyed, so we still have much to learn. This week is an ideal opportunity to learn more about how ecosystems in the sea work, how they are affected by people and how we can better look after them. You can also read the background pages about this.
Tasman Bay
After a bumpy landing in Wellington you had time for a break before boarding your flight to Nelson. Cloud cloaked the land below for most of the journey but as you started to descend into Nelson the cloud lifted. You could see a long line out in Tasman Bay known as the Boulder Bank. This 13-kilometre-long bank is a strange, naturally formed bank of boulders thought to have been made as sea currents cause the drift of rocks along the coast. The ambassadors found it hard to believe that it was natural and not made by people. This boulder bank creates a sheltered marine environment known as Nelson Haven. You will explore this area more over the next few days. You will also venture out into Tasman Bay by boat. Tasman Bay is the perfect place to study marine ecosystems because it is used by lots of different people for many different purposes and includes different coastal and open ocean environments. These different environments are home to a diverse range of animals, some of which you will see tomorrow.
Welcome to sunny Nelson
It was a smooth landing in sunny Nelson and you were greeted with hot weather and great views across the city to the hills beyond. Nelson is the second oldest settled city in New Zealand and the oldest in the South Island. Nelson's Māori name is Whakatū and means to build, raise or establish, and there is evidence that Nelson was one of the first areas to be settled by Māori around 700 years ago. Nelson attracts thousands of tourists each year and looking around the area it's easy to see why. Over the next few days you too will get to explore this area and meet scientists who will help you to discover more about Tasman Bay.
See you at sea tomorrow,
Shelley, the LEARNZ field trip teacher.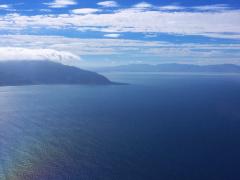 The cloud came and went as you flew north to Wellington. Image: LEARNZ.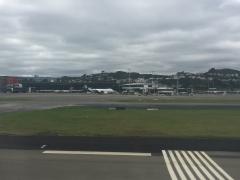 Low cloud persisted over Wellington Airport this morning. Image: LEARNZ.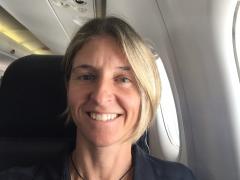 Shelley enjoys the flight to Nelson to begin the Sustainable Seas field trip. Image: LEARNZ.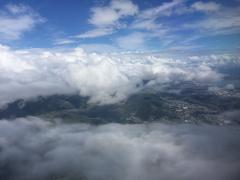 The weather improved as you got closer to Nelson. Image: LEARNZ.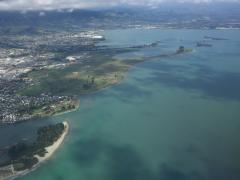 Nelson is the perfect place to learn more about the sea. How do you think the sea affects Nelson and the people who live there? Image: LEARNZ.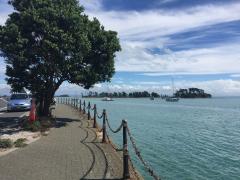 Nelson attracts thousands of tourists each year and as you explored the city you could see why. Image: LEARNZ.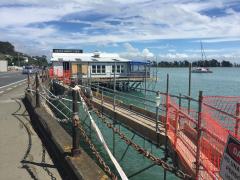 The well-known boat shed cafe in Nelson is being repaired after it was damaged during ex-cyclone Gita. Image: LEARNZ.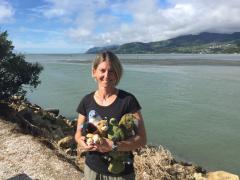 Shelley and the ambassadors enjoy sightseeing in sunny Nelson. Image: LEARNZ.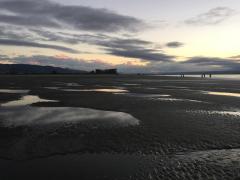 A walk along Tahunanui Beach in Nelson was the perfect way to end the day. Image: LEARNZ.