Diary 2


Date:
Tuesday, March 6, 2018
Field Trip Name:
Sustainable Seas
Kia ora koutou, 
The best way to learn about the marine environment is to leave land behind and head off-shore. So, your plan for the day was to take a boat trip to Delaware Bay. 
Web conference time
Before launching the boat, you had time to talk to Titirangi School and Harewood School during the web conference. Students asked lots of tricky questions. Stina and Sorrel from the University of Otago had a challenging time answering them. Both Stina and Sorrel are part of a team of scientists and other experts working on the Sustainable Seas National Science Challenge. This team will spend the next few years trying to build a better understanding of our marine environment and how it can be managed. It was interesting to hear about all the things that affect marine areas. It's not just what happens in the sea, but also what happens on land, that can impact our oceans. You can listen to the web conference to find out more.
Leaving land behind
Once you had completed the web conference you were given a safety briefing by Lou the skipper of the NIWA research boat. He issued you with a life jacket and you were ready to head out to Delaware Bay in search of blue cod. Stina has been studying blue cod and was keen to catch some fish to help with her research. It was a fantastic feeling to leave land behind and feel the splash of salt water on your face as you sped away from Nelson towards Delaware Bay. Blue cod numbers are not high in Tasman Bay, but with fine weather and a small swell everyone was feeling positive about catching some fish. Sorrel and John set a cod pot filled with tasty bait just in case no fish were caught by rod. After setting the pot Stina and Sorrel baited their hooks and patiently waited for the fish to bite. 
Ecosystem elements
You chatted with Sorrel as she was fishing. She told you more about what makes up an ecosystem and how scientists are working to better understand the links within an ecosystem. Sorrel explained that an ecosystem is made up of animals, plants and bacteria which share an environment with non-living things, such as water, sand and rocks. These living and non-living elements are all interconnected. If you change any element, then it can affect the health of the ecosystem. The challenge for scientists is that to understand an ecosystem you must study all these interconnected elements. Luckily scientists have plenty of technology to help them. You will find out more about this throughout the week.
While you were fishing you had time to think about what can affect the sea. Even from where you stood on the boat you could see many things that could affect the marine ecosystem you were in. A recent landslide was visible on the coastal hills. Landslides can affect water quality as soil washes from the land and enters the sea. Nearby farms also can affect water quality when fertilisers are used. Nutrients from fertilisers can end up in the sea and cause problems. Watch the video to find out more.
Catching fish
A bit of perseverance finally paid off and both Stina and John managed to catch blue cod. Stina has been trying to find out more about where blue cod live and how their size is affected by where they live. Stina is interested in the size of these fish because it tells her about their age, health and whether they can reproduce. Stina will need to take these fish back to the lab to measure them and dissect them. If we don't know much about the life cycle of fish or where they live, then we can't look after them in the future. Watch the video to find out more about Stina's research.
Ecosystem-based management
After a successful fishing mission, you headed back to Nelson. On the return journey you asked Sorrel and Stina about how we can look after marine ecosystems. Sorrel and Stina talked about a new form of management called ecosystem-based management or EBM for short. EBM looks at all the things that affect an ecosystem and how people use and value that ecosystem. It then gets everyone to work together to look after that ecosystem and set rules about how it should be used. EBM works by balancing conservation and use of an area so that everyone benefits, and the marine area stays heathy for future generations to enjoy. EBM is a work in progress and will be trialled right here in Tasman Bay. Watch the video about this.
Dissecting fish
Once you were back on land you headed to NIWA's lab to help Stina dissect her fish. You had to wear a protective lab coat and gloves before taking a closer look inside a blue cod. It was fascinating watching Stina at work. Stina showed you the gonads of the fish which revealed that the fish was a female. You could also see what the fish had eaten recently by dissecting the stomach. To find out the age of the fish Stina examined the tiny ear bone called an otolith. The otolith has growth rings just like a tree, which you can see when you look at it under a microscope. Stina was able to tell that the fish was 6 years old. Watch the video to see more.
Tomorrow you will look at where land meets sea and discover the hidden wonders of an estuary.
See you then,
Shelley the LEARNZ field trip teacher.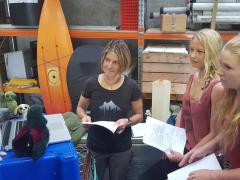 The ambassadors, Shelley, Sorrel and Stina talk to Titirangi School and Harewood School during the first field trip web conference from the NIWA boat shed in Nelson. Image: LEARNZ.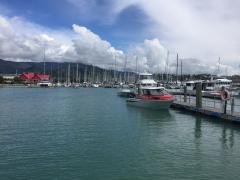 The NIWA research boat is ready to leave Nelson to head out to Delaware Bay in search of blue cod. Image: LEARNZ.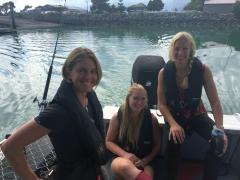 Shelley, Stina and Sorrel leave Nelson on a NIWA research boat to head out to Delaware Bay. Image: LEARNZ.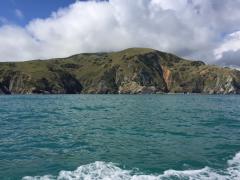 Delaware Bay is north east of Nelson. You can see a recent landslide; how do you think coastal landslides like this affect marine areas? Image: LEARNZ.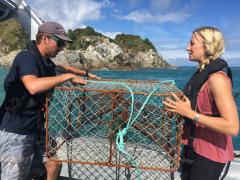 John from NIWA and Sorrel from the University of Otago prepare to drop a cod pot to try and catch blue cod. Image: LEARNZ.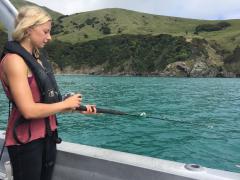 Sorrel waits for fish to bite. Image: LEARNZ.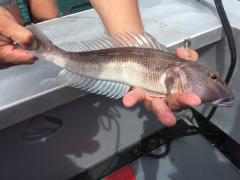 After lots of nibbles Stina finally catches a blue cod. Image: LEARNZ.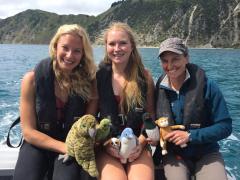 Sorrel, Stina, Shelley and the ambassadors enjoy a successful fishing trip. Image: LEARNZ.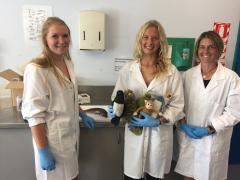 Lab coats and gloves on to prepare for fish dissection back at the NIWA lab in Nelson. Image: LEARNZ.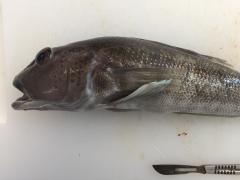 Stina will dissect this blue cod to find out more about what it has been eating, its gender and age. Image: LEARNZ.
The gonads of the blue cod on the left show that the fish is female and the ear bone on the right is used to find out how old the fish is. Why do you think this information is useful? Image: LEARNZ.