Welcome to the Expedition Fiordland - putting the eco in ecosystem. This field trip took place on 22-24 September 2020. The content in this trip is available for ongoing use.
Supported by the Ministry of Education/Te Tāhuhu o te Mātauranga and Pure Salt.

Introduction 
Jump onboard the MV Flightless vessel in Tamatea Dusky Sound and explore one of the most remote and unmodified areas of Aotearoa. Join a group working hard to help turn Tamatea into one of the most intact ecosystems on Earth. This restoration work will help create a 'bio bank', a source of endangered native species that can be sent to pest free locations throughout New Zealand. This adventure in the deep south will give you ideas on how you might work to restore an ecosystem near your place.
Meet Shelley the LEARNZ field trip teacher.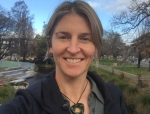 Watch the introductory video on Vimeo.
Location
Fiordland is a region in the south-west corner of Te Wai Pounamu, the South Island. Fiordland has 14 fiords or sounds. Come and explore the largest sound - Tamatea, Dusky Sound.
The fiords that give the area its name are troughs carved by glaciers thousands of years ago. This is a remote and rugged land with high rainfall, dense forest, and steep mountains. Recognised as a World Heritage Area, Fiordland is also the largest National Park in Aotearoa. The area provides a variety of habitats for many endangered plants and animals. 
Experience this trip on Google Earth >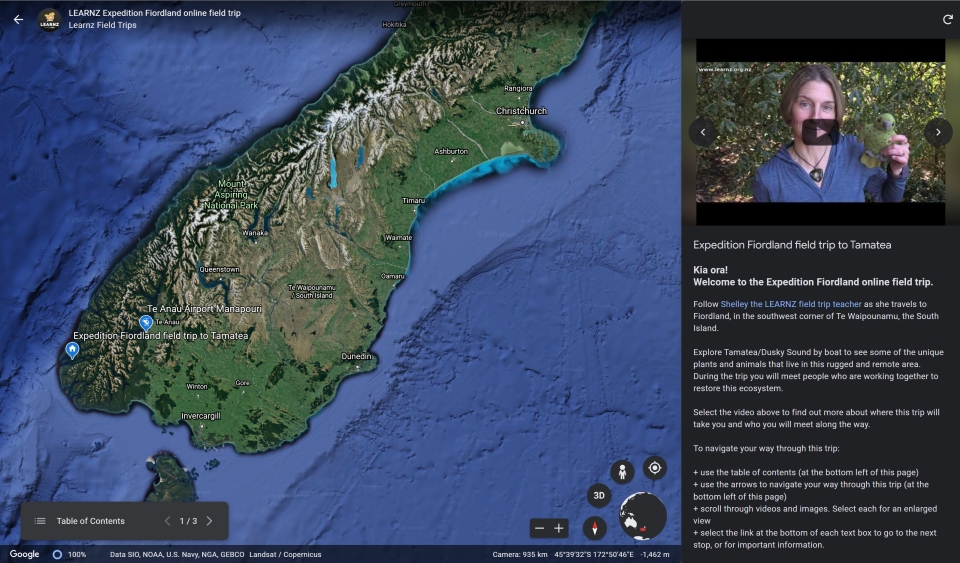 Field Trip Plan - Term 3 2020
Tuesday 22 September

Onboard MV Flightless in Tamatea Dusky Sound

Enjoy a spectacular helicopter flight to Supper Cove in Tamatea, Dusky Sound. Meet the Pure Salt crew and settle in for a multi-day voyage to discover the history and  many taonga of remote Fiordland. Read Māia the LEARNZ ambassador's update. Watch the videos and web conference. Explore the Google Earth tour.

 

Wednesday 23 September

Exploring Tamatea

Walk through the forest on Anchor Island and compare it with forest on the mainland. See some of the unique plants and animals that live in the fiords. Look back in time and discover the history of this area. Find out what Māia got up to in the ambassador update. Watch the videos and web conference and explore the Google Earth tour.

 

 

Thursday 24 September

Restoring Tamatea and getting involved

Explore some of the many islands in Tamatea and see how these areas have been made predator free. Help volunteers identify native species and extend the network of island sanctuaries by controlling predators on Mamaku, Indian Island and Long Island. Watch the videos and web conference. Read about Māia the LEARNZ ambassador and explore the field trip Google Earth tour.
What's New
| | |
| --- | --- |
| Thursady 3 September | Interactive Quizzes are now ready to play, based on the Background readings. |
| Monday 24 August | Newsletter sent to all enrolled classes. Teachers can now book a web conference to speak to experts live during the field trip. |
| Monday 24 August | The Expedition Fiordland field trip background reading pages are now online. |
| Monday 24 August | The 2020 Expedition Fiordland field trip website is now online. |
The LEARNZ Team think that joining NZASE and staying connected through its email newsletter will help you become a better teacher of science.