Testimonials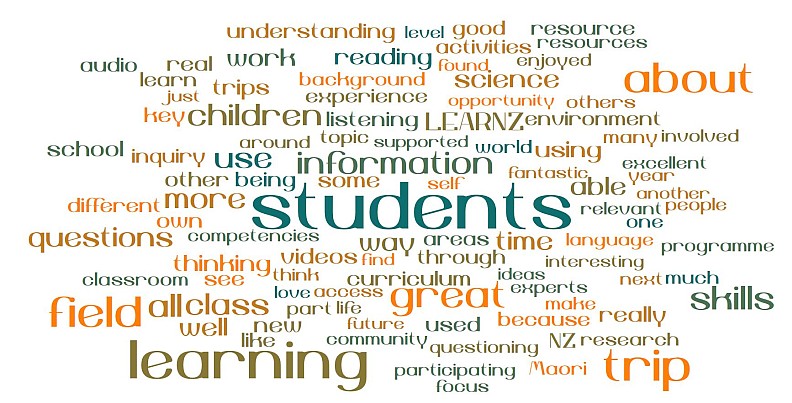 Antarctica
Linked well to our inquiry this term on Ecosystems and Science.
Jillian Adams from Trentham School
The students particularly enjoyed the videos and the quizzes. They also commented on how much they liked how the diaries were written as if they were there. This LEARNZ Antarctica trip fitted in well with the Nature of Science aspects of questioning and using vocabulary that we were focussing on.
Lauren Milnes from Ngatimoti School
The idea of virtually going to Antarctic created such a buzz and a HUGE level of engagement. It's great the way LEARNZ leaders connect with students - they present everything in such an accessible way but have high expectations that students can and will be able to understand fairly sophisticated concepts. 
Christine Hailes from North Street School
This is an effective and engaging part of my literacy programme. My Pasifika students, in particular, are much more engaged with a Learnz field trip than other academic activities. Especially relevant in meeting the vision of the NZ Curriculum.
John Brunton from Marshall Laing School
This LEARNZ Antarctica field trip has given me the confidence to continue to integrate digital technology into my programmes. My class were very engaged in their learning and it was well integrated through Literacy, Science and Mathematics.
Leasa Craw from Morrinsville School
It was a very REAL and engaging focus for a lot of different interest groups. Use of the Audio conferences was a first and was very impactful for the students.
Jean Mallinson from Alfriston School
The trips like Antarctica are fantastic. It enables all children no matter what ethnicity or socioeconomic group to explore the world. My teaching practice has been transformed as LEARNZ allows me to present learning with a digital approach, using multiple computers and devices and guiding students in combination with Google Classroom.
Pamela McDowell from Westbrook School
Listening to someone who was there reinforced how close we are to Antarctica and viewing the videos diaries really focused the students into the whole experience. The readings and activities made students manage their time appropriately.
Ian Timo from Linwood College
The LEARNZ personnel and experts feel like real friends or students' own personal teacher, which helps to make the learning experiences very potent. They field trips like Antarctica are great and I just love the work you all do to make them interesting and engaging. Thank you.
Lesley Johnston from Firth School
Students said it was great because it simulated going to Antartica and it was awesome seeing (our ambassador) BuzzBee there. It was easy to set up my programme using Google classroom so students and their families could see what was happening whenever they wanted.
Cheryl Dunick from Spring Creek School
The context of this Antarctica learning trip was helpful to discuss the ESS topic (L5): Earth systems. Students learnt lots of new things about Antarctica and sea ice formation, with some good extra teaching material and activities to extend students.
Nataliia Kravchenko from Te Awamutu College
Great resource with a variety of media. Very comprehensive, providing students with another layer of learning material connected to real world around them.
Roland Gorlich from Arahoe School
I really enjoy the learnz trips. My class loved learning about preservation and discovery in Antarctica. It delved into the deeper questions. 
Gina Matheson from Marshall Laing School
Catered to the needs of all students. Tasks were easily differentiated for all curriculum levels. Great opportunity for students to make connections with the wider community.
Christina Fortes from Hay Park School
It was great to have people there in real time - it connected the students to the context. It was fantastic where they could type questions to the experts even though they didn't have a speaking role.
Sarah Prescott from Waimate High School
It has been one of the best units I have taught in my 16 years of teaching - I would recommend it to anyone. I do think that it has been particularly successful in my classroom because we signed up for the extras such as the ambassador and the audio conferencing - that's what really made it come alive for me and the children in my class.
Samantha Edwards from Kenakena School
My students have a different view of the world we live in after this field trip. My students love the field trips.
Martie Andrew from Awakeri School
You do a great job of preparing and motivating us to engage with the topic. Well structured for all students. Even low achieving readers well engaged. Covered science, values, aspirations and career information. 
Martin Dodge from Balclutha School
It was superbly rich with a wide range of activities to select from, to cater for differentiated learning in a class of individuals with multiple learning needs. LEARNZ Field trips have been an intrinsic part of my teaching aand learning programme for many years now. Extremely appropriate.
Graham Elsmore from Christian Renewal School
The audio conversations were brilliantly done along with the accompanying videos, plus questions being typed and answered while online. I have been intrigued and surprised by how much my young students have taken on board during the trip.
Lesley Johnston from Firth School
The unit was an excellent opportunity to integrate the Principles, Values, Key Competencies across a range of curriculum areas within authentic learning situations. The students really enjoy the online learning resources, especially the audio conferences.
Brigid Conaglen from Clifton Terrace Model School
All students (Year 8, Levels 2-5) were able to access and make sense of the content. Antarctica fitted perfectly with our concept study of 'Environments'.  It was our first experience and we will be back for more.
Peter Fowler from Cobham Intermediate
My Year 7-10 students can access the field trip whenever needed, not necessarily during the trip. Relevant topic. Students keen to learn more about Antarctica.
Ruth Soper from Southern Regional Health School
The students became very curious about Antarctica. They couldn't wait to find out what would happen next and were so upset if we didn't watch everything first thing in the morning.
Gemma Forde from St Theresa's School (Invercargill)
Excellent source of information for the students, aimed at their level, well presented and easy for the students to access and work with. Students found it extremely interesting and they learnt plenty of new things about Antarctica.
Susan Dane from Elm Park School
Pages