Ambassador Alex
Kia ora koutou,
I'm Alex the bear from St Joseph's Cathedral School in Dunedin and I love going on LEARNZ field trips. My last trip was to Antarctica which was absolutely amazing!
This time I'm looking forward to travelling north to Marlborough to find out more about geohazards and how we can prepare for them.
See you soon,
Alex.
Monday 27 April
Hi guys,
Well despite the horrible weather I have had a great day. We had two smooth flights from Dunedin to Christchurch and then on to Nelson. I couldn't see much from the plane because of all the cloud but I did catch glimpses of lots of mountains just south of Kaikōura.
It rained heavily as we drove from Nelson to Kaikōura but I still managed to see some fur seals out lounging on the coastal rocks as if it were a beautiful day.
Tomorrow we are going to explore this area more to find out about earthquakes, tsunami and landslides.
See you in the morning,
Alex.
Tuesday 28 April
Kia ora,
We had to battle cold winds and rain today but at least we managed to visit all the places we wanted to see. We even managed to see where the Hope fault is – I couldn't believe how obvious it looked when I knew what to look for. It was like a line that ran through the landscape.
It was cool to see so many fur seal pups down on the beach when we were talking about tsunami. At least these seals can swim out into deep water to avoid a tsunami.
It has been a busy day so I'll say good bye.
Talk to you tomorrow.
Alex.
Wednesday 29 April
Kia ora koutou,
It was a spectacular day in Blenheim today with blue skies and warmer weather. We went out to Big Lagoon where tsunami have happened in the past and where scientists have been finding out more about the Vernon Fault. It is amazing how they can find out when earthquakes have happened in the past by digging through layers of dirt and rock through a fault line.
I learnt that the Cook Strait sequence of earthquakes was less damaging than the Christchurch earthquakes even though the magnitude was greater. This is because they weren't as close to a big city and the ground didn't shake as much.
Well, I am feeling pretty tired after all my travelling so I'll see you tomorrow.
Alex.
Thursday 30 April
Tēnā koutou, 
It was a beautiful day in Nelson today. We started the day out at the Boulder Bank which is a cool natural feature that protects Nelson from storm surges and some small tsunami. I learnt that every part of New Zealand's coastline is at risk of tsunami so it is very important to know how to recognise the warning signs and know what to do!
I'm quite tired after all our travelling and I am looking forward to arriving home to share my adventures with you.
See you soon,
Alex.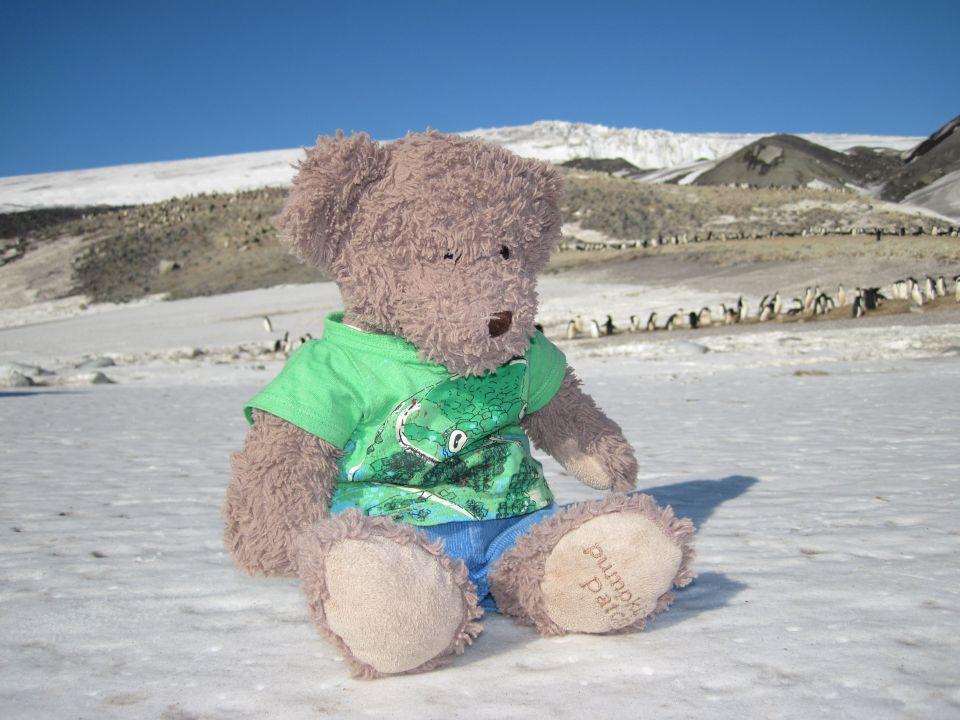 Meet Alex the bear from St Joseph's Cathedral School. Here he is in Antarctica on his last LEARNZ adventure. Image: LEARNZ.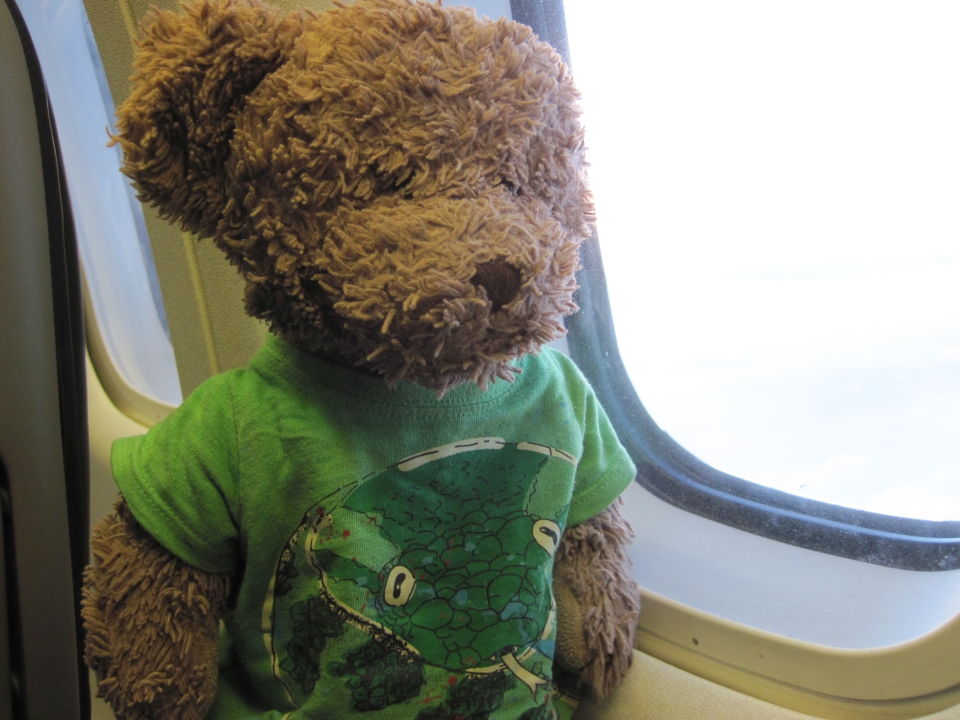 Alex enjoys his flight from Dunedin to Christchurch. Image: LEARNZ.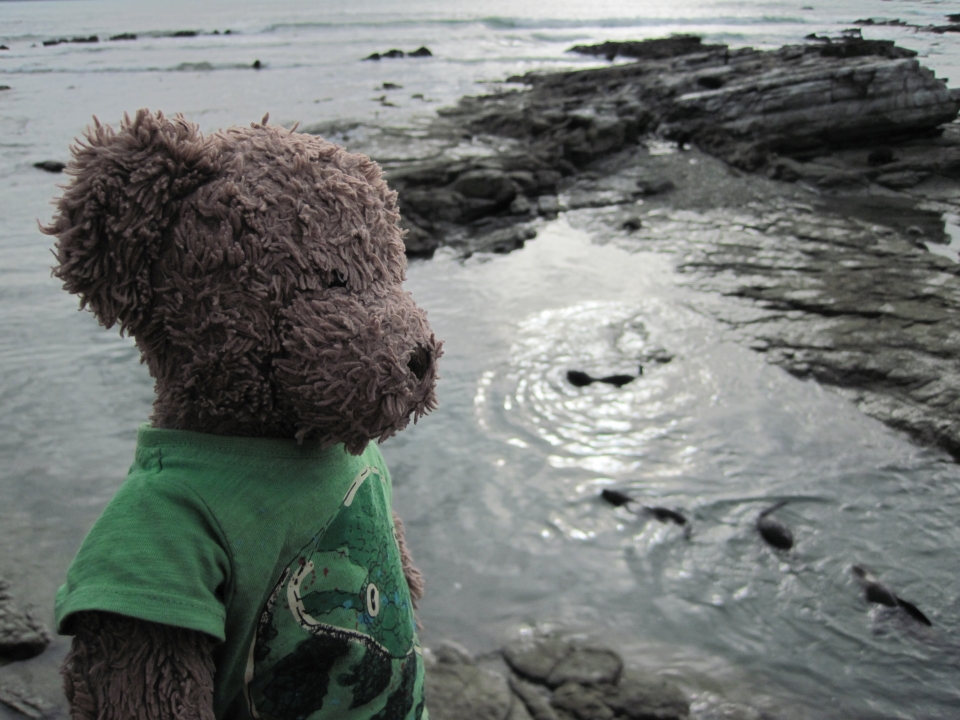 Alex watches fur seal pups playing in the rock pools near Kaikōura. Image: LEARNZ.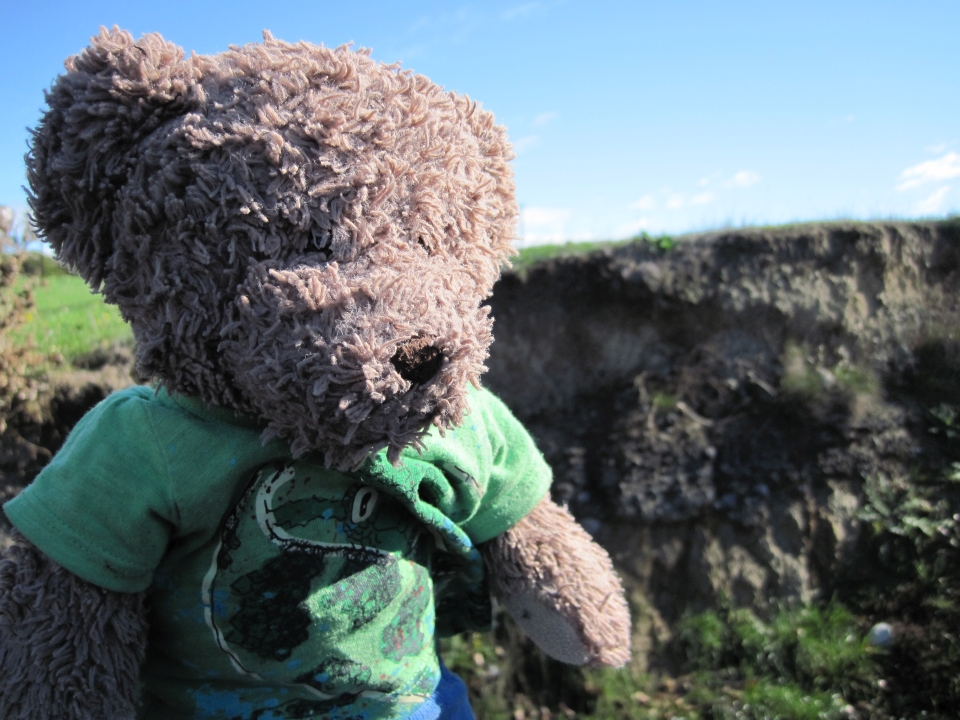 Alex looks at the trench that geologists dug through the Vernon Fault to find out more about it. Image: LEARNZ.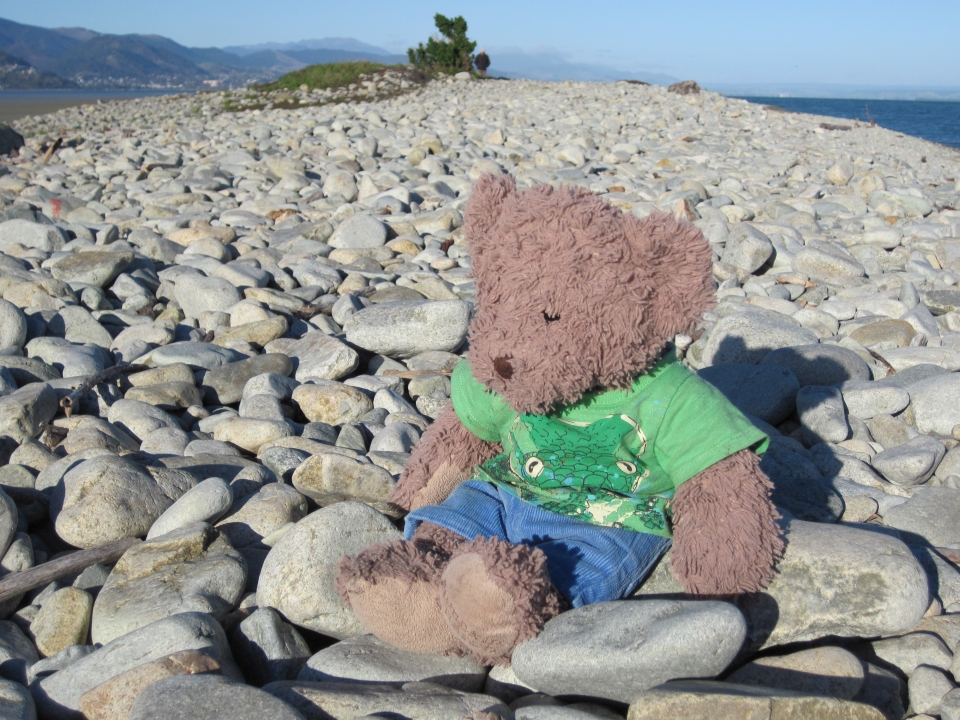 Alex checks out the Boulder Bank, an unusual natural feature in Nelson. Image: LEARNZ.