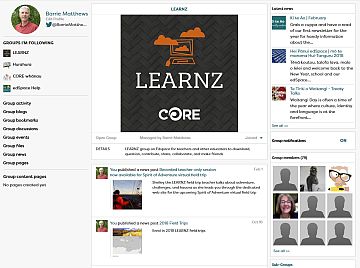 Join the LEARNZ group on edSpace, which is an online support area for all New Zealand educators who are interested in LEARNZ.
The LEARNZ group on edSpace is a closed group, so you must be a member to see what is going on there and to post to it. 
After you join, you can:
get support for a particular field trip
find out the latest LEARNZ happenings
share examples of class learning
view questions from other teachers about LEARNZ
view answers 
post questions and answers.
The following are some ideas for your posts:
Post a photo of your class learning for this field trip
Post a lesson plan or activity that you have created or adapted for this field trip
Suggest a video for a particular field trip that you would like the LEARNZ team to shoot and edit for your class during the field trip.
Suggest how teachers could integrate a LEARNZ field trip into their reading or literacy programme.
Ask for links to other support material related to a particular LEARNZ field trip.
Ask for suggestions from other teachers and educators about integrating a particular LEARNZ field trip into your teaching and learning programme
Respond to a query from another teacher.