Diary 1
Date:
Monday, August 28, 2017
Field Trip Name:
Finding Resilience
Field Trip Place:
Wellington
Weather:
Windy with low cloud
Kia ora koutou,
The word resilience is used a lot these days. People are thinking more about how to be resilient, especially to things that we don't have much control over. Natural hazards are common in New Zealand and we all need to be resilient to their affects. During this field trip, you will look at the technology behind locating and responding to natural hazards. Wellington is the perfect place for this. The city sits on a major fault line, is close to the sea, and has large rivers that flood. It is going to be a busy week!
The journey begins
Your journey to find resilience began in Dunedin this morning. You boarded an Airbus 320 destined for Wellington and the flight was full. High cloud hid the sun, but at least you could enjoy the views along the coast as you flew north. Then the cloud drifted in and obscured all but a few of the mountains. There was less snow than a few weeks ago and despite the grey weather it felt more like spring. The cloud cleared for a moment as you headed out over Cook Strait. The light reflected off the ocean creating a strange rainbow affect.
Welcome to Wellington
On your descent into Wellington you may have noticed a few bumps as the wind buffeted the plane. The pilot still managed to land the plane smoothly. Low cloud hung over the city and showers of rain passed over as you drove into the centre of Wellington. Alvin the LEARNZ ambassador, has been looking forward to this field trip. He joked about the thrill of spending a week in the earthquake capital of New Zealand. 
Tectonic forces
Earthquakes are not just common in Wellington. New Zealand sits on the boundary of the Australian and Pacific tectonic plates. Our country's stunning scenery is due to the movement of these plates. Mountain building, earthquakes and volcanic activity continue to shape our land. Technology is helping us to better understand the way these plates move and which areas are most at risk. You can find out more by reading the background pages.
Shaky Isles
Natural hazards have always been a risk to people. Māori traditional stories refer to earthquakes and tsunamis. In the mid-1400s a tsunami of over 10 metres in height is thought to have swept over many Māori coastal settlements. It's no wonder that our country is often nick-named 'the shaky isles'. Thankfully we are now able to build resilience to these hazards. This week you will see how to locate areas at risk and make plans to deal with events so you can reduce their impact. To do this you will need to take notice of where you are and the precise location of things around you.
Wandering around Wellington
You spent the rest of the day exploring Wellington and sight-seeing. As you wandered around the waterfront you saw Te Papa Museum. Te Papa houses many national taonga. To keep these treasures safe Te Papa has been carefully designed. The first floor of the building is not used for storage, or displaying these taonga, so that if there is a tsunami these items will not be at risk. The building is also earthquake strengthened and sits on base-isolators, which act as shock absorbers during an earthquake.
After taking in the sites of Wellington you headed back to your hotel to prepare for a busy few days. Tomorrow you will find out more about how to be resilient to earthquakes.
See you then,
Shelley the LEARNZ field trip teacher.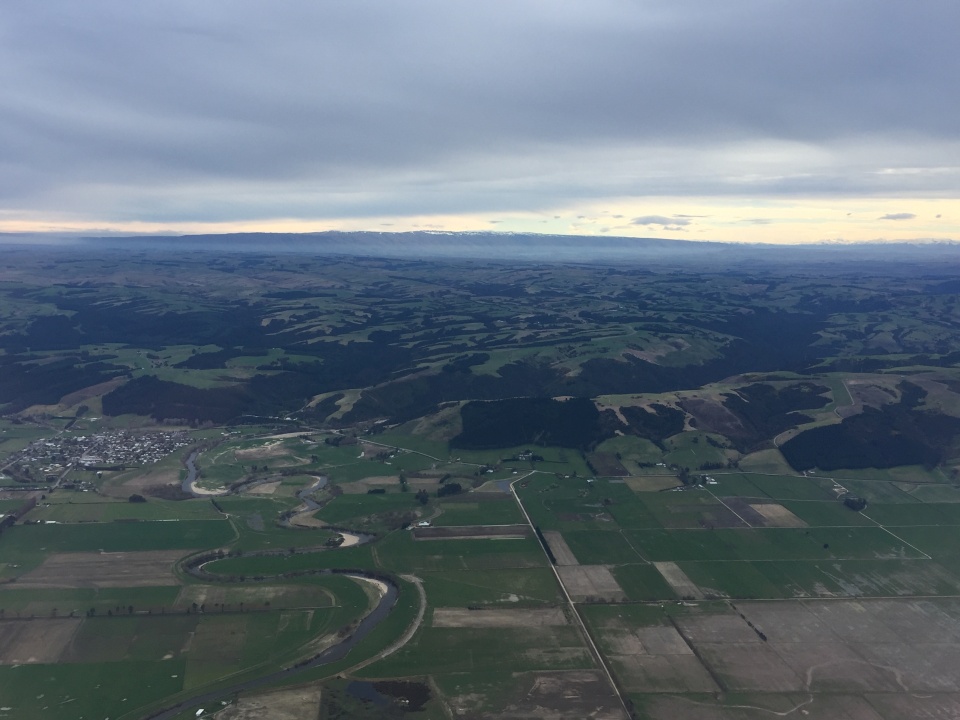 You began your journey in Dunedin today. Image: LEARNZ.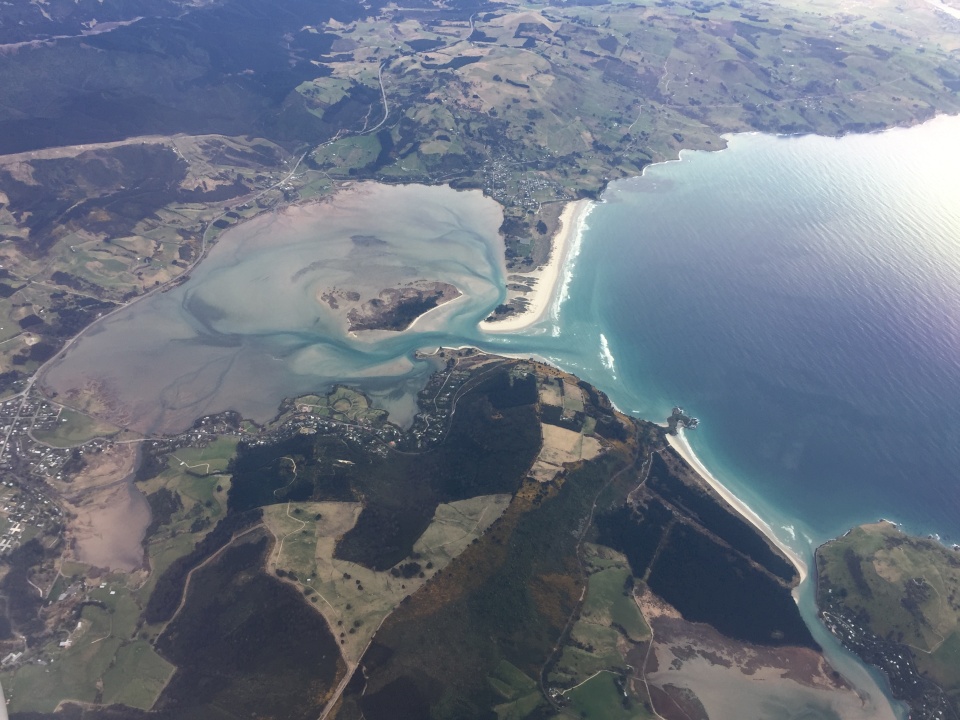 Before reaching a cruising altitude you were able to enjoy great views over the east coast. Image: LEARNZ.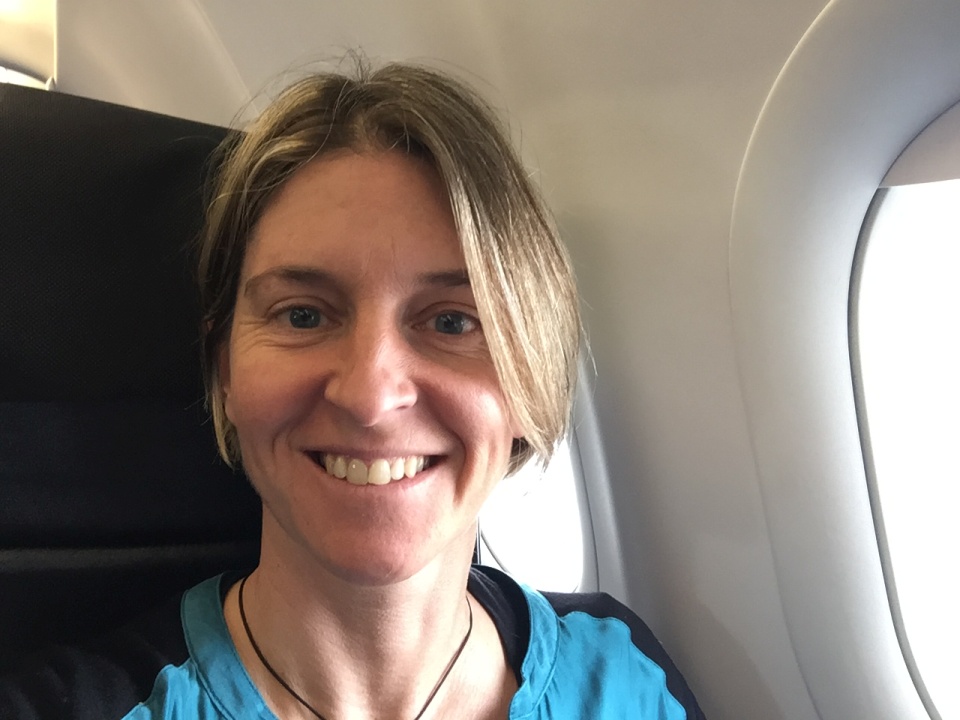 Shelley settles in for the short flight north to Wellington. Image: LEARNZ.
A few snowy peaks could be seen as the cloud cleared. Image: LEARNZ.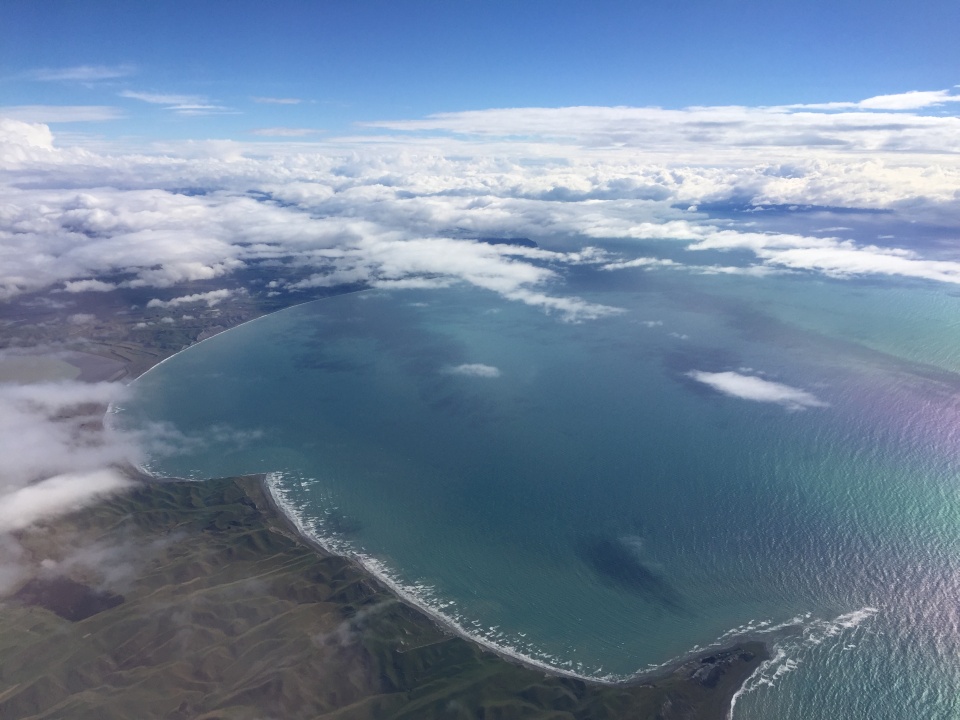 You said farewell to the South Island and headed out over Cook Strait. Image: LEARNZ.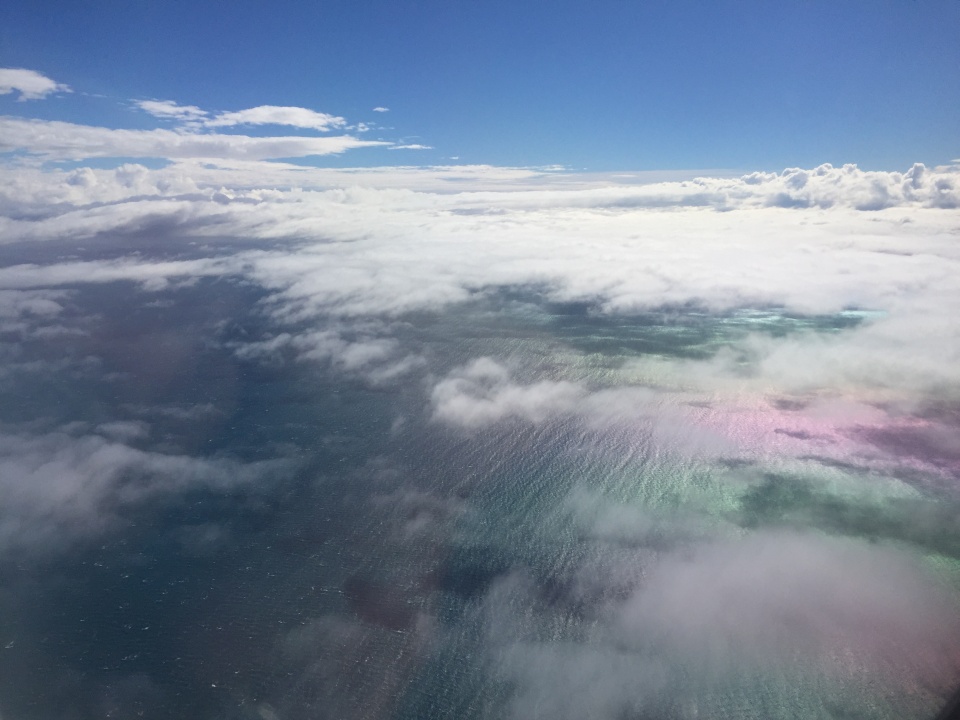 The ocean took on the colours of the rainbow as the sun shone on the water. Image: LEARNZ.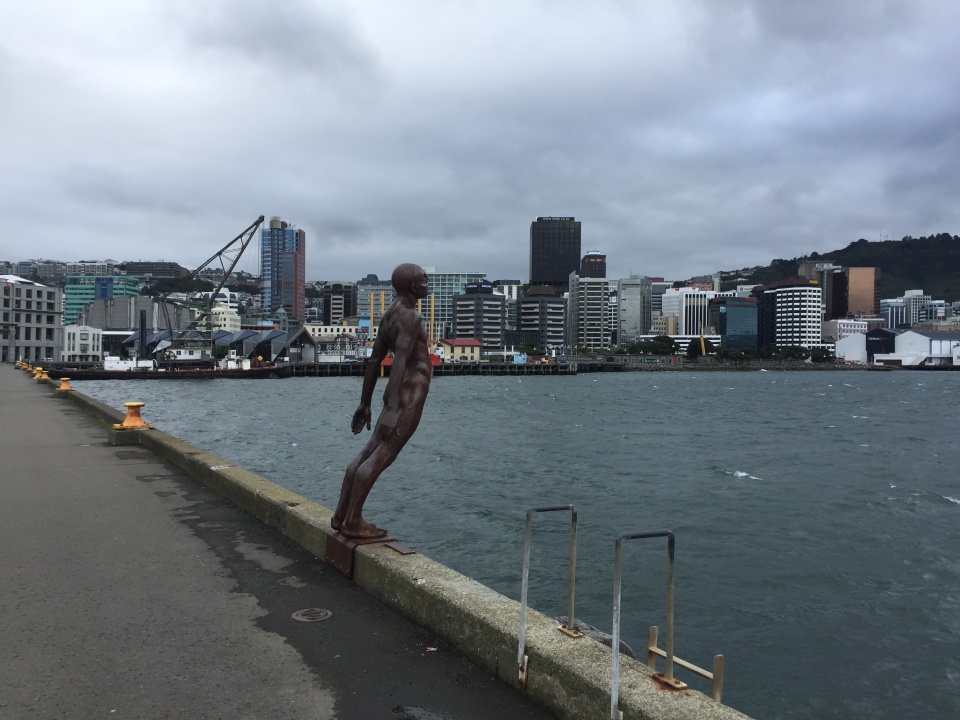 You had time to explore Wellington and wander around the waterfront. Image: LEARNZ.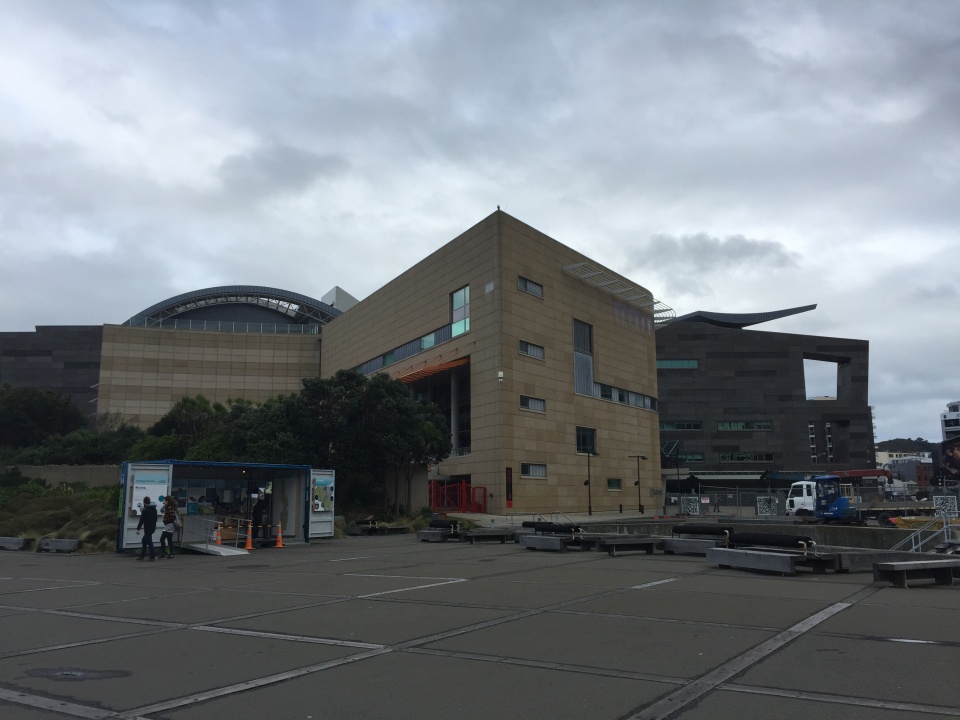 Te Papa Museum has been designed to withstand earthquakes. What makes this building more resilient to earthquakes? Image: LEARNZ.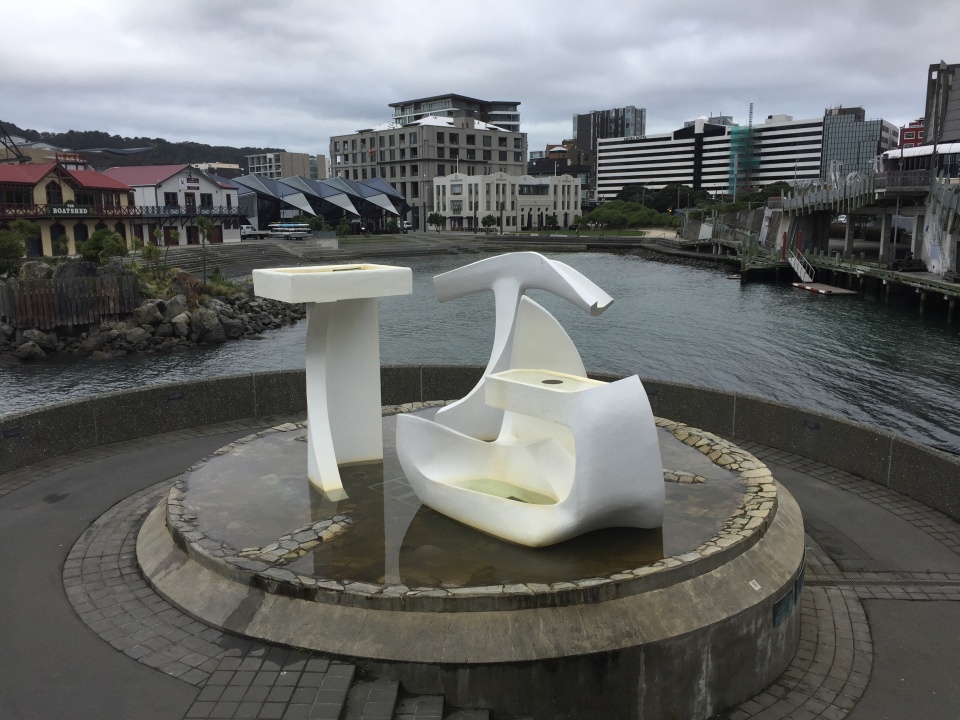 You are never far from the sea in Wellington. What are the advantages and disadvantages of living in a coastal city? Image: LEARNZ.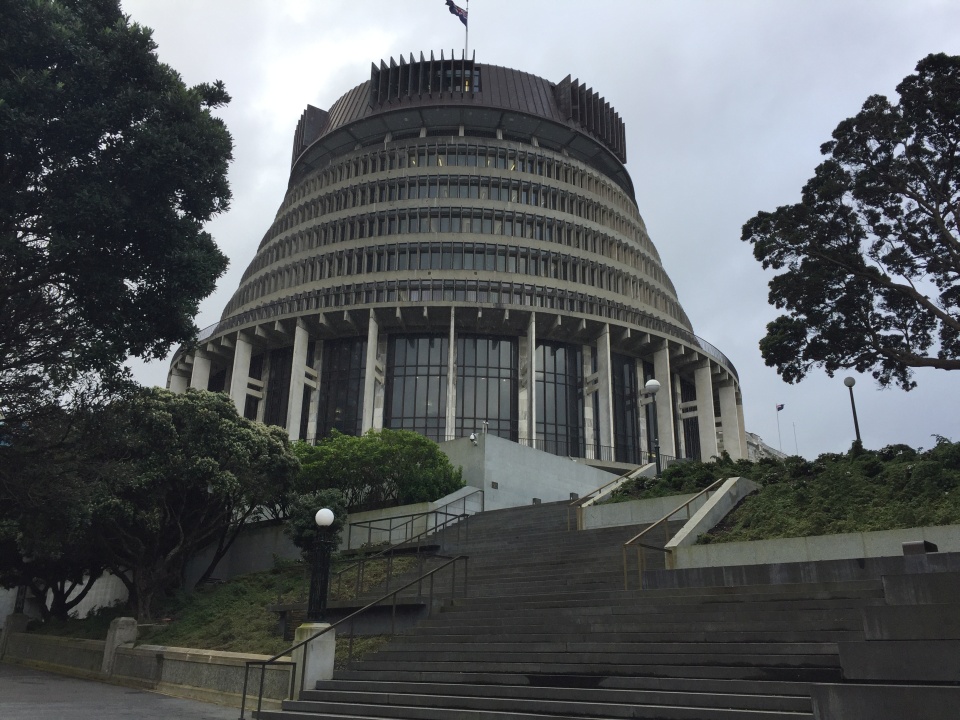 The bee-hive is an important building. What work do you think will be done in this building during a natural disaster? Image: LEARNZ.