Diary 4
Date:
Thursday, June 13, 2019
Field Trip Name:
Matariki and Navigation - Kupe, Cook and Today
<- Homepage: Navigation from Kupe to Cook to Today
---
Kia ora koutou,
You had an early start today as you had to drive from Picton to Nelson to visit the Nelson Marlborough Institute of Technology. Here you met Chris Lorden a nautical tutor at the Institute. Chris has been teaching students how to navigate at sea for eight years. He was keen to answer questions from some younger students during the final field trip web conference. Chris shared his knowledge of maritime navigation. It was interesting to hear about how technology is changing the way people navigate at sea. You can listen to the recording of this web conference to find out more.
In the simulator
After the web conference Chris showed you one of the maritime navigation simulators. These simulators teach students how to pilot and navigate large vessels. It was incredible how real it felt with the screens in front of the control panels. Chris almost made us feel seasick when he simulated a storm in the Marlborough Sounds. Students can learn many skills in the simulator and practice different scenarios. This technology has made training people much safer and cheaper. You could even practice a 'man-overboard' drill, where you realised how quickly someone in the water can disappear from view. You can watch the video to see the simulator in action.
From virtual to reality
Once you had practiced some basic maritime navigation, Chris took you out on a small boat in Nelson Haven. Even though the simulator was fun, it wasn't as exciting as speeding along in a real boat, where you could feel the bump of the waves and the wind in your hair. It was interesting to see that the same electronic charts are used on small boats as well as large boats. You talked to Chris about the changes in navigation technology. Technology has made navigation much easier and safer, but people still need to know how to find their way without technology. Systems can fail and so the old ways of navigating are still taught today. Chris believes that in the future large cargo ships will not need people to pilot them, they will be able to pilot themselves.
Misunderstandings
Back on shore you headed to Nelson Provincial Museum to meet with John Campbell. John is an educator at the museum, and he wanted to show you some intriguing artefacts. Abel Tasman visited this area back in 1642. He was the first European to sight New Zealand and make contact with Māori. The museum has several items in its collection that tell stories of Tasman's visit. John showed you one display of pūtōrino and pūtātara (wooden flutes and conch shell trumpets). Instruments like these were played by local Māori when they first saw Abel Tasman's two ships. This was a challenge, but Tasman thought it was a greeting and his crew played trumpets in response. Local Māori saw this as a sign of aggression which led to a waka ramming one of the small boats that Tasman had sent to communicate with his second ship. The six men on board were killed. Tasman's crew turned their guns on the waka killing at least one of the warriors and the waka retreated back to shore. Deciding friendship was not an option, Tasman set sail and left the bay he then called Murderers Bay. You can see a copy of Abel Tasman's journal in the museum and find out more about his voyage in the videos. You can also try the interactive activities on Robert Jenkin's Tasman website.
Putting New Zealand on the World Map
You ended the day at Tahunanui Beach where there is a statue of Abel Tasman. You met Brad Cooper from LINZ and he showed you the charts that Tasman created back in 1642. These partial outlines of New Zealand were included on world maps and later led to Captain Cook's voyages. Cook finished the charts that Tasman started using similar methods of navigation. It can be confusing knowing the difference between a map and a chart. Brad explained that a map shows you where to go on land while a chart shows you where not to go when at sea!
This year marks 250 years since Captain Cook first came to Aotearoa. As we look forward to the rise of Matariki we can reflect on the past, learn from it and plan for the future. This has been a fascinating field trip looking at navigation from the times of Kupe, Cook and today. I hope you have enjoyed the journey!
See you on another field trip soon,
Shelley the LEARNZ field trip teacher.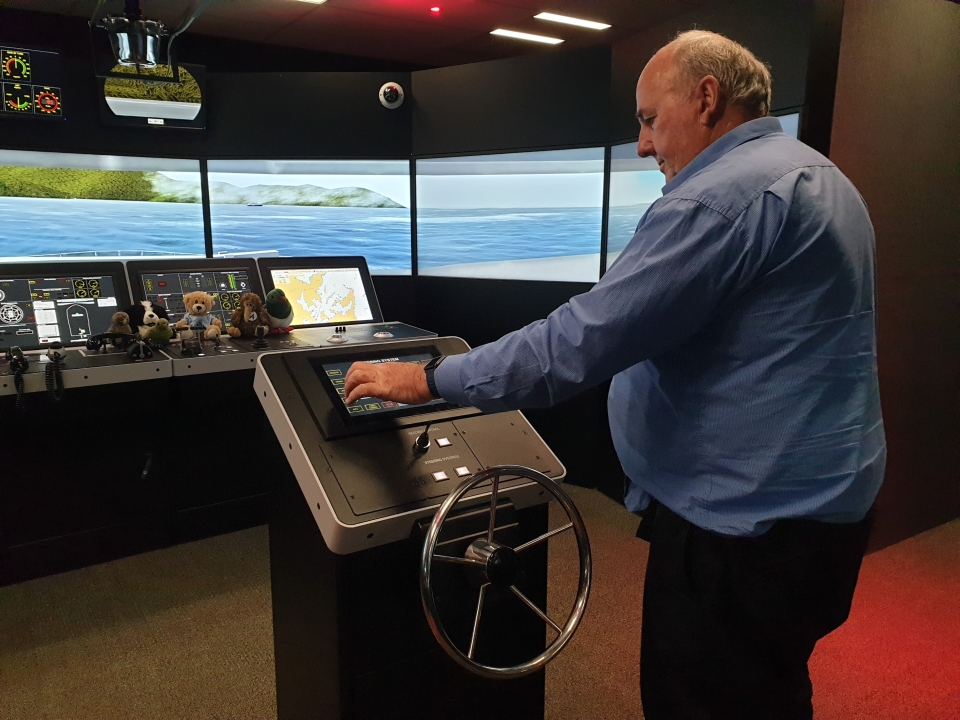 Chris pilots the maritime navigation simulator at the Nelson Marlborough Institute of Technology. Image: Shelley Hersey, LEARNZ.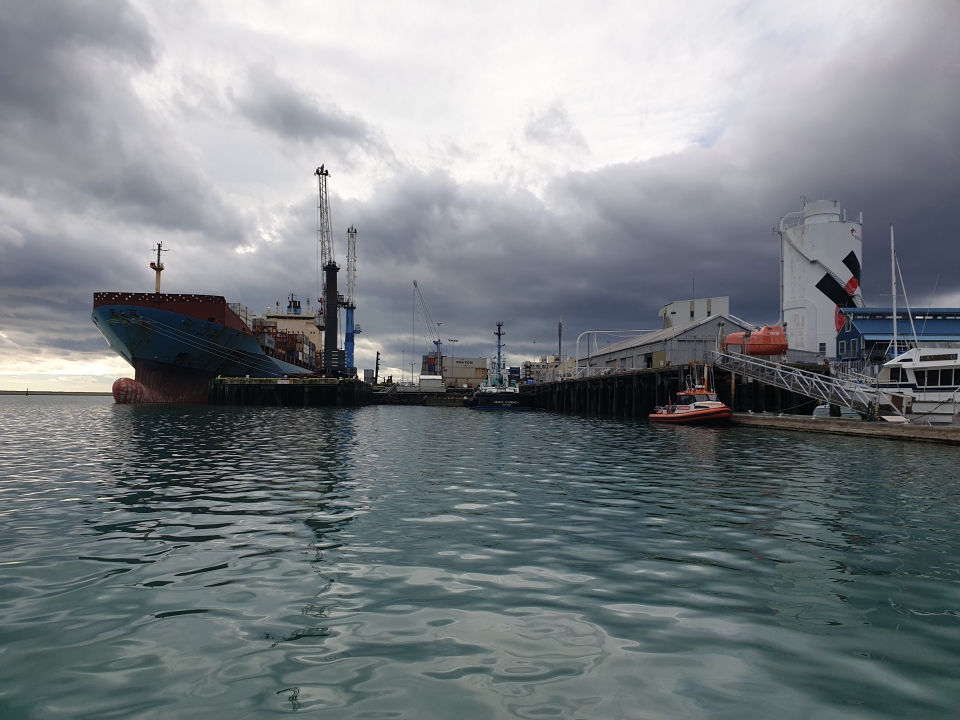 You leave the simulator behind and head out on a real boat from Nelson Port. Image: Shelley Hersey, LEARNZ.
Students prepare to put their training to the test on a small vessel in Nelson Haven. Image: Shelley Hersey, LEARNZ.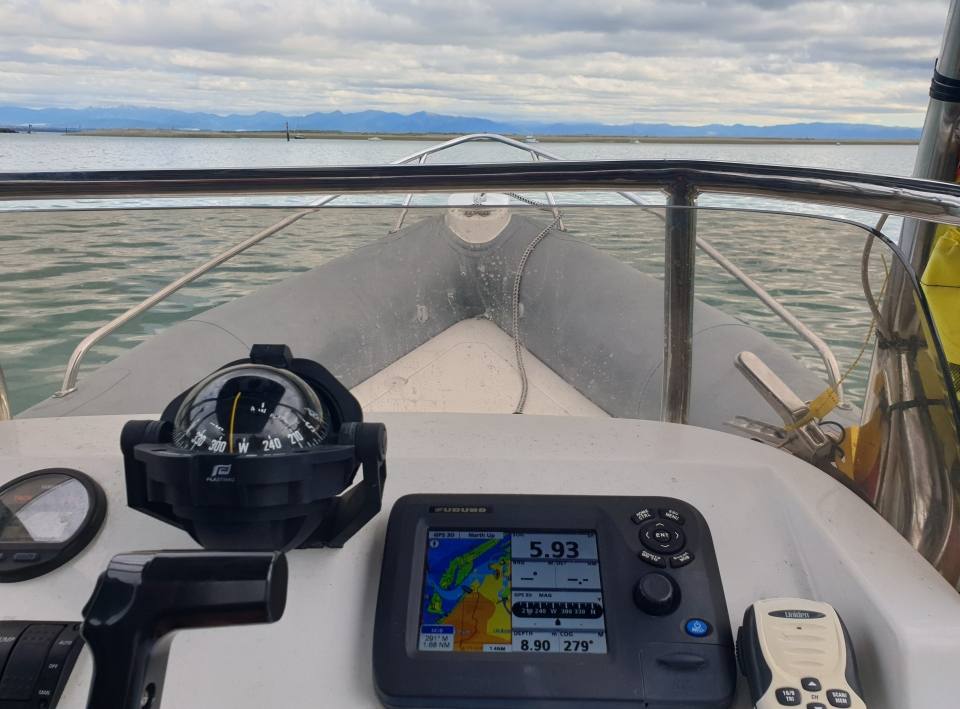 This boat has a compass and electronic chart just like the one you saw on the simulator. Image: Shelley Hersey, LEARNZ.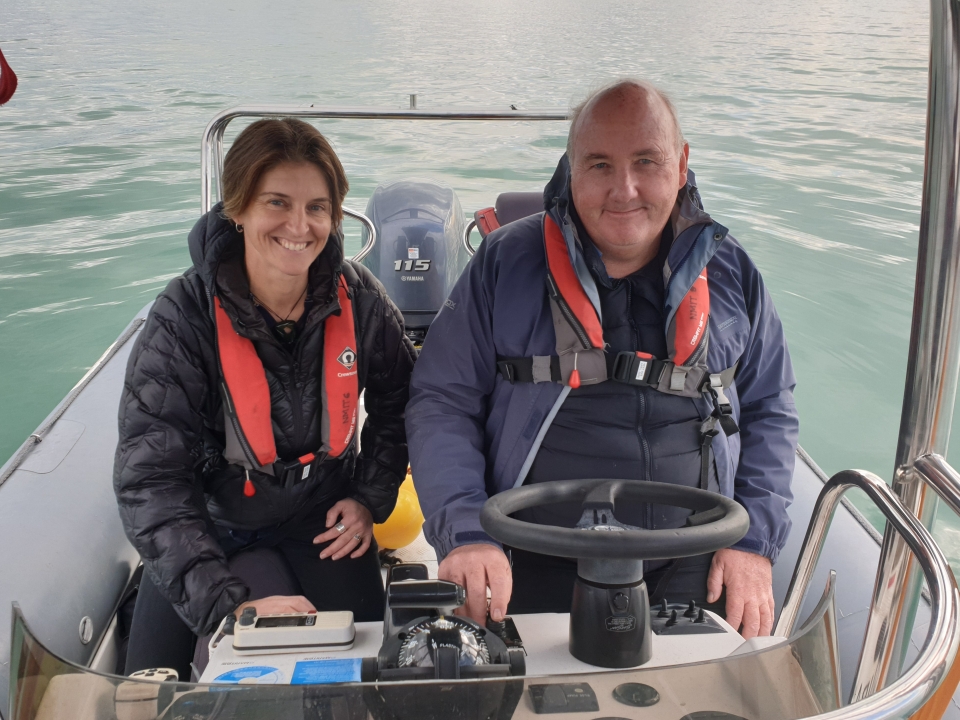 Shelley and Chris practice marine navigation out in Tasman Bay. Image: Shelley Hersey, LEARNZ.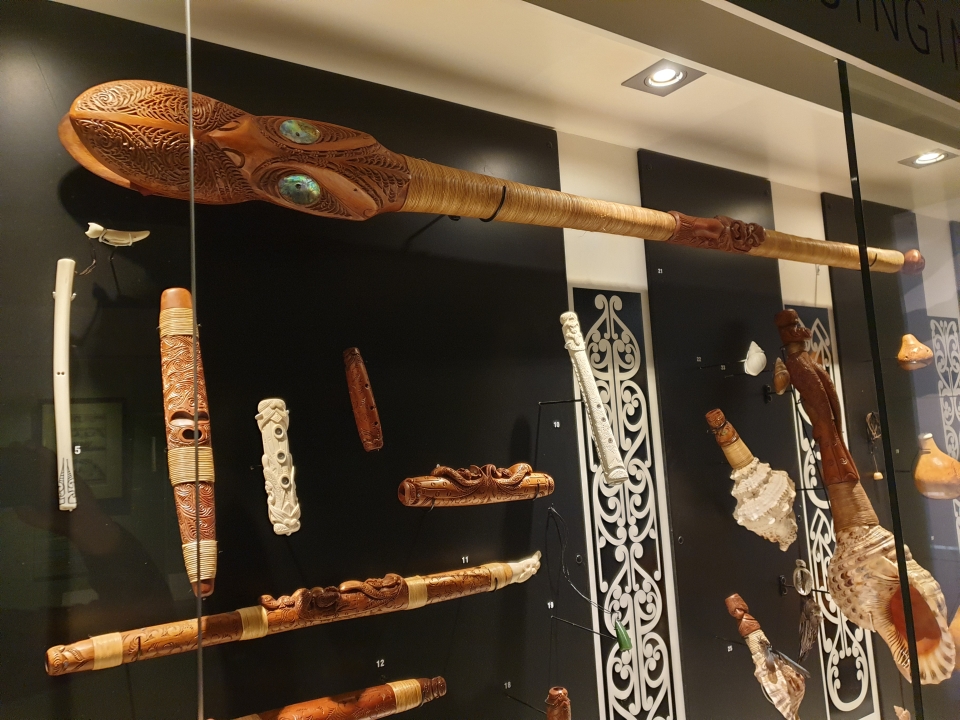 A collection of pūtōrino and pūtātara (flutes and conch shell trumpets) at Nelson Provincial Museum. Image: Shelley Hersey, LEARNZ.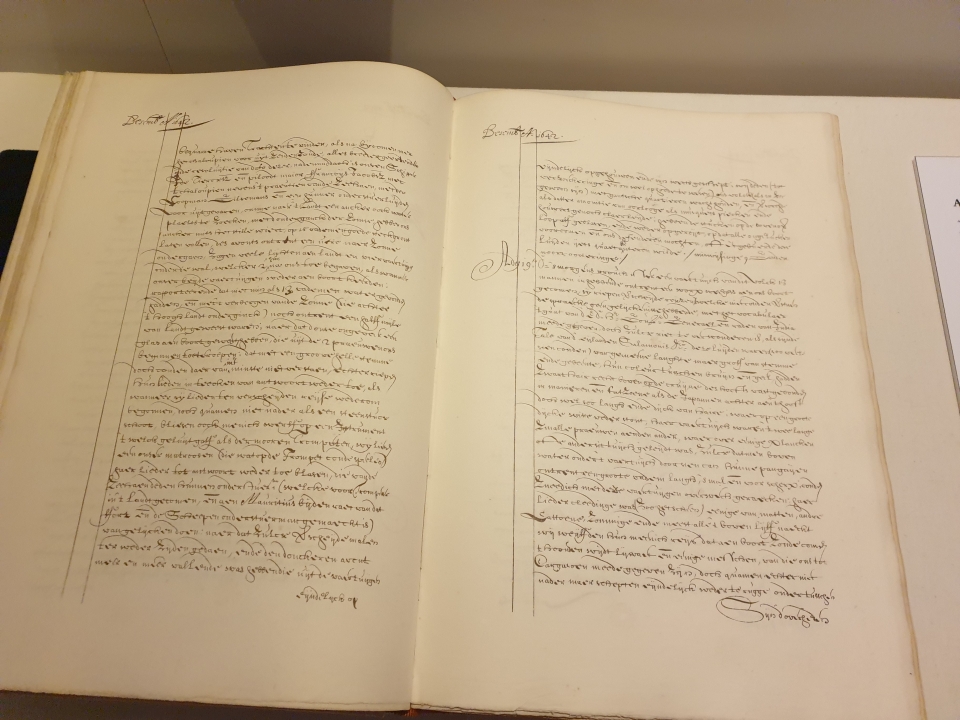 This is a copy of Abel Tasman's journal recording his encounter with local Māori before leaving New Zealand. Image: Shelley Hersey, LEARNZ.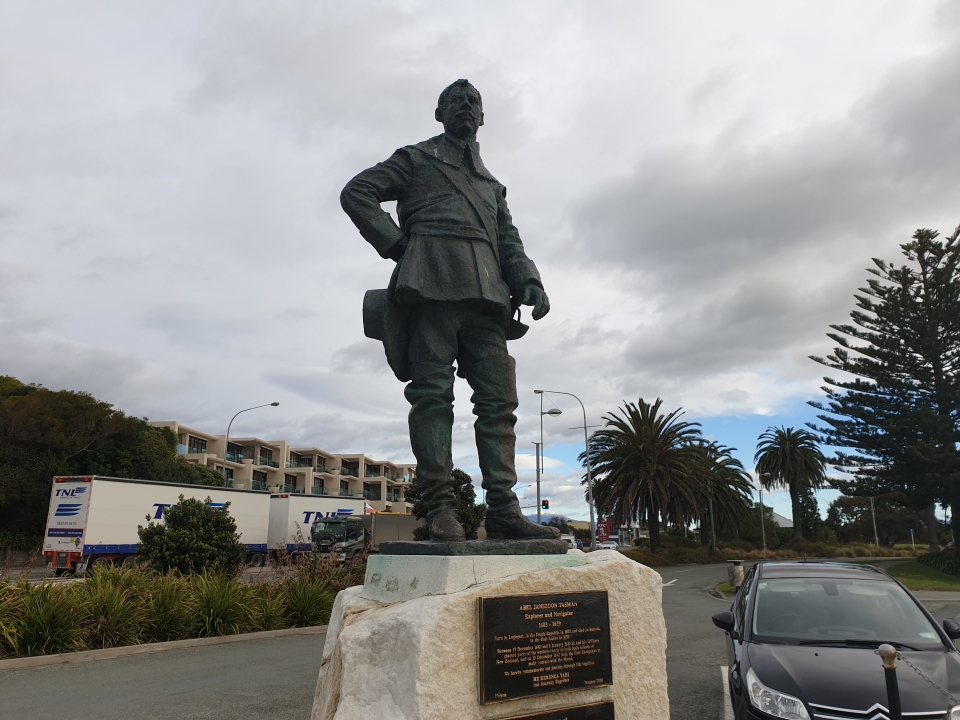 A statue of Abel Tasman can be seen at Tahunanui Beach in Nelson. What places have been named after Tasman? Image: Shelley Hersey, LEARNZ.