Ambassador Kauri Kiwi
<- Homepage: Marine Reserves: Exploring Kapiti
---
Kia ora everyone
I'm Kauri Kiwi. I am from Witherlea School in Blenheim. People know me as brave and inquisitive. I always follow our school motto of Be Kind Be Safe and Be Fair. I try to follow this in everything I do, both in and out of school.
See you on the field trip!
KK
Monday 18 February
Kia ora koutou,
Well, here we are in Paraparaumu. It's been quite a day of travelling but we made it! Paraparaumu is on the Kāpiti coast, about 50 kilometres north of Wellington.
When we arrived, we all went for a walk on the beach. Kāpiti Island is directly opposite the beach. I'm looking forward to going there tomorrow. I hope it isn't as windy as today though, because the ferry ride might be a bit bumpy! I guess we'll see tomorrow ...
Til then,
KK
Tuesday 19 February
Kia ora koutou,
Did you know there are kiwi on Kāpiti Island? I found out today. I didn't see any (they were probably all asleep!). Kāpiti Island is known for having many little spotted kiwi/kiwi pukupuku – around 1400 in fact!
Today I found out that marine reserves are know as 'no-take' marine reserves. That means you can't take any fish, shellfish, seaweed, rocks, or anything. This makes sure the area is preserved in its most natural state as possible. I think that's great – what do you think?
Til tomorrow,
KK
Wednesday 20 February
Kia ora koutou,
Today we went to a place called Waikanae Estuary. I learned that an estuary is a partially enclosed body of water where fresh water from land meets and mixes with salt water from the ocean. It reminded me of the Wairau Lagoon near our school. We could all maybe go to the lagoon and do a Marine Metre Squared survey there. That way we could all be citizen scientists!
Till tomorrow,
KK
Thursday 21 February
Kia ora koutou,
Well, it has been a full-on week and I am tired. I need a good sleep! But I can't think of a better way to have spent the last three days. I have learned heaps about marine reserves. I am also keen to do a citizen science project near our coastline, or maybe take part in a beach clean-up as part of the Litter project. We can talk about it more when I get back to school - I'm looking forward to it.
I have enjoyed seeing you all on the web conferences this week. I feel proud to have represented you all here on the Kāpiti Cost.
Catch you next week!
KK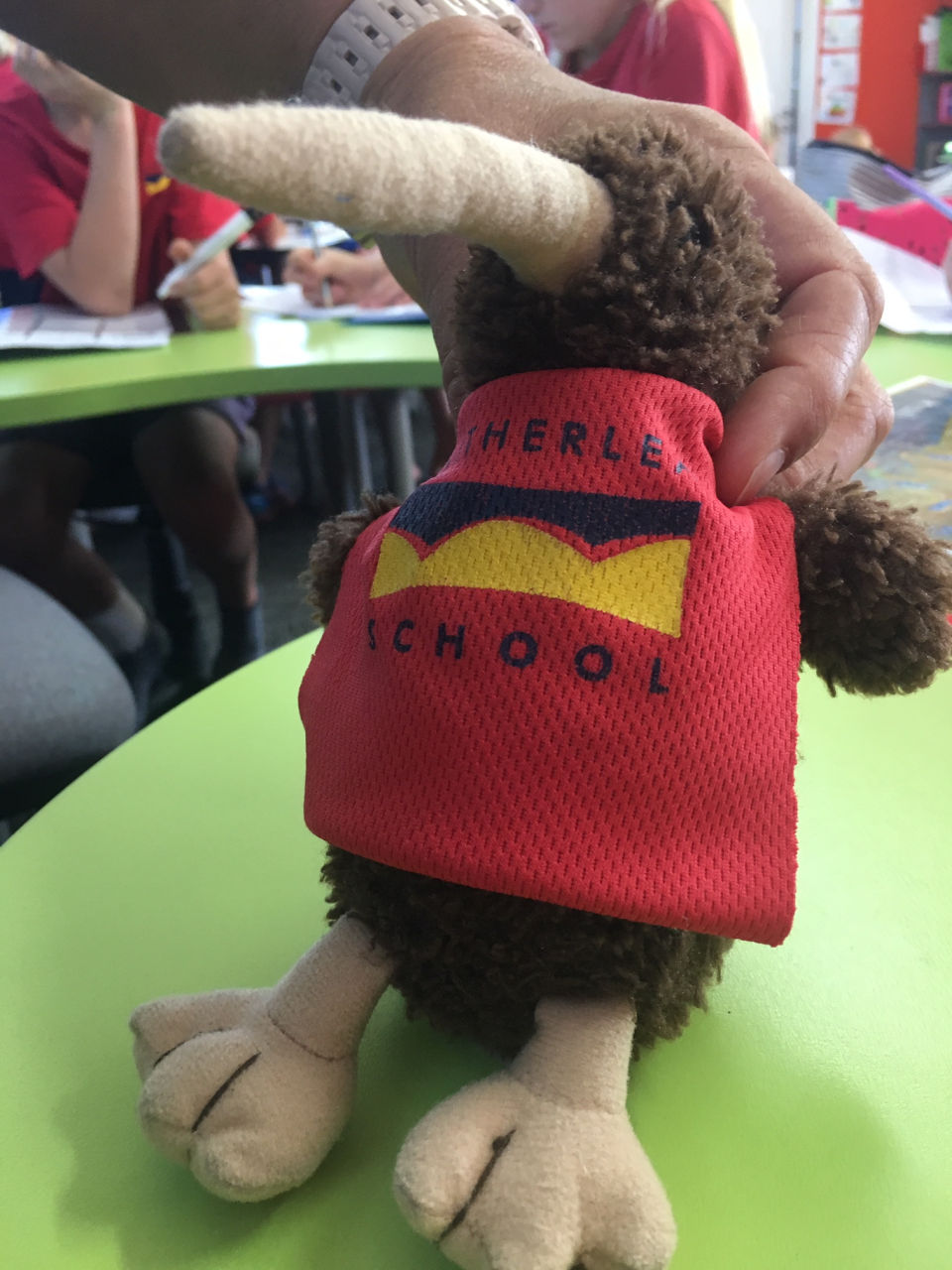 Kauri Kiwi is from Witherlea School in Blenheim. Image: Supplied.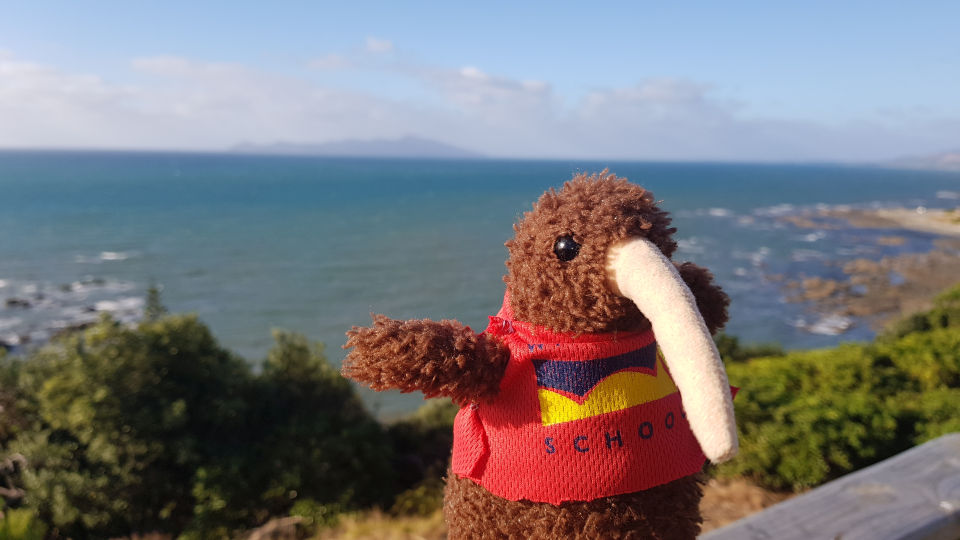 Monday. Kauri Kiwi stops to stretch his legs on the way north from Wellington to Paraparaumu. Imge: Andrew Penny, LEARNZ.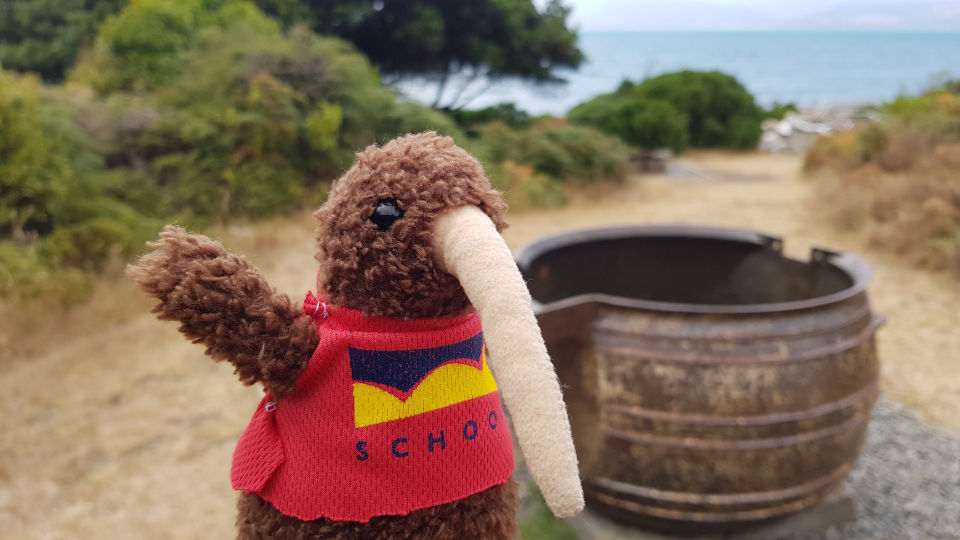 Tuesday. Kauri Kiwi is next to an old trypot from the days when there were whalers working at Kāpiti Island. Image: Andrew Penny, LEARNZ.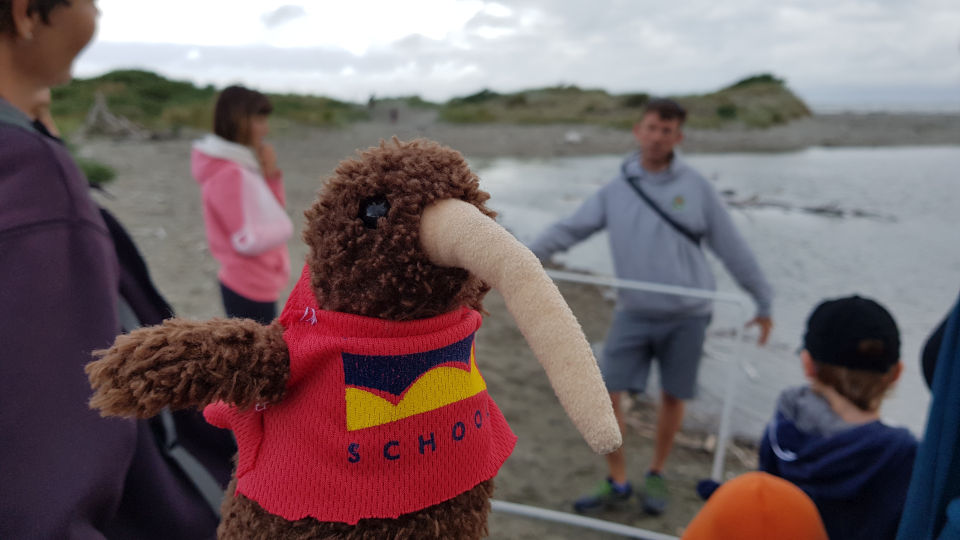 Wednesday. Kauri gets amongst the action today at Waikanae Estuary during the Marine Metre Squared survey. Image: Andrew Penny, LEARNZ.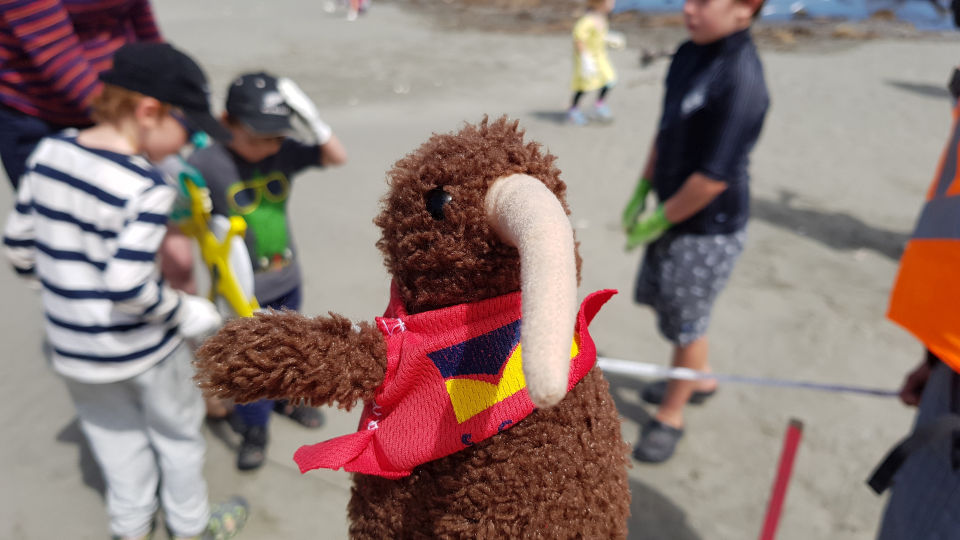 Thursday. Kauri is next to some students doing the litter survey on Paraparaumu Beach today. Image: Andrew Penny, LEARNZ.