The marine environment and te ao Māori
Early Māori were ocean-going people. They navigated by the stars across oceans to reach Aotearoa New Zealand.
Many iwi live in coastal areas. They rely on the sea for food and other resources. Rivers and the sea are places where people connect, gather food and pass down traditions.
Tangaroa is the name given to the energy of water. In creation stories, Tangaroa is an atua and is the son of Papatūānuku (the earth mother) and Ranginui (the sky father).
The sea is important for food and for spiritual and ancestral connections. It is a belief that all life on Earth started in the sea.
Tikanga - Māori customs and protocols
The sea for Māori is a resource. It is also a source of identity and whakapapa. There is a long history of tikanga for looking after rohe.
Each iwi has its own history and current practices. Māori have many tools for resource management. The use of natural resources revolved around the seasons and the lunar calendar.
What is a rāhui?
A rāhui is a restriction on collecting or harvesting a resource for a certain time. A rāhui will allow time for the numbers of animals to recover after an event.
Māori would also sometimes use rāhui to guide harvest times or to restrict access to an area after something unpleasant had happened there. This also happens today.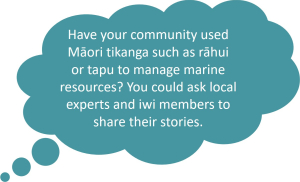 A changing landscape
The Treaty of Waitangi and the Resource Management Act 1991 enable iwi to maintain mana whenua over their rohe. Iwi often share custodianship with the Crown and local authorities on specific pieces of land or water. 
Now, as we look for sustainable ways to look after our oceans, we are seeing a return to some practices of the tangata whenua. Many iwi around the country work alongside DOC and other agencies to maintain or restore the mauri of traditional food-gathering areas.