Diaries
<- Homepage: Marine Reserves: Exploring Kapiti
---

Diary 1: Monday 18 February - Read all about the journey from Kerikeri to Paraparaumu.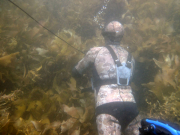 Diary 2: Tuesday 19 February - Today you found out more about marine reserves and explored under the waves at Kāpiti Marine Reserve.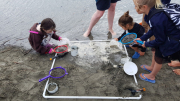 Diary 3: Wednesday 20 February - Your destination today was Waikanae Estuary - the mission was to find out more about citizen science and how you can be a citizen scientist wtih Marine Metre Squared. 

Diary 4: Thursday 21 February - The final day of the field trip. Today we showed you one example of taking positive action for the marine envronment.
PDF documents: To view or print out PDF documents you will need the Adobe Acrobat (PDF) Reader. This is available for free from the Adobe website.