Ambassador Bob
Kia ora,
I'm Bob the ambassador for Room 9 at North Street School in Fielding. I can't wait to explore Iceland on this field trip. This will be my third LEARNZ field trip and I promise not to get lost this time! I'm enjoying some quality time with Tommie, Shelley's cat before we head overseas. I am so excited about hunting for volcanoes in the land of fire and ice!
See you soon,
Bob.
Monday 27 to Tuesday 28 August
Kia ora, It is so cool to be going on another LEARNZ adventure and to be able to share it with lots of other excited ambassadors. I had to promise Shelley that I would not wander off and get lost like last time because I might end up stuck in a foreign country with no one to rescue me!
The novelty of international travel wore off after 27 hours of flying but I am so excited about the journey ahead. I can't wait to travel around Iceland and go volcano hunting. I just hope there are no eruptions while we are here.
From your intrepid buddy Bob.
Wednesday 29 August
Kia ora,
We helped Ben and Gro find lots of interesting geological features today on the Reykjanes Peninsula. This is where the Mid Atlantic Ridge comes on to land and is the only place in the world where you can see it on land. I tried to go rock climbing on some volcanic rocks, but these rocks are really cracked and broken and I nearly fell off. At least Māia promised to catch me.
I was more successful at hiking up an old volcanic vent and was surprised to see a whole line of vents which formed along a fissure. Tomorrow we are going to see a much larger volcano.
See you then,
Bob.
Thursday 30th August
Kia ora,
We had a fantastic time today on Heimaey. We jumped on a ferry and headed over to the island to explore. Heimaey is part of a volcanic field and it is really spectacular. It is also home to puffins but sadly we didn't see any. We did manage to hike up Eldfell though which is a volcanic cone that formed in the 1973 eruption. This eruption happened without warning, and destroyed 400 homes, luckily everyone evacuated in time. I don't really like hiking up hill but it was worth it for the view.
Tomorrow we will be learning about Eyjafjallajökull and how to say it properly – I bet I can already say it correctly!
See you then,
Bob.
Friday 31 August
Halló,
My Icelandic is improving all the time and I now know how to say Eyjafjallajökull (pronounced Aye-a-fetla-yo-cult). We managed to travel beneath Iceland at the volcano exhibition and then we travelled back in time to see why Iceland has so many volcanoes. In the afternoon we went ash hunting and found some ash from the 2010 eruption of Eyjafjallajökull.
It was surprising how hard it was to find because a lot of it gets washed away. We went sightseeing on our trip north and I managed not to get lost. I was so tempted to go exploring but I promised Shelley that I would be on my best behaviour!
Talk to you tomorrow.
Bob.
Monday 3 September
Halló,
We have had two fabulous days of sunshine here in Northern Iceland. We made the most of the good weather by hiking up a volcano yesterday. It was hard work walking up the rubbly volcanic cone, but the views were amazing. Today we explored a geothermal area and found out what creates these steaming areas. I wanted to get closer to the mud pools, but luckily the area was roped off. These mud pools are really hot and even a tough gorilla like me would not have survived.
Tomorrow we are going to find out how to drill into magma.
See you then,
Bob.
Tuesday 4 September
Halló,
It was a bit colder today as the sun was hiding behind dark grey clouds, but we still managed to get out and about and explore the Krafla Power Station. We also walked around Veti Crater which has a cool bright blue crater lake. I found out how scientists are going to drill into magma today – it sounds awesome and it will make it possible to generate heaps of electricity.
My wish came true late this evening. Shelley let us all stay up late and we got to see the Northern Lights. The green shimmering glow was so cool.
Looking forward to seeing you all soon and catching up on sleep!
From your best behaving Bob.
Bob catches up with Shelley's cat Tommie before heading to Iceland for the Natural Hazards field trip. Image: LEARNZ.
Bob enjoys some sightseeing in Reykjavik in Iceland. Image: LEARNZ.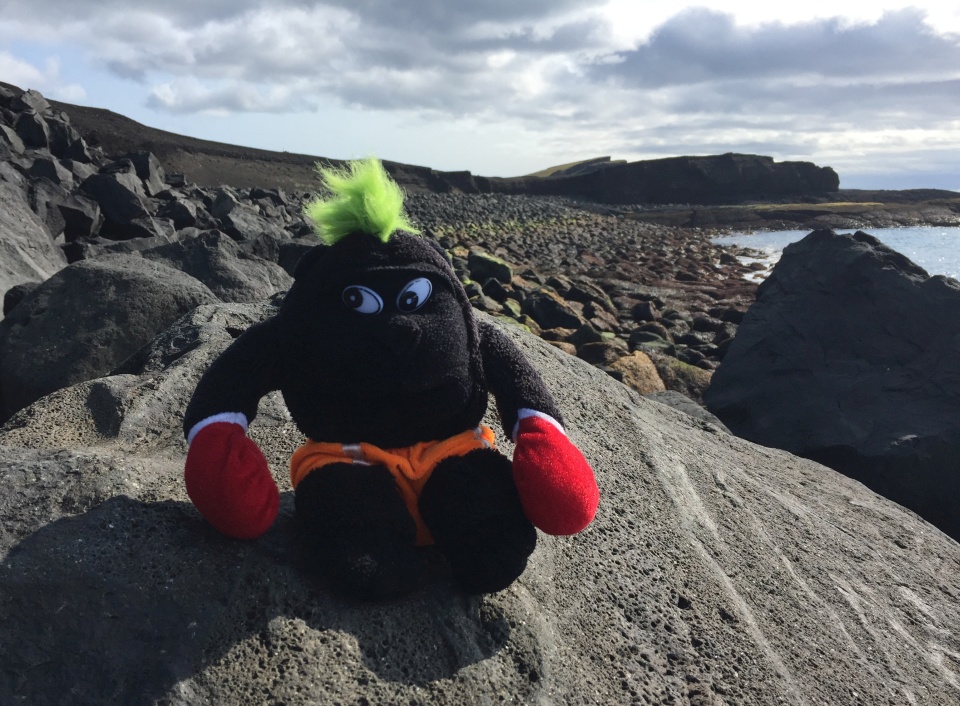 Bob explores the Reykjanes Peninsula in Iceland. Image: LEARNZ.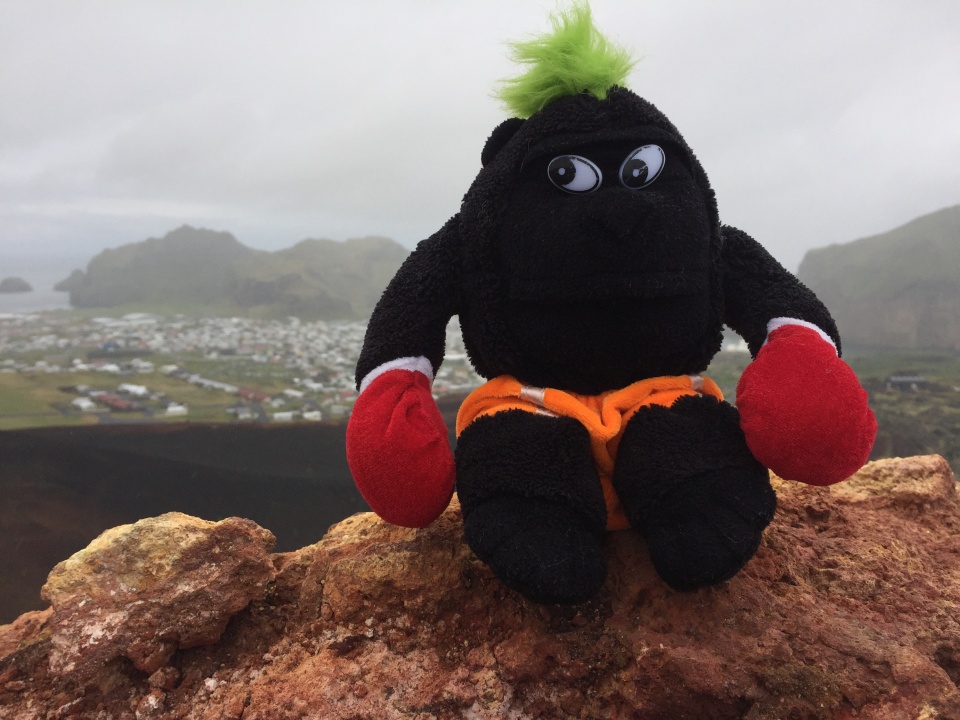 Bob reaches the summit of Eldfell volcano. Image: LEARNZ.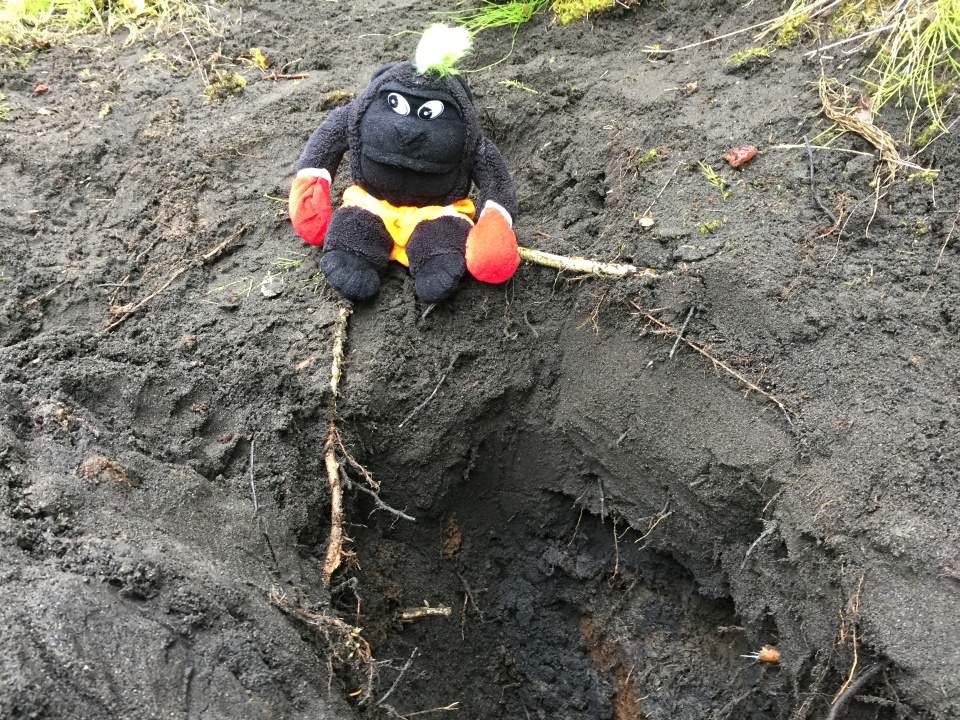 Bob finds some ash from the 2010 Eyjafjallajökull eruption. Image: LEARNZ.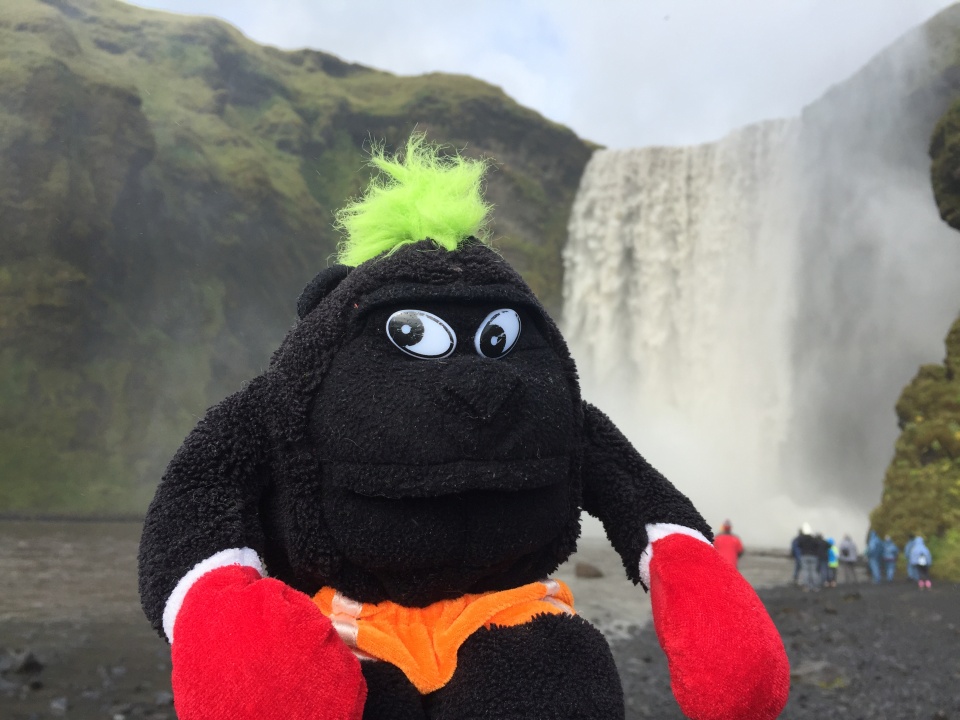 Bob enjoys some sightseeing on his way north. Image: LEARNZ.
Bob takes a rest on a hike to explore volcanoes in North Iceland. Image: LEARNZ.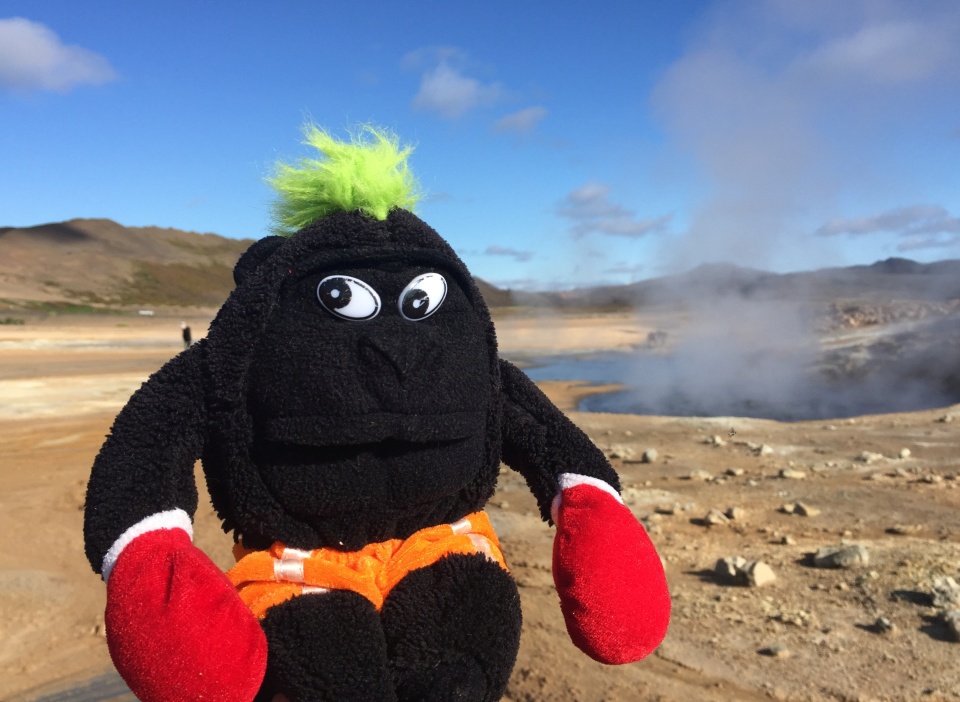 Bob stays a safe distance away from a steaming mud pool. Image: LEARNZ.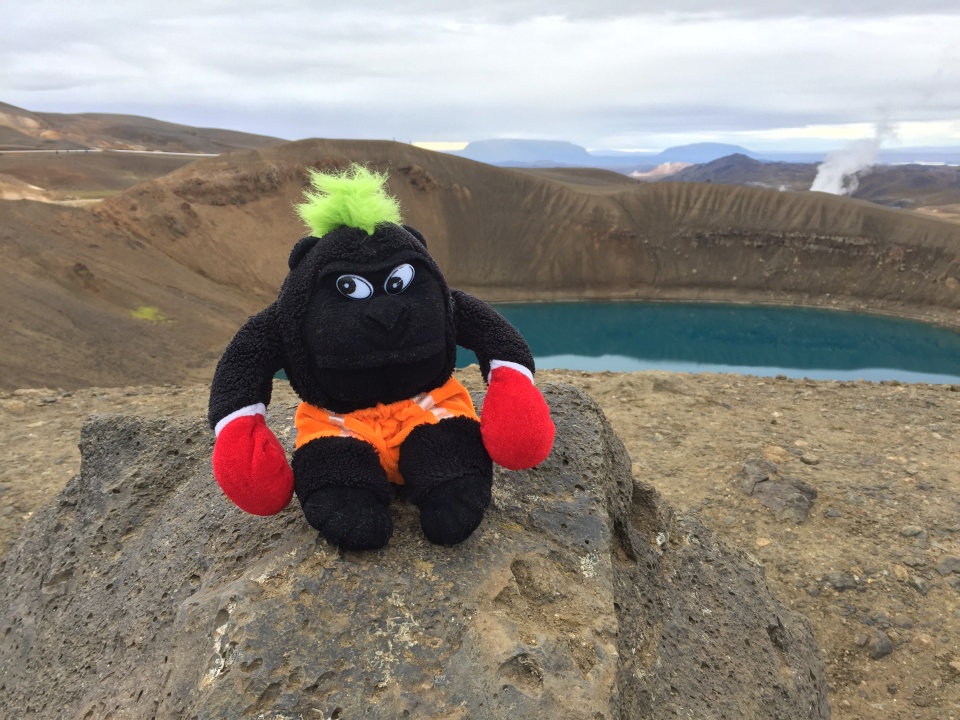 Bob finds a crater lake as he explores the area around the Krafla Power Station. Image: LEARNZ.