Natural Hazards: lessons from Iceland.

Introduction 
Travel to Iceland, a land of fire and ice. See how experts are going to drill into magma to reveal how volcanoes work and harness geothermal energy. 
Like New Zealand, Iceland sits astride a tectonic plate boundary and experiences lots of earthquakes. However, Iceland is also over a volcanic hot spot so it has many more volcanoes and volcanic eruptions than New Zealand. Because of its vulcanism, Iceland has huge potential for generating electricity from its geothermal energy reserves. The Krafla Magma Drilling Project will be an opportunity to develop technology to utilise the Earth's heat to help meet global energy needs. This project will also help scientists to better understand how volanoes work so more accurate predictions of future eruptions can be made.
During this field trip you will get up close to Iceland's biggest volcanoes and the many weird and wonderful volcanic features on its landscape. You will visit the Krafla magma drilling project and discover how this work could help reduce volcanic hazards in the surrounding area.
Meet Shelley the LEARNZ field trip teacher.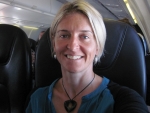 Watch the introductory video on Vimeo.
Location
Travel to Iceland, an island of volcanoes near the North Pole. Iceland, like New Zealand, is on a tectonic plate boundary so is geologically very active. Indeed, Iceland is being torn in half by the separation of the Eurasian Plate and the North American Plate. Over the past 500 years scientists say that Iceland's volcanoes have erupted one-third of the world's lava. There are 30 active volcanic systems and 13 have erupted since humans arrived there.
As in New Zealand, Iceland's organisations and people continue to learn how best to prepare themselves for the next natural hazard event.
Field Trip Plan
| | |
| --- | --- |
| Monday 27 August to Wednesday 29 August | Read the diary about the long journey from New Zealand to Iceland to begin the Natural Hazards field trip. Read the ambassador updates. |
| Thursday 30 August | Visit Reykjanes Peninsula a Unesco Global Geopark. Watch the videos to see how geological processes have shaped this country. Read the diary about the similarites and differences between New Zealand and Iceland. Watch the web conference and read the ambassador updates. |
| Friday 31 August | Take the ferry across to Heimaey. Watch the videos and hike up Eldfell volcano. Read the diary about how Heimaey was affected by the 1973 eruption of Eldfell. Watch the recorded web conference and read the ambassador updates. |
| Monday 3 August | Explore the famous and hard to pronounce Eyjafjallajökull volcano. Watch the videos to see how this volcano affected people living here. Read the diary about how Iceland formed and complete a mission to find ash from the 2010 Eyjafjallajökull eruption. Read the ambassador updates and watch the recording of the web conference. |
| Tuesday 4 September | Hike up a volcano and watch the videos to see how volcanoes in this area formed. Read the diary about different volcanoes in the Krafla Volcanic System and explore a geothermal area. Read the ambassador updates and watch the recorded web conference. |
| Wednesday 5 September | Meet experts involved in the Krafla magma drilling project and watch the videos to find out how they will drill into magma. Read the diary about the Krafla Power Station and the future of harnessing geothermal power. Think about the lessons you have learned from Iceland and read the ambassador updates. Watch the recording of the web conference. |