Ambassador Ollie
Kia ora,
I'm Ollie, a cheeky little kiwi and I live on Orewa Beach. I love netball, surfing, science and Fortnite. My favourite part of the day is when I visit our Year 7 ILC Class at Orewa College. 
I am so excited about going to Iceland, even if I can't pronounce the place-names!
Catch up soon,
Ollie.
Monday 27 to Tuesday 28 August
Kia ora,
I feel so luck to be a part of this incredible trip to Iceland. I was so excited as we boarded our first international flight. I have never left New Zealand before and I have read so many amazing things about Iceland. On our first flight I got a good look over Australia and parts of Indonesia. I couldn't believe how long it took to cross Australia – this country is massive!
The flight from Singapore to Copenhagen was even longer than the first but I slept through most of it. It was dark for most of the trip. We arrived in Copenhagen on Tuesday morning at 6am local time (5pm New Zealand time). It was then only a three-hour flight to Iceland. It is so neat to have made it all the way to Iceland and I can't wait to get out and about and see this amazing country.
Talk soon, 
Ollie.
Wednesday 29 August
Kia ora koutou,
We had a great day out on the Reykjanes Peninsula. We explored lava fields, volcanic vents and crossed the bridge between continents. I learned that Iceland is slowly being torn apart as two tectonic plates move away from each other.
I was so proud to talk to my class during the web conference although I struggled to stay awake due to jet lag. I'm looking forward to a good night's sleep.
See you tomorrow,
Ollie.
Thursday 30th August
Kia ora,
We had so much fun today exploring Heimaey, an island off the south coast of Iceland. This island is part of a volcanic field and back in 1973 there was an eruption that created a new volcanic cone. We hiked up that cone and enjoyed the views out over the lava flows. These lava flows threatened the village and may have cut off the harbour but a group of 70 people worked for months pouring salt water on the lava to try and divert it. The plan worked which means that you can still sail to Heimaey today.
It's raining heavily now so there is no nice sunset to admire like last night so I'm off to bed.
See you later,
Ollie.
Friday 31 August
Kia ora everyone,
I learned how to pronounce the so-called unpronounceable volcano today. Eyjafjallajökull is pronounced Aye-a-fetla-yo-cult but you have to make a funny sound with your tongue at the end! I have since seen longer Icelandic words on signs around the country and am glad I have Google Maps rather than having to ask a local for directions!
We went to the museum today and braved the rain to hunt for ash from the 2010 Eyjafjallajökull eruption. It was hard to find because most ash had been either blown or washed away. Now we are in the north of Iceland after a stunning drive up the east coast.
See you in the morning,
Ollie.
Monday 3 September
Halló, Langt síðan við höfum sést – that means long time no see!
We have had a busy couple of days in Northern Iceland hiking up volcanoes and exploring geothermal areas. We met the whole volcano whanau here in the Krafla area. We were introduced to baby volcanoes, big sister volcanoes, mum and dad volcanoes and big old scary granddaddy volcanoes! I never realised that volcanoes come in so many different shapes and sizes.
Tomorrow is the last day of the field trip so I am off to get some rest so I can make the most of it.
Eigðu góðan dag – have a nice day!
Ollie.
Tuesday 4 September
Halló,
We spent the last day of our field trip finding out about how to harness geothermal power. We looked around the Krafla Power Station and found out how heat from the Earth can be transformed into electricity. We also found out about the Krafla Magma Drilling Project. It's incredible to think that in the future we will be able to drill safely into magma to make electricity.
We stayed up late to enjoy a dip in the hot tub and even managed to see the Northern Lights. The green glow came and went. It was such a neat way to end the field trip!
See you back home soon,
Ollie.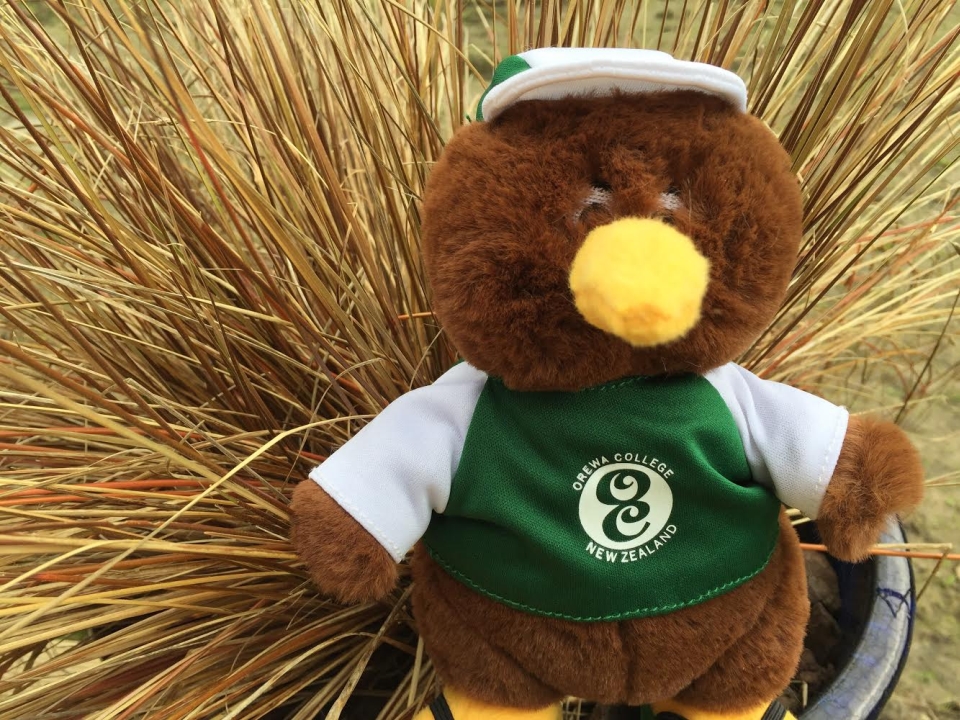 Ollie is looking forward to heading to Iceland for the Natural Hazards field trip. Image: LEARNZ.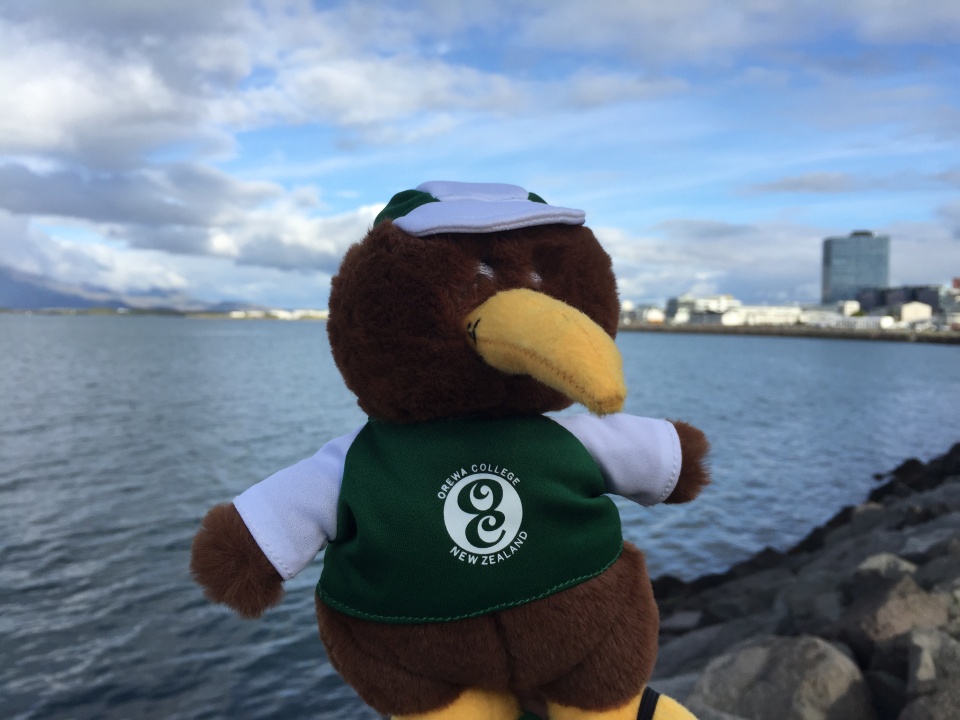 Ollie takes a walk around the water front in Reykyavik in Iceland. Image: LEARNZ.
Ollie explores the lava fields on Reykjanes Peninsula. Image: LEARNZ.
Ollie braves the weather to hike up Eldfell Volcano. Image: LEARNZ.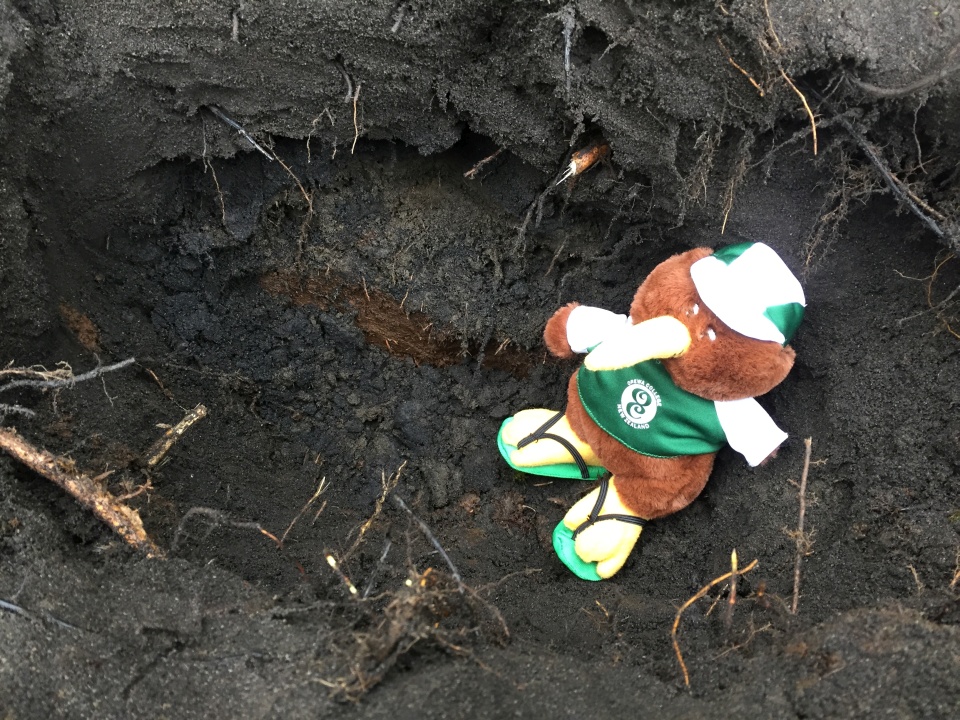 Ollie finds layers of ash under Eyjafjallajökull volcano. Image: LEARNZ.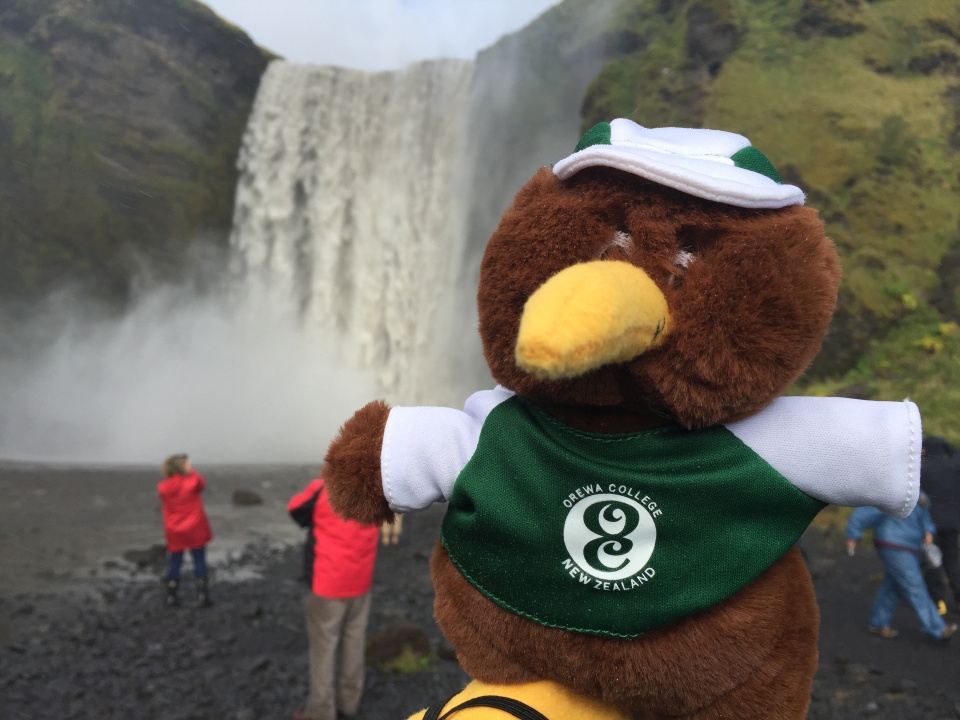 Ollie checks out one of the many waterfalls in Iceland. Image: LEARNZ.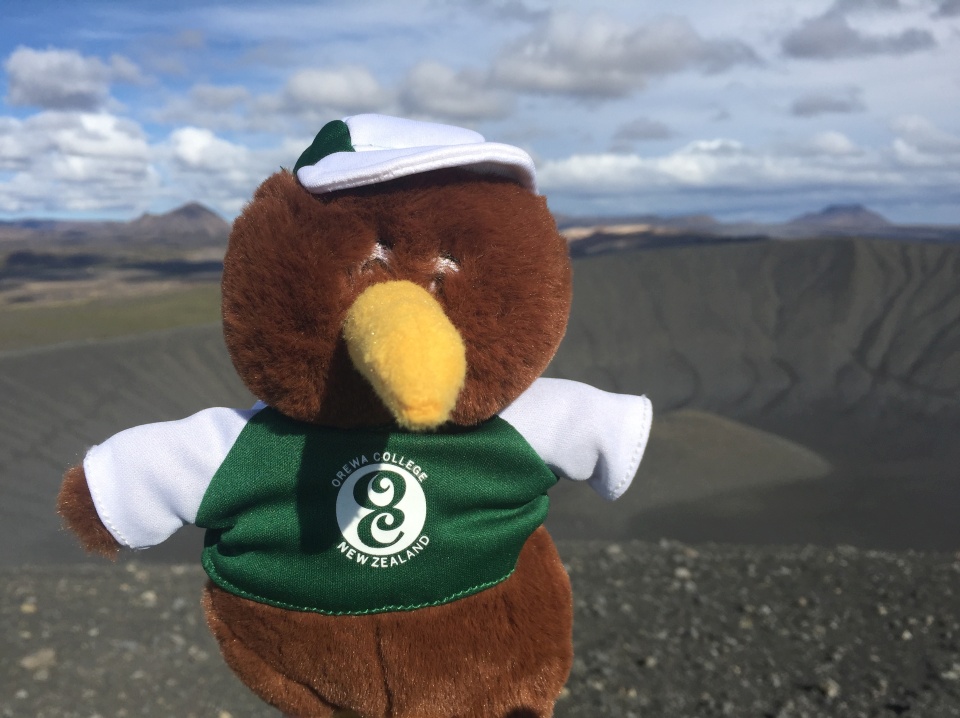 Ollie reaches new heights on Hverfyall volcanic crater. Image: LEARNZ.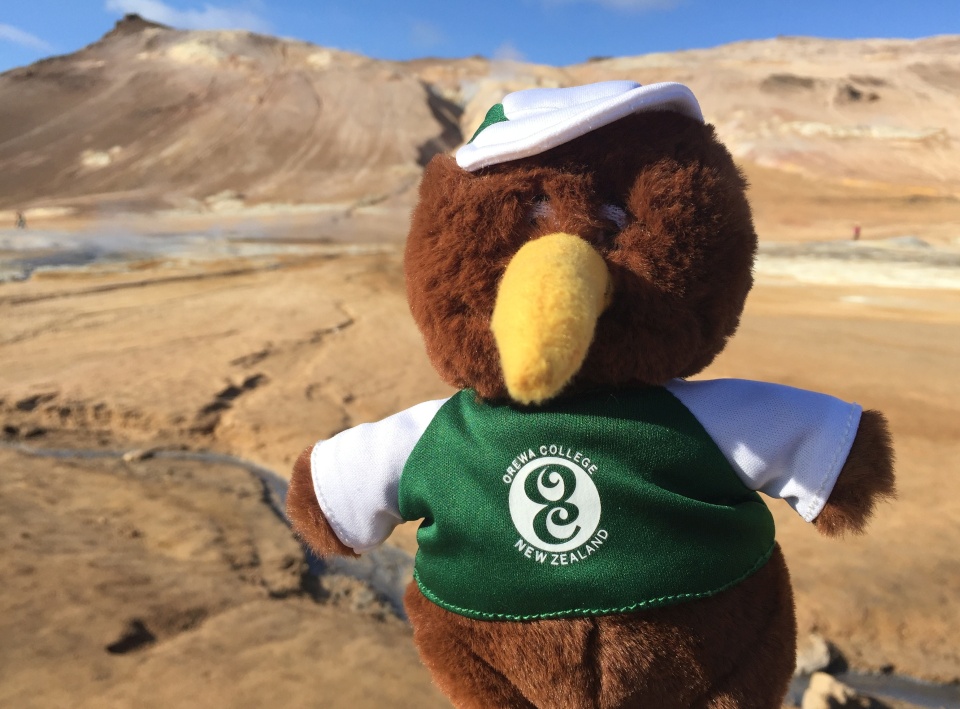 Ollie explores a geothermal area in Northern Iceland. Image: LEARNZ.
Ollie finds a crater lake near the Krafla Power Station. Image: LEARNZ.