Ambassador Sumner Bear
Monday 27 to Tuesday 28 August
Kia ora, I am so lucky to be going to Iceland, I nearly missed out but thankfully Ben from the University of Canterbury made a special trip to Sumner School to collect me. Ben is a volcanologist and he is travelling with Shelley to Iceland to work on the Krafla magma drilling project. Ben will be our guide over the next few days and he will take us on a tour of volcanoes and other interesting geological hot spots.
It was neat to fly across Australia and look out over volcanoes in Indonesia. The trip from Singapore to Copenhagen was less scenic because it was dark form most of the journey. I am now exhausted after flying for over 27 hours but it is worth it to be able to visit such and incredible country. I'm off to catch up on sleep, so I'll see you tomorrow.
Sumner Bear.
Wednesday 29 August
Kia ora,
It was a beautiful day here in Iceland today and we made the most of it by heading out to the Reykjanes Geopark. There are lots of very cool geological features that you can see out here. We could see where the Mid Atlantic Ridge comes on to land and we crossed from one continent to the other at the Bridge between continents.
My favourite part of the day was climbing an old volcanic vent – the views were amazing.
Catch you tomorrow,
Sumner Bear.
Thursday 30th August
Kia ora,
We headed offshore to the island of Heimaey today. This island is part of an active volcanic field. We braved the cold wind and rain to hike up Eldfell. This volcanic cone was created during the 1973 eruption which destroyed 400 homes on the island. It was hard work hiking up the scoria but the views were amazing.
After all this exercise I'm ready for bed.
See you in the morning,
Sumner Bear.
Friday 31 August
Halló,
It was raining this morning and we could not see Eyjafjallajökull (pronounced Aye-a-fetla-yo-cult) so we started the day at the museum. They have an awesome new volcano and earthquake exhibition. We could feel an earthquake in the simulator and go back in time to see how Iceland formed. After a morning indoors, we braved the weather to head out to find ash from the 2010 Eyjafjallajökull eruption. It wasn't easy to find because it gets blown away or washed away by rain.
On Saturday we had to drive 9 hours to Mývatn (pronounced Me-vart-in) in the north of Iceland. There was so many amazing sites to see along the way and I now think Iceland should be called the land of fire, ice and waterfalls.
Bye for now,
Sumner Bear.
Monday 3 September
Halló,
It was great to get some exercise yesterday, especially after spending nine hours in the car on Saturday. We hiked up a volcano. It was incredible looking into the crater of this old volcano and imagining what it must have been like when it erupted. We also wandered through the black fortress, which is a lava field. I could imagine trolls living here amongst the weirdly shaped rocks.
Today we visited a geothermal area. It was amazing seeing the steam, boiling mud and strangely coloured ground. I'm off to soak in a hot spring.
See you tomorrow,
Sumner Bear.
Tuesday 4 September
Halló,
We made the most of our last day of the field trip by exploring Krafla Power Station. It was neat to see all the steam from the vents and get to look inside the turbine building. We also found out how scientists are going to be drilling into magma. It sounds amazing and a bit scary but Ben reassured us that it can be done safely.
We saw the Northern Lights tonight and it was the most incredible way to end the field trip. The green glow of the aurora wasn't as bright as what it looks in the photo but it was still pretty cool!
See you all soon,
Sumner Bear.
Sumner Bear checks out a model of an old Viking ship along the waterfront in Reykjavik. Image: LEARNZ.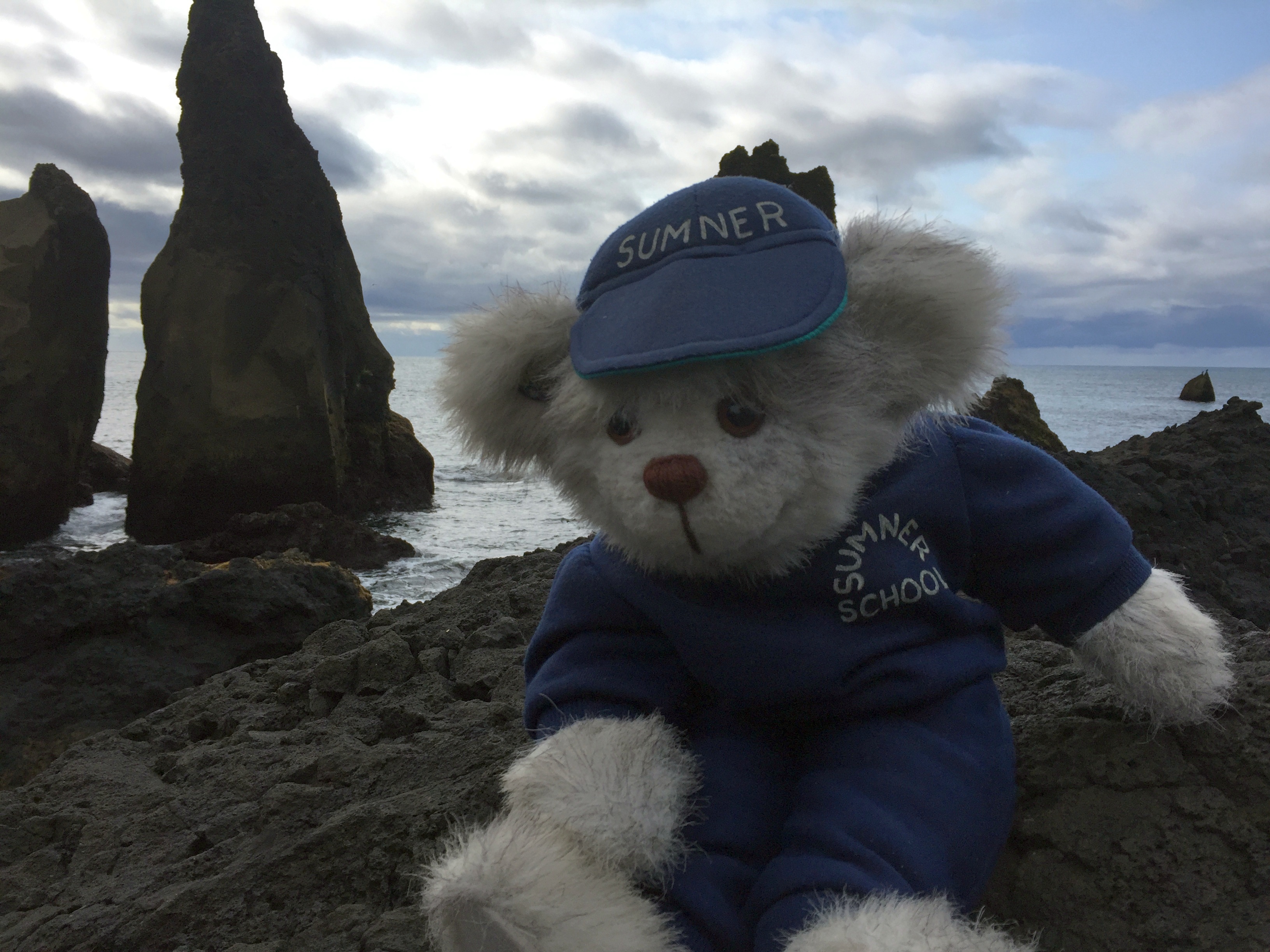 Sumner Bear enjoys exploring the Reykjanes Peninsula. Image: LEARNZ.
Sumner Bear hikes up Eldfell Volcano. Image: LEARNZ.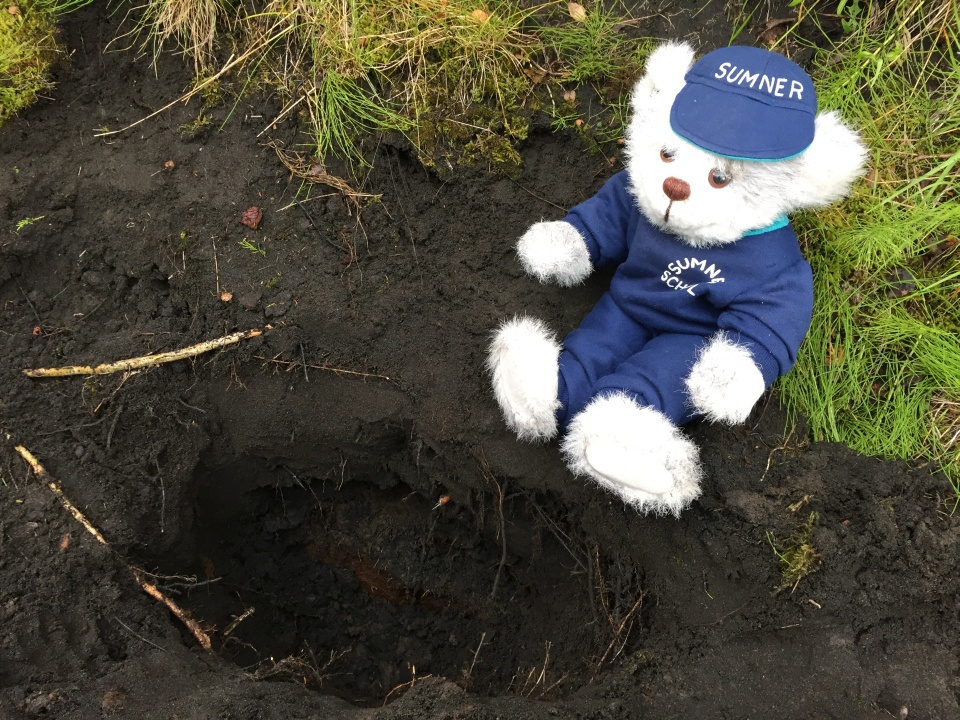 Sumner Bear finds ash and completes an ash finding mission in Iceland. Image: LEARNZ.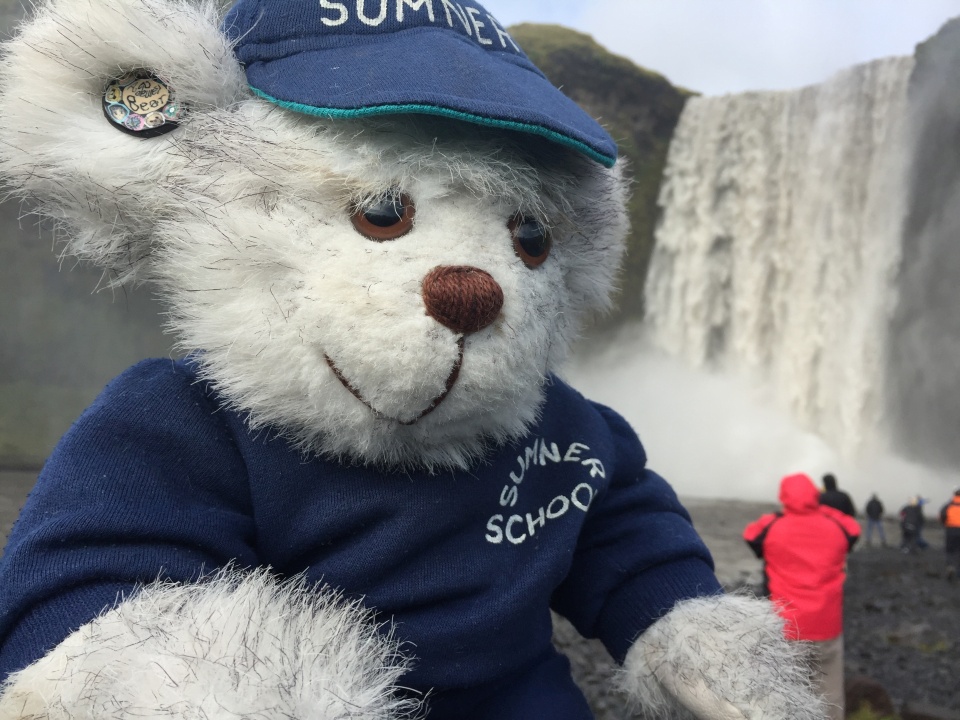 Sumner Bear goes sight seeing in Iceland. Image: LEARNZ.
Sumner Bear finds some baby volcanoes on Lake Mývatn. Image: LEARNZ.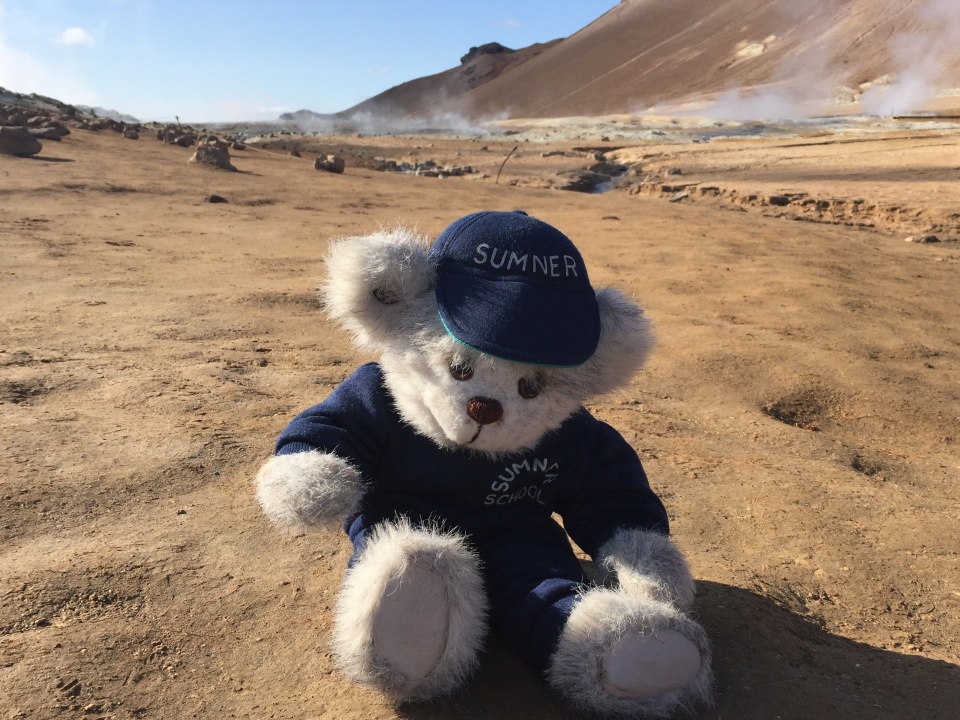 Sumner Bear enjoys the heat of a geothermal area. Image: LEARNZ.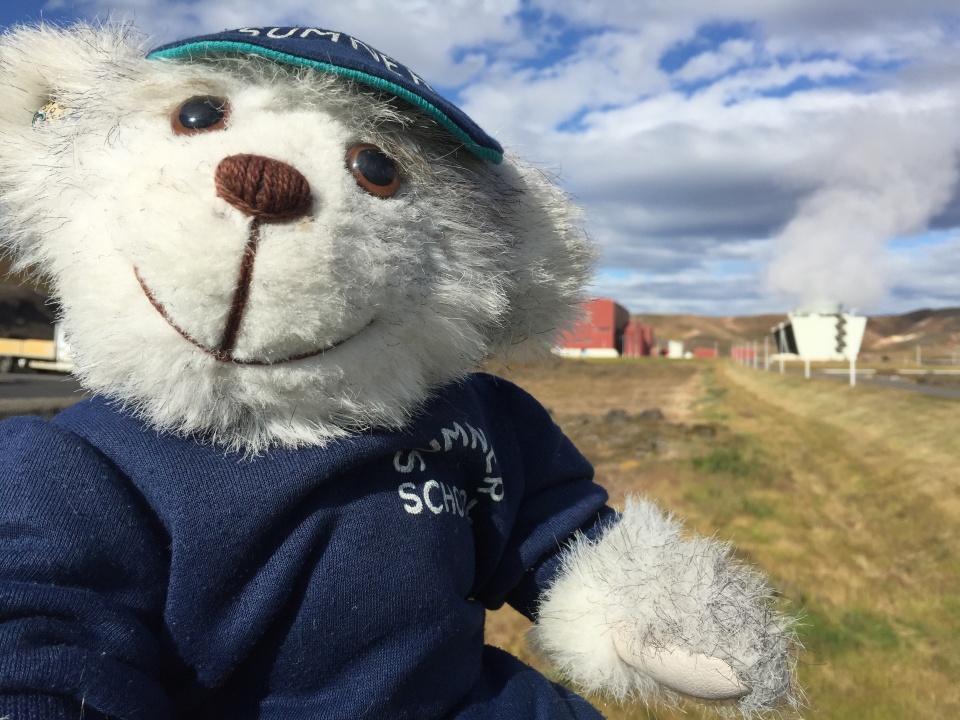 Sumner Bear outside the Krafla Power Station. Image: LEARNZ.