Diary 5
Date:
Monday, September 3, 2018
Field Trip Name:
Natural Hazards
Field Trip Place:
Iceland
Weather:
Fine with clear skies
Kia ora koutou,
After driving nine hours from the south of Iceland all the way to the north you felt like stretching your legs. Ben came up with a plan to show you around Mývatn and take you on a hike up a volcano.
Mini volcanoes
Volcanoes come in all shapes and sizes and there are lots of great examples of this around Mývatn. You wandered around the shores of Lake Mývatn to find examples of some baby volcanoes. You could see lots of mini craters. These craters are called rootless volcanoes because they were not formed from rising lava. The craters were formed by gas explosions when melting lava flowed over the wetlands in the area. These wetlands are rich in nutrients and home to many birds and fish. The area is protected as a natural wetlands conservation area. The craters in this area were formed in 1725 and you could imagine that this area would have been a frightening place to be back then.
Hike up crater mountain
Mývatn also has larger volcanoes such as Hverfjall, which means crater mountain. You walked through a crazy maze of lava fields to get to the base of Hverfyall. There are several folk stories from this area, and it's easy to see how people could have mistaken the volcanic rocks for trolls, elves or ghosts, especially when it is dark or foggy. The area is known as Dimmuborgir, or the Black Fortress. You noticed several lava caves and arches and even found a sheep sheltering in one. It was a steep slog up the side of Hverfjall but the views from the top were worth the effort. Ben explained that this is a tuff cone created about 2,500 years ago by an eruption in water. Hverfjall is connected to the very active Krafla volcanic system. Watch the video to find out more.
Super volcanoes
You looked down into the impressive crater and noticed some huge boulders that had been thrown from the crater during the eruption. The ambassadors were glad that volcanoes like this usually only erupt once. Ben pointed out larger tuff cones on the horizon. These volcanoes have flat tops because they used to be under ice. You can see these on the video. After walking all the way around the crater, you headed to a lookout to find out more about Krafla, the granddaddy of all volcanoes in this area. Krafla is a super volcano. The Krafla caldera is 10 kilometres in diameter and 2 kilometres deep. It is located along a 90 km long fissure zone not far outside of Mývatn. Krafla has erupted a staggering nine times between 1974 and 1984, with 29 total eruptions in recorded history. Krafla is very old and unlikely to cause massive eruptions in the future.
A tourist hotspot
After a busy day investigating different volcanoes in the Krafla system you spoke to Columba College and Masterton Intermediate during a web conference and you can listen to a recording of this. You slept well after all your exercise and woke to another sunny day in Mývatn. You spent the day out at the Hverir geothermal area south of Krafla. This area attracts thousands of tourists each year. It was fascinating looking into the boiling mud pools, watching the splashes of mud and hearing the roar of rising steam. This area is the result of magma close to the surface heating the ground. When water seeps down through deep cracks in the ground it is heated and along with gases can rise back up to the surface creating steam fumaroles, hot springs and mud pools. You could certainly smell these sulphurous gases and it reminded me of Rotorua.
Making the most of volcanic activity
Geothermal areas are one of the benefits of volcanic activity. In Iceland geothermal power is used to heat over 90 percent of homes. Hot water is used in homes, glass houses and swimming pools. These spectacular landscapes also attract tourists, just like in New Zealand. You can watch the video to find out more about the benefits of living in a volcanically active country. You ended the day at Krafla Power Station where you will spend your last two nights in Iceland. This power station uses geothermal energy to generate electricity. This is one of Iceland's largest power stations. It is also the site where scientists will be drilling into magma. You will find out more about this tomorrow.
See you then,
Shelley the LEARNZ field trip teacher.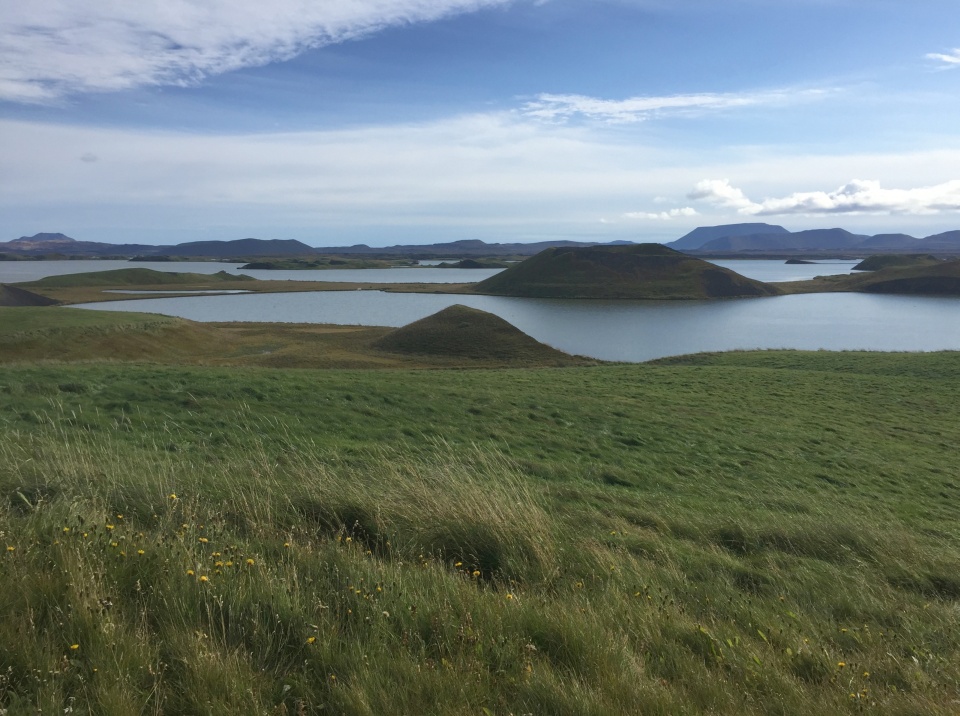 Lake Mývatn has lots of mini craters created by steam explosions when lava flowed over the lake. Image: LEARNZ.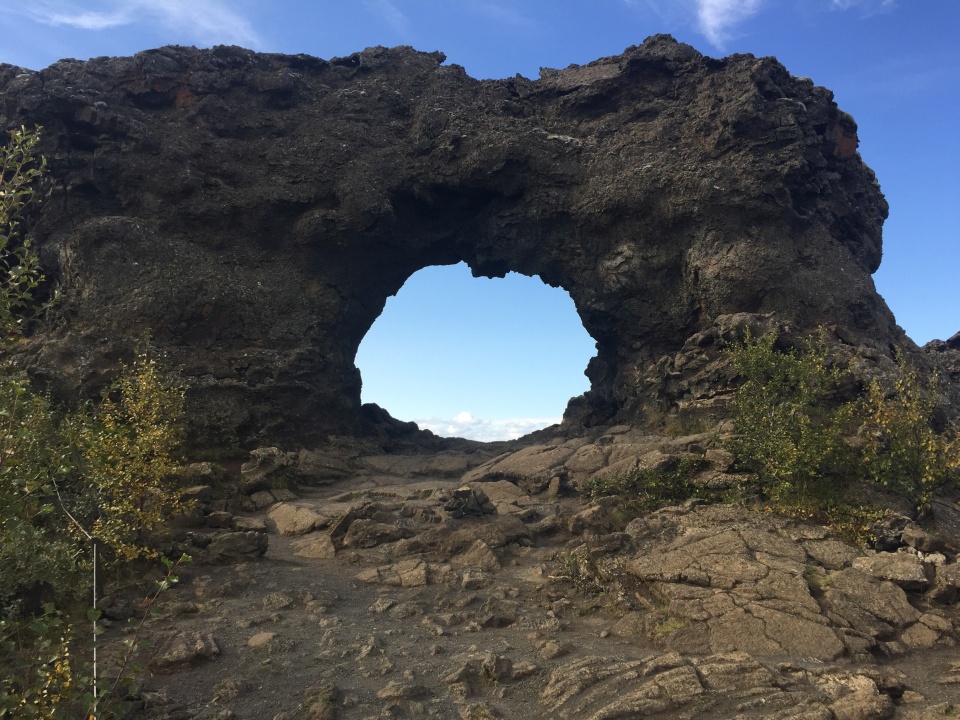 This volcanic arch is part of Dimmuborgir, or the Black Fortress, a lava field in Mývatn. Image: LEARNZ.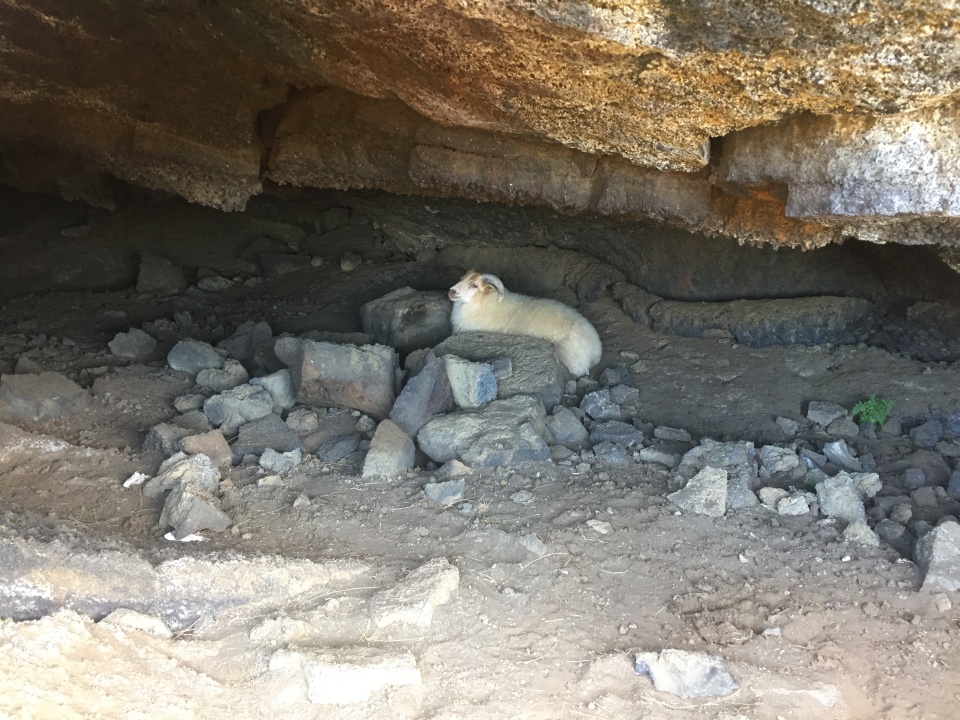 You discovered a sheep in one of the lava caves in Dimmuborgir. Image: LEARNZ.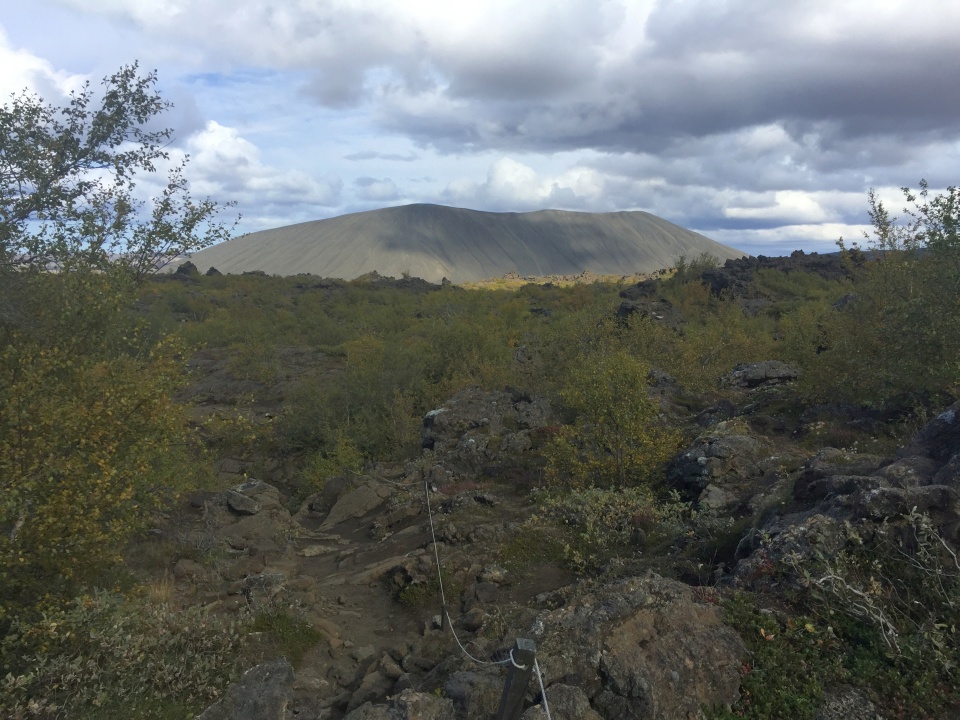 You hiked up Hverfyall, which is a tuff cone in Mývatn. Image: LEARNZ.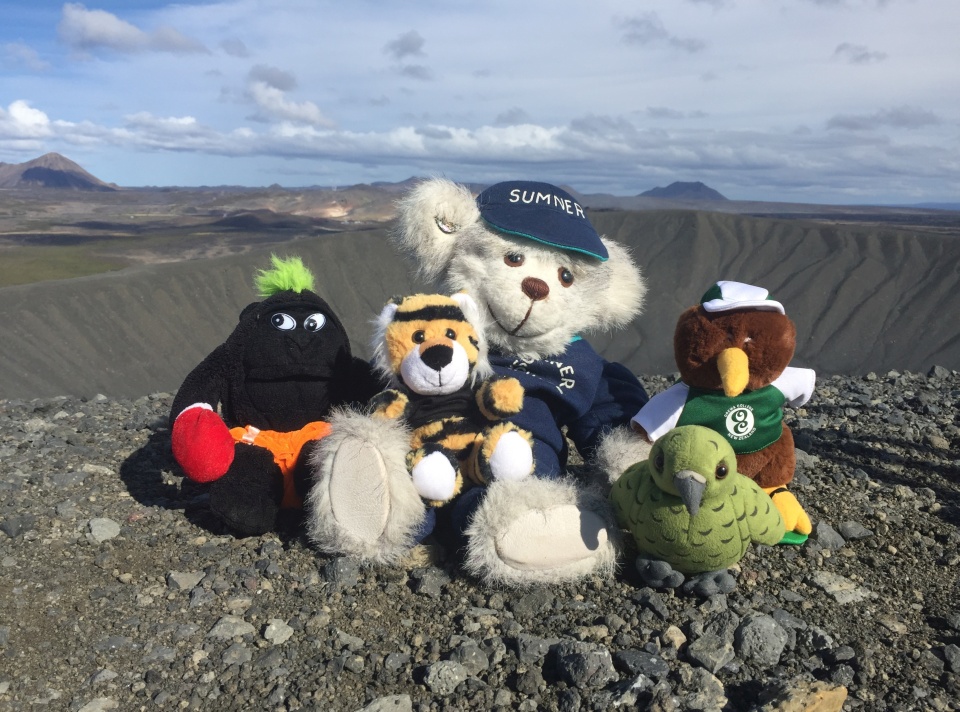 The ambassadors reach the top of Hverfyall crater. Image: LEARNZ.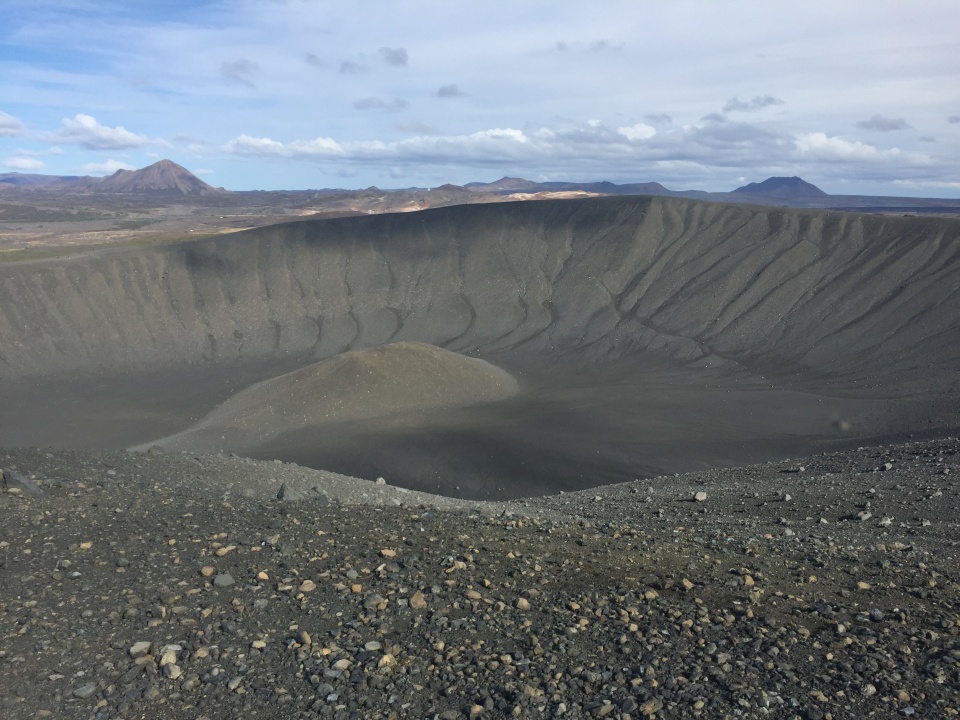 Looking down into the crater of Hverfyall. How did this crater form? Image: LEARNZ.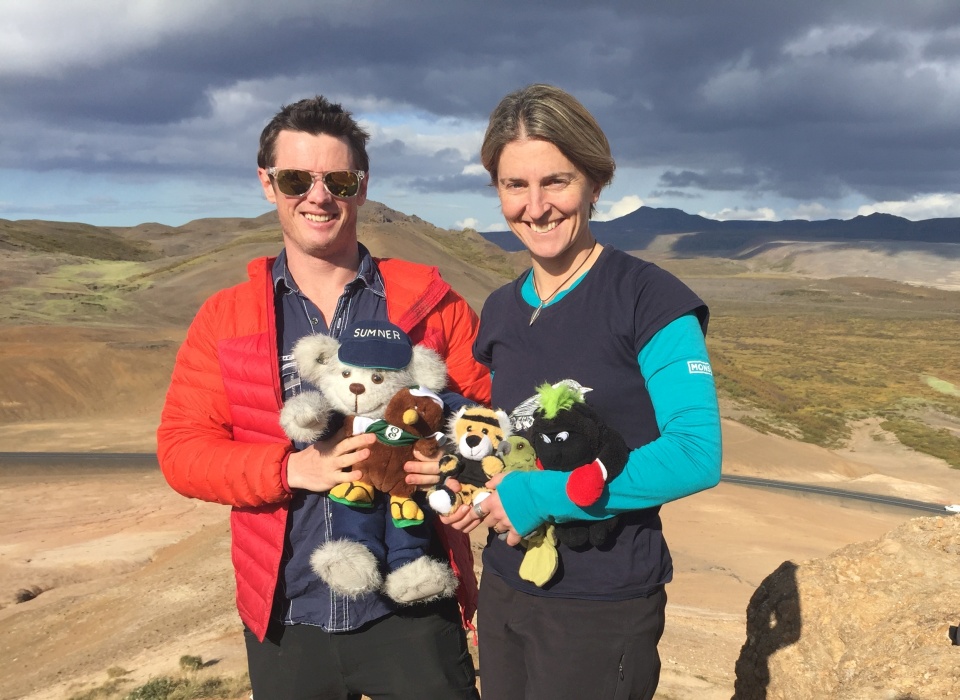 Ben, the ambassadors and Shelley look for the Krafla super volcano. You can see the Krafla caldera in shadow in the background. Image: LEARNZ.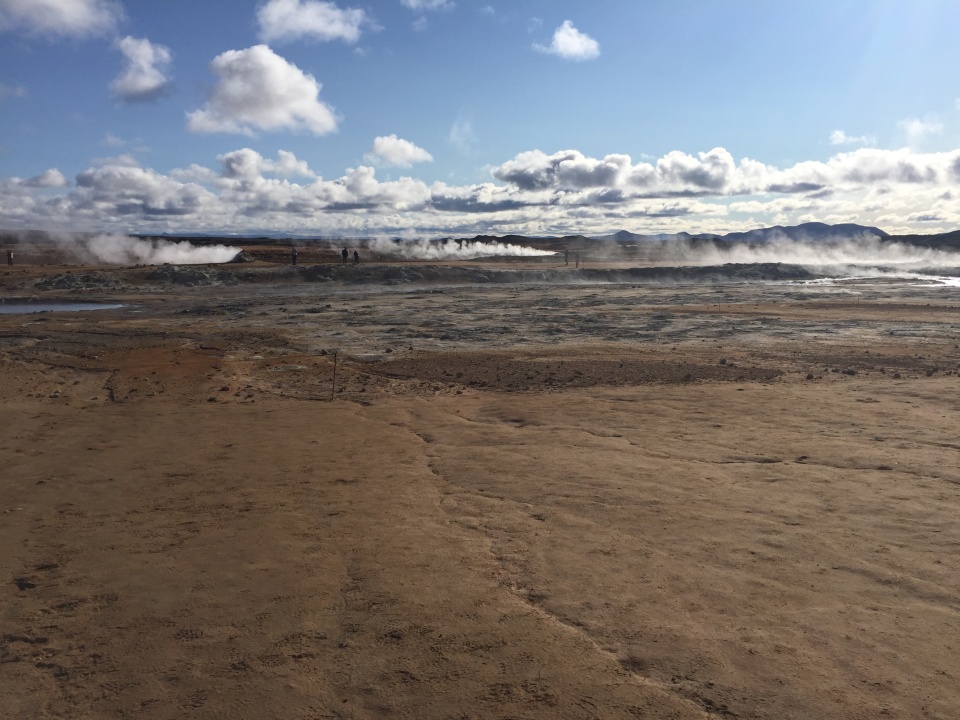 This is the Hverir geothermal area south of Krafla. Image: LEARNZ.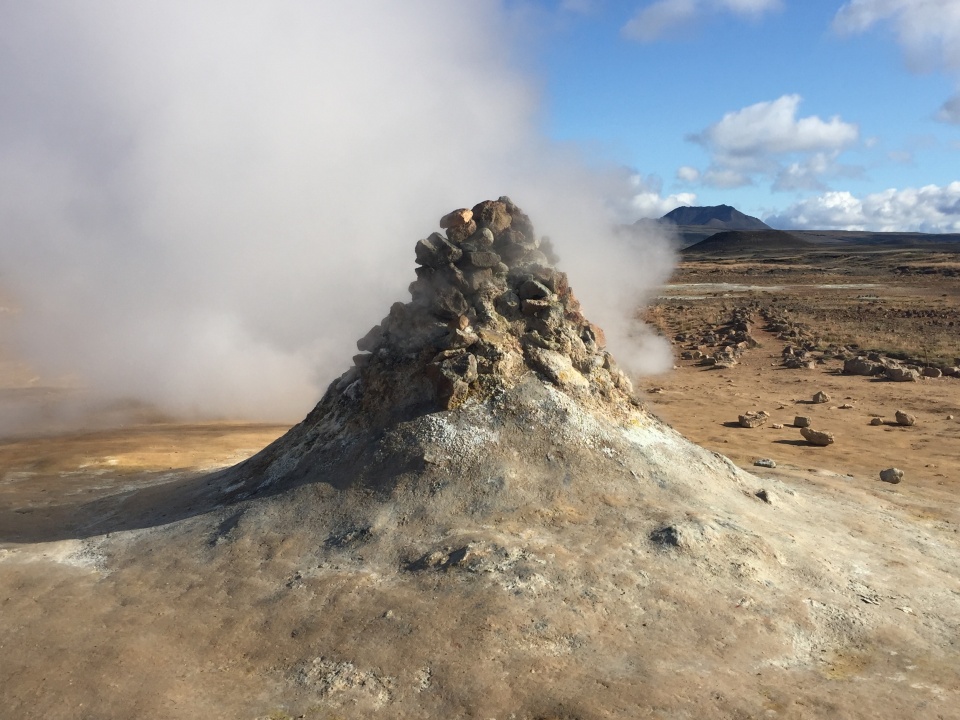 This is a fumarole created when water seeps down through cracks in the earth to reach ground warmed by magma. It then rises back up as steam. Image: LEARNZ.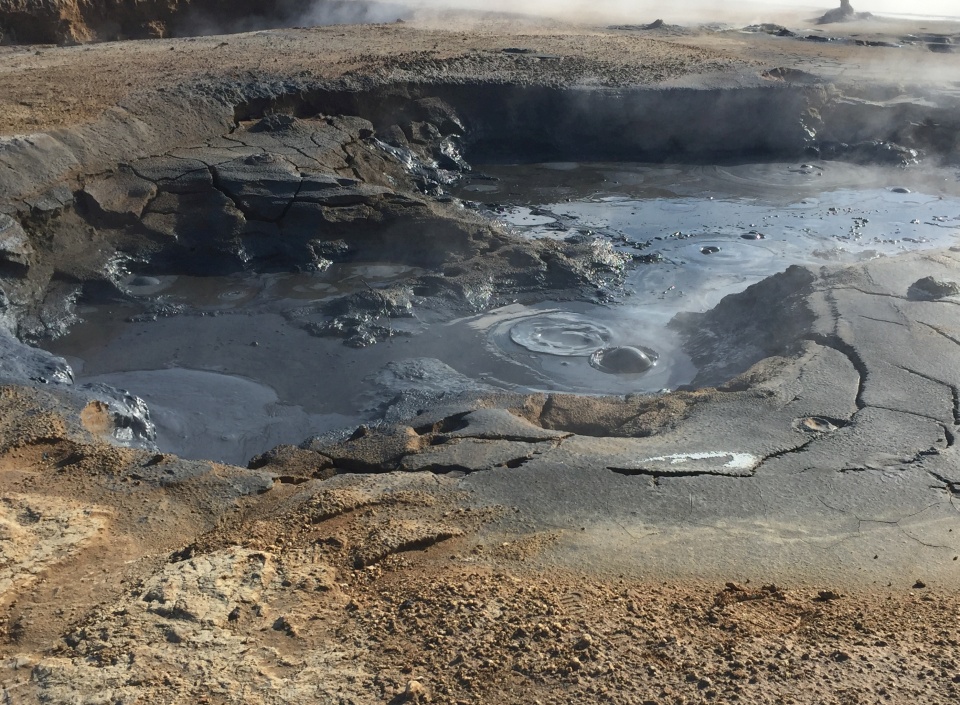 You could have watched the boiling mud pools for hours! How are mud pools formed. Image: LEARNZ