Meet Ben Kennedy
Job description:
Travelling around the world trying to figure out why volcanoes erupt.
Work background:
I have never left University! but I have worked at universities in UK, Canada, Germany and New Zealand, I also work in collaboration with GNS Science.
Favourite part of job:
Being on an active volcano, hiking around and picking up exciting looking rocks and watching volcanoes erupt.
Least favourite part of job:
Health and Safety forms!
What I am working on now:
I have a fun project trying to work out if earthquakes can trigger volcanic eruptions and we are trying to design a way in the lab to shake actual magma, like shaking a can of coke to see what happens.
A quick story about a job well done:
We recently worked together with Department of Conservation on assessing the hazard of being hit by rocks thrown out of the volcanoes when hiking the Tongariro crossing track in New Zealand's North island. DOC actually used our data to help them decide where not to build toilets! As DOC didn't want a high risk that hikers visiting the toilet might get hit by flying volcanic rocks!
A (humorous) story about a job that went badly and what you learned:
We felt pretty silly recently when we crashed our drone into an erupting volcano in Vanuatu. We all had protective clothing, helmet gas masks, big boots and we all decided it was too risky to go and collect the drone. Then a local in bare-feet t-shirt and shorts suddenly appeared over the rim of the volcano emerging from the ash cloud with our drone in his hands and a big grin. We were very grateful to this brave man (who It turned out knew much more than us about the volcanic hazards of his local volcano). We managed to clean out the drone and got it flying again.
Qualifications:
Geology BSc, Volcanology MSc and Volcanology PhD.
Interests outside work:
Surfing, snowboarding and building sand volcanoes with my kids.
Ben Kennedy is a Volcanologist at the University of Canterbury. Image: University of Canterbury.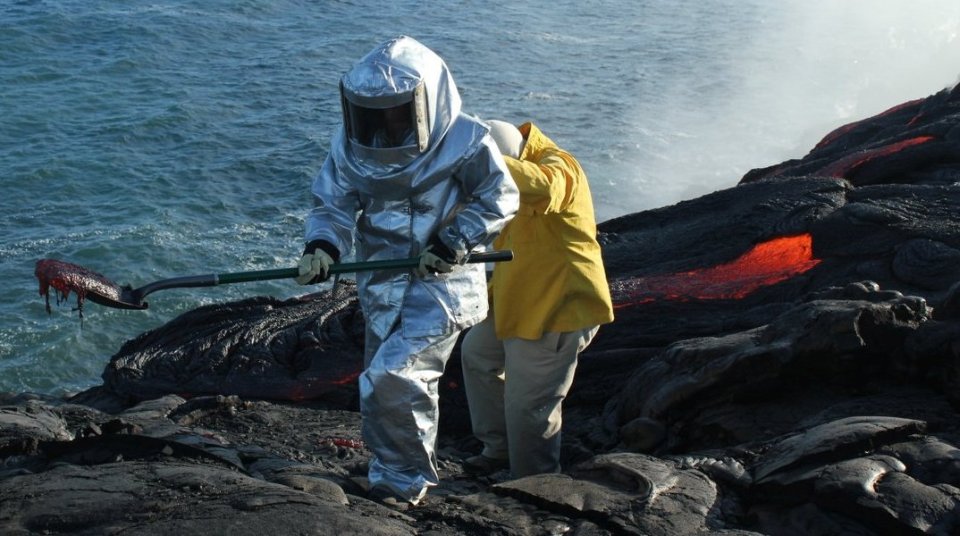 Ben collects a lava sample as part of his work as a volcanologist. Image: University of Canterbury.