Diary 3
Date:
Wednesday, August 28, 2019
Field Trip Name:
Natural Hazards
Field Trip Place:
Bay of Plenty
<- Homepage: Natural Hazards: Our Taupō supervolcano
---
Kia ora koutou,
You continued your journey across the Taupō supervolcano today. You began at the mesmerising mud pools of Waiotapu. The sound of bubbling mud was incredible, and I could have watched it for hours.
Sacred Waiotapu
Gases and steam from underground constantly bubbles up to the surface, creating patterns of boiling mud. Waiotapu means sacred waters and is an active geothermal area with mud pools, geysers and hot springs. Geothermal areas occur where ground water is heated by magma close to the surface. Māori used these areas for cooking and healing. You can watch the video to learn more about this area.
Curious questions
After dragging yourself away from the mud pools you headed to Tūrangi at the southern end of the supervolcano complex. Ben, Graham and Kiharoa took you to the Tūrangi Volcanic Activity Centre to meet with Bubs Smith who works for Ngāti Tuwharetoa. He was keen to help answer questions from Belmont School and Havelock North High School during the webconference. It was interesting to hear more about what makes a volcano a supervolcano. Only volcanoes that erupt more than 1000 cubic kilometres of ash and pumice can be called a supervolcano. You can find out more by listening to the recording of this web conference.
Be prepared
Following the web conference, you had time to explore the Volcanic Activity Centre. This centre is a great place to learn about natural hazards throughout New Zealand. Bubs talked about how important it is to know about the hazards that exist in the area you live in. Tūrangi is close to the active volcanoes of Tongariro, Ngauruhoe and Ruapehu. Bubs explained that people living in Tūrangi have to be prepared for eruptions and earthquakes. Earthquakes are common in volcanic areas, so people need to make sure they have made their home quake safe. You can find out how to do this by looking at the EQC website. Graham also talked about what to do if there is a volcanic eruption. You can watch the video about this.
Piles of pumice from pyroclastic flows
Pyroclastic flows can also form when a volcano erupts. These flows happen when a large amount is erupted quickly from a volcano and the eruption column collapses. As the eruption column collapses it can change into a flood of hot, solid bits inside a liquid, gas cloud. Pyroclastic flows often travel at speeds up to 200km/hour, can be very hot and cause total destruction of the areas they cover. Ben pointed out the land at the southern end of Lake Taupō that has been covered in these flows. He then took you to an area much further away from Lake Taupō where you can also see layers of pumice left behind by pyroclastic flows. These flows were so large that they managed to travel up hill and cover Tongariro. It's hard to imagine so much material being erupted, yet this wasn't even a super-eruption. The pumice that Ben showed you was from an eruption 1800 years ago. Watch the video about this.
Bring me fire
Bubs took you out to Opotaka where you could see Mount Tongariro. Ngātoroirangi climbed Tongariro and brought fire to the area. According to Tuwharetoa Ngātoroirangi battled fierce weather during his climb and nearly died from the cold. He called out to his sisters Te Hoata and Te Pupu, who sent fire to him from Hawaiki. Three kete full of fire were sent but embers were lost along the way. These embers created the geysers, hot pools and volcanoes between Whakaari (White Island) and Tongariro. Only one kete made it to Ngātoroirangi and this is how the Ketetahi hotsprings on Mount Tongariro were named. You can find out more in the video.
You ended your journey across the supervolcano on the Desert Road. You could see Tongariro, Ngāuruhoe and Mount Ruapehu cloaked in snow. Hoani Taoho who lives in this area talked about Ngātoroirangi and the meaning behind some local place names. It was the perfect finish to our journey. It made me realise how interconnected our volcanoes are and how important they are to all of us.
Tomorrow you will find out how volcanoes are monitored and visit Te Papa in Wellington.
See you then,
Shelley the LEARNZ field trip teacher.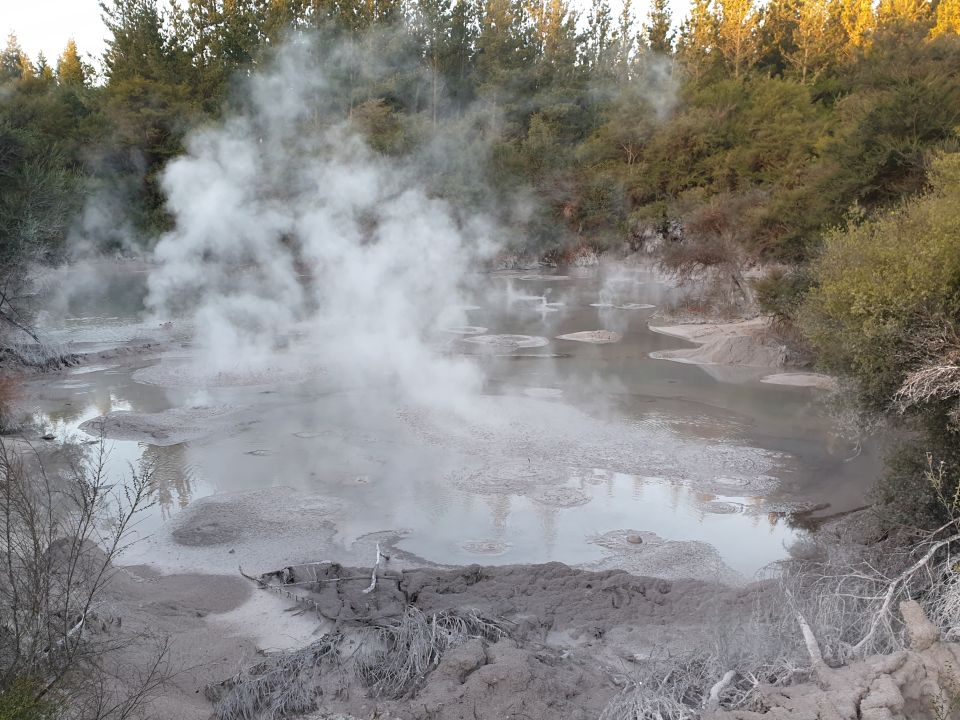 Here you can see the mud pools at Waiotapu. How were these pools created? Image: LEARNZ.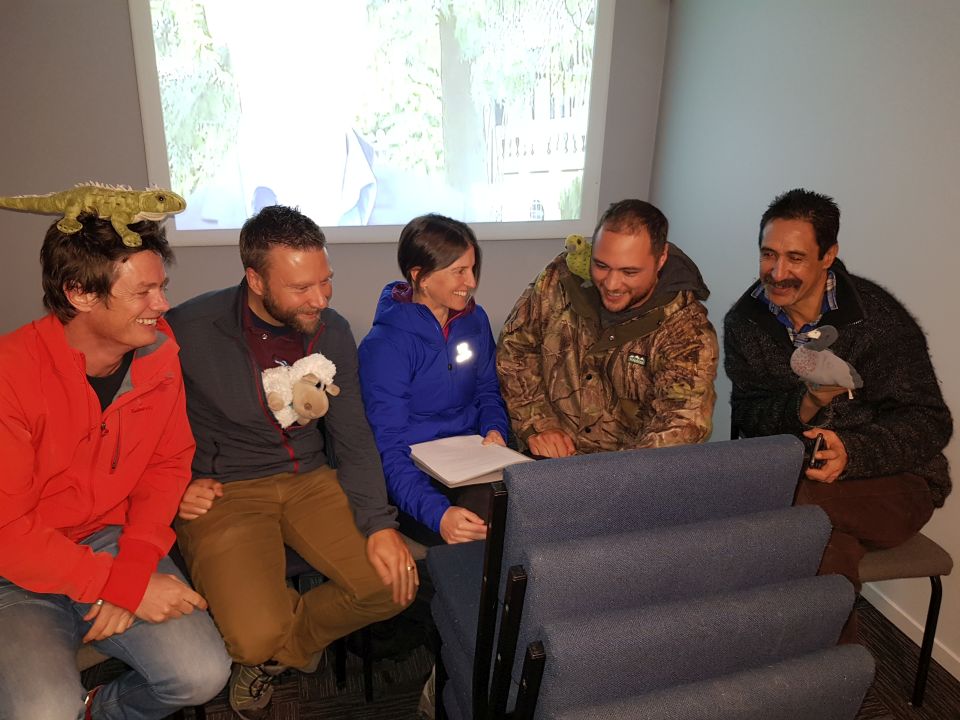 Ben, Graham, Shelley, Kiharoa and Bubs enjoy talking to Belmont School and Havelock North High School during the web conference. Image: LEARNZ.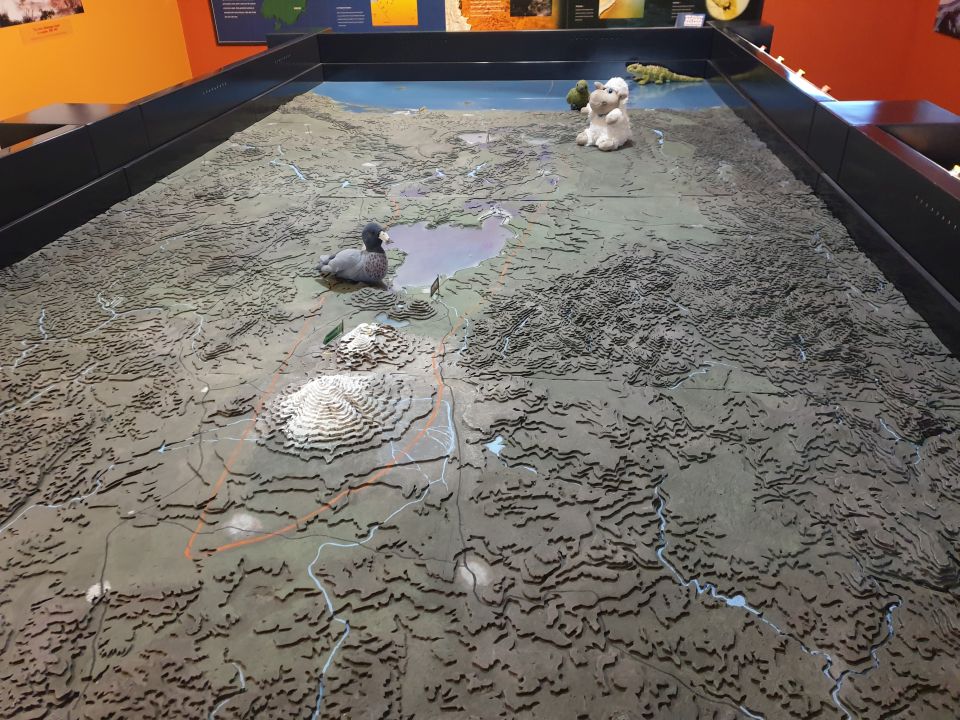 The ambassadors look at where they have travelled over the last two days at the Tūrangi Volcanic Activity Centre. Image: LEARNZ.
This is a model of a cone volcano. What are the differences between a cone volcano and a super volcano? Image: LEARNZ.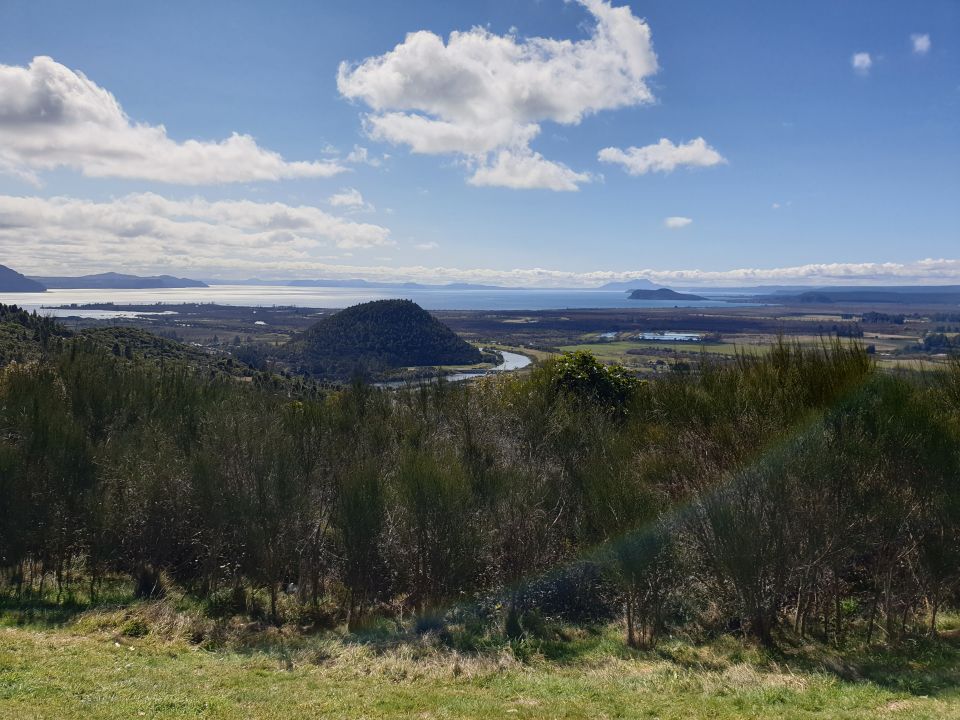 Looking out over the southern end of Lake Taupō you can see how the land has been shaped by pyroclastic flows. Image: LEARNZ.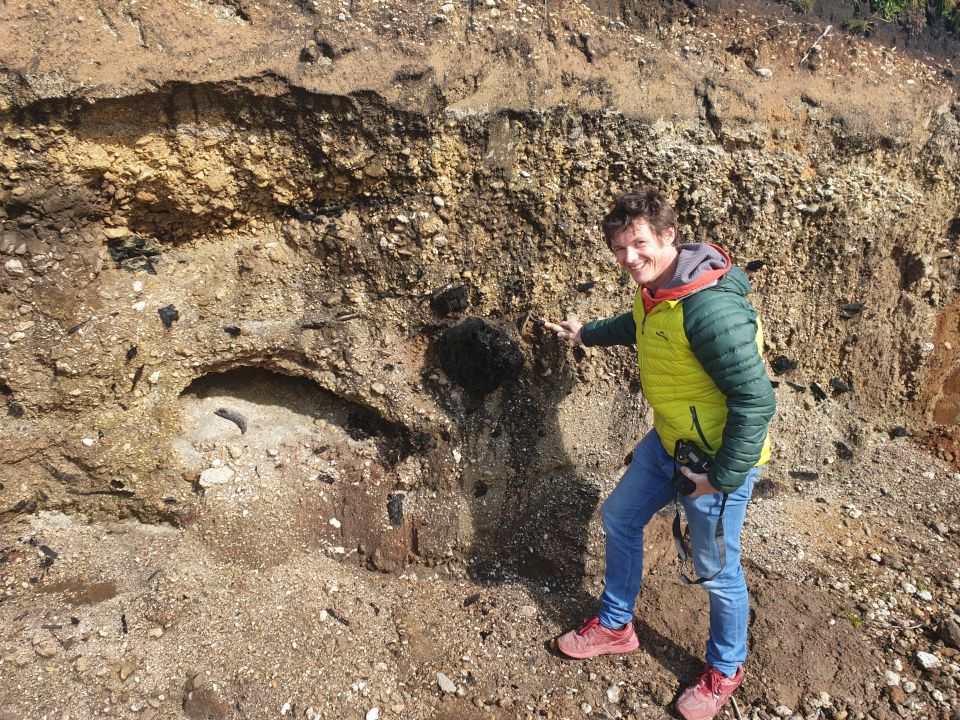 Ben finds pumice left by a pyroclastic flow during an eruption 1800 years ago. Image: LEARNZ.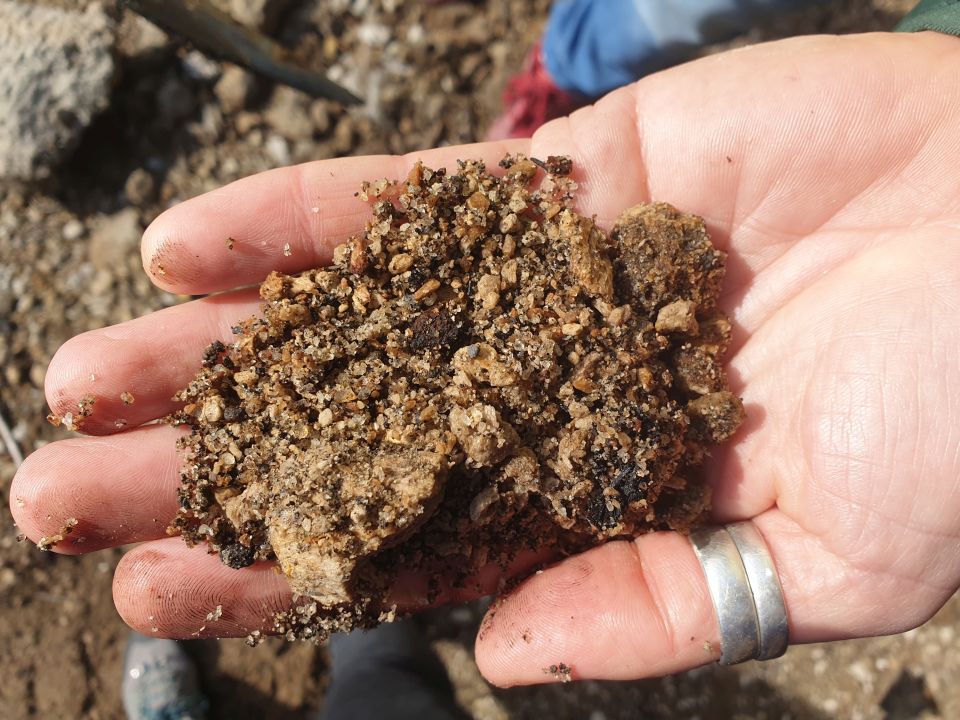 Pumice is formed from lava that is full of gas that explodes out of volcanoes. Image: LEARNZ.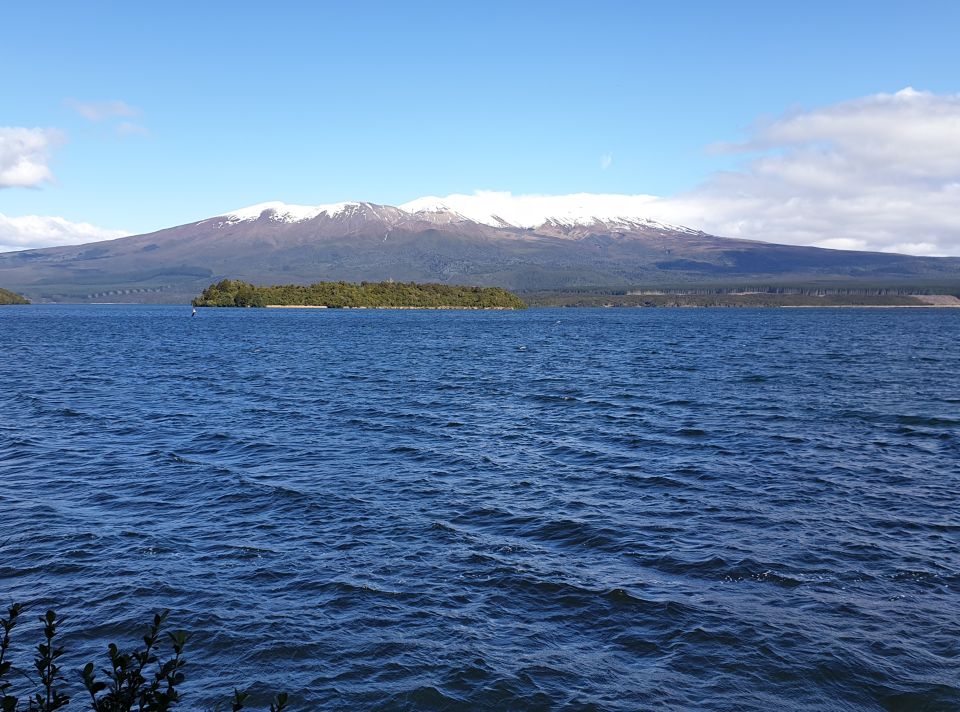 Mount Tongariro looked stunning covered in snow. Image: LEARNZ.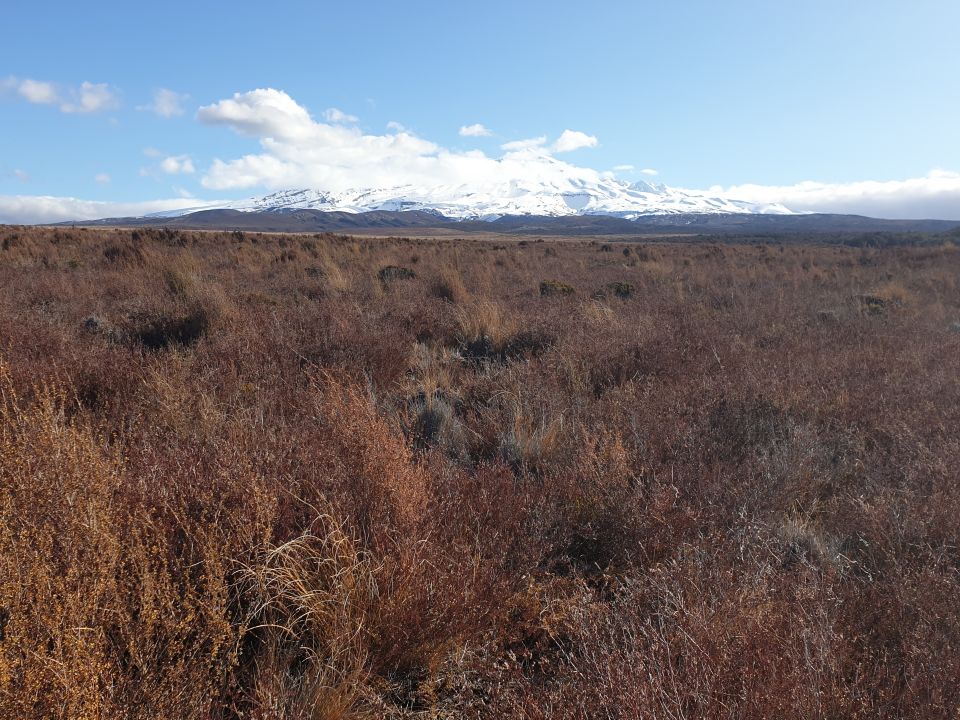 The cloud cleared to reveal Mount Ruapehu, one of New Zealand's most active volcanoes. Image: LEARNZ.