Diary 4
Date:
Thursday, August 29, 2019
Field Trip Name:
Natural Hazards
Field Trip Place:
Wellington
<- Homepage: Natural Hazards: Our Taupō supervolcano
---
Kia ora koutou,
You arrived in Wellington last night after spending the last two days travelling across the mighty Taupō supervolcano. You were keen to find out how scientists monitor volcanoes, so you headed out to GNS Science in Lower Hutt. You spoke with Havelock North High School students during the last web conference and heard some mind-boggling facts about supervolcanoes. Graham explained that supervolcanoes are volcanoes that have erupted over 500 cubic kilometres of ash and pumice. Eruptions of this size can trigger climate change and lower temperatures across the world. You can listen to the web conference recording to find out more.
Hazard Monitoring
After the webconference Graham introduced you to Rosie who is a Geohazard Analyst. Rosie works on the GeoNet project monitoring different hazards around New Zealand. Landslides, tsunami, volcanoes and earthquakes are monitored 24/7. It was incredible to see how many earthquakes there are everyday in New Zealand. Most of these quakes are too small to notice but recording all earthquakes helps scientists to monitor changes over time. A swarm of earthquakes in volcanic areas could indicate that magma is rising to the surface. Earthquake activity is one way of measuring volcanic unrest. Other signs of magma rising towards the surface include changes in geothermal areas and changes in the shape of the land. This information helps scientists to set volcanic alert levels. Often active volcanoes will show signs of unrest but unless this activity increases dramatically an eruption is unlikely. You can find out more by watching the video.
Taupō supervolcano over the last 27,000 years
You wanted to see the new Te Taiao exhibition at Te Papa so you headed back into central Wellington. Graham showed you an animation of the Taupō supervolcano over the last 27,000 years. You could see magma building up below the surface causing eruptions. These eruptions were too small to stop the pressure from building in the magma chamber. Then 25,500 years ago so much magma had built up below the surface that a super-eruption started. This involved several massive eruptions and huge pyroclastic flows smothering the landscape. Ash filled the air and circulated around the globe affecting temperatures across the world. It was amazing to see the scale of this eruption and the filling of Lake Taupo after the land collapsed above the empty magma chamber. You can see this process in the video.
Rock recipes
Ben showed you his favourite exhibit at Te Papa. Here you can make your own volcanic rocks. Ben challenged you to make pumice. You had to think about the conditions needed to make pumice and decide how much silica and gas to add. Adding silica is a bit like adding flour when you're baking a cake. The more you add the stickier the mixture becomes. It turns out that pumice is made when you add lots of silica and gas to create an explosive eruption. Magma, which is less sticky and has less gas in it, can erupt basalt rock. The pumice we found on our journey across the Taupō volcanic zone is a sign of violent eruptions in the past. No wonder Ben gets so excited about finding layers of ash and pumice. These layers are like pages in a history book that tell us about past eruptions.
Exploring Te Taiao was so much more rewarding after our journey across the Taupō Volcanic Zone. Nothing can compare with getting out and exploring the environment and meeting new people. It has been an amazing week sharing Mātauranga Māori and science knowledge. Hopefully you have enjoyed the field trip and now have a new appreciation for the value and power of our volcanoes.
See you on another field trip soon.
Mā te wā,
Shelley the LEARNZ field trip teacher.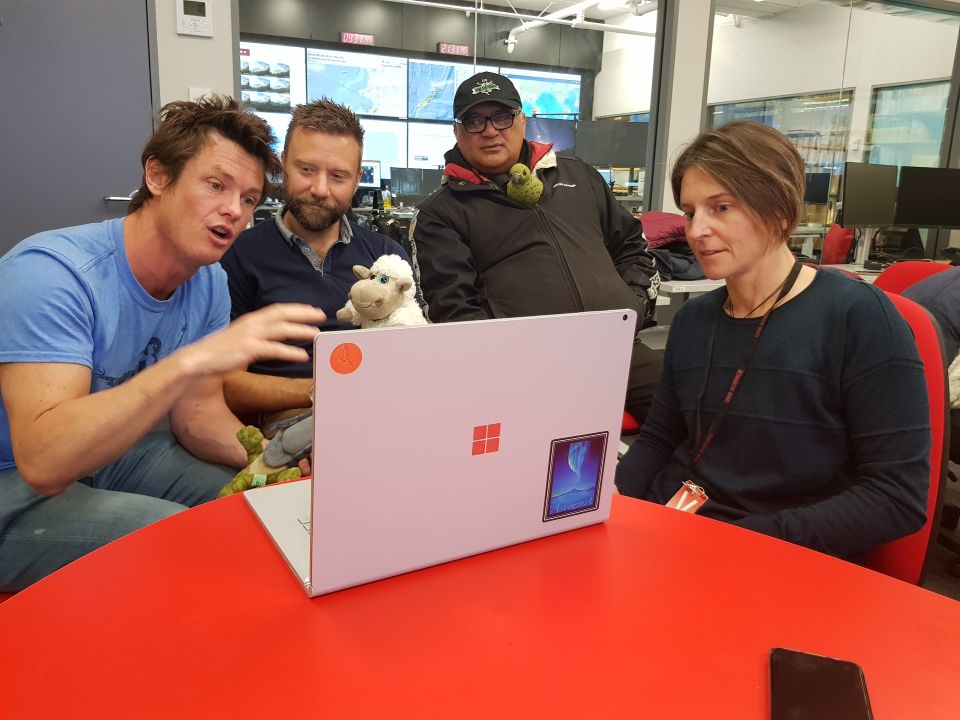 Ben, Graham, Joe and Shelley talk to students from Havelock North High School during the last web conference. Image: LEARNZ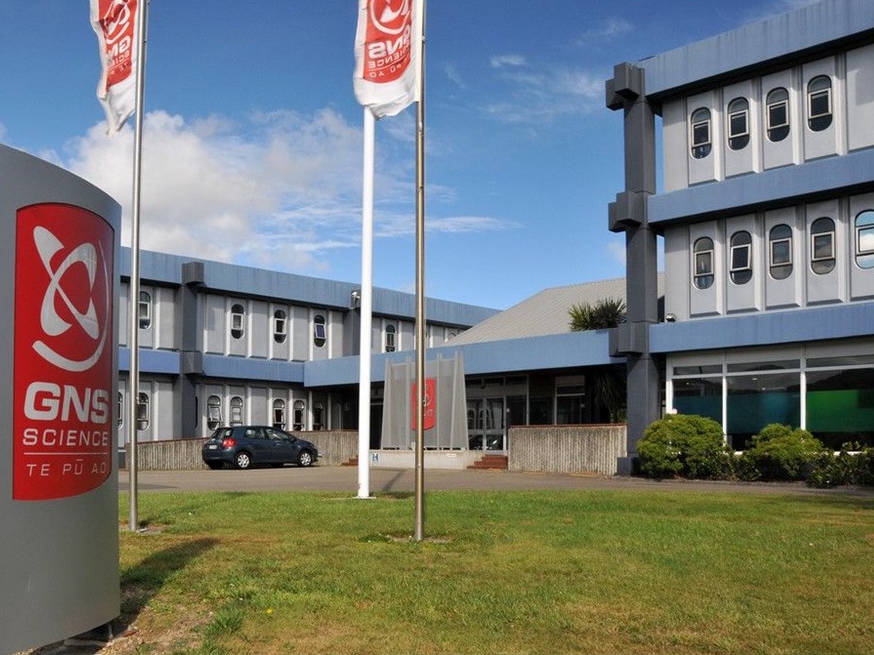 You began the day at the GNS Science office in Wellington. Image: LEARNZ.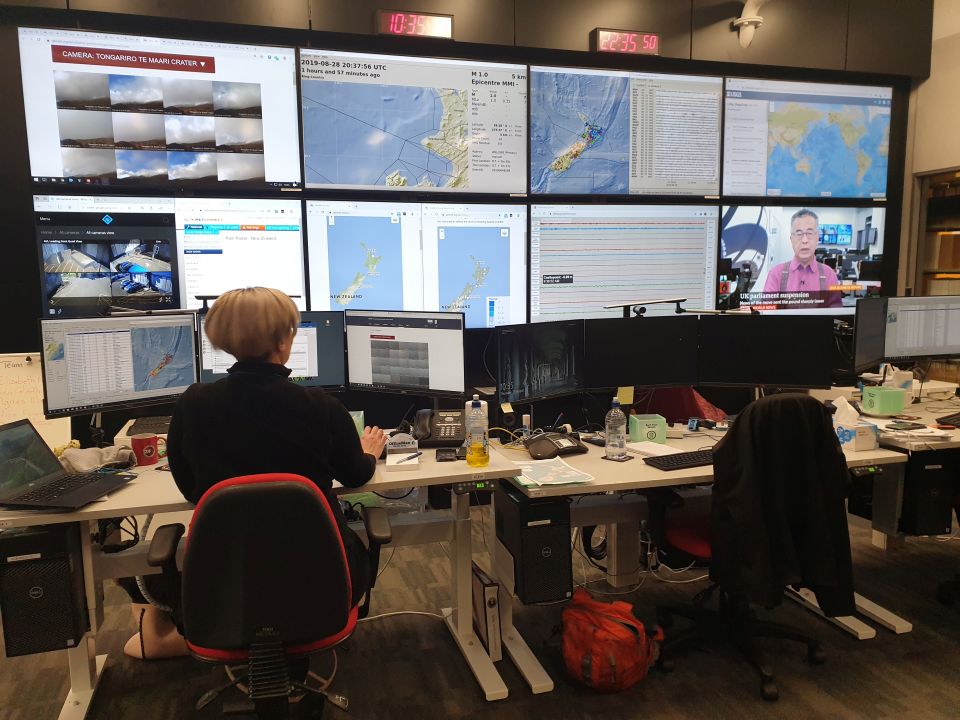 The National GeoNet Hazard Monitoring Centre is run by GNS Science. Which natural hazards are monitored here? Image: LEARNZ.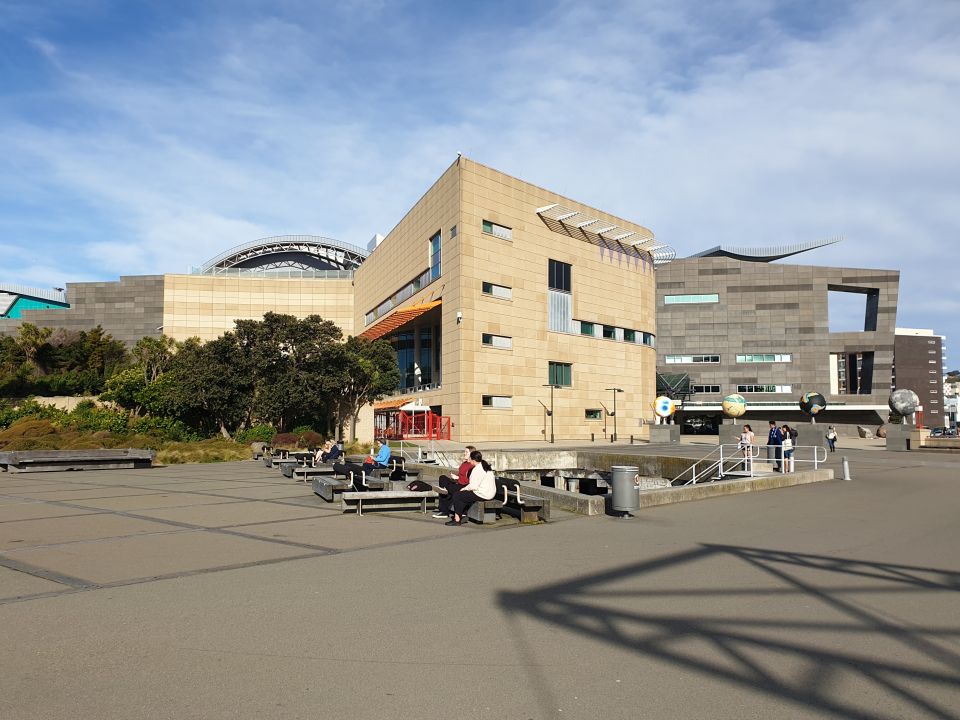 You headed into central Wellington to see the new Te Taiao exhibit at Te Papa. Image: LEARNZ.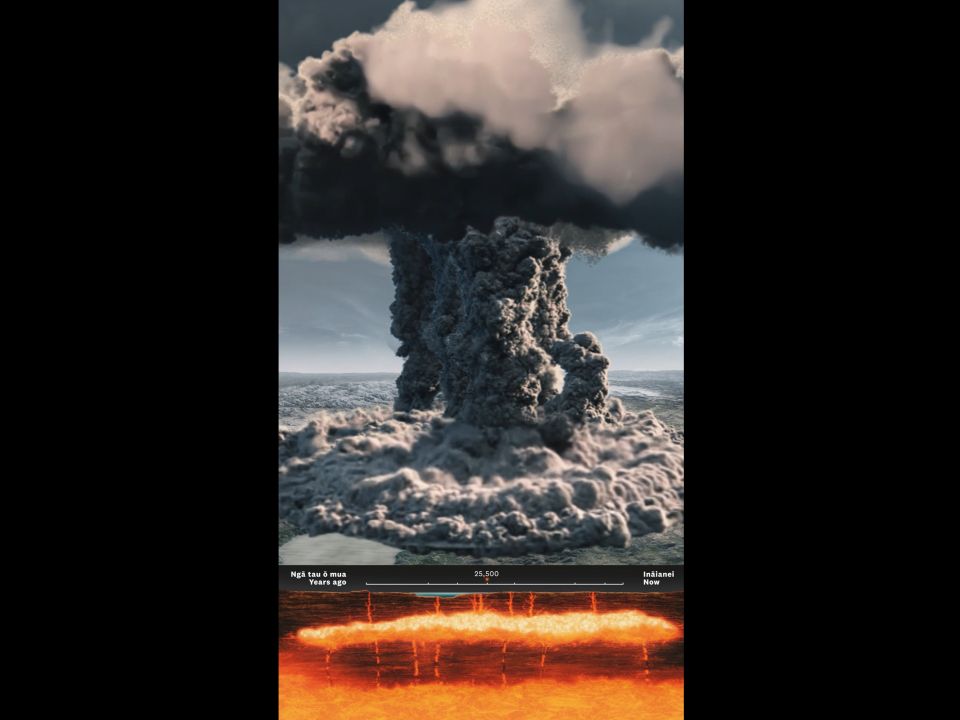 Here you can see an animation of the last Taupō super-eruption which happened about 25,500 years ago. Image: LEARNZ.
After the super-eruption the land above the empty magma chamber collapsed and slowly filled with water to create Lake Taupō. Image: LEARNZ.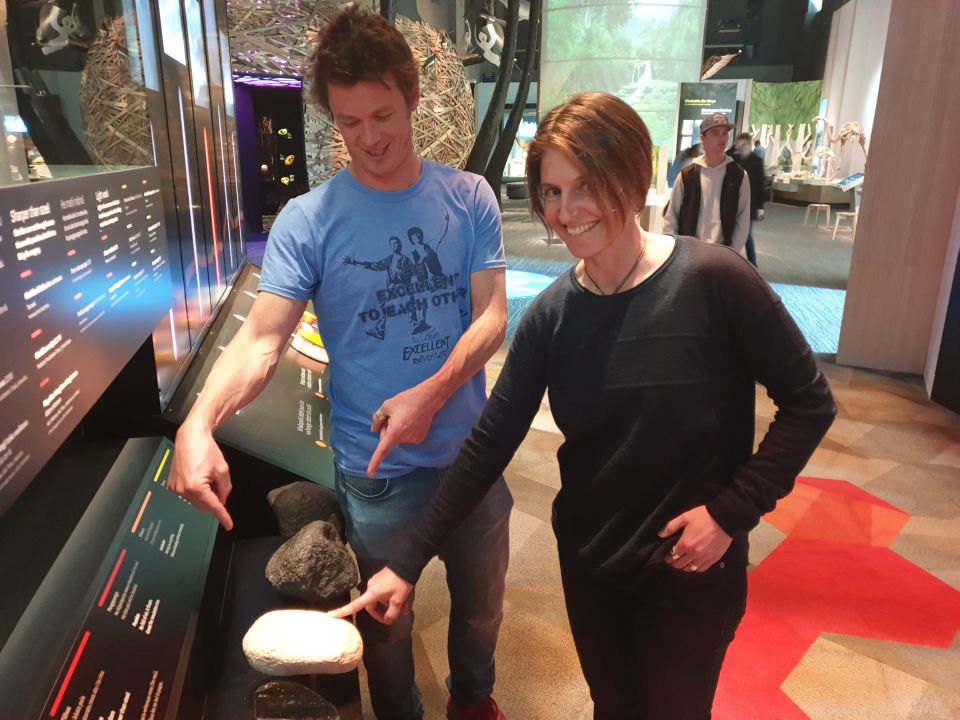 Ben sets Shelley the challenge of making pumice at Te Papa. What conditions are needed to make pumice? Image: LEARNZ.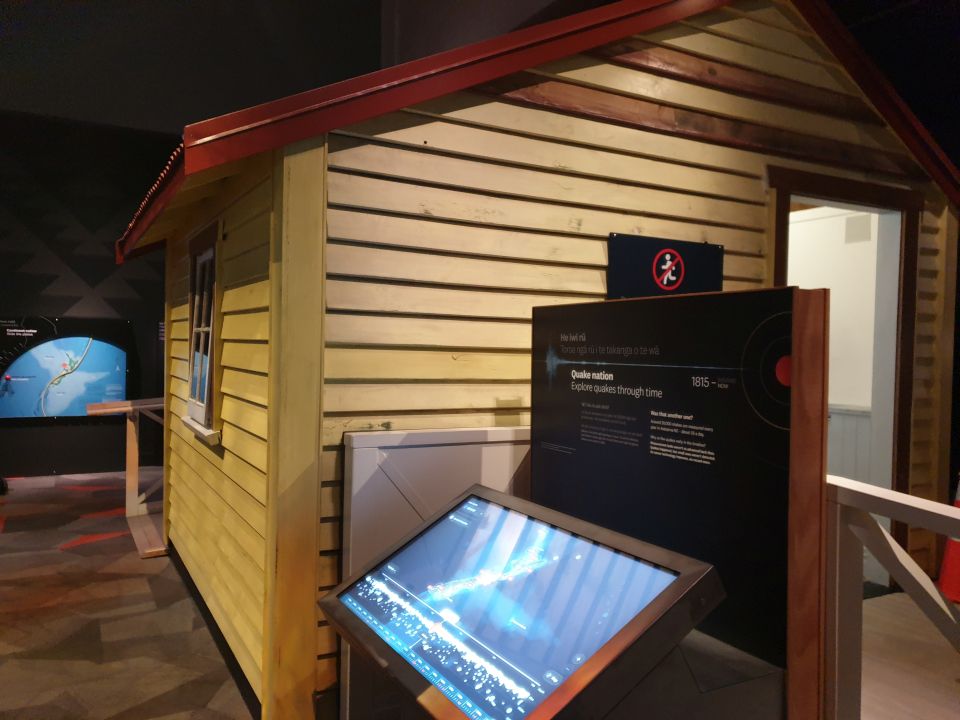 A favourite exhibit at Te Taiao is the shaky house which simulates an earthquake. Image: LEARNZ.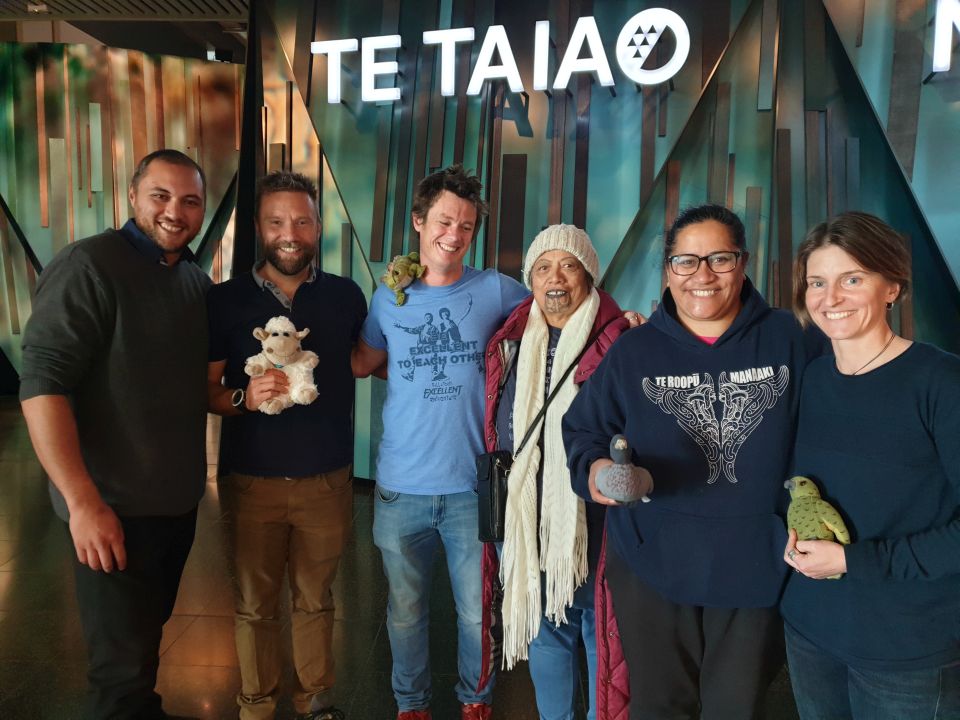 Kiharoa, Graham, Ben, Rita, Sylvia and Shelley celebrate a successful week. Image: LEARNZ.