Ambassador Māia


Kia ora,
I'm Māia the kea. My name means bold in Māori. Like most kea I love to give things a go and am often curious and a little mischievous. I am the ambassador that travels all over the place with Shelley the LEARNZ field trip teacher. I love getting out and about on adventures.
I'm more at home in the mountains, so I am looking forward to heading over the Southern Alps for the 2020 Natural Hazards - Alpine Fault field trip.
See you there.
Māia.
Monday 2 November
Kia ora koutou,
After a flight to Christchurch and a long drive across the South Island we have finally made it to Tai Poutini, Westland. It was so cool meeting some of my cousins at Arthur's Pass. They were so cheeky but super interested in what we were up to. We're now in Franz Josef Waiau ready to get up close to the Alpine Fault.
See you in the morning,
Māia.
Tuesday 3 November
Kia ora,
We have had an amazing day exploring Waiau/Franz Josef. It was so cool standing on the Alpine Fault. I didn't even have to get my feet wet crossing the river. I was surprised to see how much recent floods have changed this area and I was glad it was only raining lightly today. With steep mountains and high rainfall there are lots of landslides here on the coast and if there's a big earthquake there will be a lot more.
Tomorrow we will find out how to prepare for hazards like this.
See you then,
Māia.
Wednesday 4 November
Kia ora,
We looked at the impacts of a large earthquake today and it made me realise how important it is to be prepared. The Alpine Fault will one day rupture in a large earthquake, we just don't know when. It was interesting to look at landslides that have happened during heavy rain and think about all the landslides that would be triggered by a big quake. Flooding, road damage and power outages would also be a problem.
Tomorrow we are heading back to school to meet some local students who have been studying earthquakes.
See you there,
Māia.
Thursday 5 November
Kia ora,
We made the most of our last day of the field trip by heading to South Westland Area School. It was cool to meet some students and find out how they are preparing for natural hazards. The students took part in the AF8 Roadshow and worked on creating towers that could withstand shaking from an earthquake. They discovered that triangles and arches are really strong.
I have learned such a lot on this trip and now realise that it's really important to prepare for earthquakes. I also have discovered that without earthquakes our country would not have the spectacular landscapes that it does – so quakes are not all bad.
See you on another field trip soon,
Māia.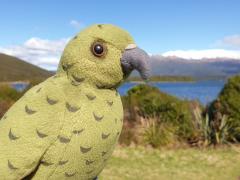 Māia is looking forward to travelling across the Southern Alps for the Alpine Fault field trip. Image: LEARNZ.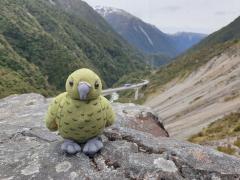 Māia above Otira viaduct on the way to the West Coast. Image: LEARNZ.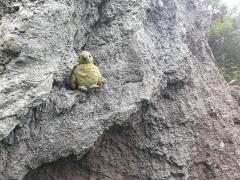 Māia stands above the Alpine Fault at Gaunt Creek. Image: LEARNZ.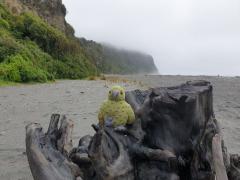 Māia enjoys exploring Ōkārito and finding out more about how earthquakes could affect this area. Image: LEARNZ.
Māia looks at how to make structures more resilient to earthquakes. Image: LEARNZ.