Ambassador Egbert
Hello everyone, tēnā koutou,
I am Egbert the LEARNZ ambassador. I go on all the trips with Andrew and help look after the other ambassadors from your schools.
I really love LEARNZ field trips about New Zealand's special places. I am looking forward to discovering more about adapting after emergencies with you, and finding out what lessons there are for us from the earthquakes in Kaikōura and Hurunui.
Best,
Egbert
Monday 25 June
Kia ora everyone,
Far out, talk about a long travel day! We left Kerikeri at 9:00am and didn't arrive in Kaikoura until 7:30pm! It took a bit longer because we went to someone's farm in Waiau to look at a fault scarp. A fault scarp, so I found out, is like a step on the ground surface where one side of a fault has moved vertically in relation to the other.
The fault scarp was quite amazing to see. It was named the "Wall of Waiau" because, well that is exactly what it looks like. It's incredible to think about the power of the earthquake which moved the land in such a way to create this wall.
Looking forward to tomorrow (but looking forward more to bed right now!).
Best,
Egbert
Tuesday 26 June
Kia ora everyone,
We had a very busy day today. There were lots of people to meet and many places to visit. I barely had any time to eat! It was a very interesting day though.
My favourite part of the day was at a place called Gooch's Beach. Here we saw some round rocks that were only found after the earthquake happened. They kind of looked like brown beach balls but are known as concretions. They're a bit like the Moeraki boulders, only smaller. Kate Pedley explains more about them in one of the videos from today so check it out.
Best,
Egbert
Wednesday 27 June
Kia ora everyone,
It was another interesting day today. We got to have a look around the NCTIR Village. This is a place where many of the people working on the road reconstruction live, eat, and play. There is enough room for 300 people and each person has their own room with a toilet and shower. There is a recreation room with large screen TV, pool table, table tennis and so on. There is also a gym and a kitchen where everyone gets a cooked breakfast each morning before work – sign me up!
Looking forward to another cool day tomorrow. I hope it's another sunny one!
Best,
Egbert
Thursday 28 June
Kia ora everyone,
It's been such a busy week. We've met so many people and been to so many places. It's no wonder I'm feeling rather exhausted.
I really enjoyed meeting Kim Henderson at Fossil Point Café today. She is a talented artist. It was great to have a look around her ceramic studio and learn how she used her creative skills to cope with stress from the earthquake.
I'm tired, but it has been an awesome field trip. See you on another one soon!
Best,
Egbert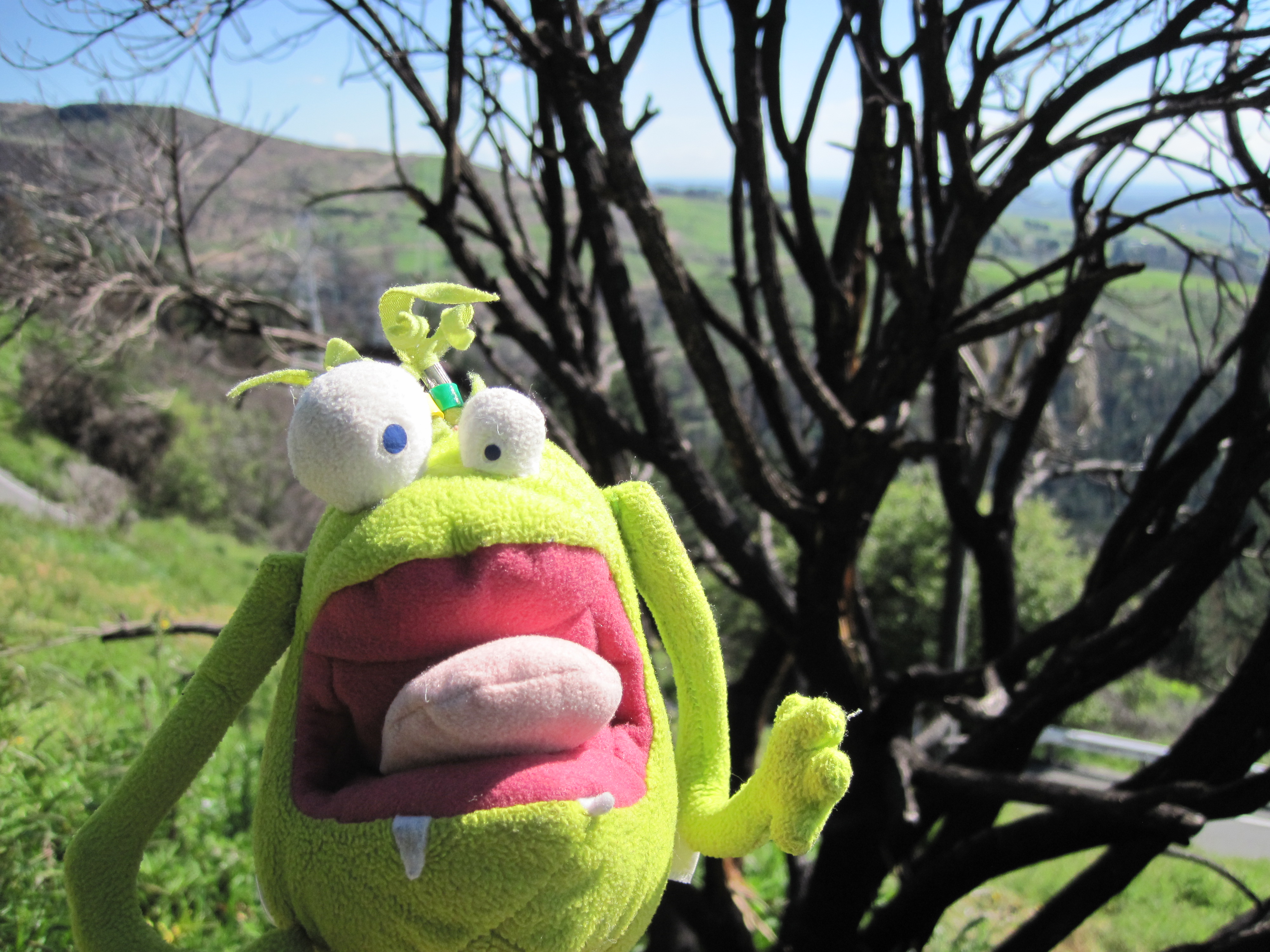 Egbert is looking forward to finding out how to adapt after emergencies. Image: LEARNZ.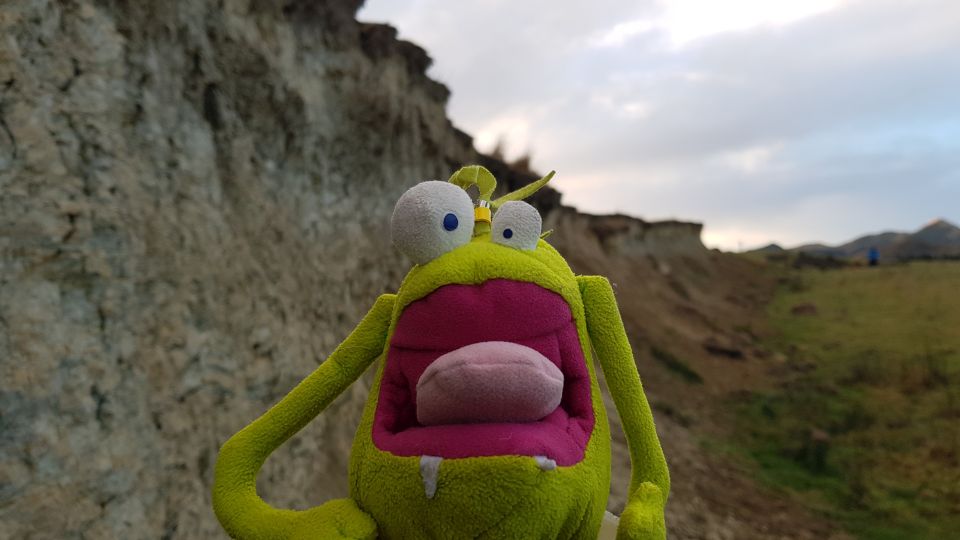 Monday. Egbert is next to the "Wall of Waiau". Image: LEARNZ.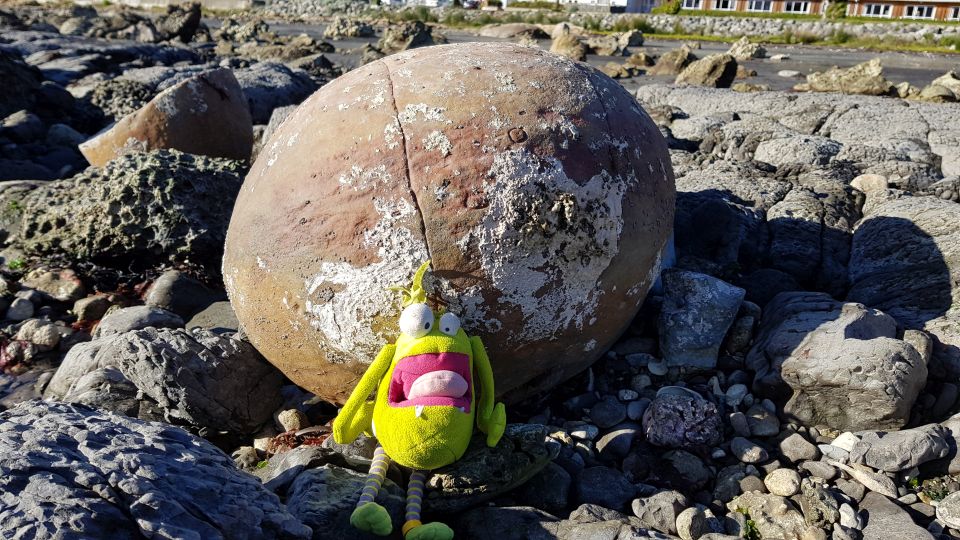 Tuesday. Egbert next to one of the concretions at Gooch's Beach. Image: LEARNZ.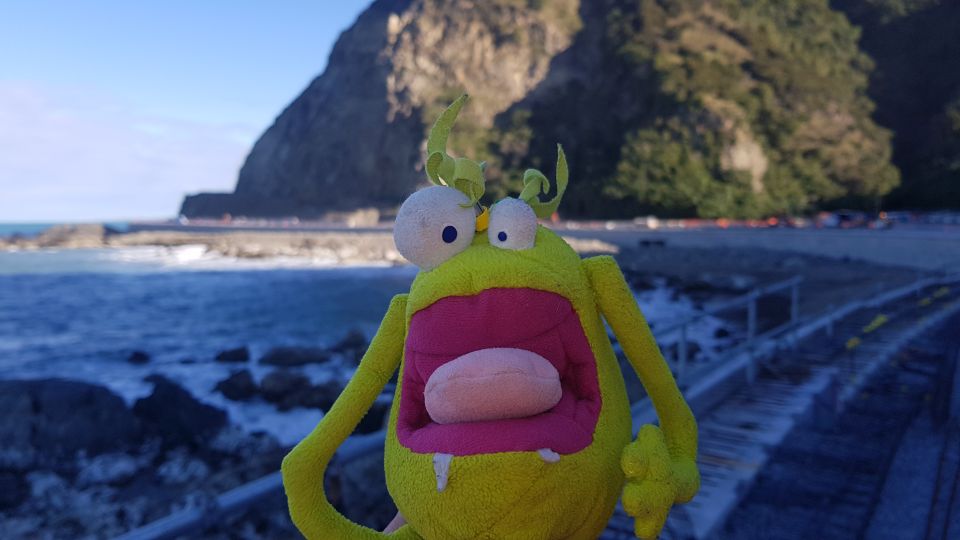 Wednesday. Egbert is on the construction site at Ōhau Point. Image: LEARNZ.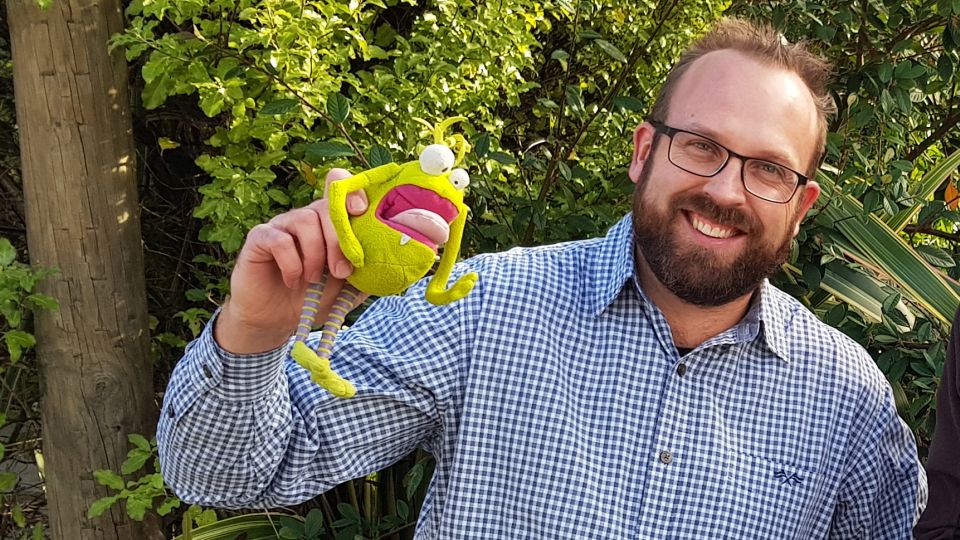 Thursday. Egbert hanging out with Kaikōura Suburban School principal Hayden van Lent. Image: LEARNZ.