Welcome to the River Restoration: from mountains to sea. This field trip took place on 28-30 July 2020. The content in this trip is available for ongoing use. River restoration field trips in subsequent years are to Te Hoiere Pelorous River in the South Island for River restoration: Kaitiakitanga from estuary to catchment and to Waipoua in Northland for Awa restoration: creating a corridor of life for Waipoua.
Supported by the Ministry of Education/Te Tāhuhu o te Mātauranga and the Department of Conservation/Te Papa Atawhai.
Introduction 
Aotearoa is a land of rivers. To iwi, rivers are taonga ('treasures') and are often central to identity and wellbeing. We have over 400,000kms of rivers and half of these flow through areas modified by people. The way we use land has affected the health of many of our rivers, increasing sediment, bacteria and nutrient levels. Some of our rivers are no longer safe to swim in and threaten the survival of aquatic species. 
We can all play a part in restoring our rivers. On this field trip you will join a group of people helping to restore Waikanae River. Along with government funding, the Department of Conservation, Wellington Council, local Iwi and volunteers are all working together to make Waikanae River healthy again. This trip is a river journey from the mountains to the sea exploring how rivers work, what makes them sick and what we can do to enhance te mana o te wai – the quality and vitality of our rivers.
Meet Shelley the LEARNZ field trip teacher.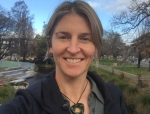 Watch the introductory video - on Vimeo.
Location
Your river journey starts when you fly into Wellington and drive the 60km north to Waikanae on the Kāpiti Coast. Waikanae in Māori means "waters of the mullet" and is home to Te Atiawa ki Whakarongotai iwi, who are mana whenua and kaitiaki of the River. The small town sits beside the lower reaches of the Waikanae River whose source is high up in the Tararua Ranges. The river is valued by many different people and has shaped the local environment. Flood management is a challenge and the river faces a number of threats which you will explore during the field trip.
This trip is on Google Earth!
The LEARNZ team has created this field trip using Google Earth's 3D mapping technology. Go to placemarks to explore key locations. Watch video, view images and meet experts at each stop. Visit the tour during the field trip week to explore new content as it goes online each day. 
Experience this trip on Google Earth >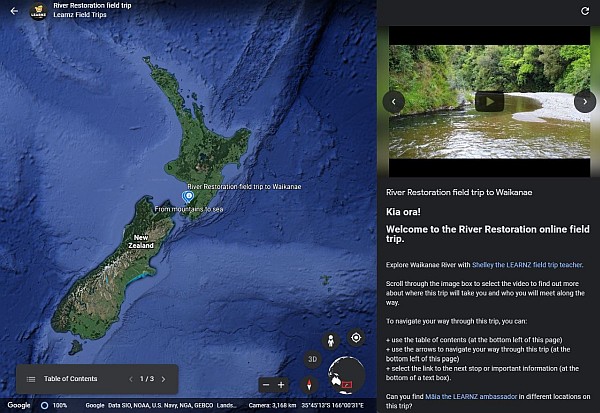 Field Trip Plan - Term 3 2020