Meet Bruce Walton
Job:
Technical Director for Intelligent Transport Systems and Section Manager for the Applied Technologies business in Beca. 
Job description:
As a Technical Director, my job is to direct the technical part of ITS jobs that Beca does.  So, this means that I will look at what a client wants to do, or advise them on what some of the things they could do are for a project, and then I will normally give them a price to do the work.  If they are happy with the price, and how I have told them I will do the work, they then will give me an instruction for Beca to do work for them.Once the work starts, I will take the scope and brief the team on what work needs to be done.  I will then help the team do the job by giving them advice on how to do it.  I will check their work and also I will talk to the client a lot to make sure the work we are doing is what they want.  I will also make sure we don't spend too much money on the project.As a Section Manager, it is my job to make sure all the people in my Section are happy in their work and doing work that is interesting for them, as well as making sure they are doing it properly and that we are making money.  I make sure everyone is trained to do their job.  
Work background:
I went to university in England and did a degree in civil engineering.  After that I got a job with a company that did ground investigations, which meant they drilled deep holes in the ground to see what was there to find out how good it was for building on.  I did that for three years and then got a job with a consulting engineer to learn more about design.  I did design for another three years and then in 2001 transferred to the ITS part of the company I worked for to learn more about project management, which I had to do to get chartered.  I also learned a lot about ITS and became a Regional Manager. In 2011 I came over to New Zealand and joined Beca as a Technical Director for ITS.  I joined the Transportation business and after two years was the Manager for them, and then changed over in 2013 to become Manager of the Applied Technologies business.  We do lots of things from software development to mapping to designing systems for the Air Force and guns for the Navy. 
Favourite part of job:
Seeing people learn and grow.  Solving difficult problems – technical or managerial.
Least favourite part of job:
Sometimes I have to take responsibility for a problem that isn't my fault, but as a senior person I have to face upset clients or people.  Also sometimes I have to tell people that they don't have a job anymore and that is really not nice. 
What I am working on now:
I am working on this Project and also some other smaller projects, as well as trying to win some other jobs.  I am also working on having to spend less time travelling!
A quick story about a job well done:
In 2008 I was asked to go and be a Scheme programme manager for an ITS Road Maintenance project which wasn't going well.  I spend a lot of time away from home living in a hotel.  I looked at what wasn't working, planned how to do the jobs better and we managed to do over $16 million of different projects in a year in the end.
A (humorous) story about a job that went badly and what you learned:
When I was working for the ground investigation company I was doing a job in a housing estate.  Before we drilled we used to scan the ground with a cable avoidance tool to make sure that we wouldn't hit any buried cables.  We tried a few places but couldn't find anywhere that looked safe so I rang my boss.  He told me just to get on with it so we picked somewhere that looked like it might have been ok and started drilling.  The next thing there was a big bang and some smoke and the man working with me got an electric shock and all the lights in the housing estate went off as we had drilled through the mains cable to the estate.  We had to get the electric company to come out and fix the cable, which cost thousands of pounds, and take flowers to the people in the estate to say sorry.  When I told my boss what had happened he said I shouldn't have carried on if I didn't think it was safe!The lesson I learned was never say "yes" if someone is telling you to do something that doesn't feel safe, even if they are your boss. 
Qualifications:
BEng, chartered civil engineer, Member of the Institution of Civil Engineers
Interests outside work:
Mountain biking, cooking, arguing, walking my dogs.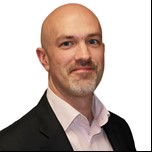 Bruce Walton. Image: NZTA.