Meet Dave Philipson
Job description:
Manage the design activities on the programme to make sure that they are what we want to build. They are delivered on time and to budget. It is an opportunity to make the project easier to build.
Work background:
I started as a Site Engineer in 2004 at a Sewage Treatment Works in the UK. I have worked on a variety of projects including bridges, roads, railways, chemical plants, and artwork. I have been in New Zealand for two years and have worked as a project manager on a wind farm, and a bridge.
Favourite part of job:
Solving problems, and Teamwork.
Least favourite part of job:
Meetings and paperwork.
What I am working on now:
I am working on a design for a new part of the project to improve the southbound carriageway and on the design of the "smarts" that will manage the traffic.
A quick story about a job well done:
Recently I managed a railway closure where an old bridge was demolished and a new bridge was opened. I really enjoyed working with a team of people who were focused on a common objective.
A (humorous) story about a job that went badly and what you learned:
As an Engineer I once put a pipe into the wrong end of a building foundation. All of the people who came after me used the pipe to orientate themselves and we ended up building the building backwards. I learned that it is very important to pay attention to detail as a small mistake can develop into a bigger one.
Qualifications:
I took GCSEs in the UK. Then A Levels in science subjects. I have a degree in Civil Engineering and am a Chartered Professional Member of the Institute of Civil Engineers. 
Interests outside work:
Running, Climbing, and Fishing.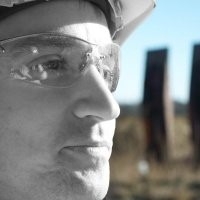 David Philipson is a design manager. Image: D Philipson collection.