The Spirit of Adventure Trust was established over 40 years ago with the generous support of Lou Fisher. The purpose of the trust is to provide young New Zealanders with access to a character development programme in the marine environment.
The Spirit of Adventure has its own ship called the Spirit of New Zealand. This ship provides an ideal environment for youth development. The focus of learning for students is on team-work and developing skills of;
communication
self-reliance
self-discipline
self-esteem
resilience
confidence
leadership.
Learning to sail a tall ship is not the focus but more an opportunity to develop these skills. Many outdoor activities also enable these skills to be developed.
The Spirit of Adventure aims to: 'Offer equal opportunity to young New Zealanders to develop qualities of leadership, independence and community spirit through the medium of the sea'.
Since the Trust began, more than 75,000 young people from throughout New Zealand have benefited from participating in a youth development voyage.
Most Spirit of Adventure participants are selected from secondary schools. All sorts of students can apply for a Spirit of Adventure voyage. Students who would benefit most from programmes offered by the Spirit are supported through fees subsidies and scholarships.
Spirit youth voyages 
There are three main types of voyage:
A 10 day youth development voyage
A 5 day trophy voyage
A 5 day inspiration voyage
Each 5 or 10 day voyage takes onboard 30 to 40 'trainees'. Voyages usually have an equal mix of females and males. On the 10 day voyage students come from all over the country and are all total strangers when they first meet. The 5 day trophy voyage has four groups of 10 students each from four different schools who compete for the Spirit Trophy. The inspiration voyage has 30 trainees and 10 buddies who support the trainees to achieve their own personal goals onboard the Spirit of New Zealand.
Voyage activities include a range of challenges and tasks that require problem solving, creative thinking and enterprising skills to achieve results. These skills and behaviours are not just helpful on board the boat, they are also important life skills.
The three-masted barquentine Spirit of New Zealand was commissioned in 1986, and since the retirement of the Adventure, has undertaken an annual programme of around 340 days at sea. She is believed to be probably the world's busiest youth ship.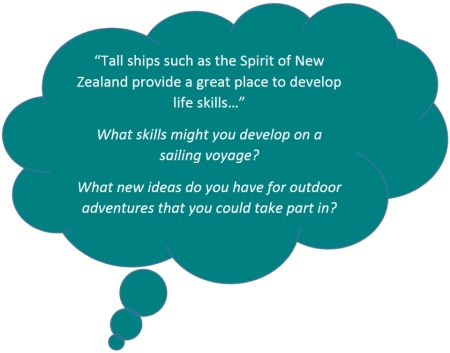 The Spirit of New Zealand is expected to be able to continue operating youth voyages until around 2030. Her programme mostly runs out of her home port of Auckland into the Hauraki Gulf, but she also makes other voyages around different areas of New Zealand.