Meet Tessa Campbell
Job:
Cadet on the Spirit of New Zealand.
Job description:
Essentially an apprentice of the sea. Gaining sea hours, experience and knowledge in order to gain a skipper's ticket to work at sea.
Work background:
Retail and acting.
Favourite part of job:
Working with awesome people, learning, helping develop the youth of New Zealand, all while getting to be on the sea.
Least favourite part of job:
I have to be away from my dog for 20 days at a time.
What I am working on now:
Completing my first 21 things as a Cadet before my first 3 month review and starting to get my modules signed off.
A quick story about a job well done:
Getting stuck in to clean the chain bin while getting absolutely covered in mud.
A (humorous) story about a job that went badly and what you learned:
Pretty much anything you do as a Cadet. The number one way cadets learn is by doing things wrong and then figuring out a better way of doing it. Some of these are more embarrassingly silly than others.
Interests outside work:
Music, art, literature, ukuleles, wine and dogs.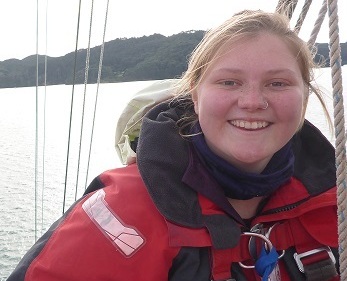 Tessa Campbell is a cadet on the Spirit of New Zealand. Image: Spirit of Adventure Trust.