Ambassador Māia
Kia ora,
I'm Māia the kea. My name means bold in Māori. Like most kea I love to give things a go and am often curious and a little mischievous. I am the ambassador that travels all over the place with Shelley the LEARNZ field trip teacher.
I love getting out and about on adventures. Even though I'm more at home in the mountains, I am looking forward to heading back to Nelson for the 2019 Sustainable Seas field trip.
See you at the beach,
Māia.
Monday 4 March 2019
Kia ora koutou,
I am so excited to be travelling again. It has been a long while since my last field trip back in November. Even though I prefer to live in the mountains I do like to spend time at sea level and what better place to do this than sunny Nelson?
We enjoyed two spectacular flights from Dunedin to Christchurch and then on to Nelson. I spent lots of time thinking about what lives in the deep blue sea because for most of the journey all we could see was the sea. Tomorrow we are heading out on a boat, I hope I don't get sea sick!
See you then,
Māia.
Tuesday 5 March
Kia ora,
It was another stunning day here in Nelson today. The perfect day to go fishing! I'm not usually that keen on heading offshore but at least the sea was calm and the sun was shining.
It took ages to catch a big enough fish to take back to the lab. There were lots of small fish but not very many big ones that are the legal size. Eventually we managed to catch a snapper. It was interesting … and a bit gross dissecting it. Scientists can learn a lot from fish by dissecting them. They can even find out how old the fish is.
Tomorrow we are off to explore the estuary.
See you there,
Māia.
Wednesday 6 March
Kia ora,
Nelson certainly is living up to its name as the sunshine capital of New Zealand. It was a glorious day to be exploring an estuary. We did have to wait until the tide dropped though.
We hunted for cockles in the mud and sand. We found a lot more cockles in the sand because there is more oxygen in the sand than in the mud. We also discovered how important estuaries are to the health of our environment and to people.
Tomorrow we are looking at ocean currents and plastic pollution. I hate plastic because it can make birds really sick when they mistake it for food.
See you tomorrow,
Māia.
Thursday 7 March
Kia ora koutou,
We headed to the beach today to find out more about ocean currents and plastic pollution. At first glance the beach looked clean but before long I managed to spot some rubbish. There were lots of shiny pieces of plastic and foil and I couldn't resist playing with these. I managed to get completely entangled, and Shelley had to untangle me from all the plastic.
It's scary thinking about how much plastic can end up in the sea. At least we can all do our bit to refuse, reuse and recycle.
I hope you've enjoyed the field trip as much as I have and can join me on another one soon.
Mā te wā,
Māia.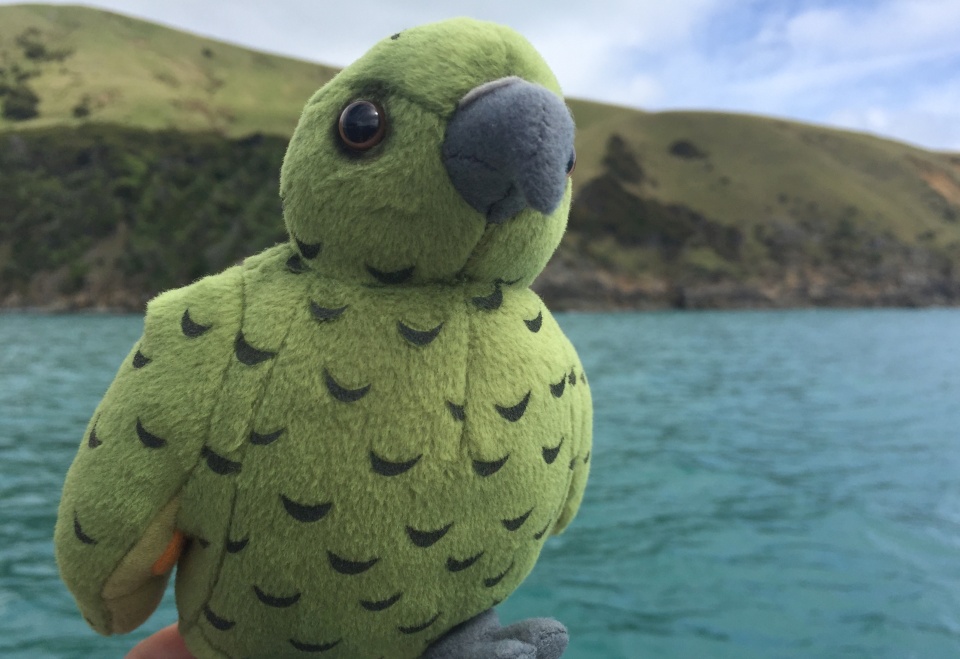 Māia is looking forward to exploring Tasman Bay on the 2019 Sustainable Seas field trip. Image: Shelley Hersey, LEARNZ.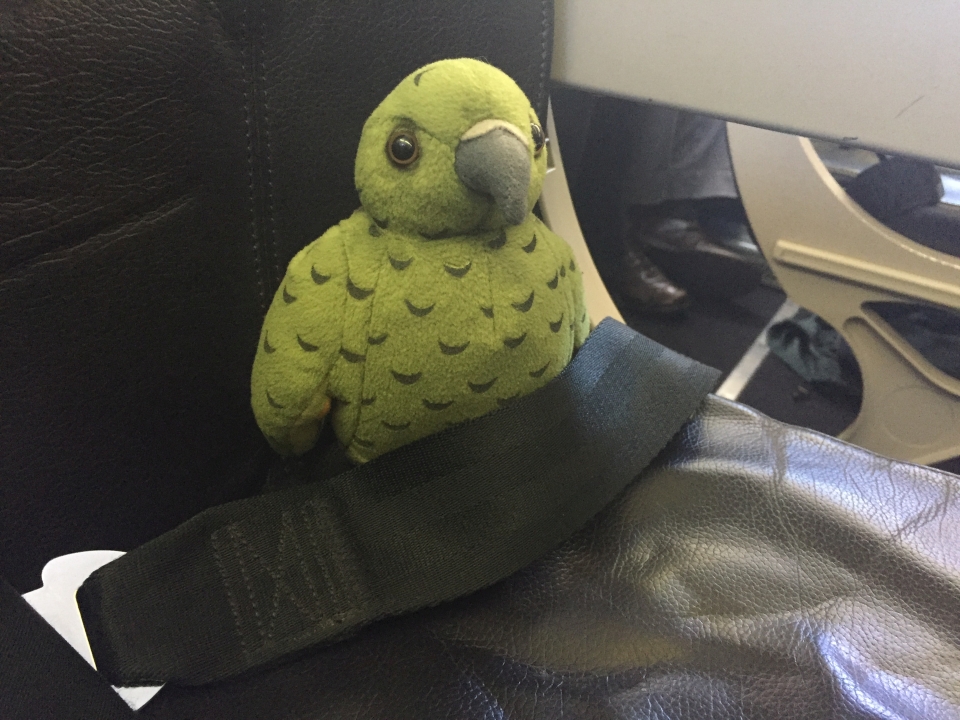 Māia enjoys her flight to Nelson. Image: Shelley Hersey, LEARNZ.
Māia spends her first evening in Nelson down at the coast. Image: Shelley Hersey, LEARNZ.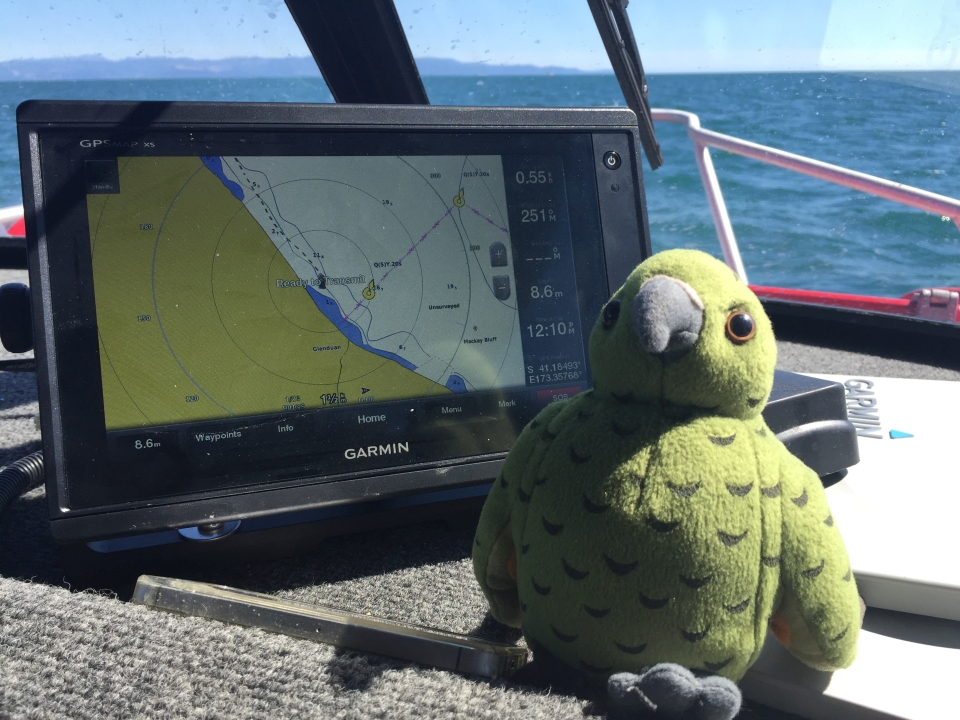 Māia checks our location on the NIWA research boat. Image: Shelley Hersey, LEARNZ.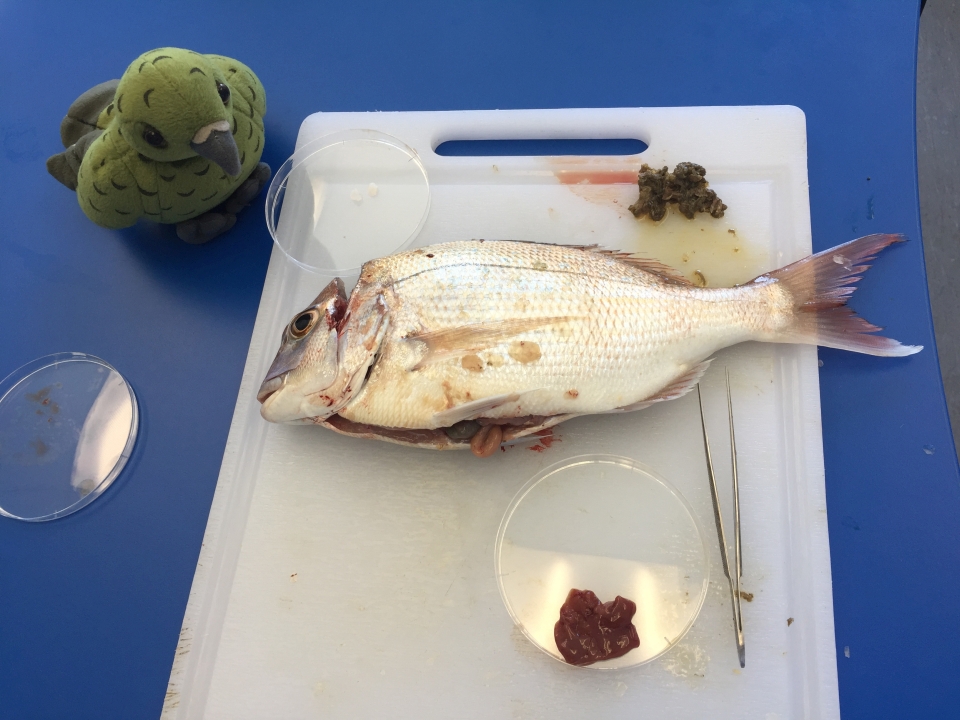 Māia helps dissect a snapper. You can see the contents of its stomach, the liver and the tiny ear bones. Image: Shelley Hersey, LEARNZ.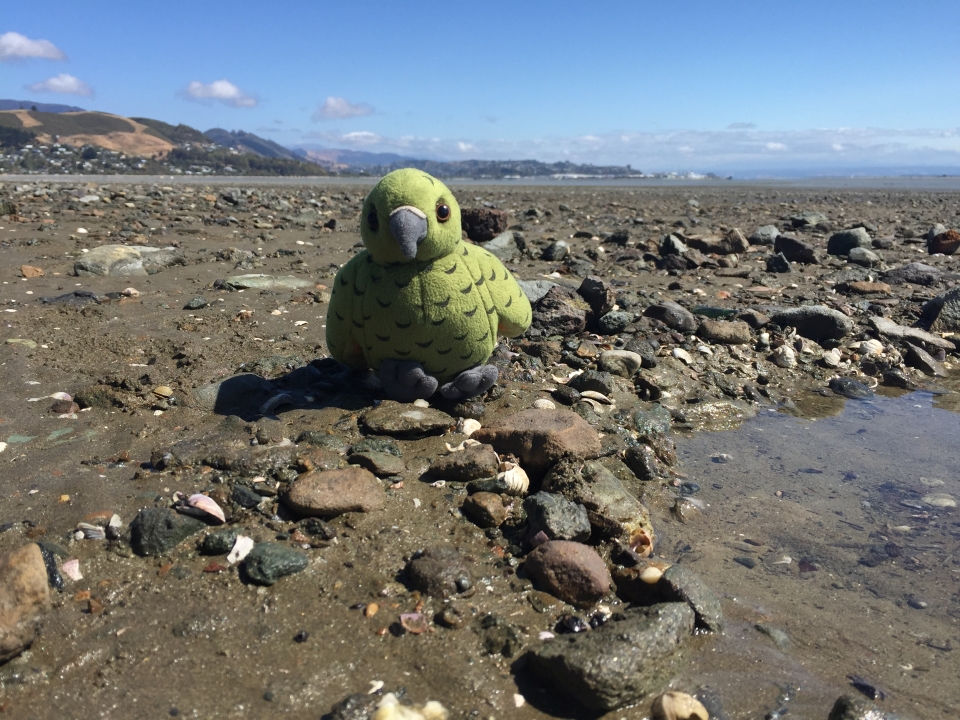 Māia explores the mudflats of the Nelson Haven estuary. Image: Shelley Hersey, LEARNZ.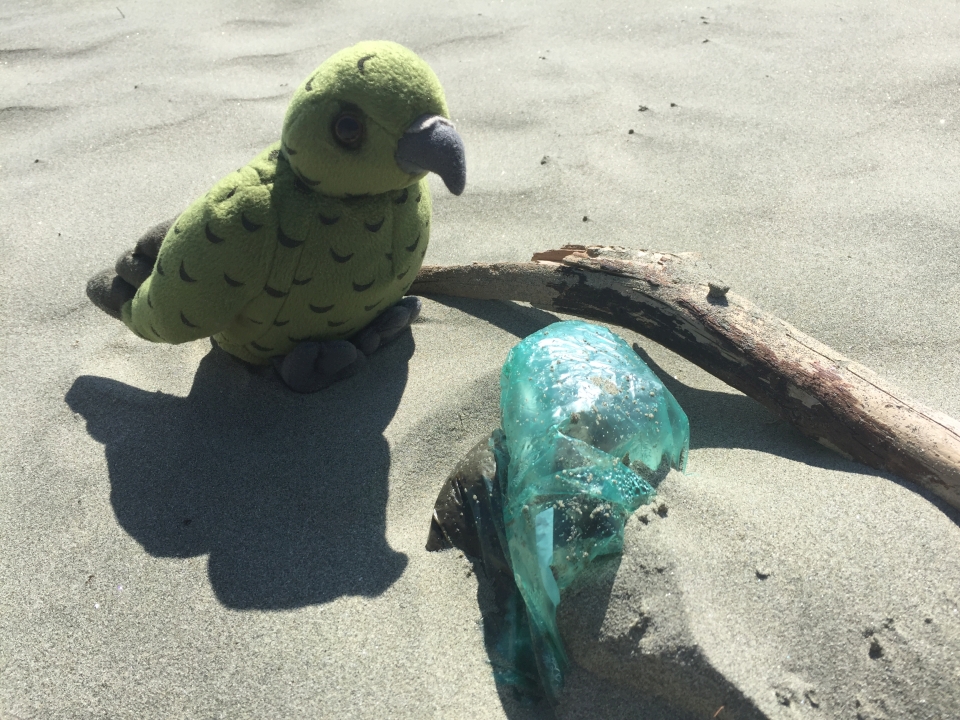 Māia finds some plastic rubbish on the beach at Tahunanui. Image: LEARNZ.