Diaries
Links to Diaries will go here during the field trip.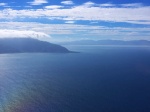 Diary 1 - Monday 5 March. Join Shelley and the ambassadors as they travel from Dunedin to Nelson to begin the Sustainable Seas field trip.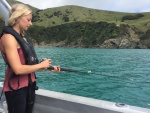 Diary 2 - Tuesday 6 March. Jump aboard NIWA's research boat and head out to Delaware Bay and Cable Bay to fish for blue cod. Find out more about this marine ecosystem and what impacts upon it.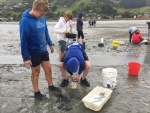 Diary 3 - Wednesday 7 March. Explore an estuary and uncover the secrets hidden beneath the sediment. Discover why estuaries are so important and how we can monitor them.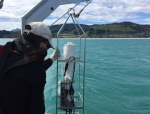 Diary 4 - Thursday 8 March. Take a boat trip out into Tasman Bay to help scientists collect data. See the latest technology used by oceanographers to measure the properties of seawater.
PDF documents: To view or print out PDF documents you will need the Adobe Acrobat (PDF) Reader. This is available for free from the Adobe website.