Diary 1
Date:
Monday, March 4, 2019
Field Trip Name:
Sustainable Seas
Where You Are:
Travelling to Nelson
Kia ora koutou,
You could not have asked for a more perfect day to begin the Sustainable Seas field trip. There was barely a cloud in the sky as you headed out to Dunedin airport. This week is Seaweek - Kaupapa Moana, where New Zealanders can celebrate their connection with the sea. The theme for Seaweek this year is Tiakina o Tātou Moana; Care for our Seas. This field trip will give you plenty of opportunities to not only learn more about our amazing marine environments but also how to better look after them.
You're never far from the sea
Today you will have to travel from one end of the South Island to the other. Unfortunately, there are no direct flights from Dunedin to Nelson, so you had to first fly to Christchurch. At least there wasn't any turbulence and you could sit back and enjoy the stunning view over Dunedin City before heading up the coast. You were sitting on the right side of the plane so for most of the journey all you could see was the ocean. In Aotearoa you are never far from the sea. Over 75% of people live within 10 kilometres of the sea so it's not surprising that most New Zealanders feel a strong connection to the sea. New Zealand is lucky enough to have an incredible 15,000 kilometres of coastline. Our coasts provide us with so much, including stunning landscapes and tasty kaimoana. 
Endless ocean
As you looked out across the endless ocean you may have wondered about what lies beneath the surface. More than 15,000 species have been discovered off New Zealand's coast and new species are being discovered all the time. Many of these species are endemic so they aren't found anywhere else in the world. What is surprising is how little we know about our ocean. Less than one percent has been surveyed, so we still have so much to learn. This week is an ideal time to learn more about how ecosystems in the sea work. You will find out more about what impacts people have on marine areas and how we can all better look after these precious areas. You can also read the background pages to find out more.
Across the bay
After a smooth landing in Christchurch you had time for a break before boarding your flight to Nelson. On one side of the plane the view was dominated by mountains, on the other the ocean stretched out for miles. As you descended into Nelson you could see a long line out in Tasman Bay known as the Boulder Bank. This 13-kilometre-long bank is a naturally formed line of boulders. It's thought to have been created by sea currents which cause the drift of rocks along the coast. This boulder bank creates a sheltered marine environment known as Nelson Haven. You will explore this area more over the next few days. You will also venture out into Tasman Bay by boat. Tasman Bay is the perfect place to study marine ecosystems. It is used by lots of different people for many different purposes. It also includes different coastal and open ocean environments. These different environments are home to many different animals, some of which you will see tomorrow.
Nelson feels the heat
When you finally arrived in Nelson you were greeted with hot weather and great views across the city to the hills beyond. Everything looked yellow and dry. The fire risk in Nelson is still extreme and there is no rain forecast for at least another week. You could see where a recent fire had come dangerously close to houses and it reminded you to stay alert during your time in Nelson. You enjoyed some time exploring the city and taking a stroll along the beach. Nelson attracts thousands of tourists each year and looking around the area it's easy to see why. Nelson is also known as the sunshine capital of New Zealand and it looks like this week will be no different. I hope you packed your sunscreen!
Over the next few days you will explore this area more. You'll meet scientists who will help you to discover more about marine life and the importance of our oceans. It's going to be an action packed week!
See you in the morning,
Shelley, the LEARNZ field trip teacher.
Shelley arrives at Dunedin Airport ready to begin her journey to Nelson for the Sustainable Seas field trip. Image: Paul Hersey, LEARNZ.
Looking out across Dunedin City on your way to Christchurch. Image: Shelley Hersey, LEARNZ.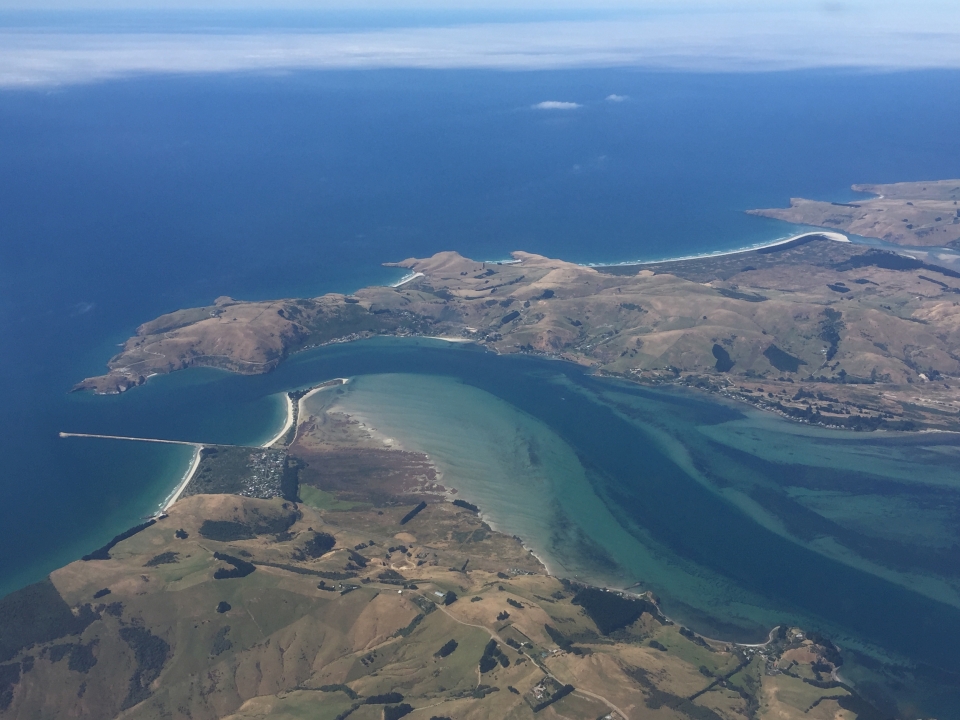 You could see the narrow entrance to Otago Harbour and the channel that ships follow on their way to Port Chalmers. Image: Shelley Hersey, LEARNZ.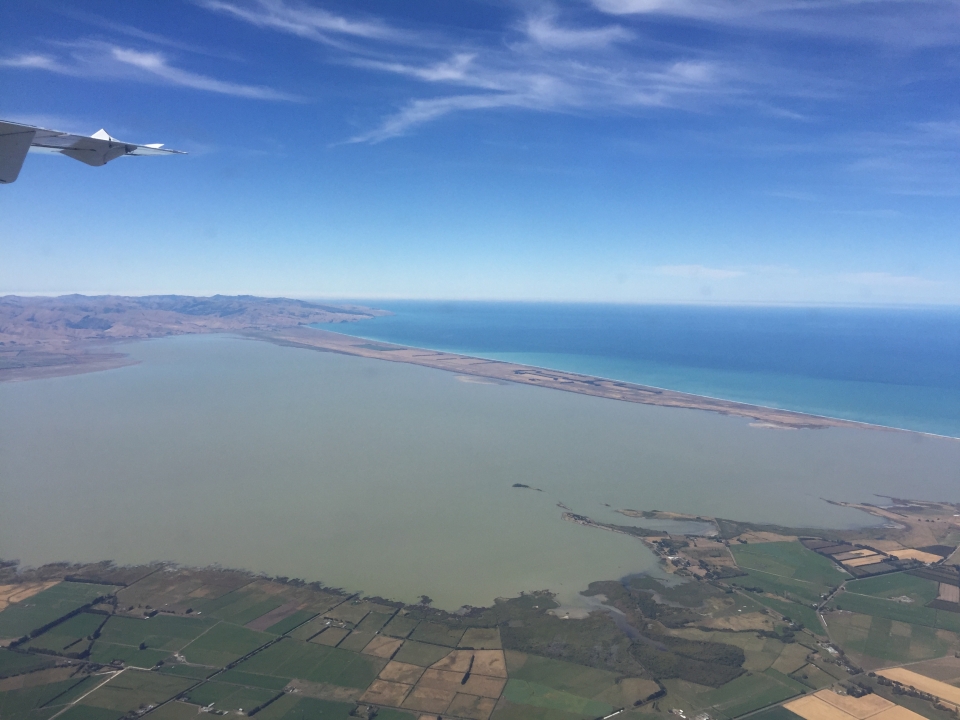 Lake Ellesmere Te Waihora was easy to spot during your descent into Christchurch. This lake is a shallow, brackish coastal lake and is an important site for wildlife. Image: Shelley Hersey, LEARNZ.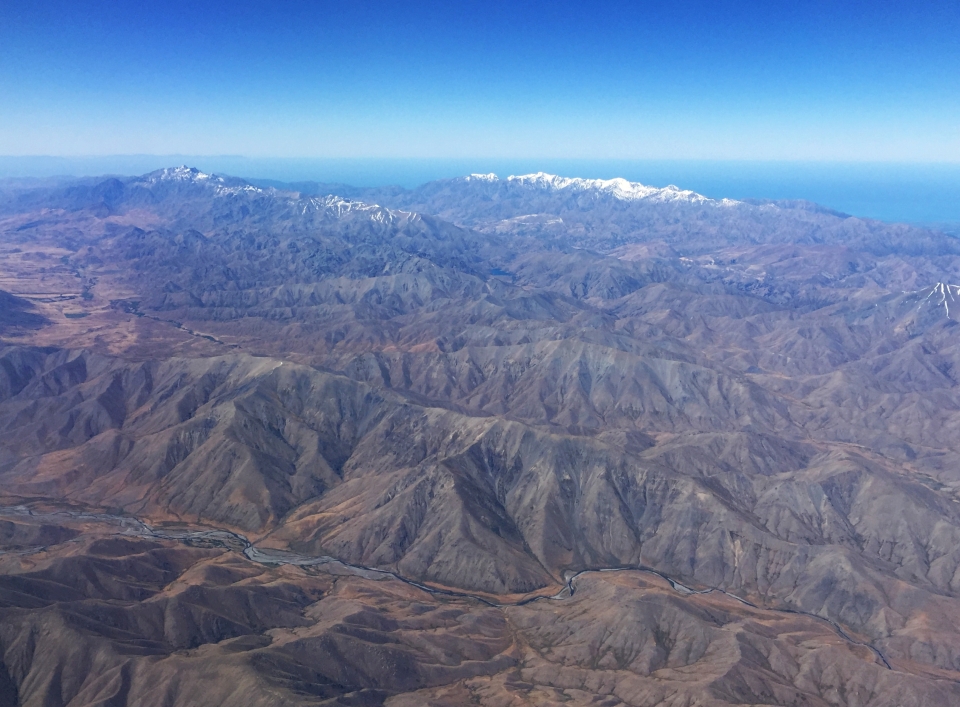 You left the Kaikoura coast and headed northwest across the mountains towards Nelson. Do you know the names of these mountains? Image: Shelley Hersey, LEARNZ.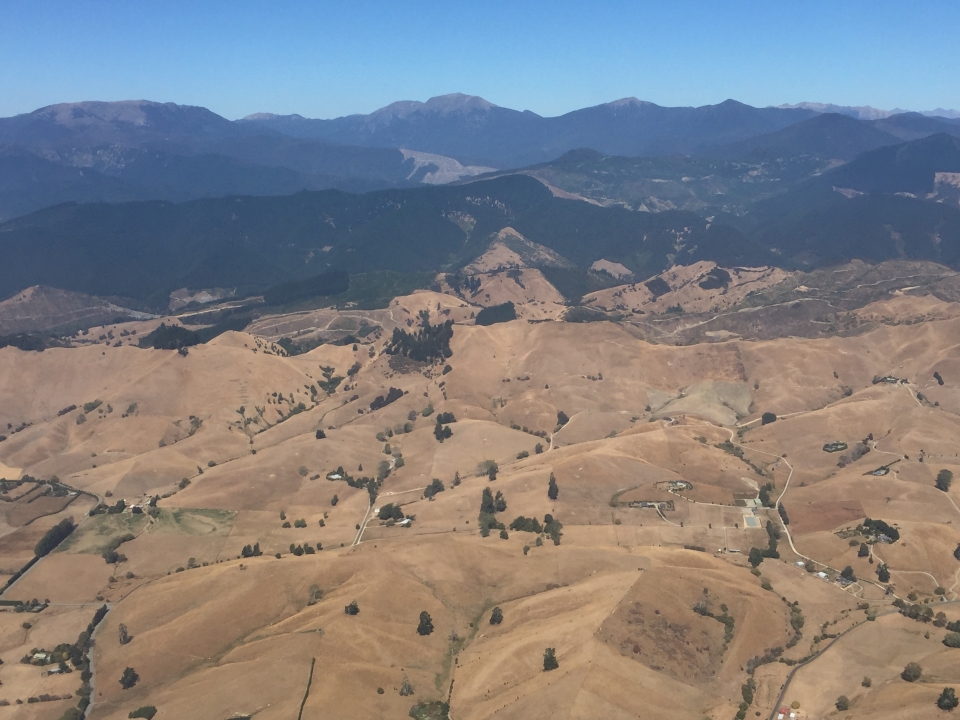 As you approached Nelson you could see how dry the area has become. Image: Shelley Hersey, LEARNZ.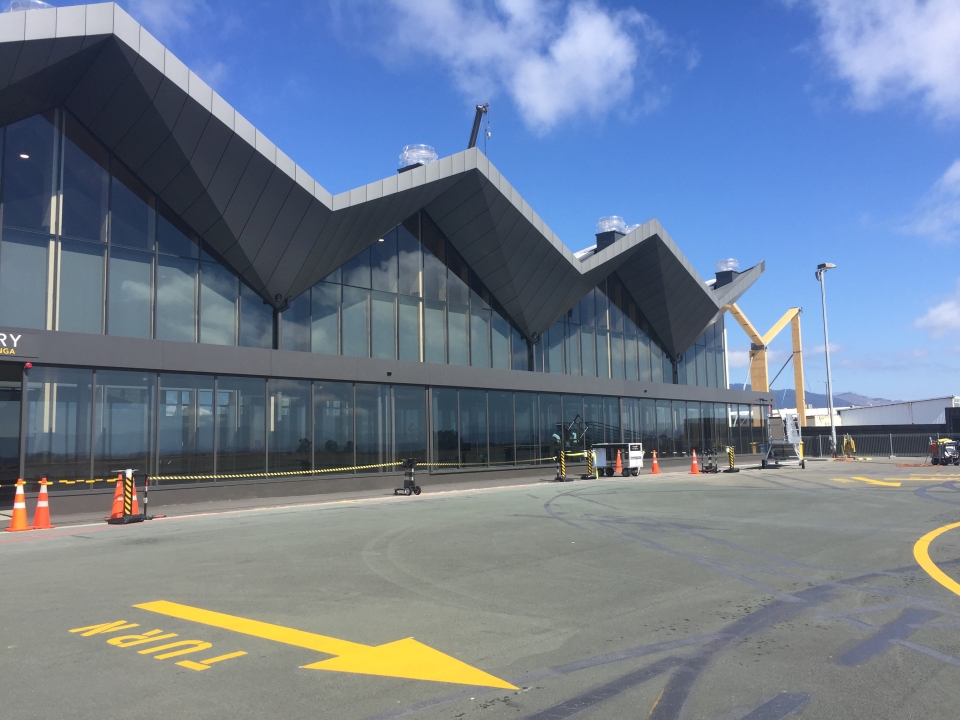 You were greeted in Nelson by the new airport terminal which is just about complete. Image: Shelley Hersey, LEARNZ.
Looking out across Nelson Haven you could see an area where a fire recently broke out. How do you think people can reduce the risk of fire during times of drought? Image: Shelley Hersey, LEARNZ.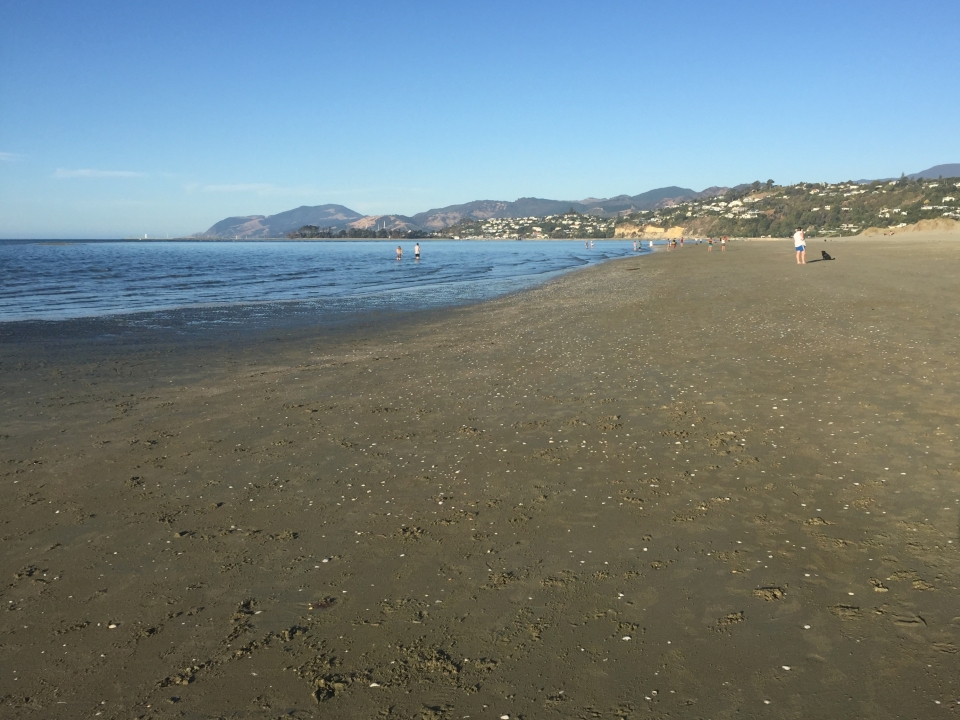 It was a stunning evening for a walk along Tahunanui Beach in Nelson. What do you most enjoy about time at the beach? Image: Shelley Hersey, LEARNZ.