Diary 3
Date:
Wednesday, March 6, 2019
Field Trip Name:
Sustainable Seas
Where You Are:
Nelson Haven
Kia ora koutou,
You woke to another spectacular day in Nelson. Before heading out to Nelson Haven you returned to the NIWA office to complete the web conference. You met with experts Regan Fairlie, Sam Thomas and Dana Clark. They had kindly offered to answer questions from Seatoun School. These students asked challenging questions so it was lucky that we had so many experts to answer them. You can listen to the recorded web conference to find out more.
Kaitiakitanga
Following the web conference, you headed out to enjoy the sunshine and explore the estuary. Estuaries are often taken for granted. What looks like a muddy wasteland at low tide is actually an amazing habitat full of life. Estuaries provide habitat and feeding grounds for many fish, birds, shellfish and other wildlife. Regan is the lead researcher for Manaaki Te Awanui and he explained that estuaries have mauri, a life force and mana and need to be cared for. Kaitiakitanga can be described as guardianship or protection. It also means to preserve, keep, conserve, nurture, protect and watch over. It is important to look after estuaries and other marine ecosystems because they look after us. We are connected to the areas in which we live so we have a responsibility to them. You can find out more about kaitiakitanga of estuaries by watching the video.
Estuaries under stress
Life on an estuary is ruled by the tide, so you couldn't explore the estuary until the tide went out. You spoke with Sam about his research into estuaries. Sam is studying the effects of sediments and nutrients on estuaries. Sediment is washed off the land into rivers, estuaries and the sea. When land is cleared of forest more sediment ends up in waterways. This can smoother animals such as shellfish. It can also change the amount of light that passes through the water, affecting plant growth. Nutrient runoff can also harm estuaries. Nutrients are needed for plant growth but too much of a good thing can cause problems. Nutrients are often added to farmland to make more grass grow. If these nutrients are not used up by the grass they end up flowing into rivers, estuaries and the sea. When too many nutrients enter the water, algal blooms can grow. You can watch the video to find what can happen if an estuary reaches a tipping point.
Exploring an estuary
After lunch you met with Nelson students from Hampden Street School. These students were keen to explore the estuary. Dana, Sam and Regan had organised a cockle monitoring activity. Luckily most students came prepared with gumboots because the tide was still going out. It was impossible to search for cockles without getting your hands dirty. These shellfish burrow into the sand. You had to use a core to collect a sample of sediment and then sieve it to find the cockles. Students counted and measured the cockles they found and compared a muddy site with a sandy site. They discovered that cockles prefer sandy areas. This is because they are filter feeders. They get their food by pumping water across their gills to sieve out tiny bits of food. Fine muddy sediment has less oxygen in it and can clog the gills of filter feeders. Healthy estuaries have less mud, more sand and more cockles. You too could check the health of an estuary near you. Check out the video to find out how.
Valuable estuaries
Estuaries are important because they provide services. They filter water and control floods. Filter feeders such as cockles and wedge shells keep the water clean by filtering out sediment. Without filter feeders, water can get murky. This can lead to low oxygen levels, because plants don't get enough light to photosynthesise. This can harm the whole estuary. Estuaries are also a fantastic place for people. You can collect kaimoana, kayak, paddle board and enjoy nature. You can watch the video to learn more about the value of estuaries and the services they provide. You left the estuary wet and muddy, but satisfied. You have discovered more about the hidden life of estuaries and how important they are to people.
Tomorrow you will see how technology is being used to track marine plastic pollution. You will also look at ways to reduce your own use of plastic.
See you then,
Shelley the LEARNZ field trip teacher.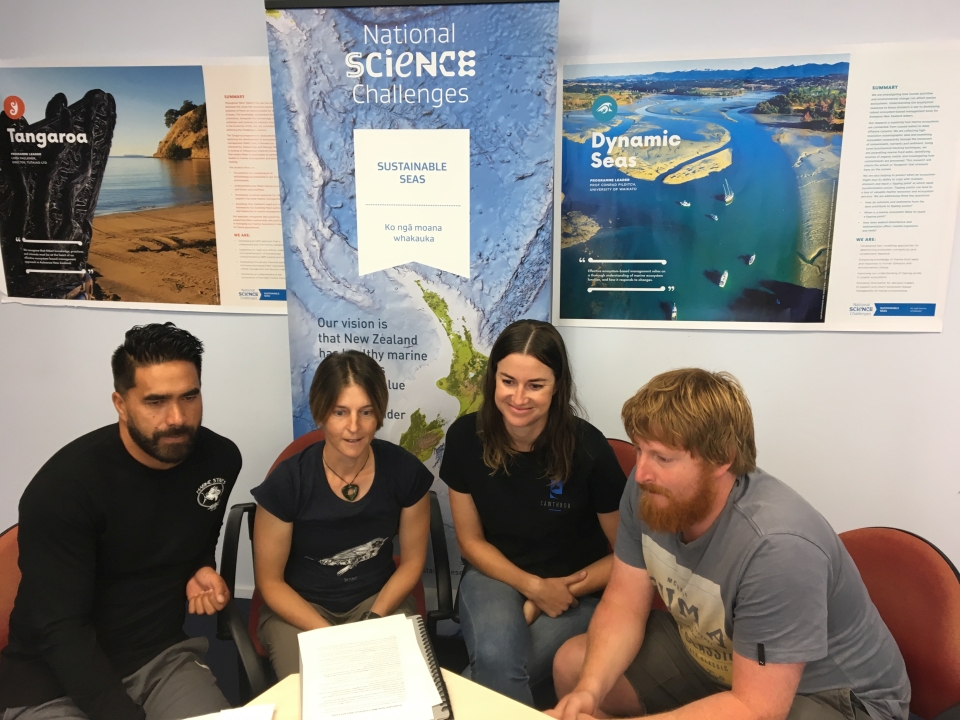 Regan, Shelley, Dana and Sam talk to students from Seatoun School during today's web conference. Image: Meredith Cook, NIWA.
It was high tide this morning so Nelson Haven was full of water. What do you think this area looks like at low tide? Image: Shelley Hersey, LEARNZ.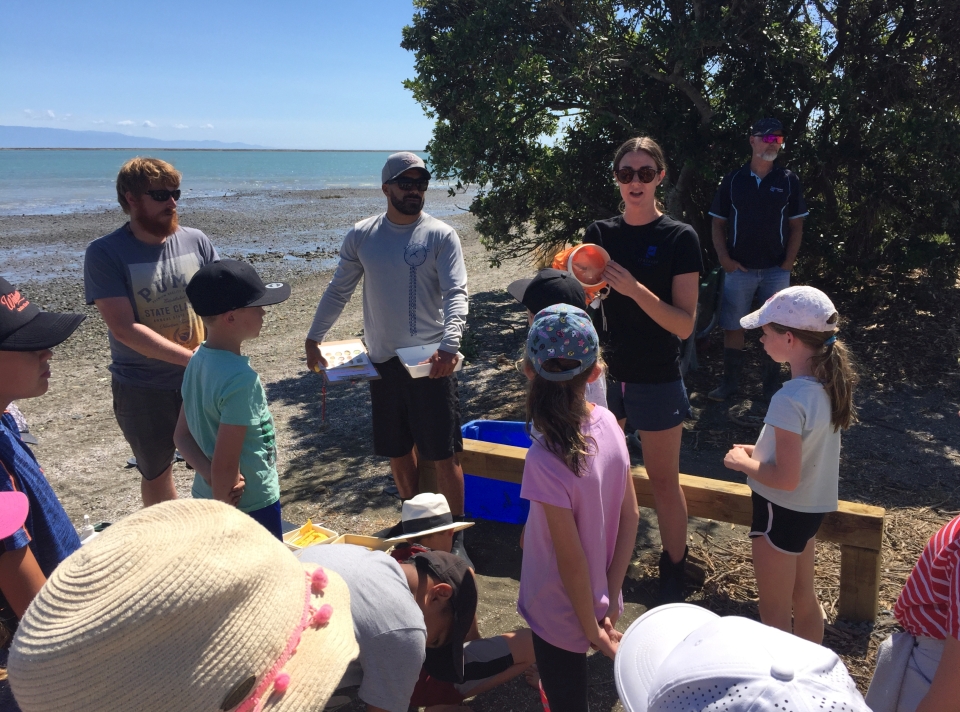 Dana holds up a corer used to take core samples of sediment. Students from Hampden Street School will take core samples out in the estuary. What are they looking for in these cores? Image: Shelley Hersey, LEARNZ.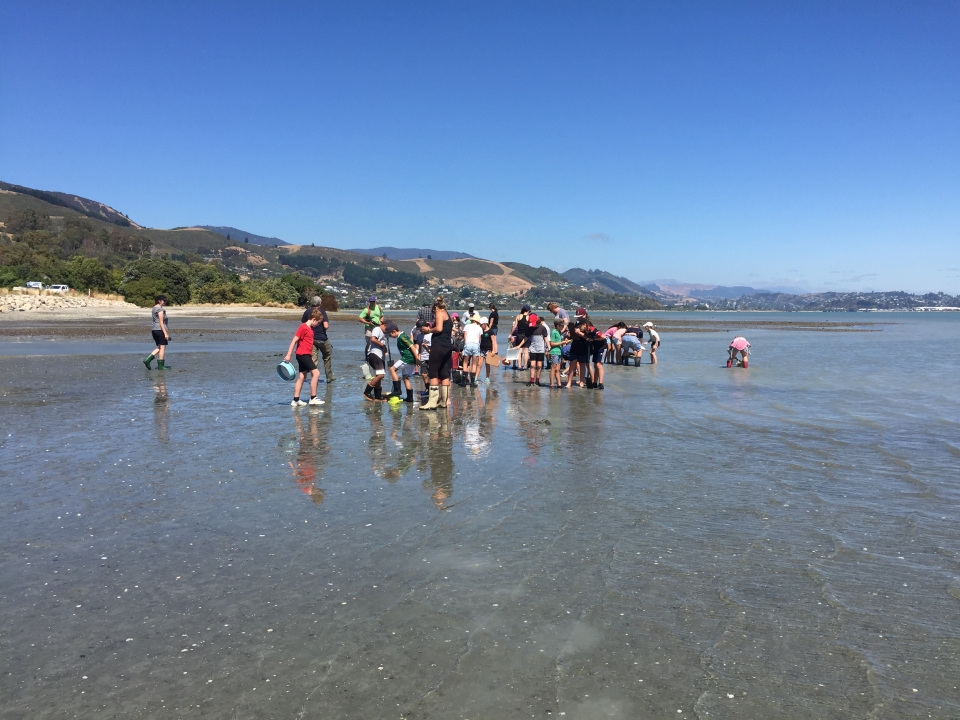 As the tide drops students head out to sample a muddy site so they can compare it with a sandy site. What differences do you think they will find? Image: Shelley Hersey, LEARNZ.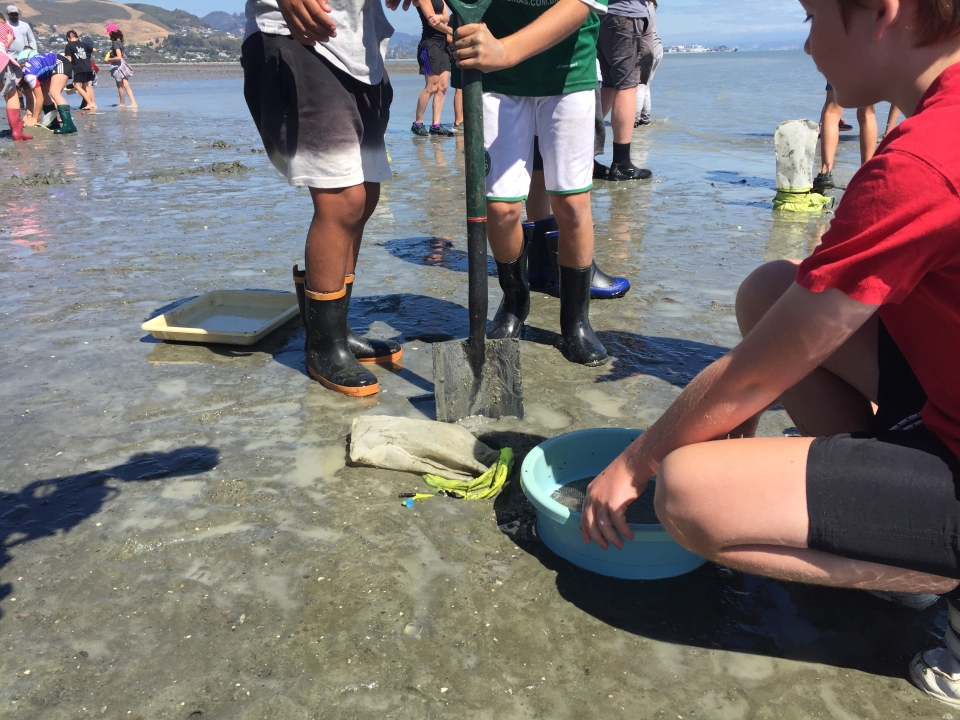 Students dig out a core sample. Image: Shelley Hersey, LEARNZ.
This core sample will be sieved to see what is living in the sediment. Image: Shelley Hersey, LEARNZ.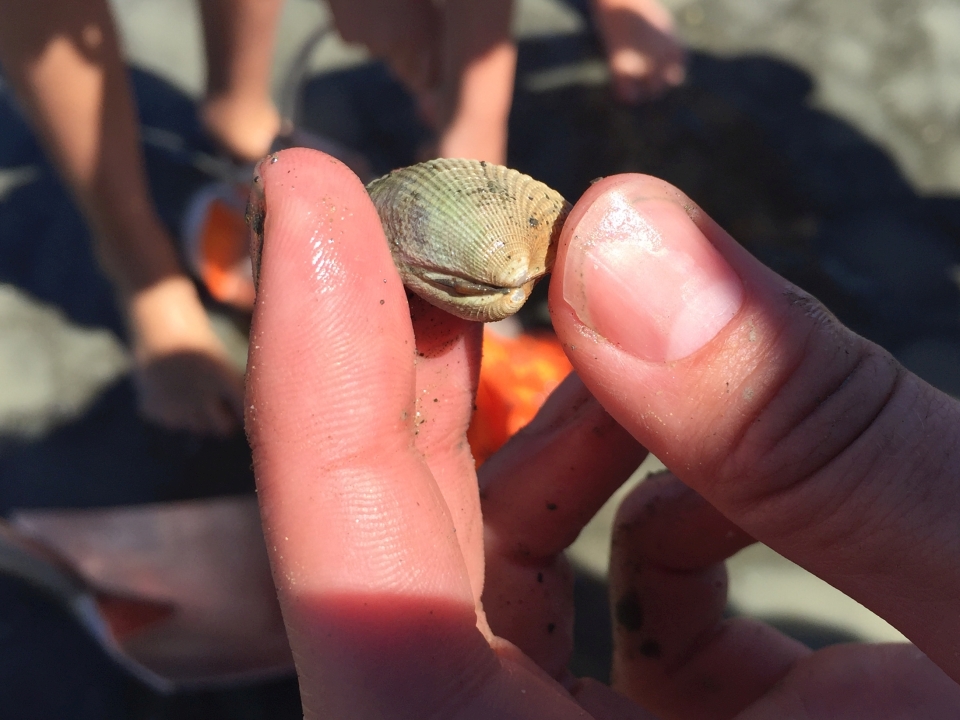 Students count the number of living cockles they find in each core sample. How do you think you can tell a living cockle from a dead cockle? Image: Shelley Hersey, LEARNZ.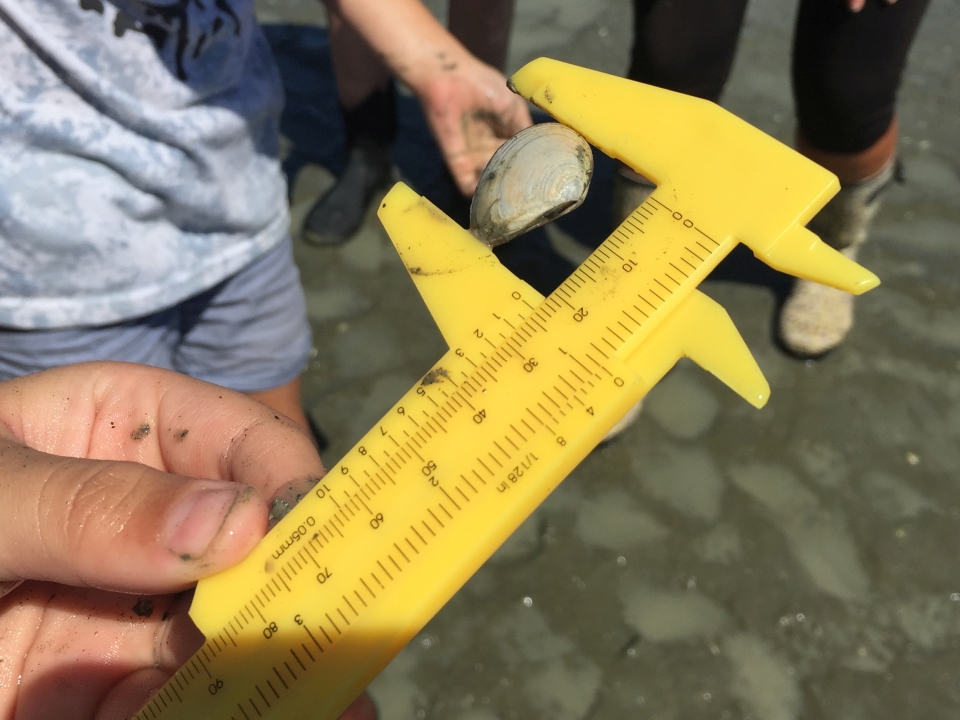 Students measured the shellfish they found. What type of shellfish is this? Image: Shelley Hersey, LEARNZ.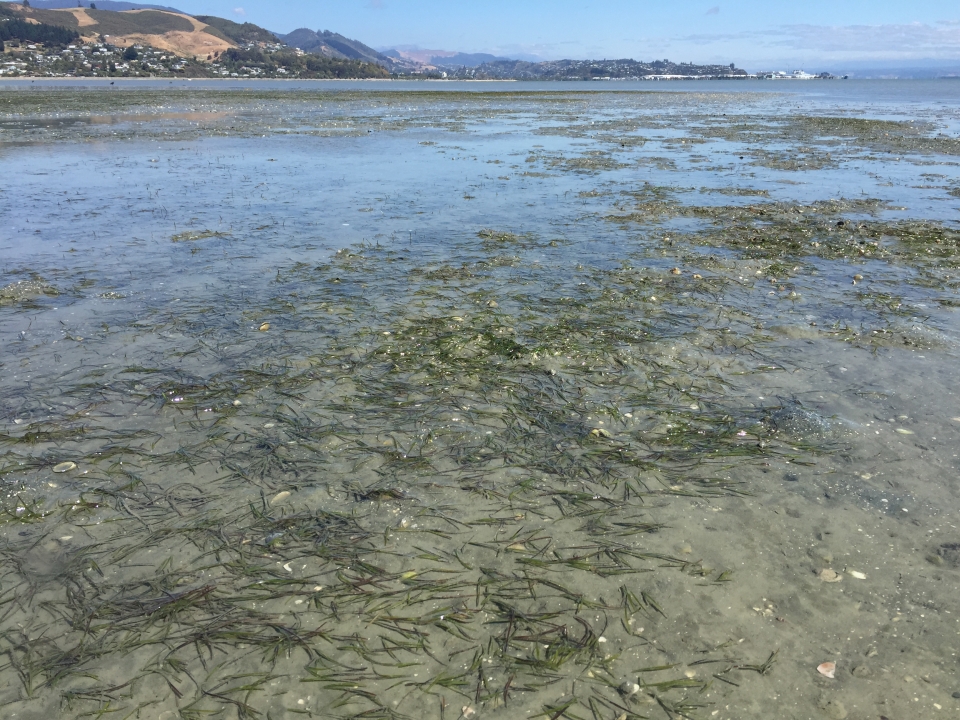 At the sandy site there was more sea grass growing. What role does sea grass play in an estuary? Image: Shelley Hersey, LEARNZ.