Diary 1


Date:
Monday, June 24, 2019
Field Trip Name:
Map My Waahi
Field Trip Place:
Lower Hutt, Wellington
Weather:
Fine with scattered cloud
Where You Are:
Travelling from Kerikeri to Lower Hut
Today there were two flights for our travel day. One from Kerikeri to Auckland. The second from Auckland to Wellington. The ambassadors and I finished the last of our packing and made our way to Kerikeri airport.
Kerikeri to Auckland
It only takes around 35 minutes to fly from Kerikeri to Auckland. For someone like me, who prefers to reach their destination as soon as possible, this is ideal.
Google maps reports that it will take 3 hours 45 minutes for the 271-kilometre journey by car. Some people like taking their time when travelling. I guess it depends on the nature of the journey. For me, even when I go on holiday, I just want to get there yesterday!
We flew down the east coast to Auckland. It's cool to see the outline of the coast because you basically see the shape of that part the country. Of course, if you were higher up in the air, you'd see the entire outline of the country. Satellites get this view from space, and these images help produce modern maps.
In the "old days" map making took place on the ground or from ships at sea. Those early mapmakers sure were clever. You can read more about early map making on the background page Maps and Mapping.
Auckland Airport
We had about an hour wait at Auckland airport before the next flight to Wellington. Sometimes waiting to fly can be as bad as sitting in a car on the way to somewhere! But at least you can walk around and perhaps get a coffee and cake or something (which is exactly what the ambassadors and I did do!).
I remember the first time I went to Wellington. I actually drove there! This was back in the day when I didn't have a cell phone. I also only had a book of New Zealand road maps to help guide me on my journey. I recall that it was well sign-posted on the main roads and highways, but once I reached Wellington city I managed to get completely lost!
These days of course I usually have a cell phone in my pocket, and Google maps is just a finger touch away from helping me find my way. But as you will discover on this field trip, modern digital maps, using the likes of Google Earth, offer so much more than just location and direction.
On to Wellington
It was soon time to board the Airbus A320 for our flight to the capital. It was a relaxing flight. Views from the window were okay, but a cleaner window would have made my images better! I read my book most of the way, but about halfway through the flight I started to think about air maps. I don't even know if air maps is a thing, but I was thinking that aeroplanes, just like cars on the road, must use some sort of map for their flight paths. This would be not only for planning where they would fly, but also to make sure they were well clear of other aeroplanes in the same air space.
Once off the plane and into the terminal we retrieved our luggage. Then we picked up the rental car and made our way to Lower Hutt. This is where we are based for the field trip week. All up our journey took around 4 hours – so much better than driving! That's all from me for today. I'm getting hungry so will head off to look for some dinner.
Catch you tomorrow for the first web conference at 9:15am at Belmont School.
Mā te wā,
Andrew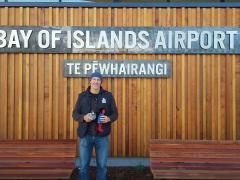 Andrew and the ambassadors outside the Bay of Islands Airport. Image: Karren Penny.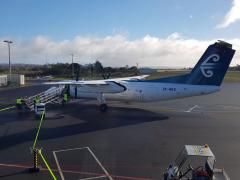 The Bombardier Q300 that took us from Kerikeri to Auckland. Image: Andrew Penny, LEARNZ.
Looking down at part of Whangaparaoa Peninsular on the way to Auckland. Image: Andrew Penny, LEARNZ.
Some more of the coastline north of Auckland. Orewa is where you can see all the buildings. Image: Andrew Penny, LEARNZ.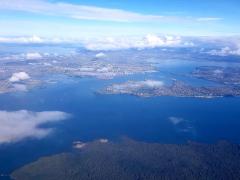 A view across to Auckland City. Image: Andrew Penny, LEARNZ.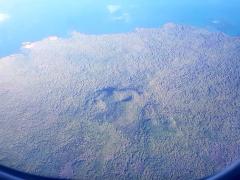 Looking down at Rangitoto, one of the many Auckland volcanoes. Image: Andrew Penny, LEARNZ.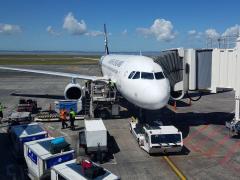 A larger Airbus A320 took us from Auckland to Wellington. Image: Andrew Penny, LEARNZ.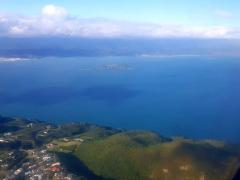 A view of Matiu Somes Island in Wellington Harbour. Image: Andrew Penny, LEARNZ.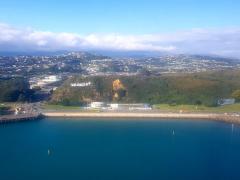 Looking out the window just before landing at Wellington airport. Note the Wellington sign on the hillside. Image: Andrew Penny, LEARNZ.