Diary 4


Date:
Thursday, June 27, 2019
Field Trip Name:
Map My Waahi
Field Trip Place:
Wellington
Where You Are:
Te kura Māori o Porirua and Ministry for Culture and Heritage
It was our final day of the field trip today. The ambassadors and I visited another school this morning. In the afternoon we went to the Ministry for Culture and Heritage.
Web conference 3
The school we visited this morning was Te Kura Māori o Porirua. This is where we had our final field trip web conference. The questions from our speaking school, Ilam School, prompted some interesting discussion around tūrangawaewae and pepeha and how it relates to mapping. Special thanks to Whaea Evelyn for providing such insightful answers at short notice!
There was also a lot of learning about satellites. Duane Wilkins provided us with some fascinating information about satellite operation, as well as some websites to check out if you want to find out more about the satellites orbiting Earth. They are: Stuff in Space and Satview. A recording of all web conferences from the week are available on the web conferences page.
Digital pepeha
After morning tea, we had a chat with two students, Nevaeh and Ella, about digital pepeha. Pepeha is a way of introducing yourself in Māori. It tells people who you are by sharing your connections with the people and places that are important to you. Many of you will have your own pepeha.
The students have been doing some mahi with Matua Duane about digital pepeha. Nevaeh and Ella showed us how to create our own pepeha using the pepeha.nz website. It is quite a straightforward process. Even if you don't have a pepeha it will help you to create one. You could try creating your own digital pepeha using the website.
More about pepeha
So, why is pepeha important? And how does it relate to Map My Waahi? To answer these questions, I had a kōrero with two more students from the kura, Andre and Manaia. The boys spoke from the heart about what their pepeha means to them. When you watch the video, you'll see the value of pepeha when it comes to creating a digital map of your origins and the places that support your identity.
Recording oral history
We had a great morning at Te Kura Māori o Porirua. Before I knew it was time to say, "ka kite" and head into Wellington city. Here we made our way to the Ministry for Culture and Heritage to meet Lynette Townsend, an historian. We had a chat with her about some good websites you can visit when searching for information about people and places. Information in this video might be helpful when creating your story maps.
Lynette also described some work she has been doing to record oral history. It is interesting work, and it made me think how valuable it would be to talk with members of your family and record some of their stories from the past. It is another way to learn about your family history. It is also a wonderful way to preserve not only these stories from the past, but to also create a lasting memory of that special person and their voice.
I hope you have enjoyed the field trip this week. I also hope that you feel inspired to use the tools and ideas from this week to create your own personal story map.
Mā te wā,
Andrew
Andrew and the ambassadors on this morning's web conference at Te Kura Māori o Porirua. Image: Shelley Hersey, LEARNZ.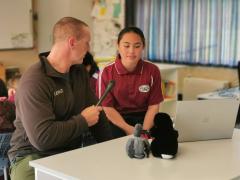 Andrew has a kōrero with Nevaeh about the digital pepeha website. Image: Duane Wilkins, LINZ.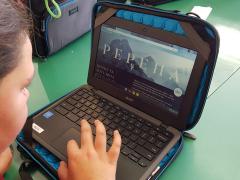 Ella showed us how to create a digital pepeha on pepeha.nz. Image: Andrew Penny, LEARNZ.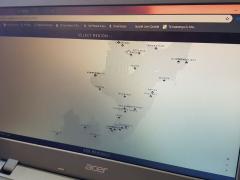 If you don't already have a pepeha, the pepeha.nz website will guide you through the process. Image: Andrew Penny, LEARNZ.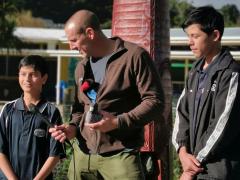 Andre and Manaia gave us a lot to think about regarding the true value and meaning of a pepeha. Image: Duane Wilkins, LINZ.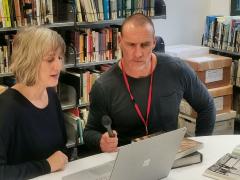 Lynette Townsend from the Ministry for Culture and Heritage shared her knowledge and ideas about research and recording oral history that might help you with your story maps. Image: Duane Wilkins, LINZ.