Diary 1


Date:
Monday, August 13, 2018
Field Trip Name:
Share the Road
Weather:
Fine with increasing cloud
Where You Are:
Travelling to Hamilton
Kia ora koutou,
We all rely on roads to get from place to place so its important that we all know how to use our roads safely. This field trip is the perfect opportunity to not only think about how we can stay safe while on the road, but also to investigate road design and the future of transport.
Safe journeys
To begin this journey towards safer travel you headed out to Dunedin airport. It didn't take long to drive south along State Highway 1 to the airport. In New Zealand we are lucky enough to have a good network of roads that make travelling so much easier. In the past people were not able to travel large distances by road and certainly not comfortably. Even just a few decades ago it would have taken a lot longer to drive between cities and the chance of accidents was higher. Now we can drive hundreds of kilometres on well-maintained roads. These roads are also a lot safer than they used to be. With the help of technology roads can be designed so they are easier to use and less likely to cause harm if people do make mistakes.
Flying north
To reach Hamilton you had to fly via Wellington and Auckland. High cloud covered Dunedin, but you could clearly see the sprawling Otago Peninsula as you flew north. Once you had reached a cruising altitude all that could be seen was ocean, so you headed over to a spare seat on the left-hand side of the plane. You were rewarded with views of the east coast before cloud obscured the landscape below. Further north the cloud broke to reveal mountains still covered in snow.
After a quick stop in Wellington you were back on a plane heading for Auckland. You had time to think about the week ahead as you watched the city of Wellington disappear from view. You could see roads threading their way across the countryside. I began to wonder how many people were on the road at this very moment and how important it is to make our roads as safe as possible. It also made me thankful that I did not have to drive all the way from Dunedin to Hamilton!
Back on the road
Once in Auckland you picked up a rental car and headed south to Hamilton. You were able to drive along newly completed sections of the Waikato Expressway. The expressway isn't finished yet, but it already makes travel from Auckland to Hamilton safer and quicker. This is one of New Zealand's largest roading projects and you will find out more about it on Wednesday.
Welcome to Kirikiriroa
Before you knew it, you had arrived in Hamilton. Cloud hung low and it began to rain as you made your way to your motel. Hamilton is built around the mighty Waikato River and its Māori name Kirikiriroa means 'long stretch of gravel'. Hamilton is home to over 156,000 people and is growing rapidly, so a good network of roads is important for the future of this city. You had time to explore the busy city before heading back to your motel to get organised for the week ahead. Tomorrow you will head out to Putaruru College to meet some students who have been looking at the future of transport in New Zealand.
See you then,
Shelley the LEARNZ field trip teacher.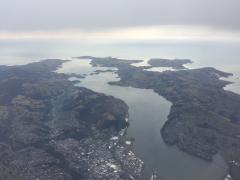 Looking out over Otago Peninsula on your way from Dunedin to Wellington to begin the Share the Road field trip. Image: LEARNZ.
Cloud drifted in and out of view as you flew up the east coast of the South Island. Image: LEARNZ.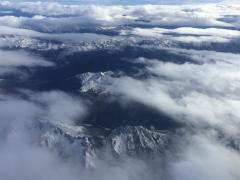 Snow covered peaks could be seen through the cloud north of Christchurch. Image: LEARNZ.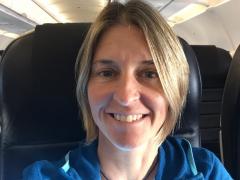 Shelley boards another plane in Wellington ready to head to Auckland. How long do you think it would take to drive from Wellington to Auckland? Image: LEARNZ.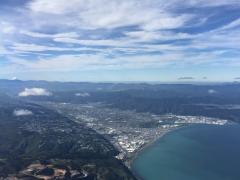 Looking out over the Hutt Valley as you left Wellington. How many people do you think are driving around Wellington at the moment? Image: LEARNZ.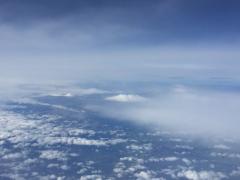 The volcanoes of Ruapehu, Ngauruhoe and Tongariro could be seen through the cloud. Image: LEARNZ.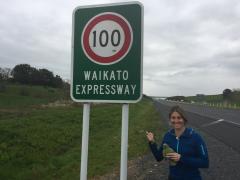 Shelley and Māia head south from Auckland on the new Waikato Expressway to Hamilton. Why do you think this road is being built? Image: LEARNZ.