Diary 4


Date:
Thursday, August 16, 2018
Field Trip Name:
Share the Road
Field Trip Place:
Hamilton
Kia ora koutou,
Your final day of the Share the Road virtual field trip was spent at the University of Waikato. A lot of research into driver behaviour and the future of transport has been done here and you were keen to find out what experts have discovered.
Back to the future
You met with Sam Charlton and Nicola Starkey who are professors in psychology. Sam and Nicola have been studying driver behaviour and looking at what can affect the way people drive. North Street School asked Sam and Nicola some interesting questions during the web conference. Students had been thinking about how they might travel in the future. Questions about flying cars and jet packs had us thinking about how expensive travel like this might be. It would also be difficult to stay safe if there was lots of air traffic. Some international airports are already very busy and couldn't cope with more traffic. We all agreed that however we travel in the future we will still need to know how to use the road safely. You can find out more by listening to the recording of this web conference.
Energy for transport
After the web conference you wandered across campus to the law building. Barry Barton is a law professor and studies energy and natural resources law. Barry wanted to share some of his knowledge about electric vehicles and self-driving cars. Electric vehicles don't produce greenhouse gases like petrol and diesel fuelled cars do, so they could help reduce climate change. These cars are also quiet and easy to maintain. Electric vehicles can't travel as far as petrol or diesel vehicles between charges. These vehicles would be good for travelling around the city rather than long distance travel. Electric vehicles also tend to cost more. If everyone had an electric car we would need to produce more electricity. Barry explained that in the future we will need to not only think about different forms of energy for transport but also to use cars less. As the number of people increases we will need to use more public transport and walk or cycle more. Watch the video about this.
Keeping self-driving cars safe
Barry also talked about the challenges of introducing self-driving vehicles. If there is an accident involving a self-driving car it will be hard to prove who is at fault. The company that makes the car may be responsible, so they will have to make sure these vehicles are as safe as possible. This will limit where self-driving cars can be used. Cyber security will also be an issue. Self-driving cars are controlled by computers. We already need to think about how to keep computer data safe and self-driving cars are no different. You can watch the video to find out more.
Onboard the driver simulator
It was then time to head back over to the Psychology Department to try out the driver simulator. Sam showed you how the simulator works and talked about how it's used to safely test how drivers react in different situations. The simulator is a real car hooked up to computers and projectors that create a virtual world for the driver. Sam has completed tests to show how drivers are affected by alcohol. This study led to the government lowering the amount of alcohol people are allowed to drink. The study proved that the old limit was too high, and people were not able to drive safely if they had drunk that much. Sam has also worked on the influence passengers have on drivers. As a passenger we can help someone driving or we can be a distraction so we all need to be responsible passengers. Sam let you try the simulator and it felt quite strange to start with. I felt like I was floating rather than driving at first and it made me feel a bit sick until I got used to the motion. After a while I got the hang of it and it felt just like driving a real car. You can see this in the video.
It has been an interesting week looking at the future of transport and how we can increase road safety. As I left the driver simulator and headed out to the rental car I thought about all that I have learned this week. Whatever the future of transport is we all need to think about how we can keep ourselves and others safe on the roads.
I hope you have enjoyed the field trip and can join us on another one soon.
Mā te wā,
Shelley the LEARNZ field trip teacher.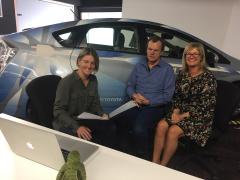 Shelley, Sam and Nicola talk to North Street School during the final field trip web conference. Image: LEARNZ.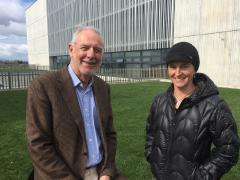 Professor of law Barry Barton talks to Shelley about future transport issues outside the law building at the University of Waikato. Image: LEARNZ.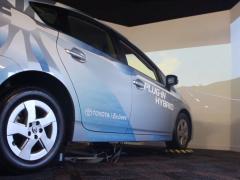 This is the driver simulator at the University of Waikato. It is a real car hooked up to computers and a projector system to create a virtual world for the driver. Image: LEARNZ.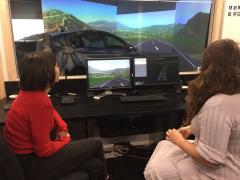 Ali and Jess run the computer programme for the driver simulator. Image: LEARNZ.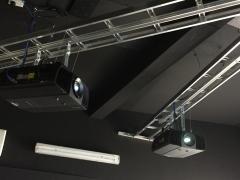 These projectors play video at 100 frames per second in ultra high definition to make the driver feel like they are really driving. Image: LEARNZ.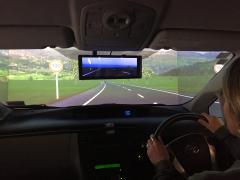 Shelley drives the simulator at the University of Waikato. Image: LEARNZ.
Different programmes can be used to simulate different roads and conditions on the driver simulator. Image: LEARNZ.