Ambassador Harry Bear
Harry is very excited to be going to sea! His friend joe has just come back from a trip, so Harry is looking forward to his turn. He loves sharing his learning with the classroom.
Monday 16 June
Hey there,
I'm Harry Bear from Newtown School and I have been looking forward to this trip for ages! It has been such an exciting day! It all started with a flight up to Wellington and then a quick taxi ride to the port to meet RV Tangaroa. I was surprised at how big this boat actually is. It has three lounges on board and even a sauna!
We all had to complete our safety briefing and I learnt how to put on a survival suit and life jacket.
Well, we are just about to leave Wellington so hopefully I don't get seasick - fingers crossed!
Talk to you tomorrow,
Harry Bear.
Tuesday 17 June
Hi everyone,
I was so jealous of Whai today, being a stingray he likes being at sea and doesn't get seasick; we bears aren't such strong sailors!
It's a shame I don't feel so good because they have lots of great food on board RV Tangaroa. At least the sun was shining and we could see the east coast of Wairarapa this morning. We are travelling around 20 kilometres per hour so it's going to take us a while to arrive at our final destination but we will get to our first sampling site tomorrow morning.
See you then,
Harry Bear.
Wednesday 18 June
Kia ora
The sea was rough today but the sky was a clear blue and we were surprised at how warm it was considering it is winter.
I found out that Argo Floats are actually quite fragile and have to be put in cardboard boxes before they are put into the water. These boxes protect the antennae, which sends back the important data that the Argos collect.
I'm looking forward to deploying a Deep Argo Float tomorrow when we reach our final destination where the ocean will be over 5,500m deep.
Bye for now,
Harry Bear.
Thursday 19 June
Kia ora
I have spent much of the day staring out over the deep blue ocean trying to spot some sea life. I thought at one stage that I had seen a dolphin but it was hard to tell. I have seen heaps of different birds, including lots of albatross that skim the top of the water in search of food.
We don't have any more distance to cover as we have reached the place where the scientists want to deploy the Deep Argo Floats. The timing is good as the weather has improved with less wind and smaller waves.
We watched the Deep Argo Float being lowered into the water today – I wish I could go down with it so I could see what it sees. The pressure would be too much though and I would get crushed.
I'm off to see if the float has come back up.
Chow for now,
Harry Bear.
Friday 20 June
Howdy folks,
There were a few nervous people today as the second Deep Argo needed to be deployed. Because it had not been sending signals properly we all had to keep a close eye on it after it was deployed. If it didn't work we would have to go out and rescue it using a small boat. It was hard to keep track of but luckily the birds helped as they kept circling it curiously flying in to have a look. One bird even landed on it!
Thankfully the Deep Argo did exactly what it was supposed to and completed its first test dive.
Well it's the weekend now so I'm going to take a break and I'll catch up with you again on Monday.
See you later,
Harry Bear.
Monday 23 June
Hi there,
I was so proud of my class during the audioconferences today. You guys asked such great questions, even Phil was impressed; he had to do a lot of homework to find out some of the answers. It made me a little homesick to hear your voices and it also made me realise how far away we are. It has been an amazing adventure though. 
We have started the journey back to Auckland but we won't arrive there until Wednesday. Tomorrow we will be deploying the last three Argo floats.
See you then,
Harry Bear.
Tuesday 24 June
Hi folks,
We are almost at the end of our journey now. I am quite proud of how well we have adapted to life at sea. We certainly all have our sea legs now and have enjoyed meeting all the scientists and crew on board. I am going to miss the food – the meals here are incredible! I'm also going to miss being involved in such a cool science project, but I look forward to being able to track the Argoes we have deployed.
I can't wait to catch up with you and tell you more about my adventures.
See you soon,
Harry Bear.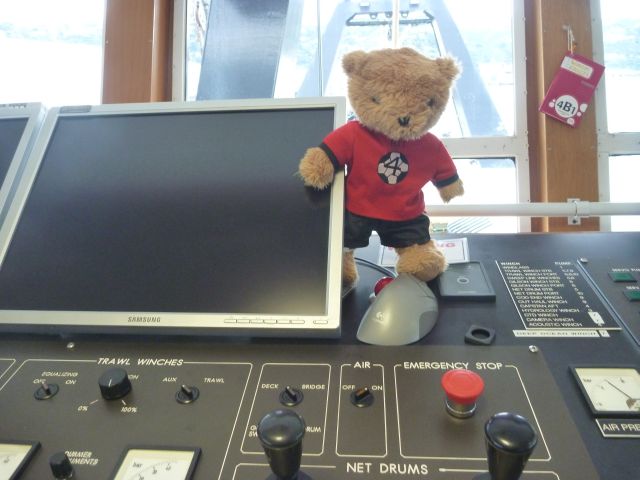 Harry Bear on board the RV Tangaroa.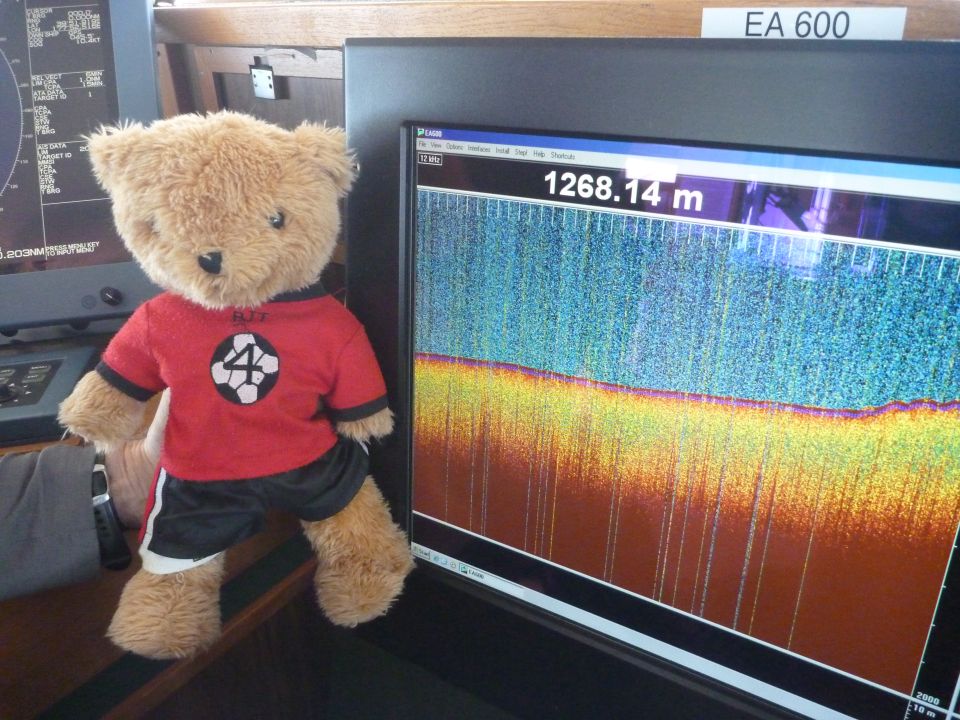 Harry Bear looks at the image from the depth sounder. Why would it be helpful to have a depth sounder on board?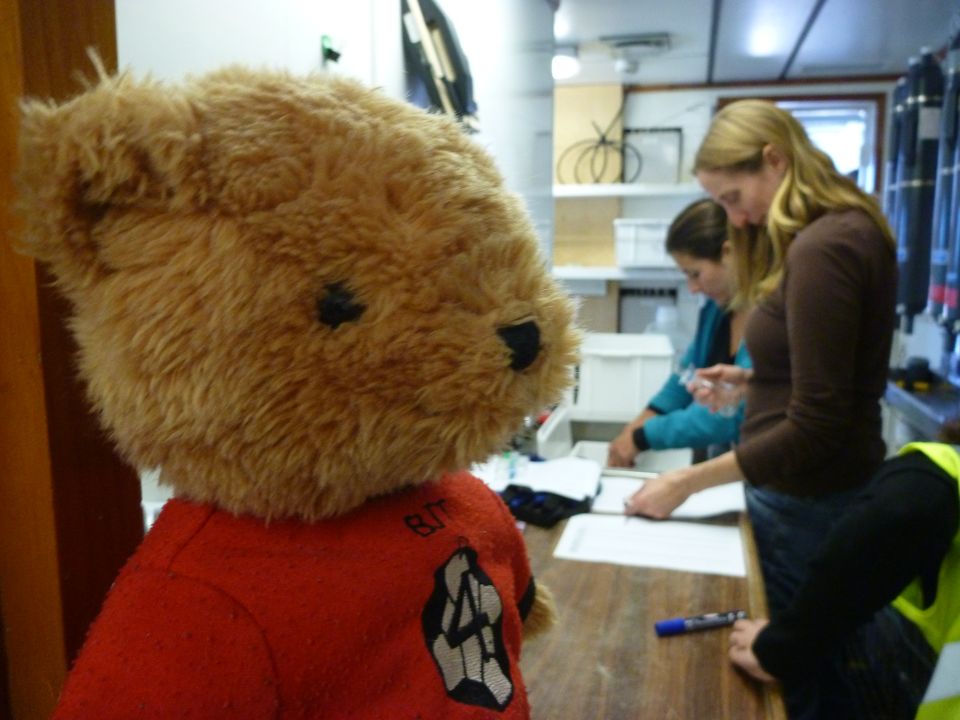 Harry Bear watches some of the scientists preparing sample bottles to analyse seawater brought back by the CTD.
Harry Bear wants to peek inside the box to see what a regular Argo Float looks like but it's all packed up ready for deployment. Why are they deployed in boxes?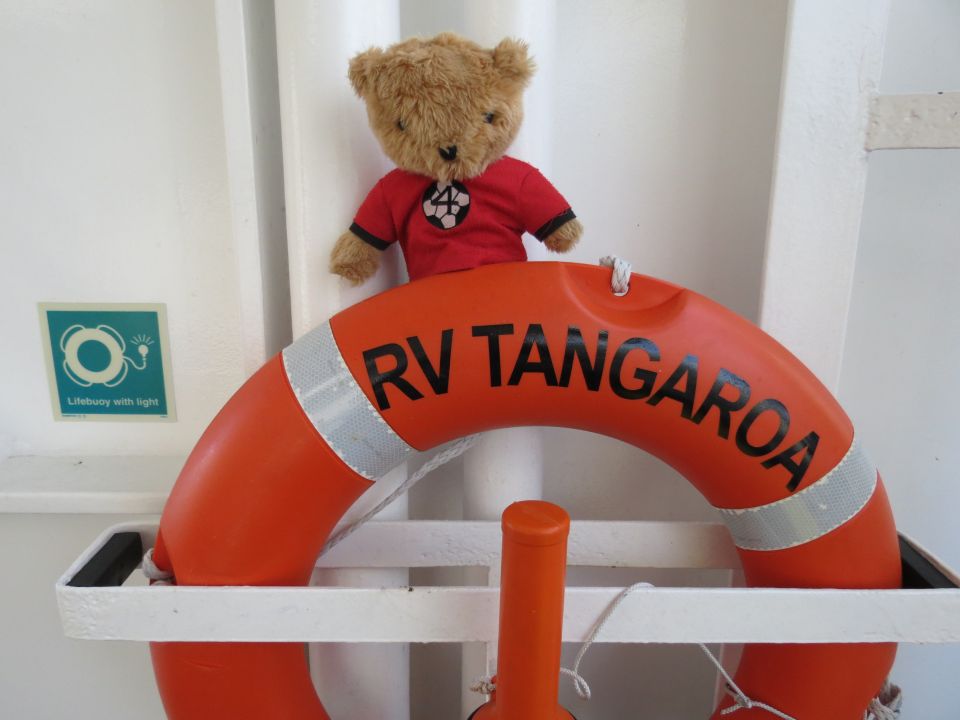 Harry Bear finds the life ring on board RV Tangaroa.
Harry Bear talks to his classmates from Newtown School during the audioconference.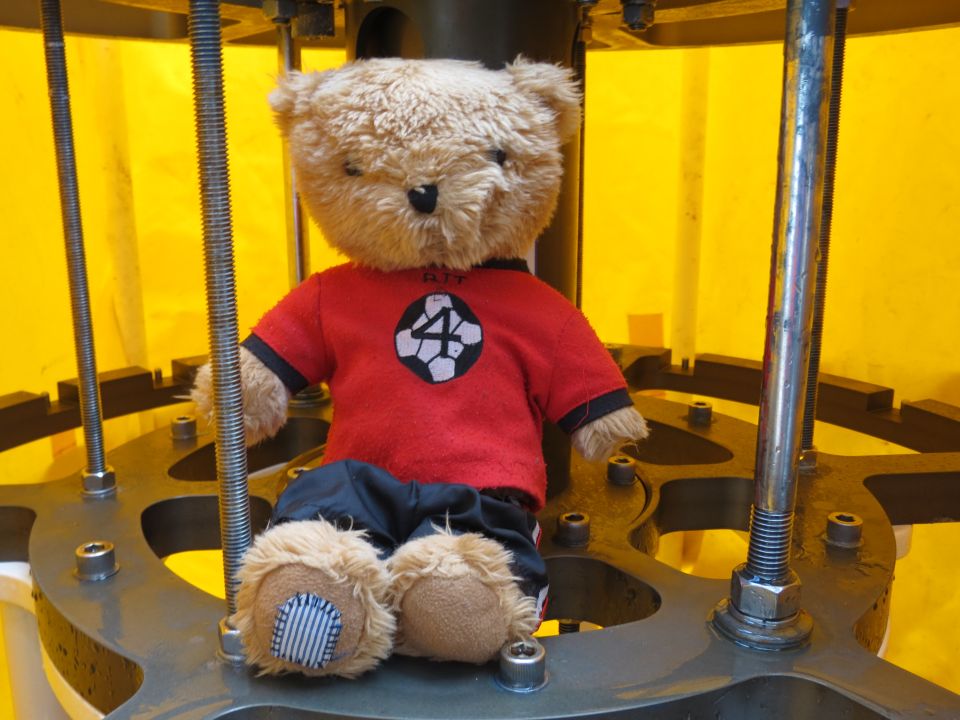 Harry Bear inspects the spare CTD unit on board the RV Tangaroa.