Argo Floats - tracking the pulse of world oceans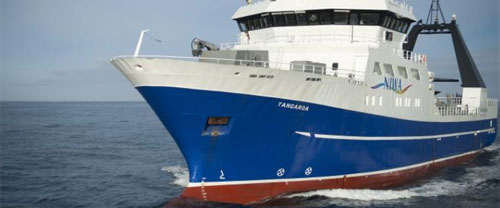 Welcome to the Argo Floats field trip taking place 16-25 June 2014. This LEARNZ field trip is supported by the New Zealand Ministry of Education, NIWA and NOAA. For similar topics go to the Field Trip Chooser. 
Introduction
Argo Floats are mechanical robots that float in the oceans and send important information to satellites. This voyage onboard the RV Tangaroa will have scientists from NIWA, NOAA and CSIRO who will be deploying both 'regular' Argo Floats and a new Deep Argo Float that will descend to 5,500m below the surface.
View the preview slideshow and watch the intro video for an overview of the field trip.
Location
Your journey starts in Wellington where you will board the RV Tangaroa for a 9-day voyage north-east toward the Kermadec Islands, where the sea floor is over 5,000m deep! You will return to Auckland on the 25th of June.

Field Trip Plan - June 2014
| | |
| --- | --- |
| Wednesday, 25 June | The journey ends. Join Shelley and the ambassadors as you return from your 9-day voyage to Auckland aboard the RV Tangaroa. Read Shelley's diaries about the trip from Dunedin to Auckland via Wellington and the Pacific Ocean! See what the ambassadors enjoyed about their voayge. View the panoramas, watch the videos, listen to the audioconference recordings and put your questions to experts! |
| Updates from 17 - 25 June | Each day of the journey watch the videos and answer the questions, read Shelley's diary, see what the ambassadors are up to, view the panoramas and look over additions to the Photo Gallery. Also go to the audioconferences to get the questions then listen to each day's audioconference recordings and view summaries submitted by schools. |
| Monday 16 June | The journey begins. Join Shelley and the ambassadors as you make your way to Port Nicholson in Wellington and board the RV Tangaroa. During the journey, Shelley will photograph and write about some of the interesting features of the trip and the induction of crew onboard the Tangaroa. Read Shelley's diary about the trip from Dunedin to Wellington. See what the ambassadors enjoyed about their day. View the panorama for Monday. |
What's New