Ambassador Little Chirper
I'm Little Chirper the Kereru from Mount Somers Springburn School and I have been looking forward to the Argo Floats field trip. 
Monday 16 June
Kia ora
I am a bit nervous about my first big voyage at sea; I am more of a land bird than a sea bird! I can't eat lots of berries at sea, although it seems they have brought a huge amount of amazing food on board – more than enough to fill even my round puku and I have come prepared with an awesome life jacket.
You will be pleased to know I passed my safety course today and I have been pronounced fit to sail (or should that be cruise, as this boat doesn't have sails?)
I am exhausted after my first day. I'll see you tomorrow.
Cheers,
Little Chirper.
Tuesday 17 June
Argh me hearties, I'm practising for my next role as a pirate's companion now that I'm getting the hang of this life at sea. I was hanging out with some albatross today and they showed off by flying just a feather width above the sea; I don't think I should try that though!
Tomorrow we are going to collect samples of sea water with the CTD, see you then.
Little Chirper.
Wednesday 18 June
Hey there,
I think I finally have my sea legs, I'm feeling much better even though the sea is rougher. Today we watched the Deep Argo Floats being put out on deck so they could talk to the satellites and get tested before they are deployed.
We also saw the CTD lowered in to collect seawater samples but it didn't work. The lids on the bottles didn't close so now everyone is frantically working to correct the problem.
The sea air is making me sleepy though so I'll say goodnight.
Catch you tomorrow,
Little Chirper
Thursday 19 June
Hi there,
I was a proud little ambassador today as I listened to the audioconference with my Mount Somers Springburn School. You guys asked such good questions and it's great to have so many of you involved in the field trip.
We are no longer moving much because we have reached our destination – an area of deep, clear ocean, without strong currents which is prefect for deploying Argo Floats.
It was interesting seeing the CTD come up this afternoon. Luckily it worked this time and water samples were collected. The scientists quickly got to work analysing the sea water from the CTD – I wonder what they will discover?
Bye for now,
Little Chirper
Friday 20 June
Hi folks,
It was a great day out on the ocean today. The weather is warm and the wind has dropped. There seem to be more seabirds around the ship today and they often glide in close to say hi. Albatrosses and petrels are such experts at gliding across the crests of waves, they almost seem to touch the water and they don't even have to flap their wings.
I also saw a whale for a moment as it came to the surface. I couldn't tell what type of whale it was but it looked pretty big! We deployed the second Deep Argo which is good because Nathalie needed to deploy both so she could compare them and find out if any changes are needed.
Well, it has been a busy week. I'll catch up with you on Monday.
Bye bye,
Little Chirper.
Monday 23 June
Kia ora
It was cool to talk to my classmates from Mount Somers Springburn School again today. I have been missing you guys so it was nice to hear your voices. You asked amazing questions and I know Phil was quite impressed; he had to go and talk to a few people on board to find out some of the answers.
There is a six metre swell today but luckily I am used to being at sea now and it isn't making me feel too queasy. We have now turned and started to head for home so we'll being seeing you in a few days.
Bye bye,
Little Chirper.
Tuesday 24 June
Kia ora
It doesn't seem like nine days since we left Wellington. Time has flown by but we have managed to do lots of cool things in that time. My favourite was deploying the Deep Argo and thinking about what it might see down at over 5,000m below the sea surface. It must be pretty dark down there!
Well, our mission has been accomplished with all the Argo Floats being deployed and I am now looking forward to returning home and sharing my adventures with you all.
See you soon,
Little Chirper.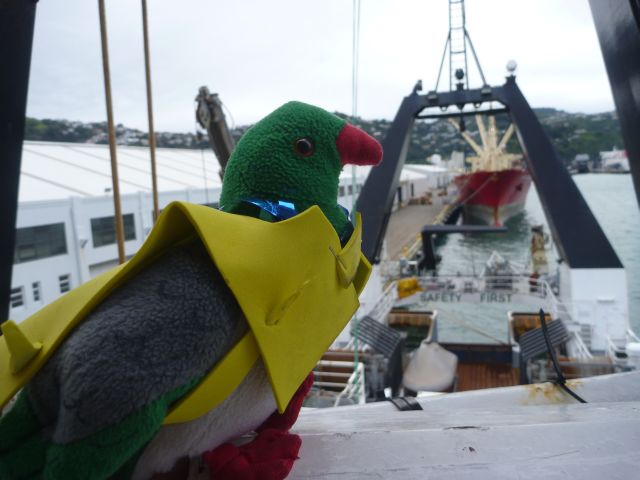 Little Chirper on the wharf at Wellington.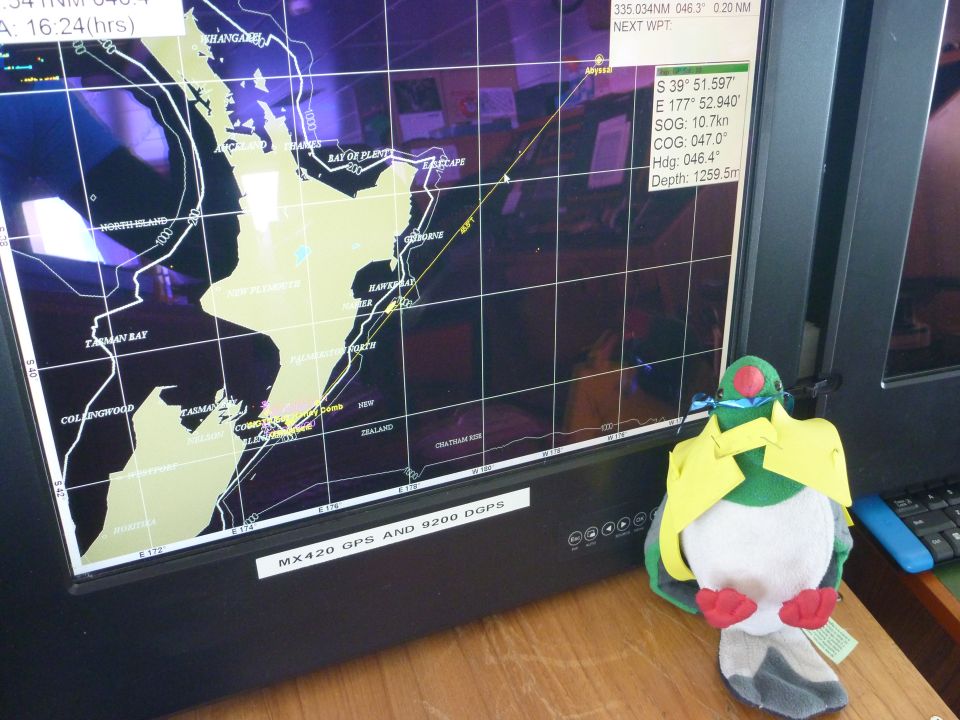 Little Chirper finds out how far we have come from Wellington.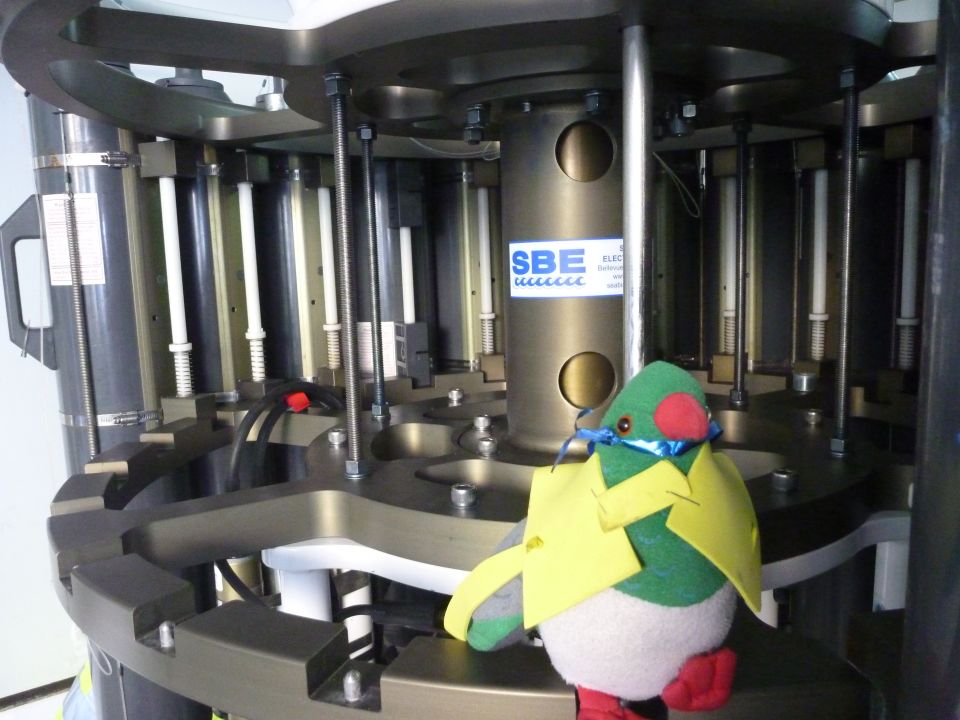 Little Chirper sits on the CTD machine to help the scientists as they prepare it for its first voyage to 2000m below the sea surface.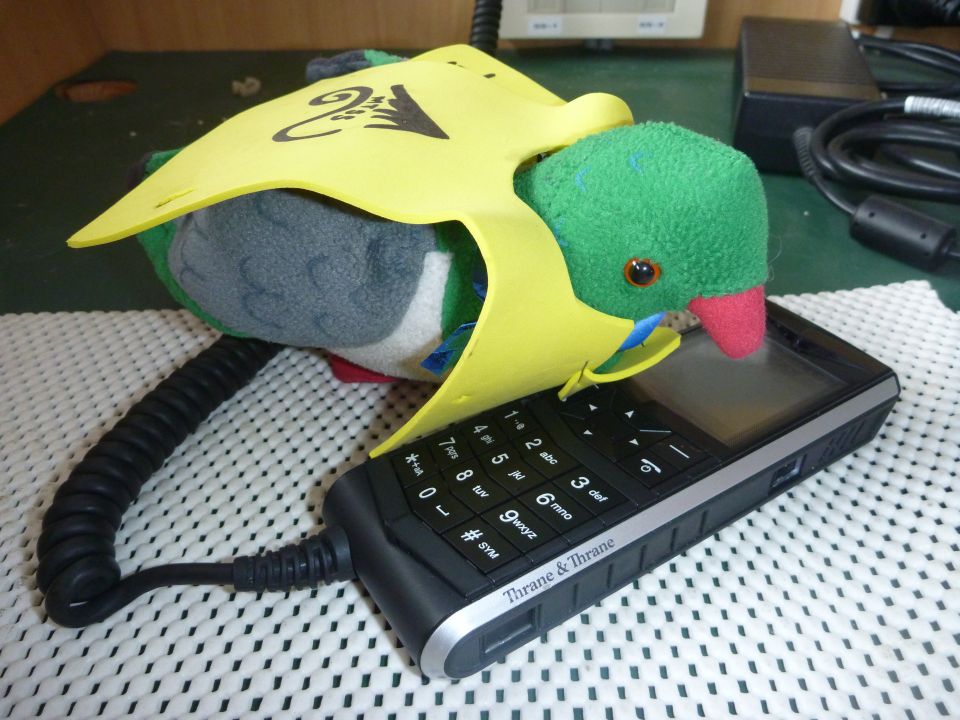 Little Chirper says hello to Mount Somers Springburn School during the audioconference this morning.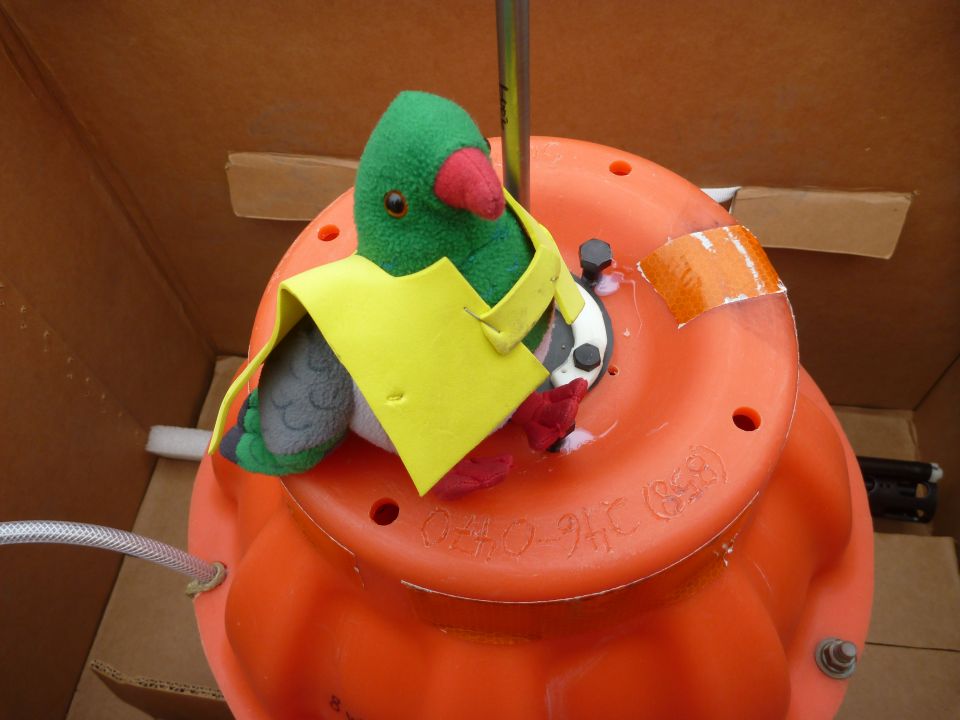 Little Chirper inspects a Deep Argo float.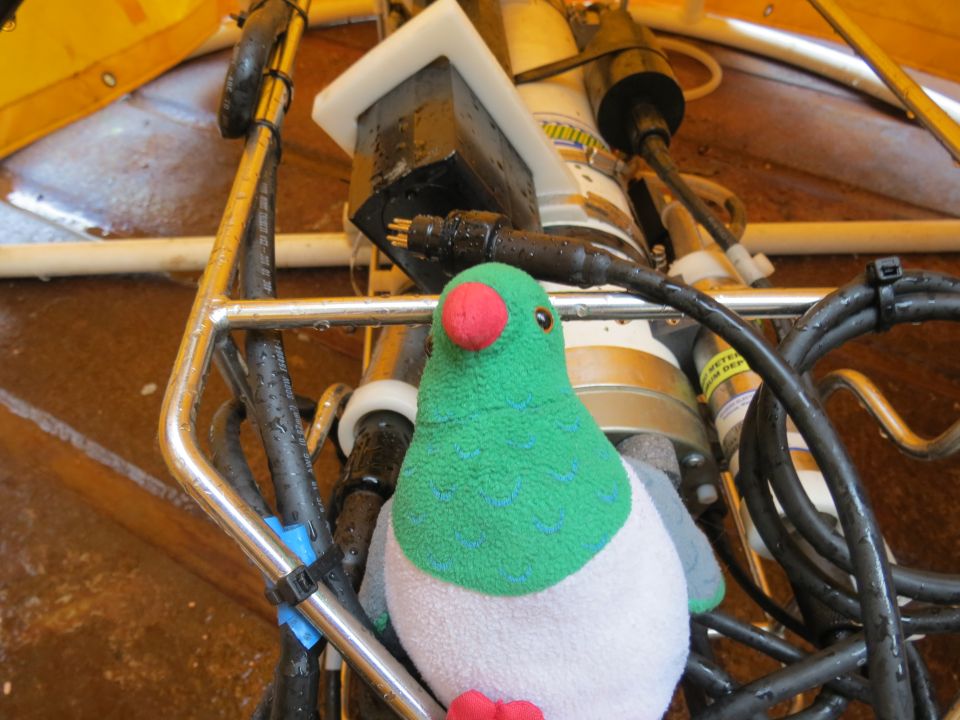 Little Chirper checks out the sensors on the CTD.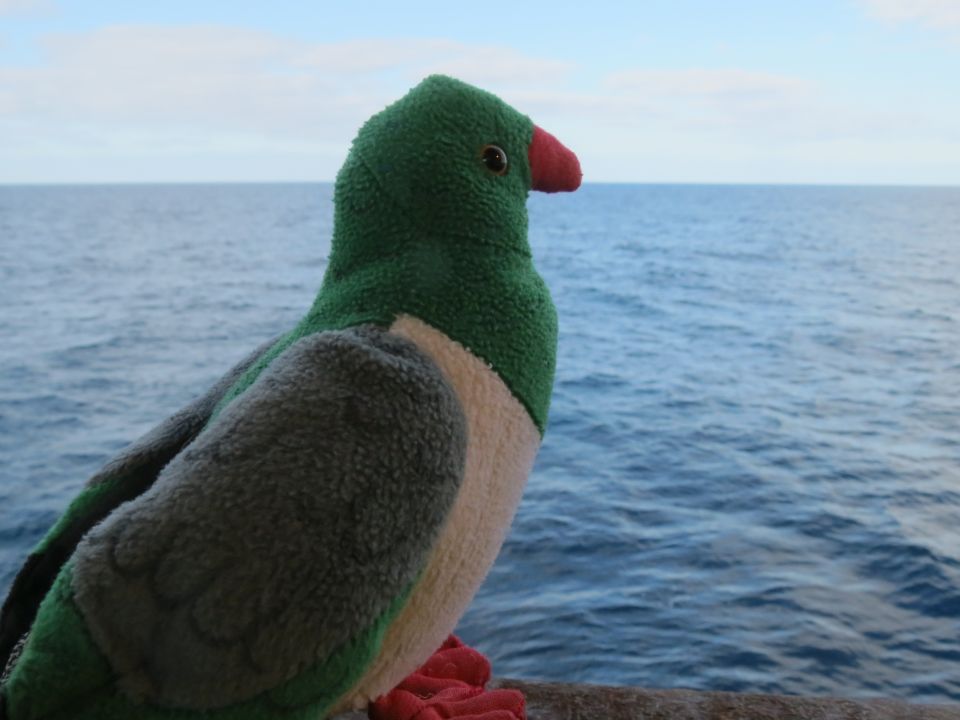 Little Chirper enjoys the view from the stern of the RV Tangaroa.