Diary 1
Date:
Monday, June 16, 2014
Field Trip Name:
Argo Floats
Field Trip Place:
Pacific Ocean
Where You Are:
Wellington
Kia ora
After an early start this morning you made your way to the airport to travel to Wellington to begin the Argo Floats field trip. Many of you may not have slept that well as you were probably so excited about your adventure out on the RV Tangaroa.
RV Tangaroa is a research vessel operated by NIWA, The New Zealand National Institute of Water and Atmospheric Research. It was purpose-built as a Deepwater Research Vessel and is New Zealand's only ice-strengthened research ship. It can perform a wide range of environmental survey and ocean science work, including fisheries surveys. The ship works throughout the South Pacific, Southern Ocean, and Antarctica. On one voyage in 2003, scientists aboard RV Tangaroa discovered over 500 species of fish, 1,300 species of invertebrate, and the tooth of an extinct Megalodon (an ancient type of shark). So you will be voyaging on a ship that has certainly been to some amazing places and seen some incredible things!
The flight north was not very exciting because it was still dark when you landed in the capital city but by the time you left the airport it was lighter and you could appreciate the journey more. Once you arrived at the port you had to show your passport and get a shuttle to RV Tangaroa. During this nine day voyage you will travel beyond New Zealand waters so your passport must be carried. Walking up the gang plank onto the ship's deck was pretty exciting and marked the true start of the field trip.
Before you could set sail you had to complete your safety induction course which outlined what to do in an emergency, where the life jackets are kept and how to operate the life rafts. You also took a rather confusing tour of the boat. There are three main levels with narrow corridors between rooms and it was easy to get lost. RV Tangaroa is not without its luxuries; there are three lounges on board, a gym and even a sauna. During your tour of the boat you met members of the crew and some of the scientists who you will be working with during the journey.
After your early start this morning you were starving by lunchtime and relieved to find that the meals on board are fantastic! A three course lunch was enjoyed by all. 
Each person on board is given their own cabin complete with bunks, a table, chair and its own bathroom. The ambassadors were happy to see that they wouldn't have to share their bathroom because they were just a little worried about getting sea sick.
Then it was time for what is called a 'toolbox' meeting where various members of the crew spoke about different responsibilities on board and passports were collected to be checked by Customs. These meetings will be held daily to talk about tasks to be done and the course that the boat will take. Tonight you will sail north-east from Wellington but the weather forecast is not looking too good so you may not make it far from the East Coast. Instead you might need to wait for calmer conditions before heading out into deeper ocean. In just two days you will be in position ready to deploy your first Argo Floats.
You enjoyed a mid-afternoon nap in your cosy cabin and woke to different noises coming from the engine room. RV Tangaroa was warming up to leave the busy port and head out of Wellington Harbour. It was dark when the boat left and everyone was filled with a feeling of excited anticipation as they watched the lights of Wellington disappear from view.
By the time you wake up tomorrow you will be far from home.
See you then,
Shelley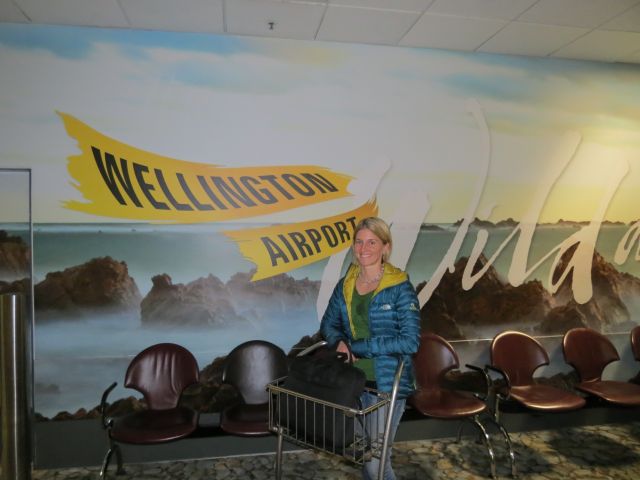 Shelley arrives at Wellington airport ready to begin the Argo Floats field trip.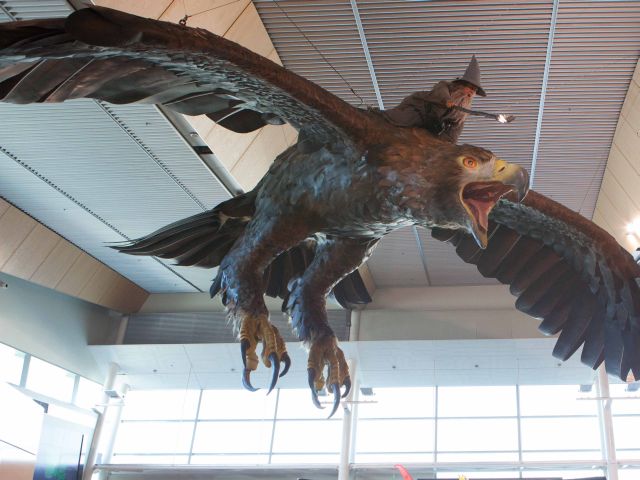 Wellington is proud of Weta Workshops and their involvement in the Lord of the Rings and Hobbit movies. Which film are these models from?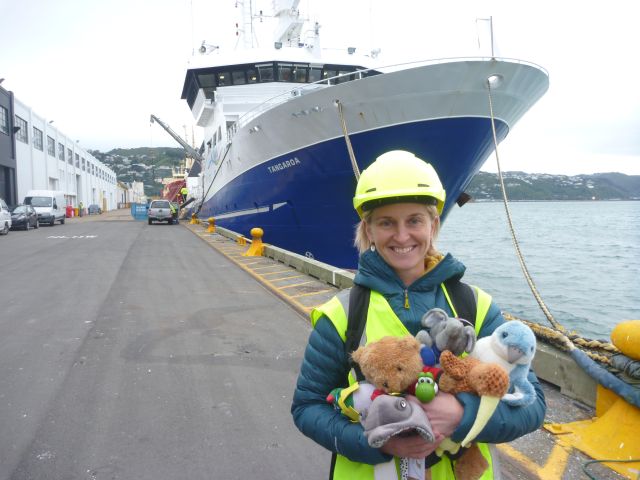 Shelley and the ambassadors arrive at Wellington Port ready to board RV Tangaroa. What does RV stand for?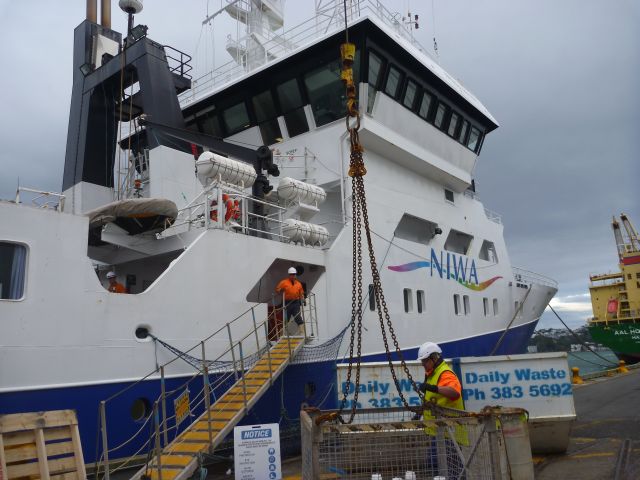 Equipment is loaded onto RV Tangaroa. What kind of equipment do you think scientists would need for this journey?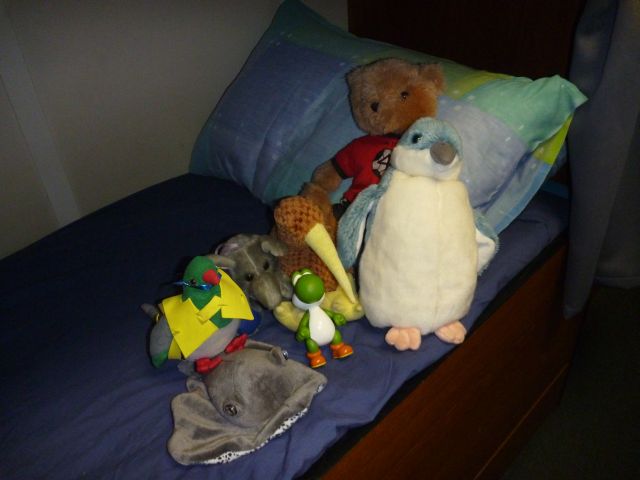 The ambassadors snuggle up in their cabin ready for an early evening departure from Wellington.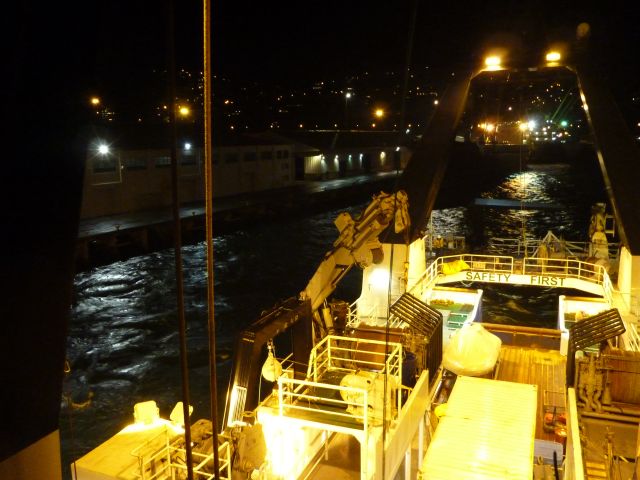 RV Tangaroa leaves Wellington Harbour. Why do you think the boat leaves at night?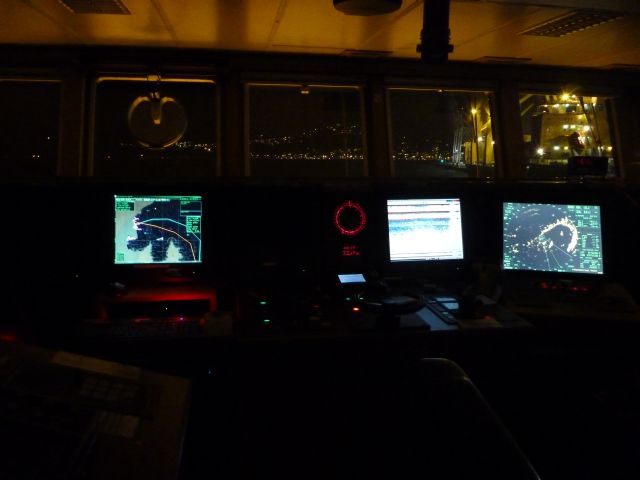 The course has been plotted and you're on your way towards the Kermadecs. Where are the Kermadec Islands?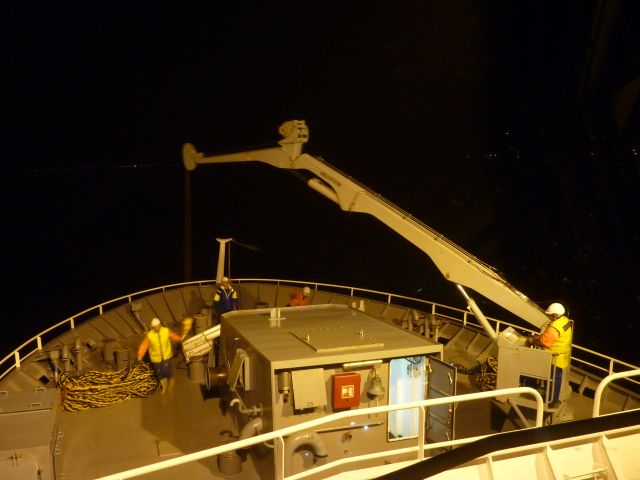 Members of the crew secure items on deck ready for the long journey. What safety clothing do you think these workers need and why?