Diary 3


Date:
Wednesday, October 31, 2018
Field Trip Name:
Sustainable Wai | Te Mana o te Wai
Field Trip Place:
Tūrangi
Where You Are:
Waihukahuka Stream, Tongariro River, Trout Centre
Today Egbert and I spent some time with trout fisheries scientists from the Department of Conservation (DOC). It was interesting to find out about some of their monitoring techniques and why a wild fishery needs to be monitored. We even found time for a spot of fishing!
Web conference
For this morning's web conference, we went to the DOC office in Tūrangi. Our experts were Krysia Nowak and Michel Dedual. The discussion was excellent, and some key issues about freshwater were covered. A recording of this morning's Q&A can be accessed via the web conferences page.
Trapping fish
After the web conference we went to a fish trap in the Waihukahuka Stream. Fish traps are used in some streams and rivers, so DOC fisheries staff can check on the trout going upstream to spawn. They find out how many fish there are compared with other years. Details such as their length, weight and gender are recorded. The fish is then released back into the stream. The whole process is done very carefully but quickly. You can watch the how it is done and hear Michel explain it in one of today's video.
Drift diving
Drift diving is another way to count fish. This happens in streams where there is no fish trap. A fisheries staff member floats down the stream and counts all the fish they can see. It is not an 'exact science', but it does provide a trend over years. Techniques such as drift diving give the data on which trout fishery management decisions are based. Watch the video from today to see drift diving in action.
Angler surveys
Fisheries scientists also talk to the anglers trying to catch trout. Talking with anglers is a good way to see how well management of the fishery is working. Today we got to be part of an angler survey. It was good to see that scientists are also getting the point of view of the anglers themselves. Watch the video for a better idea of what the angler survey is all about.
Fishing anyone?
After lunch you walked round to the kids fishing pond that is part of the trout centre. It is a great facility where children aged 6-14 can fish the pond with the help of volunteer anglers. You met up with volunteer Peter Wilton and Lenny from Kuratau School, who was keen to catch her own trout. 
The great thing about a sport like fishing is that it gets you out in to nature. You learn to appreciate and value the environment. And if any of you are involved in activities that involve freshwater, you want to make sure the waterway you are using is a healthy one.
It's been another great day here in Tūrangi. Tomorrow we look at the idea of 'striking the balance', which can be challenging when there are so many different uses of and needs for freshwater.
Mā te wā,
Andrew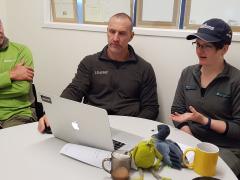 Michel Dedual, Andrew and Egbert (plus Eddy the whio) listen as Krysia Nowak answers another question on this morning's web conference. Image: LEARNZ.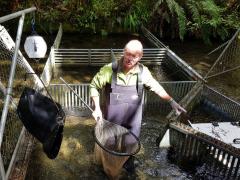 Michel Dedual at the Waihukahuka fish trap. Why are DOC fishery scientists trapping trout? Image: LEARNZ.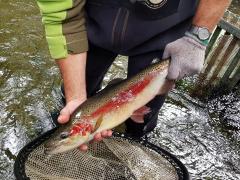 Michel shows a rainbow trout on its way upstream. Why is it heading upstream? Image: LEARNZ.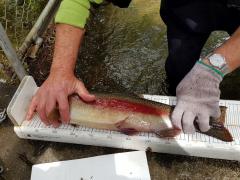 Part of the monitoring process involves weighing each fish. What else is done? Image: LEARNZ.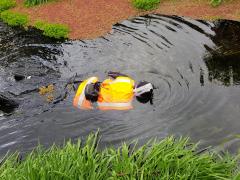 Drift diving is another way of counting trout. I wonder how accurate this method is. Image: LEARNZ.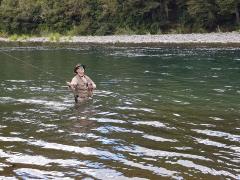 An angler tries his luck in the Tongariro River. What method of fishing is this called? Image: LEARNZ.
Mike Hill from DOC surveys an angler on the Tongariro River. Angler surveys are an important part of future decision making for the trout fishery. Image: LEARNZ.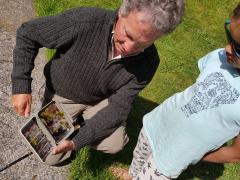 Peter Wilton from the National Trout Centre Society teaches Lenny from Kuratau School about the use of flies for fly fishing. Image: LEARNZ.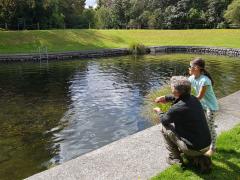 Lenny tries her luck at the kids fishing pool outside the Taupō for Tomorrow classroom at the National Trout Centre. Have you ever been fly fishing? Image: LEARNZ.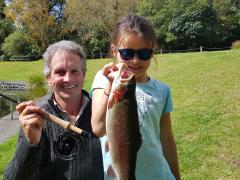 Lenny proudly shows off the rainbow trout she caught with the help of Peter Wilton. Image: LEARNZ.