Diary 4
Date:
Thursday, April 30, 2015
Field Trip Name:
Geohazards
Field Trip Place:
Marlborough

Kia ora koutou,
It was an invigorating start to the day out at the Boulder Bank in Nelson. A cool wind blew off the ocean and you could see a dusting of snow on the mountains. 
An unusual natural feature of Nelson
Rob wanted to show you the Boulder Bank because it is an unusual natural feature that at first glance looks as though it has been built by people. The Boulder Bank is an almost straight line of rocks that protects Nelson Haven from the sea in Tasman Bay. The Boulder Bank is made up of rocks that have come from a landslide off Mackay Bluff thousands of years ago. This rock has been moved by currents known as longshore drift creating the 13 kilometre long bank. Rob explained that the Boulder Bank acts as a natural barrier to storm surges and could even slow down small tsunami. Watch the video about this.
Tsunami risk in Nelson
Nelson like much of New Zealand's coastline could experience a tsunami. A tsunami in this area could come from a local source such as an earthquake in Cook Strait or undersea landslide and there would only be a few minutes warning. Further away an earthquake off the East Coast of the North Island could also produce a tsunami for which there would be more of a warning (possibly an hour). If an earthquake off the coast of South America triggered a tsunami the whole East Coast of New Zealand could be at risk but at least a warning could be issued up to 12 hours before the tsunami arrives.
Tsunami warnings
For warnings of tsunamis from distant sources, New Zealand relies on the Pacific Tsunami Warning Center, based in Hawaii. The Centre receives seismic data from over 150 stations around the Pacific basin. If a large submarine or coastal earthquake greater than magnitude 7.5 occurs, they issue a regional tsunami warning to areas where a tsunami could arrive within three hours, and a tsunami watch for areas where it could arrive within six hours. They then monitor data from a network of tide stations and sea-floor pressure gauges, and if a tsunami is detected, they issue a tsunami warning for the entire Pacific basin. Warnings from the Pacific Tsunami Warning Centre are received by New Zealand authorities who alert the public via radio, television, internet and tsunami sirens. Tsunami gauges also measure wave height and can monitor tsunami closer to home. 
Monitoring geohazards
After the audioconferences with Greymouth Main School and Waimea Intermediate you headed back into Nelson. Rob showed you a seismograph and explained how these instruments are used in a network called GeoNet. GeoNet is run by GNS Science and it monitors New Zealand's earthquakes, volcanoes, geothermal activity and tsunami. GeoNet operates 24/7 across New Zealand to gather data. This data provides a better understanding of hazards and how we can prepare for them. The project is funded by EQC and LINZ (Land Information New Zealand). A national network of seismographs are used to measure the magnitude and location of earthquakes while tsunami gauges are used to monitor wave heights. You can visit the GeoNet website to find out more.
Building on landslides
Mike Johnston, a local geologist met with you after lunch to show you how Nelson has been affected by landslides. The Nelson area is prone to landslides with steep hills, weak rock, frequent rain storms and active faults which can generate earthquakes. This combination of factors has led to many landslides in the area. Mike showed you where an old landslide has been built on above Tāhunanui Beach. You can see this in the video. This landslide is still slowly moving down the hill and in 2011 landslides in this area destroyed some houses. It just goes to show that some areas should not be built on. Closer to town you could see where the cliffs above the road have been stabilised. Pipes drain the slope, retaining walls have been built, huge bolts have been drilled into the cliff faces and some of the rock has even been sprayed with a type of concrete to try and strengthen the slope.
New Zealand's most common type of landslide
Mike also took you out to an area of farmland above Richmond to show you a common type of shallow slip (sometimes called regolith landslides) which often happen after heavy rain. Weak, shallow layers of rock and surface material can fail during rain storms causing many small landslides over a large area. These landslides remove fertile soil and thereby affect the productivity of farmland. Landslides cost our country millions every year. Planting trees and draining slopes can help reduce the risk of this common geohazard.
Lessons for the future
Over the past three days you have travelled hundreds of kilometres to investigate the geohazards of earthquakes, tsunami and landslides across Marlborough. This field trip has helped show just how common geohazards are in New Zealand and has made me much more aware of how important it is to be prepared for earthquake, tsunami and landslide events. 
I hope you have enjoyed the field trip and can join us on another one soon.
Shelley, the LEARNZ field trip teacher.
Looking out towards the Boulder Bank in Nelson. How has this natural feature formed? Image: LEARNZ.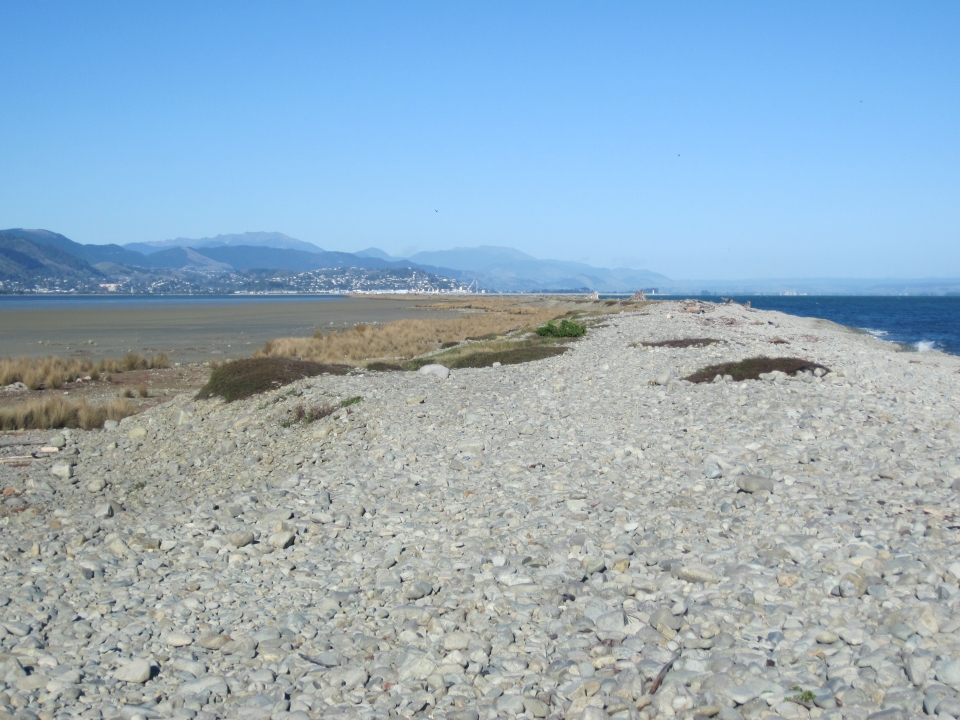 The Boulder Bank in Nelson can protects Nelson from storm surges and some small tsunami. Image: LEARNZ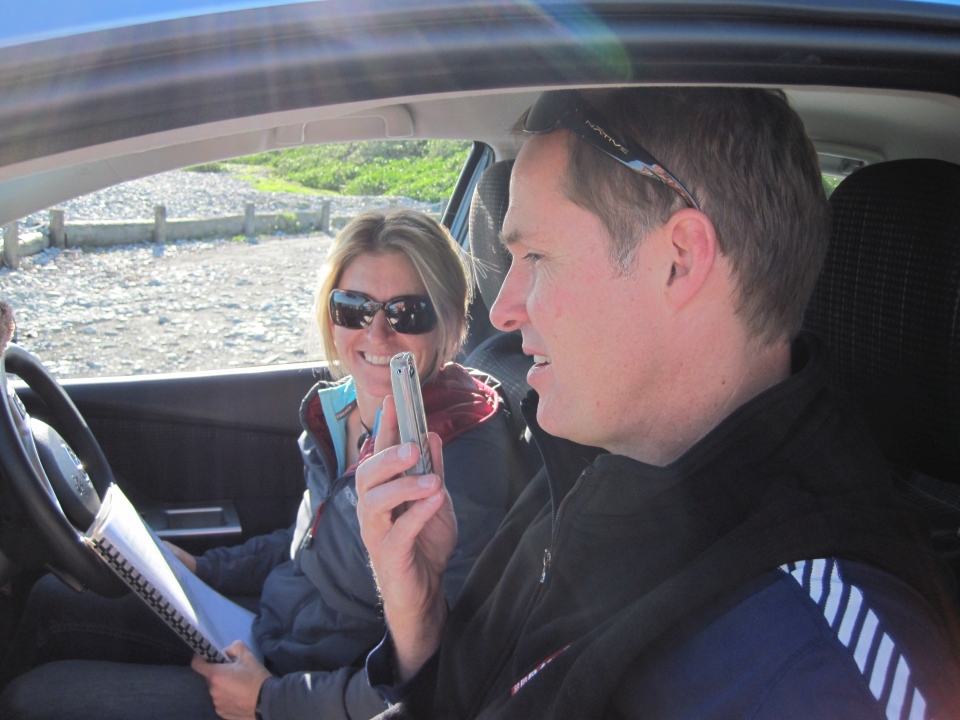 Rob talks to Waimea School during the final field trip audioconference. Image: LEARNZ.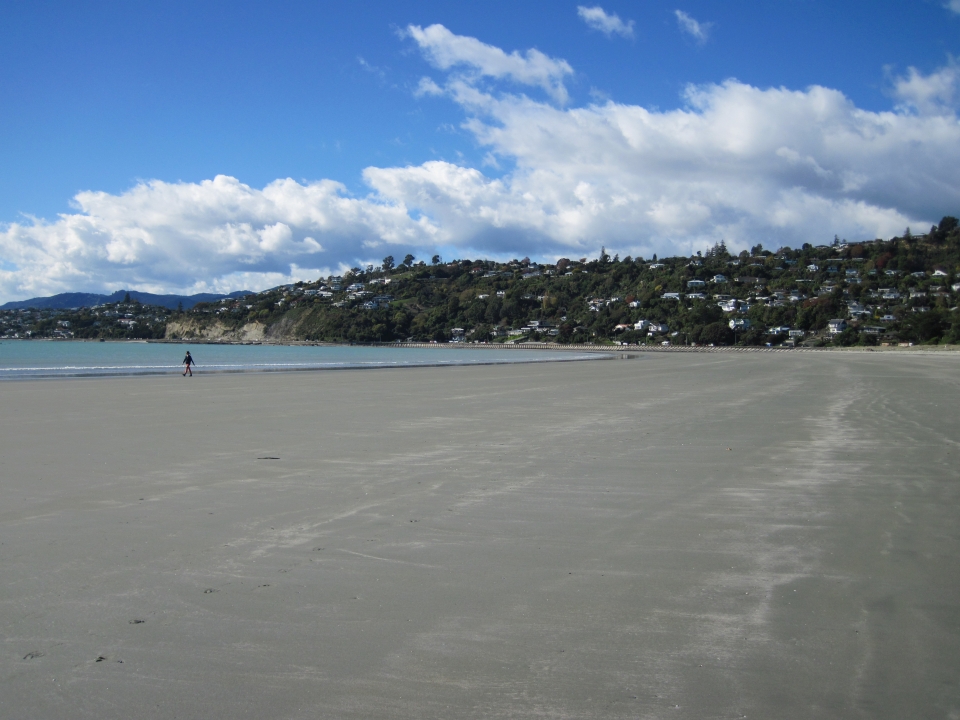 Looking towards the hill where the old Tāhunanui landslide is still causing problems for some houses. What do you think these problems are?  Image: LEARNZ.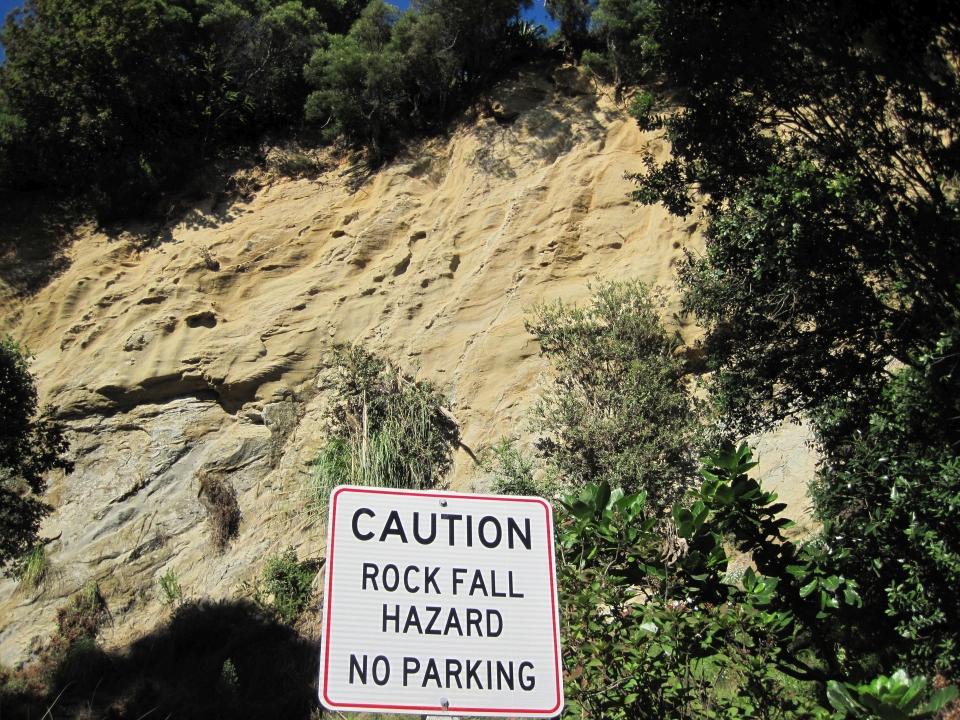 Signs warn people about the unstable slopes above the basin reserve in Nelson. Why do you think this cliff is unstable? Image: LEARNZ.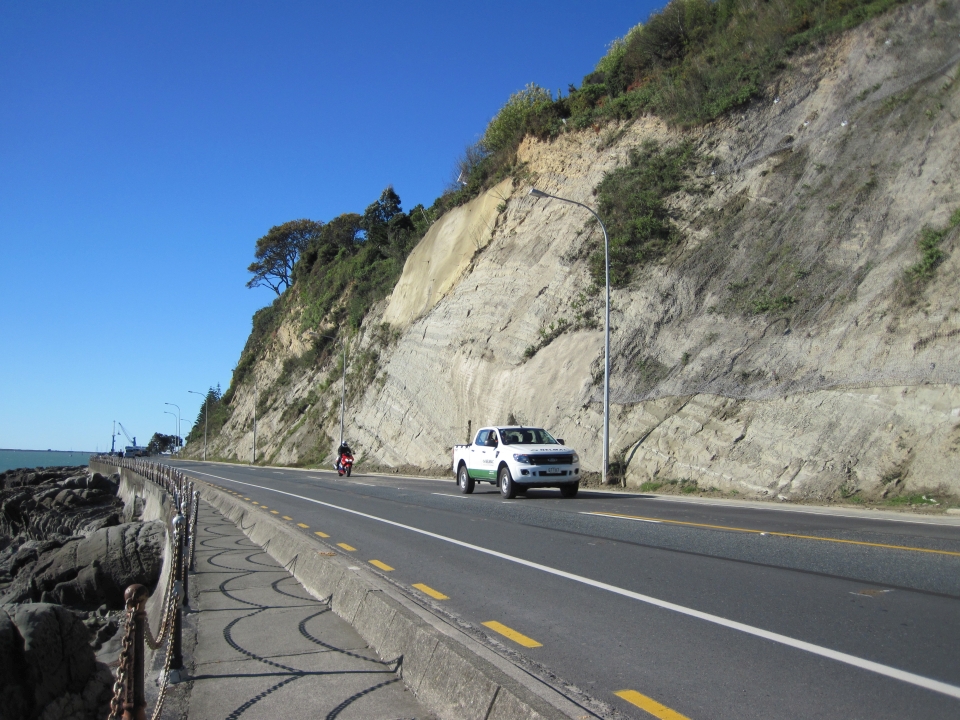 This road was built by cutting into the cliff making it less stable. What has been done to try and stabilise the slope? Image: LEARNZ.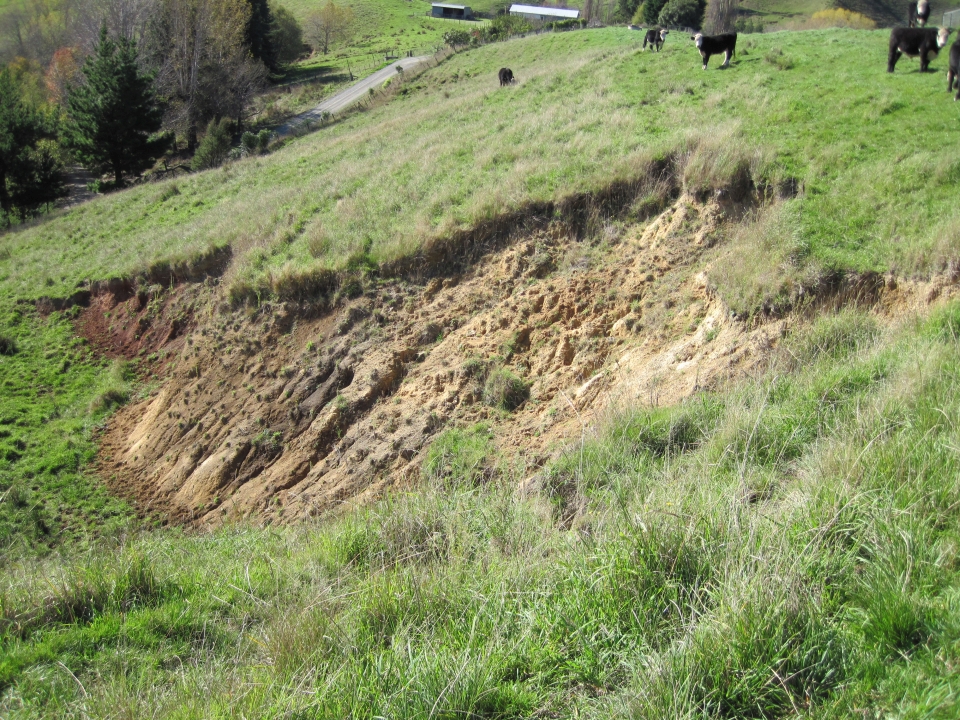 A shallow landslip can be seen on this farmland. What can cause these slips? Image: LEARNZ.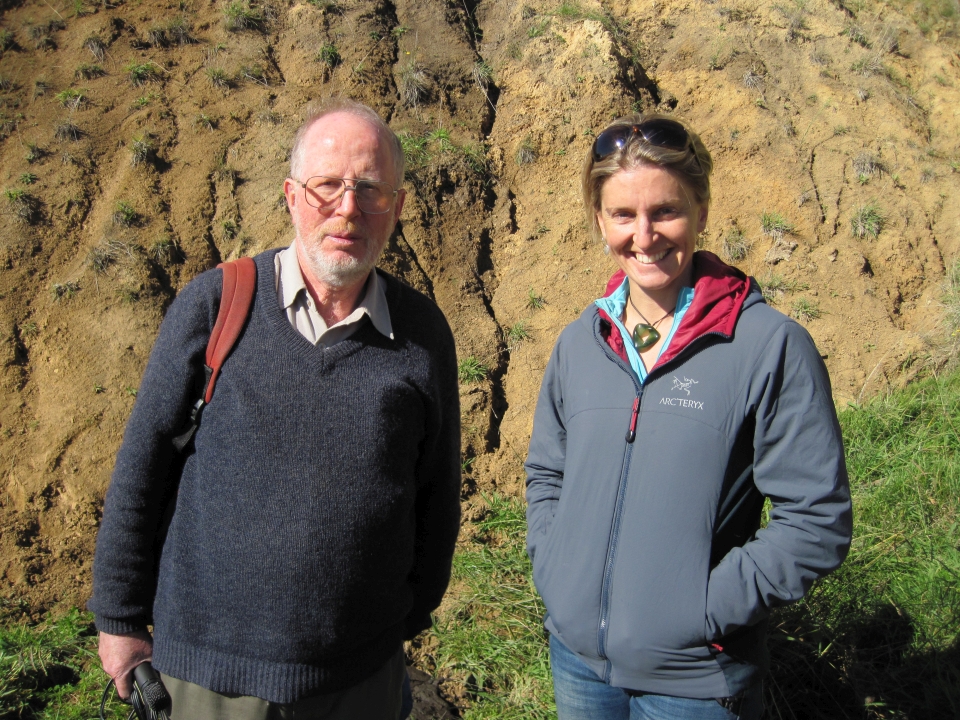 Mike tells Shelley about the landslide hazards in Nelson. Image: LEARNZ.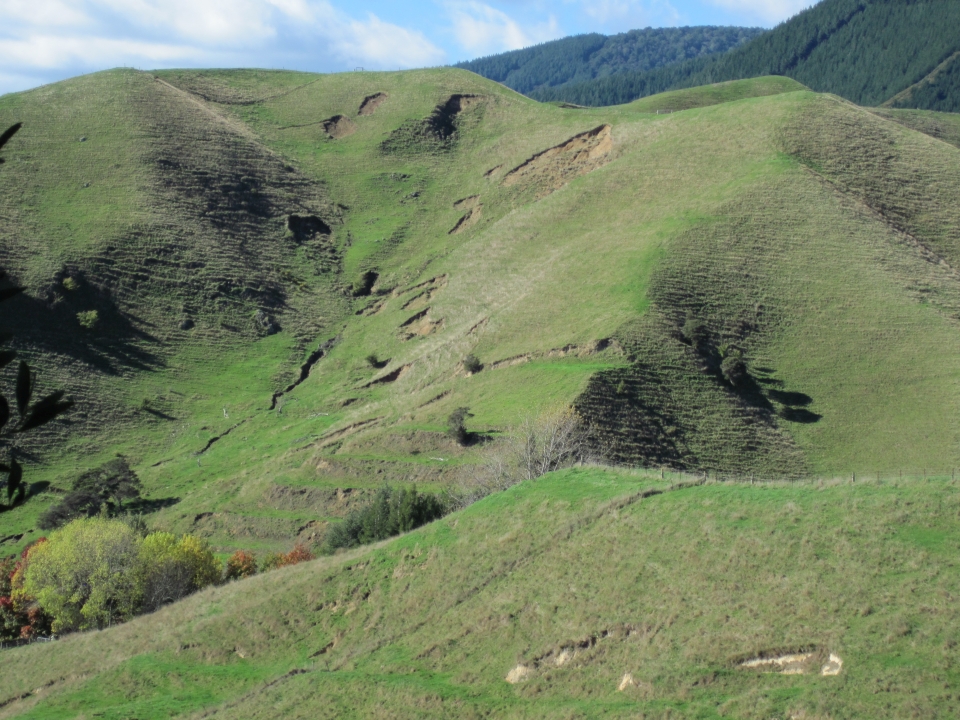 More landslides can be seen on these steep hills. What could be done to reduce the risk of landslides in this area? Image: LEARNZ.