Ambassador Alvin


Kia ora koutou,

I'm Alvin one of the LEARNZ ambassadors.

I am really excited about taking part in another year of LEARNZ adventures. If you join me you can come and visit out of the way places that you wouldn't otherwise be able to experience.

You can join me in Wellington to see how technology is helping us to know where in the world we are. While in Wellington you will use the latest location-based technology to navigate on land, sea and through the air as you travel by ferry, train and plane. I would love some company on this trip so if your class has an adventurous ambassador who would like to join me, sign them up now via your MyLEARNZ control panel.

See you there,

Alvin, the LEARNZ Ambassador.
Monday 13 July
Kia ora,
It seems ages since my last field trip so it is great to finally be out and about on another adventure. Taiamai and Spud were also really excited to be starting the 'Where are We' virtual field trip. Unfortunately Walt from Ilam School missed the flight so we're all hoping he makes it up to Wellington tomorrow!
The flight north was stunning with clear skies and fresh snow smothering the Alps. We had time to have a look around Wellington before settling into our hotel. Tomorrow we set sail. Wish us luck.
See you on the sea.
Alvin.
Tuesday 14th June
Tēnā koutou,
What a glorious day to set sail across the mighty Cook Strait. I have been known to get seasick at times but today was so calm that it was hard to believe we were crossing the Strait.
I saw a pod of dolphins as we headed into the Marlborough Sounds. They certainly seemed to know where they were going. The ferry also knew exactly where it was going too, thanks to some clever technology that shows where it is at all times on an electronic chart. Radar is also used to show obstacles and other ships.
Tomorrow I'm off on a train trip.
Until then,
Alvin.
Wednesday 15 June
Kia ora,
I love travelling by train so I have really been looking forward to finding out more about how trains are controlled and tracked.
We went to the New Zealand train hub known as Train Control. This is from where all of our country's trains are controlled. It was cool to see trains moving on the computer screens and seeing how the train controllers changed signals.
Tomorrow we will fly with the Life Flight Trust – I can't wait.
See you there,
Alvin.
Thursday 16 June
Kia ora,
Today was a perfect ending to our field trip. We flew with the Life Flight Trust over Wellington. Life Flight transports patients between hospitals with planes and rescues people with helicopters. They have flown over 1,000 missions in the last year!
It was so cool to see how the pilot navigated using a combination of charts and GPS.
Well I certainly feel that we have done our fair share of travel over the last few days. I hope you've enjoyed it too!
See you on another field trip soon,
Alvin.
Alvin loves to travel and can't wait to begin the 'Where am I' field trip in Wellington. Image: LEARNZ.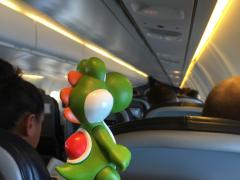 Alvin enjoys his flight from Dunedin to Wellington. How long do you think this flight takes? Image: LEARNZ.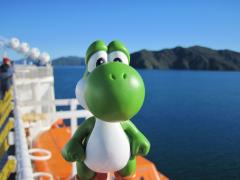 Alvin enjoys his ride on Kaitaki, the Interislander Ferry. Image: LEARNZ.
Alvin takes in the views during a train trip to Masterton. Image: LEARNZ.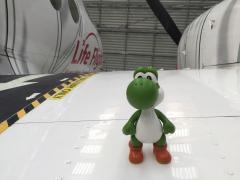 Alvin inspects the Life Flight Trust plane. Image: LEARNZ.